The bedroom and bathroom are usually the spots where you want to feel the most comfortable, and the quality of the products you use in those spaces can make all the difference. But with so many options out there, how do you narrow down what works best for you and your daily routine? 
To help you find the best bed sheets, robes, pillows, shower curtains and more that are worth your money, we spent weeks trying over 200 products for our first-ever Best of Bed and Bath Awards. Below, we compiled our 21 favorite bed and bath essentials that we found most useful for our needs and routines.
SKIP AHEAD Bed sheets | Pillows | Blackout curtains | Robes | Towels | Bath mats | Shower liners
Select Best of Bed & Bath: Bedroom winners
Bed sheets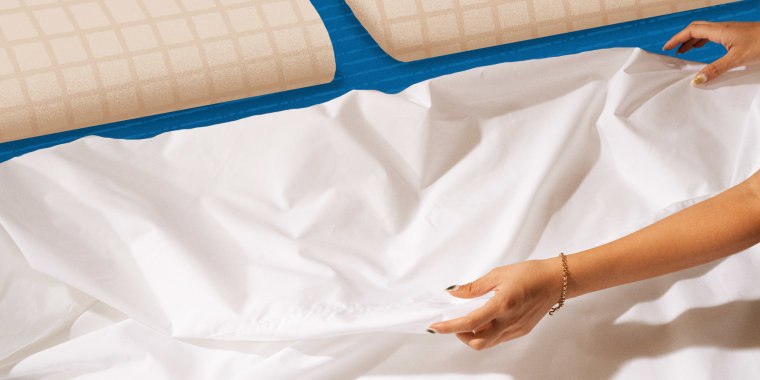 Award: Best Bed Sheets | Type: Linen
These linen sheets earned our best overall pick because they're soft, lightweight and cooling, according to our reviewers. "I'm a hot sleeper and these feel so light — I didn't feel hot or sweaty once throughout the night," says NBC Select editorial projects manager Rebecca Rodriguez. The sheets also come with a matching linen bag that makes storing them away easy when they're not in use. "Unlike others, they actually fit quite nicely back into the packaging they came from," says NBC Select commerce editor Lindsay Schneider. 
This set includes a top sheet, a fitted sheet and two pillowcases. The sheets come in over a dozen colors and patterns, and they're available in four sizes ranging from full to California king.
Award: Best Bed Sheets | Type: Cooling
These sheets are made of sustainable Tencel Lyocell fibers derived from eucalyptus wood, which makes the material cool, soft and moisture-wicking, according to the brand. The eucalyptus fibers are naturally hypoallergenic and antibacterial, and the brand adds an antimicrobial treatment to slow the spread of microorganisms like bacteria and fungi, according to Sijo.
Overall, our staff was impressed by the sheets' cooling properties. "I am a notoriously hot sleeper and these even made me feel cold," says Rosalie Tinelli, NBC Select senior social media editor. "After Sijo, I tested 4-5 other sets of sheets — including some that were much more expensive — and I found myself consistently missing the cooling effect of these."
The set comes in seven color options and sizes twin to California king. It includes a fitted sheet, two pillowcases (one pillowcase for twin and twin XL sets) and an optional top sheet.
Award: Best Bed Sheets | Type: Classic
The lightweight yet durable feel of these Brooklinen percale sheets earned them high marks among our Select staff. "These sheets feel like they'll last a lifetime," says NBC Select associate reporter Bianca Alvarez. Though they feel stiff at the beginning, they become softer and more comfortable after a few uses, and especially after the first wash, according to Zoe Malin, NBC Select associate updates editor. She especially loves how breathable and airy they feel. 
"As a hot sleeper, I felt cool and comfortable sleeping on these," Malin says. "I didn't get hot throughout the night and the sheets definitely don't absorb my body heat like others do."
These sheets are made from 100% long-staple cotton and come in six sizes ranging from twin to California king. The set includes a top sheet, a fitted sheet and two pillowcases.
Award: Best Bed Sheets | Type: Pillowcase
This Kitsch pillowcase is made of cooling satin, which is a gentle fabric that's great for preventing hair breakage, experts told us in our guide to thinning hair products. "I'm always trying to find the cold side of my pillow, and I never had to move or flip my pillow over when this case was on," says Alvarez. Plus, Schneider loves that it comes with a zipper instead of a flap, which ensures the pillow inside doesn't slip out.
The pillowcase is machine-washable and doesn't lose its softness after the initial wash, according to Schneider. It comes in standard/queen and king sizes, and you can purchase it in a one-, two- or four-pack. 
Pillows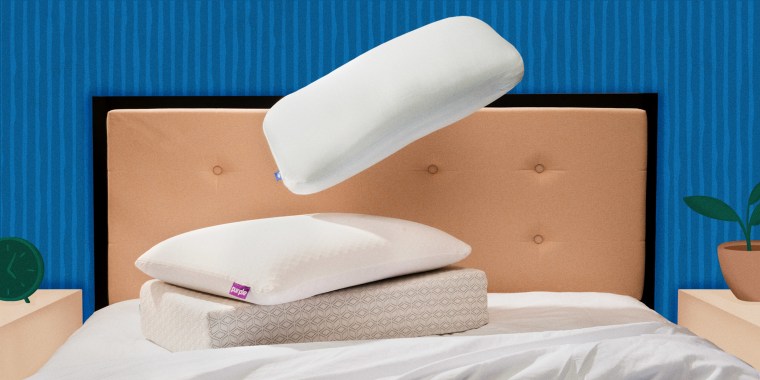 Award: Best Pillow
This latex pillow from Purple was one of the most uniquely comfortable and breathable options we tried. The core of the pillow is made with the brand's honeycomb-patterned GelFlex polymer, which disperses pressure very evenly, in our experience.
NBC Select SEO editor Nikki Brown, who is a combination or restless sleeper, felt this pillow was the right mix of supportive and breathable. "The pillow has a nice weight to it and the core materials feel like nothing I've used before, in a good way," says Brown.
The Purple Harmony pillow is available in three pillow heights (low, medium and tall) and two sizes (standard and king).
Award: Best Pillow | Type: Down Alternative
Casper calls this a pillow-in-a-pillow because it has two layers — an inner core with shorter fibers and an outer layer with clump-resisting, softer fibers. NBC Select manager of editorial operations Shari Uyehara found it soft and decently firm, especially for a non-foam pillow.
The Casper Original Pillow is made with a breathable percale cotton cover and polyester fill, and is available in standard and king sizes. Both the inner and outer pillows are machine washable and dryable, according to the brand.
Award: Best Pillow | Type: Cooling
Casper's regular foam pillow won our award for best pillow during Select's Best of Wellness Awards, and this cooling option from the brand was a team-favorite when it launched earlier this year.
Rodriguez is a hot sleeper who sleeps with the AC on — otherwise, she wakes up sweating. This pillow's cooling and comfort exceeded her expectations. It felt icy to the touch and helped her fall asleep faster than a traditional pillow. "If you find yourself waking up multiple times throughout the night just to flip your pillow to the 'cold side,' this pillow is so worth the investment," says Rodriguez. 
Award: Best Pillow | Type: Body
With the right adjustments, this flexible, tie-able body pillow proved to be cozy and comfortable. At first, NBC Select page Carolyn Chun, who is 5 feet 8 inches tall, found this pillow too long to be comfortable or huggable at 8 inches wide and 82 inches long. After tying it into a knot, Chun found it much more manageable, comfortable and firm.
The fabric is made from eucalyptus Tencel which is pet- and kid-friendly, while the interior is made with a recycled plastic fill, according to the brand.
Award: Best Pillow | Type: Side Sleeper
We found this foam side sleeper pillow to be both supportive and tension-relieving. Malin was skeptical of its rectangular shape at first, but it kept her head and neck better aligned with her spine when compared to traditional pillows. "I'm honestly shocked by how much this has improved my sleep," says Malin.
The Pillow Cube side cube is available in three pillow heights (thin, standard and thick).
Blackout curtains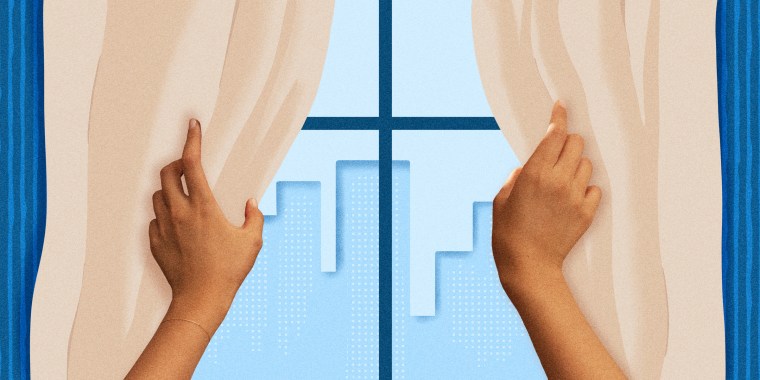 Award: Best Blackout Curtain
Select social editor Sadhana Daruvuri likes this blackout curtain because it successfully blocks out light, keeping the room dark and cozy. "The sound of the street noise was a little quieter when I had these curtains up," she says. She adds that these curtains were able to keep her apartment cooler. Installation is easy too: "I love the loops on the back that made sliding the curtains over the rod easier, without the need for grommets that allow too much light to come in through the holes," Daruvuri says.
You can shop this option in three colors and sizes. Quince also has free returns, just in case these are not the right fit for you.
Award: Best Blackout Curtain | Type: Value
These curtains were able to block out light, even during bright days, says Daruvuri. She says the only light that slipped in was over the curtain rod. Her room also feels cooler with these curtains and they even muffle street noise. The curtains fit her window measuring 60 inches by 80 inches perfectly and they were easy to install over her curtain rod, she says. You can shop them in five colors and three sizes.
Select Best of Bed & Bath: Bathroom winners
Robes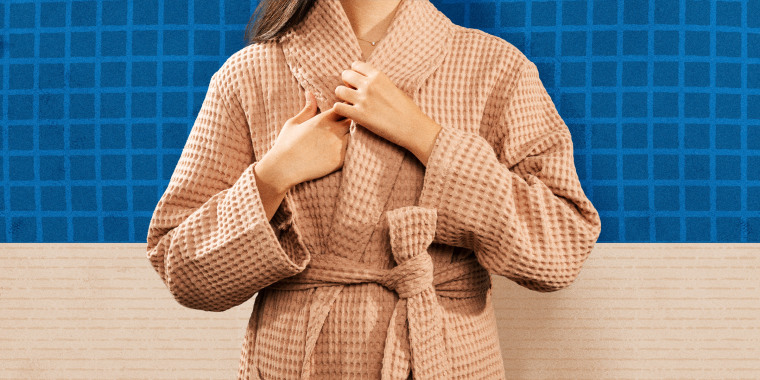 Award: Best Robe
This 100% organic cotton robe from The Citizenry quickly became a Select staff favorite because it's perfect for a post-shower dry or simply lounging around the house. "The soft waffle weave fabric is super lightweight, so I never feel hot when I wear it right out of the shower, which is my usual problem with robes," says Select updates editor Mili Godio. 
Rodriguez says she enjoys how cozy, absorbent and easy to care for this robe is since it's machine-washable. For Alvarez, the size and fit is the best part. "I had everyone in my family, including my mom and grandma, try it on, and it was the perfect length for all of our different heights, and everyone loved how lightweight and soft to the touch it was," she says. This robe is available in three colors, including mist and olive, and comes in three sizes: small, medium and large. 
Award: Best Robe | Type: Post-Shower
With its newly updated design, this Weezie robe is shorter and more lightweight than its original signature robe. The robe has shortened sleeves, a cropped length, no collar and an attached tie.
"It felt light to wear and was perfect for post-shower because it was basically like wearing a really light towel around my house," says Tinelli. While trying the Weezie robe, Tinelli enjoys how quick-drying the 100% organic long-staple cotton robe is. She also says the machine-washable robe is easy to care for because you only have to wash it with like colors and tumble dry low. The robe comes in six different sizes and seven colors, including light pink on white, navy on white and white on white.
Award: Best Robe | Type: Lounge
This 100% long-staple Turkish cotton unisex robe has 4-ply gauze, two side pockets and a waist tie. Alvarez enjoys the size and fit of this robe: She can adjust how tight it fits using the attached tie, and the length falls comfortably right below her knees. Both Alvarez and Malin found the material to be soft and warm without causing them to overheat by being too thick or fluffy. "It's lightweight and breezy, so I can comfortably wear it for hours, and it makes for a great all-season robe," says Malin.
Both Malin and Alvarez found this robe very durable after wearing it for hours and washing it numerous times. The robe is available in eight sizes and seven colors, including clover, coal and evergreen.
Towels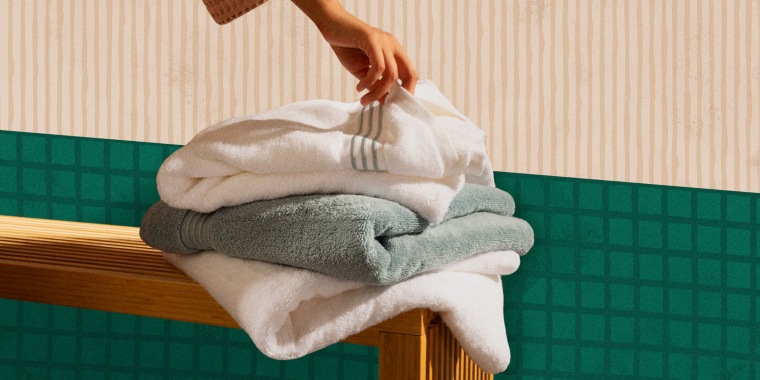 Award: Best Towel
Threshold's Signature Spa Bath Towel has a plush yet lightweight feel and medium thickness, says Leah Ginsberg, Select managing editor. It's made from 100% cotton terry fabric, which our reviewers say dries quickly. You can purchase the towel in multiple colors like white, light gray, light blue and light mauve, as well as three sizes: bath towel (56 inches by 30 inches), bath sheet (65 inches by 33 inches) and hand towel (30 inches by 16 inches).
"This towel is so comfortable, such a fair price and held up after I used, washed and dried it," says Malin. "I'm usually wary about using plush towels like this one because they tend to lint and shed, but the brand says these are low-lint and shed-free, and they truly are." The towel is also benzoyl peroxide-resistant, according to Target, so getting small amounts of skin care products on it won't cause discoloration.
Award: Best Towel | Type: Waffle
Some waffle towels we tried felt scratchy against reviewers' skin, but Quince's — which is made from 100% organic long-staple Turkish cotton — is "super soft," Ginsberg says. And while it's a thin, lightweight towel, the waffle texture gives it some dimension, according to Malin. "You can fold the towel down or roll it up, and it takes up very little space, so it would be a great towel to travel with. It's also easy to store and doesn't take up much room in the washer or dryer, which I appreciate," she says. The waffle weave also does not lint or shed, according to our reviewers.
The Quince Organic Turkish Waffle Towel measures 27 inches by 54 inches and you can purchase it in white, gray, ivory and silver colors. It's machine-washable and does not shrink or discolor during wash or dry cycles, in our reviewers' experiences. However, the waffle weave, by nature, has small holes in it, so be aware that the fabric can pull, says Schneider.
Award: Best Towel | Type: Plush
"This towel has a luxurious feel to it," says Sadhana Daruvuri, commerce social media editor. "It's great for anyone who really wants to pamper themselves or feel like they're at a spa every time they step out of the shower." Harry Rabinowitz, NBC Select reporter, also says "it strikes a good balance between being soft to the touch and still moisture-wicking." The towel is a thicker option, but it's lightweight, according to our reviewers.
The Crane & Canopy Luxury Plush Cotton Towel is machine-washable, and our reviewers say it maintains its cozy texture and high absorbency after being cleaned. It also has a built-in loop for easy hanging on a hook in your bathroom. You can also add a monogram to the towel for an additional fee. It's available in white and comes in four sizes: bath towel (30 inches by 56 inches), bath sheet (40 inches by 70 inches), hand towel (20 inches by 30 inches) and washcloth (12 inches by 12 inches).
Award: Best Towel | Type: Hair
Hair towels are smaller than bath towels, making them easier to balance atop your head as they absorb moisture from your hair and help it dry faster. Crown Affair's Hair Towel is made from a microfiber waffle knit material that's part polyester and part nylon. "Unlike a traditional terry cloth towel, the waffle knit material really absorbed the moisture of my hair and was quick-drying," says Alvarez. Most hair towels are shaped like a triangle, but Crown Affair's is shaped like a rectangle, making it larger than most options we tried at 32 inches by 38 inches. Its bigger size is suitable for hair regardless of length or thickness, says Schneider. The towel's elastic loop is also thick to keep the twist in place, she says (Note that Crown Affair does not recommend hanging the towel up by its elastic loop since it can stretch).
Bath mats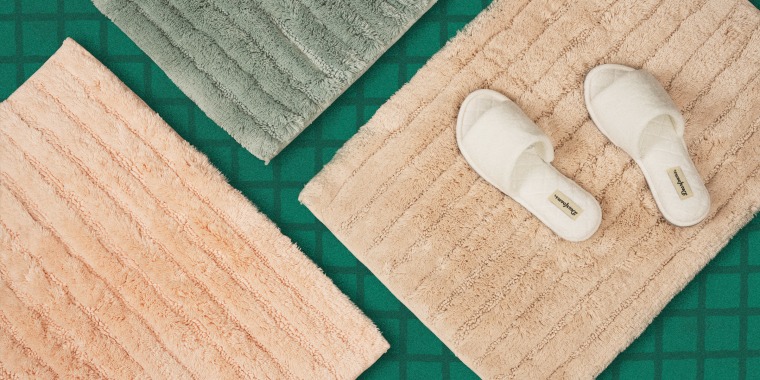 Award: Best Bath Mat | Type: Stone
This non-traditional bath mat is made from a blend of algae and recycled paper and has the texture of smooth stone. It's also extremely absorbent. "If I step on this bath mat with wet feet, the stone absorbs the water instantly and is almost totally dry within less than a minute of me stepping off of it," says Malin. She also likes that it doesn't skid or move across her floors. "It's also the easiest to clean as you can wipe it down, saving you the hassle of laundry," says NBC Select associate editor Nishka Dhawan. It's not soft or plush, but if you need a bath mat that can easily absorb water post your showers and baths, you'll like the Dorai Zen Bath Mat.
Award: Best Bath Mat | Type: Fabric
The Company Store Green Earth is our favorite fabric option as it is absorbent, soft and easy to clean. "It felt cozy on my feet like sliding into slippers," says Rodriguez. It's easy to clean too — you can just add it to your laundry. That said, since it has a tufted texture, it might shed a bit, according to both Rodriguez and Dhawan. You can fold it away when it's not in use and it's available in multiple sizes and colors, depending on the style of your bathroom.
Shower liners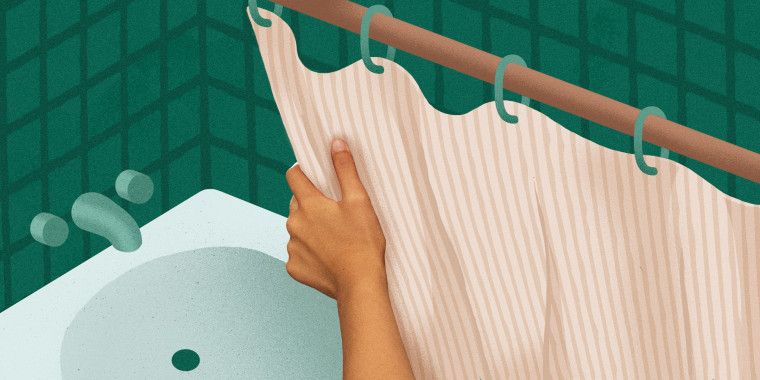 Award: Best Shower Liner
This waterproof shower curtain is easy to install and odor-resistant, according to Uyehara. She also likes the geometric pattern of this pick, and you can choose between six different colors. The liner eyelets are also rust-proof and designed for long-term use, according to the brand. It weighs just 8 grams and is semi-opaque, delivering privacy while you shower, according to Bostofy.
How we chose our winners
To find our winners, our editors and staff tried hundreds of bed and bath items. Products underwent a five-week trial period before being selected as our favorite in their respective category.
When we look at any products, especially bed and bath items, we look at them comprehensively. To be our favorite in a category requires fulfilling a multitude of our readers' needs. We want to provide products that perform well, but we also want to share ones that allow our readers to upgrade their lives. Among other things, we specifically looked at price, fabric quality, absorbency and effectiveness.
What our badge means
When a product carries the Select badge, you can trust that our team of editors as shopping experts vetted the item thoroughly. We are journalists, first and foremost, which means we will always do our research and reporting.
Catch up on Select's in-depth coverage of personal finance, tech and tools, wellness and more, and follow us on Facebook, Instagram, Twitter and TikTok to stay up to date.