LONDON — Britain's historic decision to leave the European Union on Friday has left the country facing uncharted political territory.
Not only did more than half the electorate defy pollsters' expectations in voting to leave the 28-member bloc, but British Prime Minister David Cameron announced hours later that in the fall he will stand down as the country's leader.
No country has left the EU in its modern form, so there is a huge degree of uncertainty about how the coming months and years will unfold. As the result became apparent, this insecurity saw wild movements in the markets, but analysts say long-term trends are harder to predict.
The complex divorce will likely take years to finalize. Here's what we know about what might happen.
Immediate Aftermath
The "Brexit" referendum was a pivotal moment for the U.K. — but it also presents the biggest challenge to the EU in its six-decade history. As such, the most immediate political reverberations may be more apparent on the continent rather than London.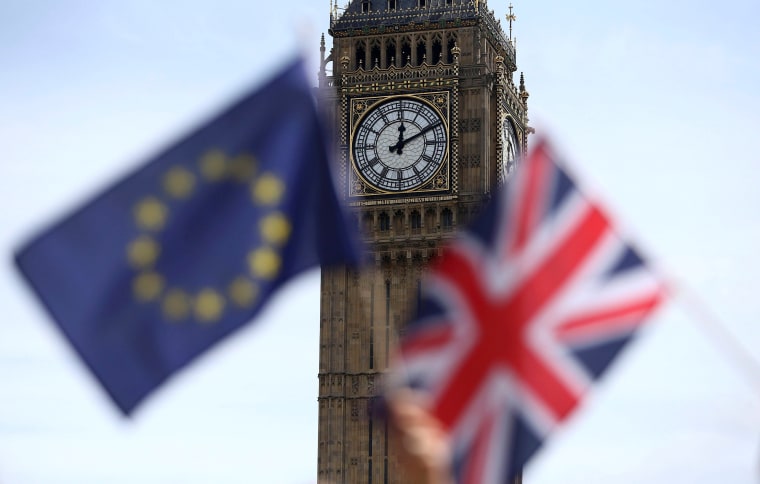 Keen to limit the stresses linked to losing a key member, European leaders will scramble to meet over the weekend ahead of a scheduled summit next Tuesday. They will also want to pour water on other countries potentially following Britain's lead.
"It's completely uncharted territory and there will be complete political instability in Britain for the next few months," according to Professor Damian Chalmers, an expert on EU law at the London School of Economics.
The remaining 27 member states will meet to draw up "red lines" — issues on which they will not budge when drawing up a new relationship with Britain. "Latvia might be concerned about the free movement of people, for example, or Spain might be talking about fishing rights," Chalmers said.
Meanwhile, EU leaders were quick to voice their concern.
"The worst thing we could do is allow more instability into the EU," Eurogroup President Jeroen Dijsselbloem said after the vote. "Alas, the British have chosen that."
Europe wants to show any other countries thinking of following Britain's exit that "leaving is a costly exercise," according to Robert Schütze, a professor of European Law at Durham University. Much of the immediate rhetoric will be designed to show that "out is out" and that members need to say in the EU to keep its economic benefits, Schütze said.
While there will be lots of "hot air" in the coming days, according to Chalmers, British Prime Minister Cameron said he wanted to delay the separation process until his successor has been elected.
New Leadership
Cameron's decision to quit as leader of the ruling Conservative Party confirmed what many analysts predicted would happen the event of a "Leave" vote.
For months, he has been almost exclusively focused on campaigning for the losing side, and he accepted in his resignation speech that he had lost perhaps the biggest political debate in a generation.
"I do not think it would be right for me to try to be the captain that steers our country to its next destination," he said.
Cameron said negotiations with the EU won't begin until the leadership contest is decided. Boris Johnson — the pro-"Leave," New York-born former mayor of London — is among the front-runners.
The prime minister said he wants the new leader to be in place by October, allowing that person to trigger the next phase of the U.K. leaving the EU.
Negotiations
Whoever wins the leadership will have to trigger Article 50 of the Lisbon Treaty, an agreed set of rules signed by all 28 EU member states in 2007. Article 50 sets out a basic procedure of how a country should go about leaving the union.
This is where things descend into the realm of the unknown: Article 50 has never been used. The closest case studies are Algeria leaving the EU's predecessor, the European Economic Community, in 1962 after it gained independence from France, and Greenland completing a partial exit in 1985.
Chalmers, at the LSE, said it was "really a stretch" to use these examples when talking about the current situation. "The U.K. is the second-largest economy and one of its most populated states — there's a lot to negotiate," he said.
Any prime minister who tried to sever ties with the EU without using Article 50 would be guilty of a "breach of international and EU law" and would "create a hostile environment" for the necessary future negotiations with Britain's former club, according to government guidelines provided to the U.K. parliament in February.
"The process is unprecedented," the guidelines said. "Article 50 ... is untested. There is a great deal of uncertainty about how it would work. It would be a complex negotiation"
In It For the Long Haul
This process is likely to be as slow as it as complex. Triggering Article 50 would start a two-year countdown timer for the U.K. and EU member states to negotiate their divorce.
This deadline can only be extended with both parties' say-so, and any of the remaining 27 countries can veto Britain's demands.
Two years may sound like a long time, but thrashing out the precise arrangements for Britain's withdrawal would be far from a walk in the park.
The U.K. will have to decide what sort of relationship it wants with the EU in terms of trade. Countries such as Norway, Switzerland and Turkey, all of whom are wholly or partially in continental Europe, have different relationships with the union.
Britain would have to decide what its version will look like.
One of the "Remain" camp's leading arguments was that the U.K. would suffer without access to the EU's single market. It may still be able to access this club, but would likely need to accept some EU rules on areas such as the free movement of workers.
Arrangements will have to be made for the 3 million EU citizens in the U.K. and the 1.2 million Brits living in the other 27 EU countries.
Then officials must decide how to unpick the 80,000 pages of laws forged between the U.K. and the EU deciding which ones to keep and which ones to ditch. There is no guidebook for how to negotiate this process.
"I think its likely that it will be five-to-10 years before all this is settled," Schütze said.
A Nation Divided
Even after the dust settles on this technical quagmire, the United Kingdom will be left with a divided population and a political class wounded on all sides by what has been a brutal debate.
The ruling Conservatives have been riven by infighting and unprecedented verbal attacks between the prime minister and some of his leading ministers. The opposition Labour party have largely supported "Remain," but they have been far from unified under their previously euroskeptic leader, Jeremy Corbyn.
Bookending this mess are the United Kingdom Independence Party, or UKIP, and the pro-Remain Scottish Nationalist Party, who may once again seek independence for Scotland following the vote.
Like their politicians, the British people have split into two bitter camps. The campaign has been characterized by increasingly rancorous arguments from the doorstep to social media, and the shooting of pro-"Remain" lawmaker Jo Cox just a week before the vote cast a shadow over it.
While some 17.4 million people voted to leave the E.U., this was less than 52 percent of the electorate. For the sizable minority of 16.1 million voters, their country is about to lurch in a direction that they passionately oppose. There is little prospect of a reversal soon, if at all.