HOUSTON — Clinging to a tree branch with the bayou currents rushing around him, Sammy Saldivar watched helplessly as the van carrying his parents and four great-nieces and great-nephews bobbed in the water.
"He could hear the kids screaming and crying, trying to get out of the van," Saldivar's brother, Ricardo, told NBC News on Tuesday.
"He said, 'Climb to the top, go out the back door,'" he said. "But [with] the van pointed straight down, they couldn't climb up the van, much less open the door.
"He just seen the van go under the water."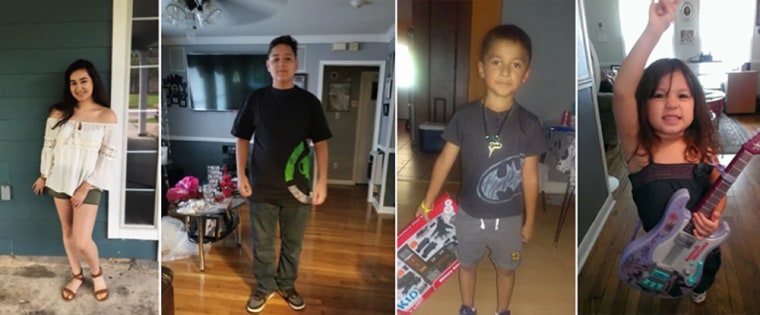 Two days after that gut-wrenching scene unfolded in Houston's Greens Bayou, in the wake of Hurricane Harvey, the white van has yet to be found. Family members have given up hope that those trapped inside could be found alive.
Sammy Saldivar spent 45 minutes in the water before sheriff's deputies spotted him and threw him a rope, his brother said. He escaped with his life but is wracked with guilt.
"Every time we hang up he says, 'I'm so sorry,' like it's his fault," Ricardo Saldivar said. "I told him, 'It's not your fault. It's just something that happened.'"
The stage for the tragedy was set over the weekend as rain deluged the northeast Houston neighborhood where many members of the tight-knit family live.
"No sleep & anxiety, please let this pass sooner," Devy Saldivar, 16, wrote on her Facebook page.
Related: Hurricane Harvey: How to Help Storm Victims
By Sunday morning, the floodwaters were rising and the family was panicking.
Danny Saldivar asked his brother Sammy to get the keys to his van and move their elderly parents, 84-year-old Manuel and 81-year-old Belia, both Alzheimer's patients, to dry ground.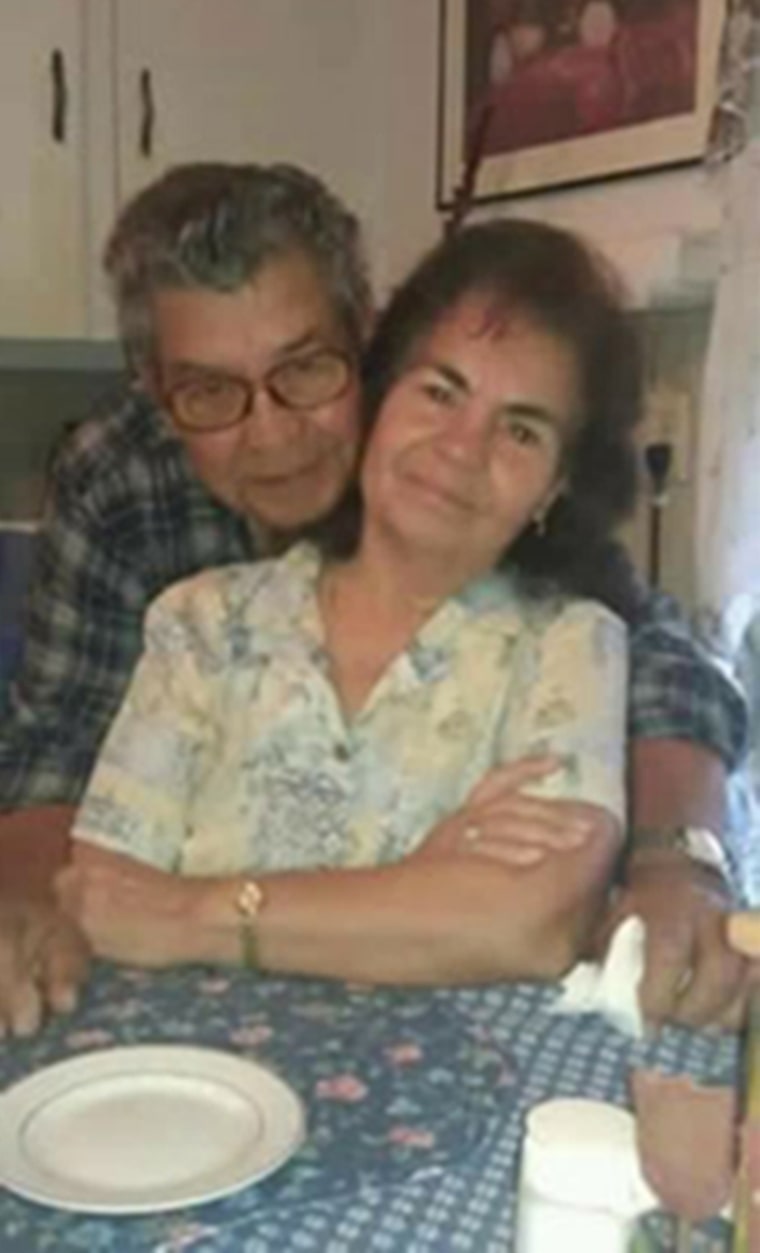 He also suggested that Sammy stop by the house across the street and collect Manuel and Belia's great-grandchildren: Devy, 15-year-old Dominic, 8-year-old Xavier and 6-year-old Daisy.
The plan was to drive them all to Ricardo's house, which meant crossing a bridge over the swollen bayou. Sammy told his family that Manuel told him to just forge ahead, so he drove over.
"When he got across, the road dipped down and the current swept the van to the right and put it in the bayou," Ricardo said.
"Sammy told me he panicked and he got scared. Him and mom and dad were under water already," he said. "He squeezed out [of] his belt...he just squeezed out a halfway open window and grabbed onto a branch and that's what saved his life."
Sammy, his brother said, wanted to dive in and "do something" but he knew if he let go of the tree, he'd be swept to his death by the currents.
"He just hung on and kept screaming for help," Ricardo said.
Elsewhere, the family anxiously waited for news that everyone in the van was safe. Danny Saldivar posted photos of water lapping at his front door on Facebook.
"My brother has my van with my mom and dad some where," he wrote. "Not answering the phone... I hope they are safe and sound and got out of the floodwaters."
By the time deputies got to Sammy, there was no sign of the rest of the Saldivars and little chance they had survived.
"All he could tell the sheriff is, 'The van is down there,'" Ricardo said.
Related: Houston Faces Years of Rebuilding After Harvey
The Harris County sheriff's office confirmed in a tweet that it had rescued Sammy Saldivar and that he had told them the van was swept away before his eyes, but they could not confirm any other details.
Forty-eight hours later, the water had not receded enough to allow recovery crews to look for the vehicle. Relatives said they could not really begin to grieve until it was found and their worst fears were confirmed.
The children's mother had been trying to get a boat ride so she could go to the bayou herself and look for them. She was too distraught to speak to anyone, relatives said.
"They were the sweetest kids," the children's grandmother, Virginia Saldivar, told NBC News. "Devy loved animals, Starbucks and thrift store shopping. She was my sunflower, my sunshine. Xavier was the sweetest boy. He loved anything Army and playing video games.
"Daisy was our princess. She was grandpa's girl. She loved kittens and dressing up, and watching YouTube videos. Dominic was my heart. He was the most amazing, loving boy. He loved playing his trombone, watching YouTube and playing video games. He loved his family and he would defend them against anything," she said.
"These kids lived across the street from us and we would see them everyday. They were our life."
Ricardo Saldivar said that while it would be a blow to lose his parents, they had lived a long life and were restricted by dementia. It was the death of the four young siblings, who had their whole lives ahead of them, that would be so crushing.
"It's a lot to bear," he said. "I just keep thinking no matter how bad I feel, I know my brother Sammy is that much worse because he was right there and couldn't do nothing about it."
Miguel Almaguer reported from Houston and Tracy Connor reported from New York.