Amid the escalating backlash to the Trump administration's "zero tolerance" border policy, federal officials made the case in recent days that families crossing into the United States illegally were also doing so fraudulently, with traffickers posing as parents of unrelated children.
Homeland Security Secretary Kirstjen Nielsen said at a White House press briefing on Monday that between October and February there had been a more than 300 percent rise in the number of cases where "minors have been used and trafficked by unrelated adults in an effort to avoid detention."
But a review of department data and interviews with officials, immigration lawyers and advocates show that it's unclear how much of a surge this was — or whether these crimes were as ominous as Nielsen suggested.
According to Department of Homeland Security spokeswoman Katie Waldman, that 315 percent spike equaled 145 more cases — up from 46 from October 2016 to September 2017, to 191 in the first five months of this fiscal year. Nielsen previously called this surge in fake families "staggering."
Yet those 191 cases represent just half of 1 percent of the roughly 31,000 people who illegally crossed the border during those five months, department data shows.
Waldman said that most of these cases occurred in United States Customs and Border Protection agency's Rio Grande Valley sector — a 17,000 square-mile swath of borderland that stretches from Rio Grande City in the west to Brownsville and Corpus Christi in the east.
At a Sunday news conference, the region's sector chief, Manuel Padilla, said his agents had identified more than 600 cases of family fraud since October.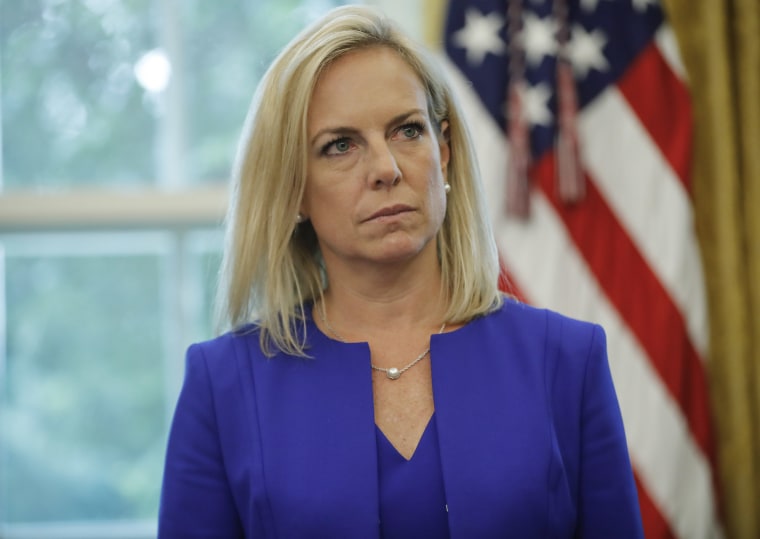 But in an interview, deputy chief Raul Ortiz said these cases did not involve human trafficking, or the illegal transportation of someone typically for sexual exploitation or forced labor. "Trafficking is very different than trying to be smuggled between points of entry," he said.
Ortiz said it was possible that criminal organizations use familial relationships as cover. For instance, a man officials said belonged to MS-13 illegally crossed with a 1-year-old boy in May, believing that authorities would release him if he was with a child. But that boy was the alleged gang member's son, Ortiz said.
Ortiz said the Rio Grande Valley fraud cases mostly involved false documents — adults trying to pass as minors — or "imposters," where someone who may be a brother, cousin or neighbor identified themselves as a parent, Ortiz said. "They know enough about the person, but not enough that we'd consider them a family unit." (It wasn't clear if Nielsen was referring to a different Border Patrol sector. Waldman did not respond to NBC News' requests for clarification.)
Of those 600-plus cases, Ortiz said, 63 have been referred to prosecutors. Thirty-six involved adults claiming to be children. The remaining 27 were allegedly family fraud.
Ortiz could not provide other specifics about the cases, such as what charges they face besides illegal entry. But it wasn't clear that they were on the rise.
"I think we've gotten better at IDing cases" of fraud, he said.
Annaluisa Padilla, an immigration lawyer and former president of the American Immigration Lawyers Association, said there may be a good reason that children were traveling with people who weren't biological parents — but may have presented themselves as such.
"You have to have a cultural understanding of what's happening" in El Salvador, Guatemala and Honduras — countries plagued by corrupt and weak governments and powerful criminal organizations, Padilla said. According to Ortiz, 70 to 80 percent of the people who Border Patrol agents encounter in the Rio Grande Valley sector are from this so-called Northern Triangle.
The parents "may already be here," Padilla said. "They may have been killed. And the [kids] were left with an aunt or an uncle. They see this relative as their parent. They've been acting as a de-facto parent."
Padilla said that it can be near impossible for these relatives to navigate the bureaucracies in their countries and formally adopt a child, especially when that child needs immediate care. She recalled child clients who believed their grandparents to be their actual parents — a belief that can seem that much more real if the child's mother had long ago fled because of domestic violence.
"They have limited memories," she said, adding, "The child says: 'This is my parent.'"
Ellyn Josef, who heads a pro-bono program at a Houston law firm that handles immigration and asylum cases, said that the hardships people escaped can sometimes make them appear inconsistent during interviews with authorities.
"They're sometimes embarrassed to tell us things about their past," she said. "It's messy. Their lives are difficult in their home countries, and it's possible out of desperation they're highlighting different facts, or not revealing facts."
All of the alleged Rio Grande Valley family fraud cases occurred among those crossing the border illegally, Ortiz said. Instead of using an official entry point into the United States, they were found going from a "stash house into the brush," he said. "None of them presented themselves at a port of entry."
But Bill Holsten, a pro-bono asylum lawyer and executive director of North Texas Human Rights Initiative, said that wasn't surprising, especially amid reports that agents are turning away asylum-seekers at official border crossings.
Holsten said that many of his clients only had the vaguest idea of how to apply for asylum. He recalled a woman from Eritrea who floated across the Rio Grande on an inner tube — then looked for an American flag to present herself to authorities.
In his six years at the initiative, Holsten said he'd never heard of a case of family fraud. He acknowledged that the asylum claims his organization handles are well-vetted, unlike what Border Patrol agents deal with.
But in the many cases he's seen of relatives or neighbors arriving at the border with children that weren't theirs, the adults were always upfront about it.
"They say, 'this is not my kid,'" he said.