Mandalay Bay shooter Stephen Paddock gambled with at least $160,000 in the past several weeks at Las Vegas casinos, according to senior law enforcement officials.
There were 16 Currency Transaction Reports, or CTRs, filed for Paddock in recent weeks. The Treasury Department and the IRS mandate that casinos file the reports for "each transaction in currency involving cash-in and cash-out of more than $10,000 in a gaming day."
The reports don't show whether Paddock won or lost or both on the days in question. They do show that on same days there were multiple transactions.
A source familiar with the investigation told NBC News that Paddock was a frequent player "with the highest status" at Caesars Entertainment properties in Las Vegas.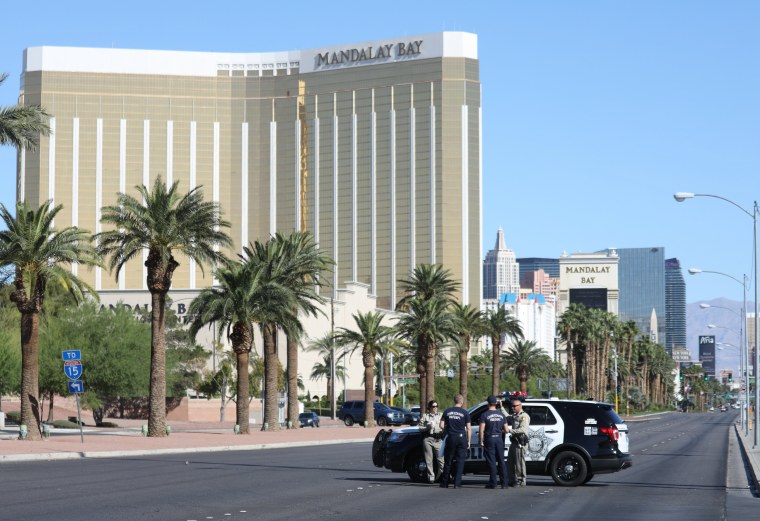 According to the company's website, the top level for gamblers is Seven Stars Tier Status, which is by invitation only and subject to alteration or cancellation. Privileges include comped rooms, room upgrades, player credits and access to "signature experiences."
Paddock lost a slip-and-fall lawsuit against another Vegas casino, the Cosmopolitan Hotel. He still owed $270 in court fees when he killed himself and 58 other people Sunday. Authorities said Tuesday night that the widely reported number of 59 deaths includes the gunman.
Security video from the Cosmopolitan Hotel shows Paddock slipping and falling on Oct. 30, 2011, as he walked from a hotel shop toward a high-stakes area in the casino. Paddock said he had slipped in a puddle of liquid and sued the hotel in 2012, initially asking for $100,000, according to the attorney for the hotel, Marty Kravitz.
Paddock reported incurring more than in $32,000 in medical bills, and also wanted to be paid for pain and suffering. Security video shows him getting medical attention and then being stretchered out of the casino.
"They always ask for a lot more than they can get, but he got nothing," Kravitz said.
The arbitrator ruled in favor of the casino and dismissed allegations of negligence as "without merit."