Monday marks two months since Hurricane Maria plowed through Puerto Rico with a deadly destruction that left island residents scraping for survival or forced to flee to the U.S. mainland.
The hurricane made landfall Sept. 20, ripping through the island's shaky infrastructure. The electrical system has been partially resuscitated, helped by mega-generators imported by the Army Corps of Engineers, but as of Monday, less than half — 46.6 percent — of Puerto Rico had power.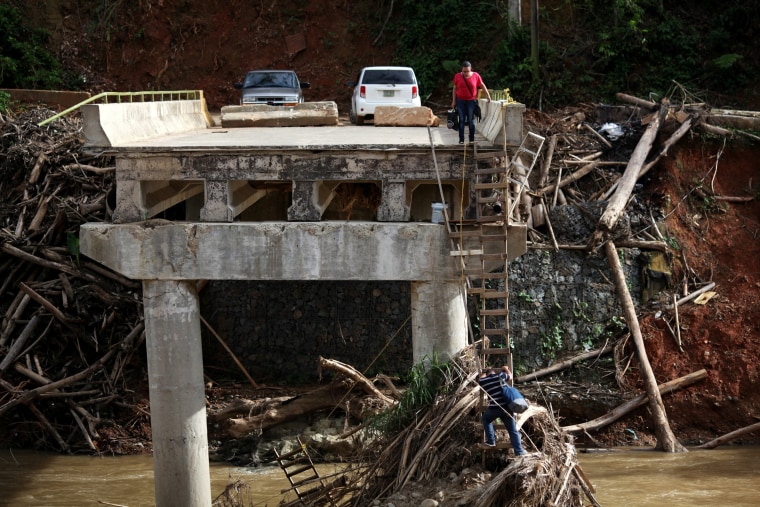 Getting the island back up to full power has proved daunting, stumping a recovery that can't get going without electricity up and running.
Telecommunications is still operating at about 75 percent capacity and cellphone service at 65 percent, and one-in-10 Puerto Ricans still lack potable water.
On Monday, former President Bill Clinton was visiting the island on behalf of the Clinton Foundation, which has said it's partnering with solar groups to return electricity to Puerto Rico and the Virgin Islands, which also has been devastated by Hurricane Maria.
Carmen Yulín Cruz, mayor of San Juan, has spent the past two months playing the agitator as the crisis has continued to drag on, urging the federal government to step up its recovery efforts to get the island back on track.
"I don't want a Puerto Rico where people depend on the government for food or water," Cruz told MSNBC Monday. Cruz is one of the nominees for Time magazine's Person of the Year.
Politicians have been in and out of the island and that has led to a spending law that provides $5 billion for Puerto Rico's recovery and billions for government agencies providing disaster assistance. Projections are that a lot more will be needed.
On top of that, millions has been raised and contributed by private groups and foundations and individuals.
Cruz said people from around the United States have been sending small donations, money orders, $50 or $10 attached to cards or pieces of paper. Some gave as much as $300 to $500. She has formed a foundation for those contributions, "Somebody Help Us," she said, adding that she'll be calling people who have included their phone numbers with their contributions.
"We're going to use it to rebuild homes, to make sure people have good drinking water, because even if it comes out of a faucet it has to be drinkable, to schools for children. Some of the schools have been in really bad shape. Twenty-five percent of what comes into the foundation goes to other towns outside of San Juan," she said.
Award-winning "Hamilton" creator Lin-Manuel Miranda joined celebrities, members of Congress and thousands of people who gathered in Washington to call attention to the island's plight. Miranda said Sunday that the Hispanic Federation, which his father founded and he has helped with fundraising, has collected $20 million for the effort.
Like others, he has said Puerto Rico can bounce back if the island gets the same level of help as residents of any of the 50 states. Puerto Rico is a territory of the United States and its residents are citizens.
"Puerto Ricans are resilient and Puerto Ricans work hard and if given a fair shot they'll come back and we'll rebuild our island," Miranda said on Sunday's edition of "AM Joy" on MSNBC. "But we haven't seen anything close to a fair shot yet."
Tammy Leitner and Bianca Seward reported from Puerto Rico.