House Speaker Paul Ryan on Saturday removed Republican Rep. Patrick Meehan from the Ethics Committee and ordered an investigation after a report that the Pennsylvania congressman used taxpayer funds to settle a sexual harassment complaint.
The New York Times reported Saturday that Meehan, a 63-year-old married father of three, professed his romantic interest in an aide last year, grew hostile when she did not reciprocate, and that his office reached a confidential settlement with the woman with the money to be paid from Meehan's congressional office fund. The report cited people familiar with the settlement, who were not named.
"Though Mr. Meehan has denied the allegations, they must be fully and immediately investigated by the House Ethics Committee," Ryan's spokeswoman, AshLee Strong, said in a statement.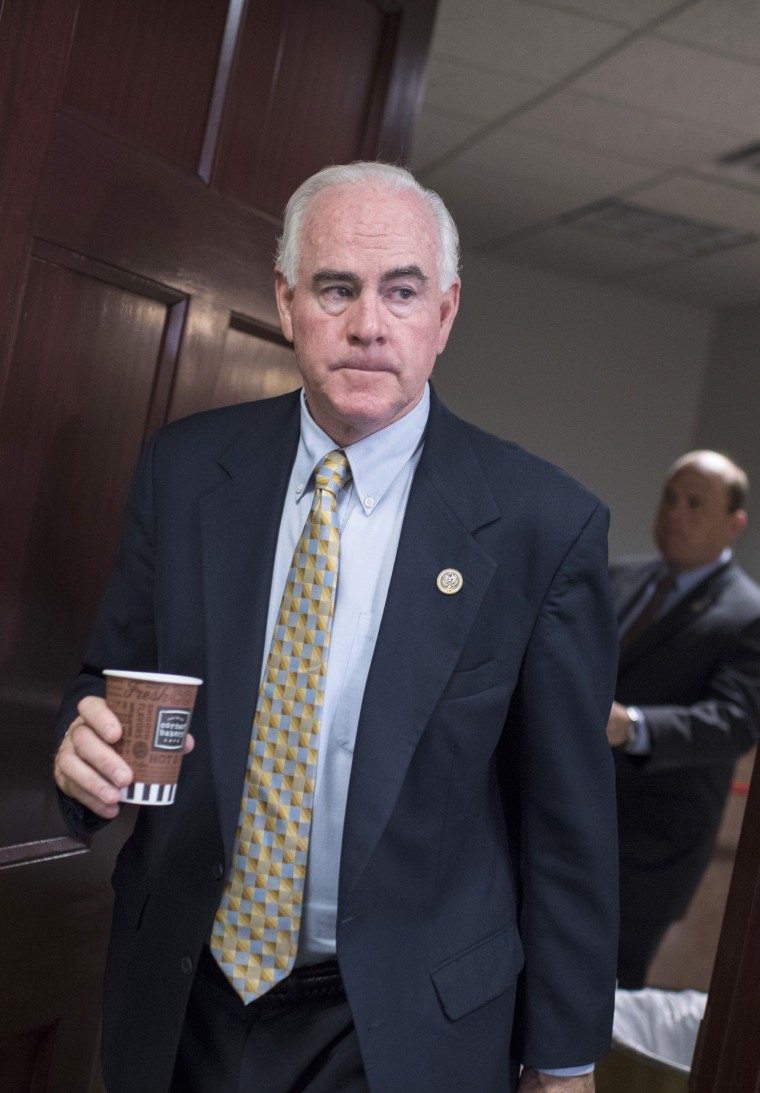 "Following a conversation with the Speaker today, Mr. Meehan will immediately submit himself to the Ethics Committee for review," Strong said. Ryan "also told Mr. Meehan that he should repay whatever taxpayer funds were used to settle this case," Strong said.
A spokesperson for Meehan said in a statement Saturday that "Congressman Meehan denies the allegations. Throughout his career he has always treated his colleagues, male and female, with the utmost respect and professionalism."
Related: House unveils landmark sexual harassment overhaul bill
"In this case, the employee, represented by counsel, made certain assertions of inappropriate behavior which were investigated," Meehan communications director John Elizandro said in the statement.
He said that Meehan "would only act with advice of House Counsel and consistent with House Ethics Committee guidance," that "every step of the process was handled ethically and appropriately," and that Meehan asked that the confidentiality requirements in the case be lifted "to ensure a full and open airing of all the facts."
The report about Meehan's alleged misconduct and the payment comes as an effort in Congress seeks to overhaul a system that allows sexual harassment settlements using taxpayer funds. The system, which some say is byzantine and secretive, has been in place on Capitol Hill for decades.
The House on Thursday unveiled the Congressional Accountability Act of 1995 Reform Act that among other things would prohibit lawmakers from using taxpayer funds to settle claims. Under the bill, the accused must reimburse the U.S. Treasury within 90 days of a settlement, and if they do not their wages will be garnished.
Ryan has applauded the legislation, which is expected to have widespread support and pass easily.
The Times reported that the aide was decades younger than Meehan and regarded him as a father figure, but after she began a relationship with someone outside the office last year Meehan expressed his romantic interest in person and in a letter.
Meehan reportedly became hostile, prompting the aide to start working at home. According to the Times she started the complaint process, but that complaint was met with an aggressive pushback by representatives of Meehan's office and lawyers, and the aide paid legal costs even after her job and ended up moving back with her parents before starting a new life abroad. The newspaper reported that people who know the aide said the experience left her feeling traumatized.
NBC News has not verified details reported by the Times.
Meehan was elected to represent Southeastern Pennsylvania's 7th congressional district in 2010. A former U.S. attorney, he has served on the Ethics Committee since 2013.
The Ethics Committee was involved in four investigations into sexual harassment or other conduct that came to light over the past few months.
Rep. John Conyers, D-Mich., retired in December while facing an ethics investigation into sexual harassment claims. Rep. Trent Franks, R-Ariz., resigned the same month after asking his female staffers about surrogacy.
Two other lawmakers who were under or faced investigations by the Ethics Committee for sexual harassment claims — Blake Farenthold, R-Texas, and Ruben Kihuen, D-Nevada — have said they would not run for re-election.