LOS ANGELES — Jeff Chop rarely finds himself at the theater on a film's opening night. The 70-year-old community activist says he doesn't like dealing with crowds because "it's just kind of a pain."
But on Wednesday night, he made an exception for "Crazy Rich Asians."
"I went in there not wanting to like it because it's been so hard to come up with a film with a story about Asians that reflect any sort of reality. But this particular film was a very well-done film," he admitted. "I absolutely am crazy about the film and if anybody asks, I'll tell them. And if nobody asks, I'll say, 'Hey, you looking for a film? This is pretty damn good.'"
At the ArcLight Hollywood, where nearly 20 showtimes were listed for the romantic comedy's Aug. 15 debut (allegedly due to demand after a Facebook-organized effort sold out a late night showing), every seat at the 7:30 p.m. show was occupied by viewers eager to support the first major studio production in 25 years to star an all-Asian cast.
The audience, which appeared to be predominantly of Asian descent, ranged from families to groups of young adults attending with friends. Before the first scene of the film began, as the opening credits rolled, people burst into applause. When the final scene faded out, somebody exclaimed, "Oh my god!" as the theater filled with cheers.
That atmosphere of excitement was reflected across the country on Wednesday as movie fans descended on theaters. In New York, there were audible gasps during a tense scene between stars Constance Wu and Michelle Yeoh. In Michigan, a group of women wearing hijabs stayed after the credits to discuss how their favorite characters handled the jump from page to screen.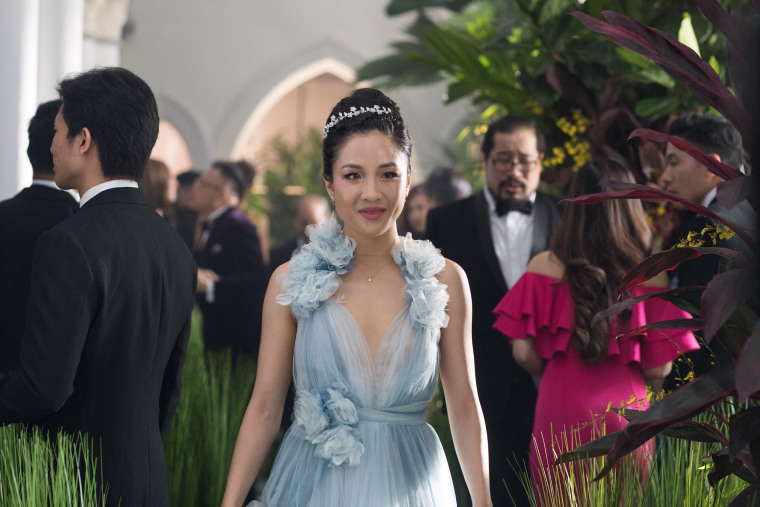 Wednesday's debut was the culmination of a process that began in October 2016, when Warner Bros. acquired the rights to produce "Crazy Rich Asians" following a reportedly heated bidding war. Based on Kevin Kwan's best-selling 2013 novel of the same name (the first of three in a series), "Crazy Rich Asians" tells the story of Rachel Chu (Wu), a California-born economics professor, who travels to Singapore for a wedding alongside her boyfriend Nick Young (Henry Golding). What Rachel doesn't realize until they board the plane is that Nick's family is wealthy and famous — and his mother Eleanor (Yeoh) is quick to judge Rachel the moment she meets her.
Buzz around the Jon M. Chu-directed film began early, from the announcement of a social media casting call in January 2017 to the reveal of Wu as the female lead and the selection of the rest of the cast (which includes veterans such as Yeoh and rising stars like Awkwafina). On the same day the first trailer was released in April, Chu and the cast attended a Los Angeles screening where they discussed their hope that "Crazy Rich Asians" would open doors for more Asian Americans to tell their stories.
"It's not a movie," Chu said. "It's a movement."
On Aug. 8, a week before the film's release, more than 350 locations hosted previews in a "unique" program, a Warner Bros. spokesperson said, noting that the screenings were well-attended and well-received. Deadline reported that they were paid, not free.
Early projections for the romantic comedy have been promising: the film's Wednesday debut is projected to make $5.3 million, according to Variety, with a projected five-day total of $27.5 million or more. As of Thursday morning, "Crazy Rich Asians" holds a 94 percent rating on Rotten Tomatoes with more than 100 critic reviews, and the ticketing company Fandango said in a statement Wednesday that the film was leading that day's sales as well as advanced sales for the weekend, outpacing the 2017 comedy "Girl's Trip." (Fandango is owned by NBCUniversal, which owns NBC News.)
Theaters have also taken notice of the success: Sarah Pitre, senior director of programming and promotions at the cinema chain Alamo Drafthouse, said previews their theaters hosted where guests were encouraged to wear black tie attire were well-attended, and the chain has also debuted a special food menu for the film.
Most of the chain's locations have already sold-out showings for this weekend, Pitre added.
"Reactions during the screenings were so positive: People were laughing; people were gasping over the wealth on display; there were people crying," she said. "I think word of mouth on this film will be spectacular."
At a theater near New York's Union Square Wednesday evening, Melissa Ng, who said she rarely sees movies in theaters, left the auditorium with tears in her eyes. She had gone with a friend, Kimberly Nonato, to a 5:50 p.m. showing that appeared near capacity.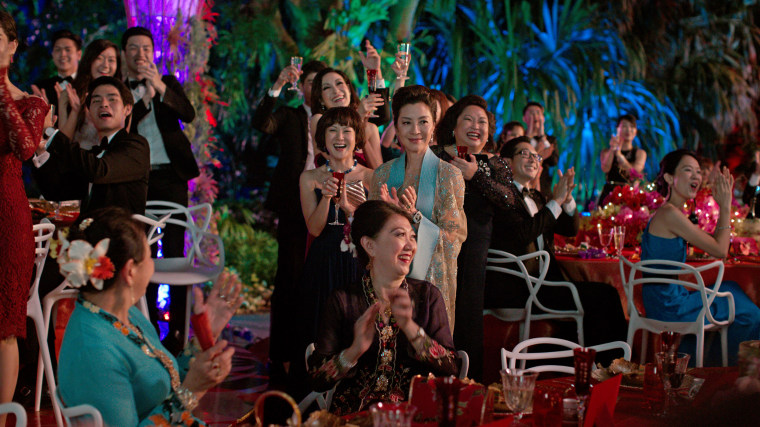 While there were many Asian Americans in attendance, no one ethnic group appeared to dominate. Ng and Nonato, who said they cried during the film, had read Kwan's trilogy of books last year.
"I thought it was great," Ng, 26, said. "It's awesome that it's an all Asian-American cast, and it's a good chick flick."
At a showing near the University of Michigan in Ann Arbor, an apparently multiracial crowd nearly filled the theater, but remained mostly reserved throughout the film — at least until two flower girls and a ring bearer appeared on screen during the "wedding of the century." After that, the crowd was more vocal in cheering their favorite characters on.
"We sat together in two rows and all sobbed together," Amanda Guo, a 21-year-old who attended the screening with other members of the Asian Google Network employee group, said. Branches of the group at Google campuses across the U.S. had organized a national watch party, according to Lauren Shauh, a Google employee in attendance.
"The music shook me," Anne Yu, 22, said. "There were songs my parents sang. Like, how did I know all the words?"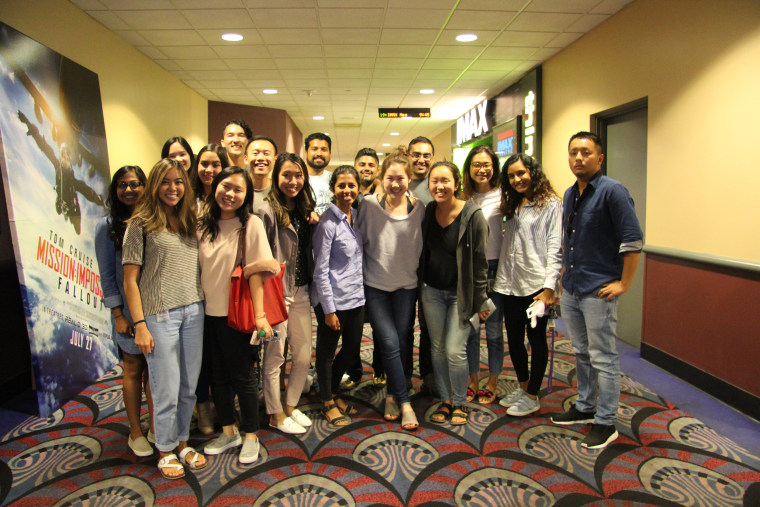 And in Los Angeles, at the Hollywood showing, 29-year-old Jonathan Cagadas walked out of the theater excited about what "Crazy Rich Asians" represents and the conversations it'll inspire throughout the community.
"To see this many Asian Americans on the screen just got me to come out on the first day," Cagadas said, adding, "I talked to my parents today and they're like, 'We're totally seeing it this weekend.'"
Traci Lee and Agnes Constante reported from Los Angeles. Charles Lam and Saleah Blancaflor reported from New York. Frances Kai-Hwa Wang reported from Ann Arbor, Michigan.
Follow NBC Asian America on Facebook, Twitter, Instagram and Tumblr.