MIAMI — In the months leading to the presidential primaries Tuesday in Florida and Arizona, the names Fidel Castro and Joe Arpaio have become part of the mix for Latino voters as they choose between Joe Biden and Bernie Sanders.
But the escalating coronavirus pandemic has made the issues surrounding the late Cuban communist leader and the ex-sheriff of Maricopa County, Arizona, secondary to whether to venture to the polls at all.
Florida and Arizona, as well as Illinois are going forward with their primaries despite the national emergency over the outbreak; Ohio's governor called for the primaries to be postponed.
State and county officials have said they are taking precautions such as cleaning polling stations and closing voting locations with vulnerable populations, such as nursing and retirement homes.
Latinos make up 20.5 percent of eligible voters in Florida and 23.6 percent in Arizona, according to the Pew Research Center.
In Florida, fierce opposition to communism and socialism has contributed to many Latinos rejecting Sanders' "political revolution," while in Arizona, what critics view as racist policing and anti-immigrant tactics by Arpaio has mobilized a generation of Latinos who want more than a decade of Republican policies reversed.
Biden is the clear leader in the nomination race, and polls don't offer much hope for Sanders' chances of turning things around, especially in Florida.
The primaries provide a chance to see whether Sanders can still grab large chunks of the Latino electorate in Arizona and possibly Illinois as he did in Nevada, California and Texas. Biden meanwhile must show he is becoming the preferred candidate of Latinos of all ages, not just older Latinos as he has been in other primaries.
In Illinois and Ohio, Latinos are 11.6 percent and 2.7 percent of the electorate. Illinois, however has almost as many voting-eligible Latinos — 1.1 million, mostly in the Chicago area — as Arizona, where there are an estimated 1.2 million.
In Tucson, Arizona, Jacky Vazquez, 19, was trying to decide last week who would get her vote. She said she was leaning toward Sanders, but was doing her own research because "no one tells me what my views are." She had only been contacted by the campaign of Mike Bloomberg, who has dropped out and endorsed Biden.
"I'm really focused on immigration ... and that is something that decides who I vote for, and I manage my family's business and anything that is for small-business owners, that's what decides my vote," she said.
She gets her ballot by mail and planned to walk it to her precinct on Tuesday. "I know people are worried about the virus but dropping off my ballot is going to take me a few minutes, a small action that is important for me and my community," she said. She added she's following other measures to keep her and her family healthy.
Sanders 'should have known better'
In a poll for Telemundo by Mason-Dixon Polling & Strategy, 48 percent of Florida Latinos surveyed said they'd vote for Biden and 37 percent for Sanders, while 12 percent remained undecided.
Before this primary, Sanders angered the large voting bloc of Cuban Americans — about half of whom voted for Hillary Clinton over Donald Trump in the 2016 election. In a recent "60 Minutes" interview, Sanders said that the reason many Cubans didn't challenge Castro and help the U.S. overthrow him is because "he educated their kids, gave them health care, totally transformed society."
Sanders' praise for the Sandinista revolution in Nicaragua in the 1980s, his refusal to call Venezuelan leader Nicolás Maduro a dictator and his characterization of Evo Morales' exit from the Bolivian presidency as a "coup" has also been criticized by some Florida Latinos whose families fled leftist-authoritarian Latin American countries.
Outraged Democrats in the state, whose constituents are known to split votes between parties, quickly repudiated the comments, hoping to distance themselves as they seek their own re-elections amid GOP hammering of all Democrats as "socialists."
Eduardo Siman, 37, said his family left El Salvador after the country's bitter civil war, whose leftist insurgency would not have been funded "if it weren't for Castro." Originally a Pete Buttigieg supporter, Siman cast an ballot for Biden, saying the former vice president "carries all the values of a centrist platform."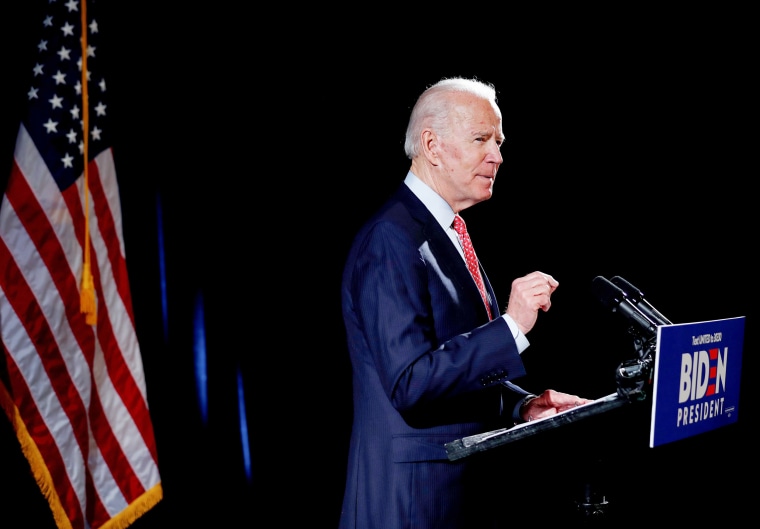 Senior Biden campaign adviser Cristobal Alex told NBC News that the former vice president has a better record with Latinos than Sanders. "We as a campaign need to be sure we are sharing that message," Alex said, criticizing Sanders' record not just on foreign policy but "his vote against immigration reform or position on gun manufacturers."
But some Florida voters say they support the Vermont senator's message.
Carmen Plasencia, 40, a Cuban American from Tampa, told NBC News that Sanders "should have known better" than to make the comments about Castro and should be "more connected to the trauma and the pain that people from Cuba have faced."
But Plasencia, a single mother who works as a massage therapist and yoga instructor, said she remains supportive of Sanders because "he is for the people." Unlike her grandfather, who worked as a landscaper and could buy a home, she said she doesn't have that opportunity.
In Sunday night's debate, Sanders was asked why Cuban American voters in Florida would support him in light of the praise of the politics of a dictator "who jailed, tortured and killed thousands of Cubans." Sanders said he "opposed authoritarianism everywhere."
"We condemn authoritarianism whether it's in China, Russia, Cuba, anyplace else. But to simply say that nothing ever done by any of those administrations had a positive impact on their people would, I think, be incorrect," Sanders said.
Florida's growing Puerto Rican vote
The state has had an influx of Puerto Ricans during the past 10 years after the island's economy collapsed and especially after the devastation of Hurricane Maria in 2017. (As U.S. citizens, Puerto Ricans who move to the mainland can register to vote in state and national elections.)
Stephanie Ramirez, 26, a Port St. Lucie resident who was born in Puerto Rico, said that her salary as a credentialing analyst disqualifies her for the Affordable Care Act, yet private health insurance is too expensive.
Although Sanders' values on health care and education appeal to her, she said she doesn't think they're realistic.
"Health care is important, and it pulls me toward Biden," Ramirez said.
Sanders' senior adviser Chuck Rocha said that in Illinois, the campaign has focused on reminding Puerto Ricans that the U.S. government has bailed out Wall Street, but has been unwilling to bail out the island as it grapples with its $70 billion debt.
Courting Arizona's mobilized Latinos
Arizona's Latinos are more likely to be Mexican American, and they have felt directly targeted by Trump and state-elected Republicans, said Tucson Mayor Regina Romero, the first Latina and woman elected to the office.
"The immigration issue, the in-your-face racist remarks have been clearly very directed to Mexican Americans and Mexican immigrants," said Romero, who originally endorsed Sen. Elizabeth Warren but is not endorsing anyone else before the primary.
Arizona officials and Latino advocates say many of the state's Latinos have felt the sting of Arpaio's policing and SB1070 —the 10-year-old immigration law that allows police to racially profile Hispanics to check their citizenship and immigration status. Add to that the state's ban on Mexican American studies and the state's constitutional amendment declaring English its official language.
Grecia Lima, the Tucson-based national political director for Community Change Action, said the state's increased Democratic mobilization, which she called a transformation, "is the product of young people and their commitment to their communities."
It is young Latinos who have been most enthusiastic about Sanders' campaign and turned out for him strongly in other states. The NBC News Super Tuesday exit poll showed Sanders won voters ages 17-29 48 percent to 17 percent over Biden.
In the debate Sanders warned Biden that, if he is the nominee, to beat Trump in the general election "you're going to have to bring Latinos ... who have the agenda that we need, but also don't vote in the numbers that we need." He said he doubted Biden's campaign "can generate that energy and excitement and that voter turnout."
But Rep. Ruben Gallego, D-Ariz., who originally endorsed Sen. Kamala Harris and now has endorsed Biden, said Biden and former President Barack Obama have a history with the state's Latinos.
"They are the ones that came in and protected the Latino community against Sheriff Arpaio and sued the state over SB1070 and then passed DACA," Gallego said, referring to the Obama program that shielded younger immigrants from deportation and that Trump is attempting to end.
DNC Chairman Tom Perez was serving as Obama's civil rights division chief when he led civil rights investigations of Arpaio and sued the state over SB1070, winning elimination of some of its harshest provisions.
Although in the debate Biden failed to directly answer why he isn't getting as much of the Latino vote as Sanders, he championed quality education for the increasingly Latino public school population.
"The idea that any American thinks it doesn't pay for us to significantly invest in their future is absolutely a bizarre notion, because if we do not invest, everything that the very wealthy are concerned about and the xenophobes are concerned about will, in fact, get worse, not better," Biden said.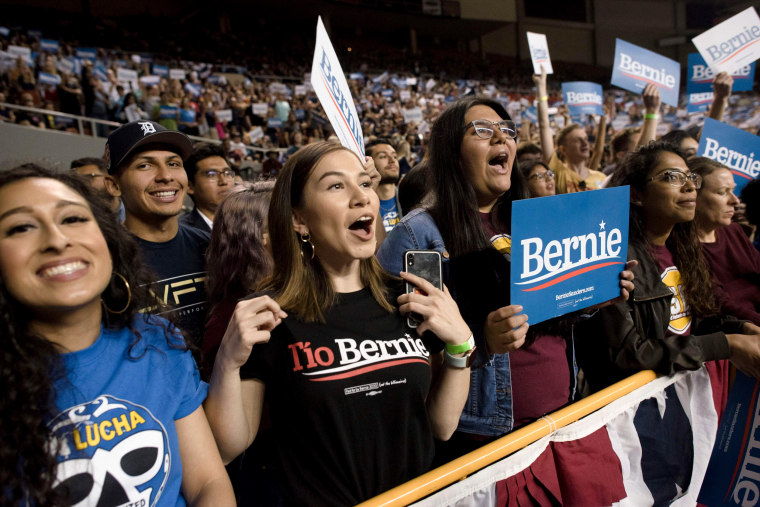 In a Telemundo poll of Arizona Latinos, Sanders leads Biden, 47 percent to 40 percent, with 12 percent undecided. The poll has a margin of error of plus or minus 5 percentage points.
A Univision and Arizona State University's Center for Latina/os and American Politics poll found 44 percent of Latino Democratic voters favored Sanders and 39 percent supported Biden, with 12 percent undecided. The polling by Latino Decisions has a margin of error of plus or minus 5.6 percentage points.
Alexis Delgado, 18, a community organizer with the Latino advocacy group LUCHA, is the son of undocumented parents from Mexico. He grew up moving from house to house because of his parents' status. His father lost his job in the Great Recession and in 2010, they moved to Texas to avoid Arpaio and SB1070.
He'll cast his first vote Tuesday for Sanders, which LUCHA endorsed. Sanders "shares the values of my family, my community and my neighborhood," Delgado said.
But if Biden is the nominee, Delgado said he'd support him, "because Trump is the greater evil."
"I can't risk not showing up," he added.
Suzanne Gamboa reported from Austin, Texas, and Carmen Sesin from Miami.
Follow NBC Latino on Facebook, Twitter and Instagram.