A big part of the job for Ruben Garza, an investigator in Jim Hogg County, in southwest Texas, is looking for people who have gone missing as they trek to his part of the world after crossing the border, as well as trying to identify bodies found.
These days, though, he's had to put time into looking for the culprit behind the disappearance of dozen water barrels meant to keep trekkers and others from dying from thirst. 
The barrels stood along known routes used by people traversing the vast county and other nearby areas, some hoping to evade immigration officials, others trying to find their way to them to ask for asylum. Inside the barrels there are jugs and bottles of water, meant as a humanitarian gesture to keep the men, women and children from succumbing to the harsh heat. The barrels' disappearance was first reported by The Associated Press. 
"This better have not been malicious," Garza, who works with the sheriff's office, told NBC News, "if we could have saved a life here."
Initially it was thought they may have been moved by road crews, but the state's Department of Transportation said it wasn't the case.
The missing blue barrels were among the two dozen sitting off the highway in Jim Hogg County, a vast area of about 5,000 residents not far from the Mexican border, though not directly on it. Motorists can easily see the barrels while driving along the highway. The word "AGUA" (Spanish for water) is painted on them and within them sit the containers of water left by volunteers with South Texas Human Rights Center but also by local citizens who understand the area's unforgiving heat and terrain.
Eddie Canales, executive director of the South Texas Human Rights Center, told NBC News the barrels have been up for about eight years. They were at one point tended to regularly by a volunteer, an attorney, as well as his son; later they were replenished by different people.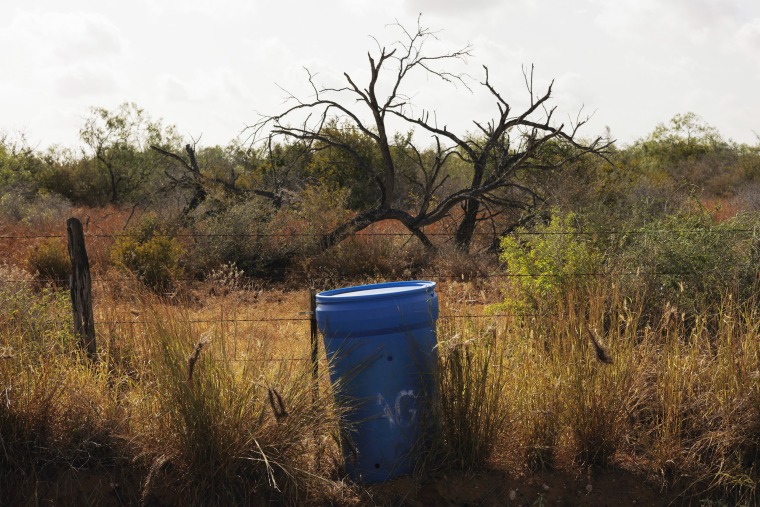 "There's a history of volunteerism for that route. It starts in Jim Hogg and goes all the way around and touches a bit of Starr County and goes around and into northern Hidalgo," Canales said.
Canales' group has established several routes of barrels, but the route on which the 12 barrels have disappeared is the longest route, made up of about 25 barrels, he said.   
Canales, who thinks they were purposely removed, believes whoever did the swiping of the barrels — which were drilled with holes inside them to clamp to T-posts — was motivated by an atmosphere of "bravado-ism" as the state focuses on strict border measures to deter migrants from crossing.
Republican Gov. Greg Abbott has been using Department of Public Safety troopers and resources for his own state-run immigration enforcement system outside of the one run by the federal government. Texas was recently sued by the federal government for placing buoys in the Rio Grande to deter crossings.
What is seen as a humanitarian aid by some, though, is seen by others as an aid for smugglers and people who enter the country illegally.
The group No More Deaths in 2018 released video of Border Patrol agents kicking over and pouring water out of gallon jugs left for people in the desert.
No More Deaths said that from 2012 to 2015, it found more than 3,586 gallon jugs of water that had been destroyed in an 800-square-mile desert area in southern Arizona.
In the early part of the 2000s, a clash between ranchers and migrants crossing on their land led to a vigilante group setting up its paramilitary operations on behalf of Texas ranchers. A lawsuit filed in Jim Hogg County by migrants said they were robbed and threatened with murder by the group in the county. They won damages and ranch land in the case.
'Saving a life is saving a life'
Garza, who helped put up some of the missing barrels, is less ready to call their disappearance sabotage. He said he's working backward on a timeline to determine who had access to the barrels and possibly find the answer to the mystery.
The barrels are for a great cause, he said. While their use is intended for people who may have lost their way or run out of water while trying to migrate through the area, they are also are helpful should someone break down on the roadway or for hikers or others who may have underestimated the heat.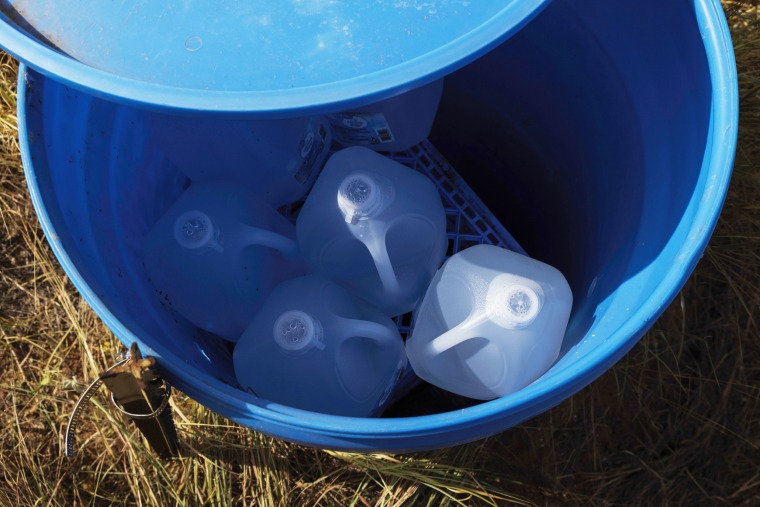 In the triple-digit heat that has gripped Texas and other parts of the Southwest, the county has had wildfires and first responders have had to work in extreme heat to extinguish them. In a recent fire, Garza said, a responder told him they were out of water and he went to get some. Recalling the blue barrels, he pulled some water out to get to the responders, he said.
Garza worked during the early and mid- 2000s in next door Brooks County, an area that sees a high number of bodies of people who had died in their migratory trek in the county terrain. The water barrels "were an avenue of hope to save a life," he said.
Garza said his office fields calls from families trying to resolve bigger disappearances, such as when a family can't locate a person.
"We get calls and we get out," Garza said. "Sometimes it's a woman and a child and sometimes their fate is good and you've got a blessing and sometimes it's not. Everybody in red (firefighters), white (medical), blue (police and sheriff offices) and green (Border Patrol and military) deal with that every day. The public doesn't see what happens to the people (the migrants)," he said.
"The females, there are terrible things that are done to them and to these people and I've seen it all and so have many others … That is of utmost importance," he said.
Canales' human rights center not only builds, stocks and monitors the water stations, they also run a hotline. On Tuesday morning, his colleague had gotten 35 calls for people whose loved ones were missing or in detention. The group often connects with Border Patrol to help track down the missing individuals.
Canales said he'd like to see this incident used as an educational opportunity, to inform people what the barrels are for. In the future, he said, they need to put better information on the barrels that identify their purpose as a humanitarian act.
"This is a resource that could save a man, a woman, a child," he said. "Saving a life is saving a life, it doesn't matter who it is."