The husband of Ana Walshe, a missing Massachusetts woman, had his mother hire a private investigator to follow his wife days before she disappeared because he suspected she was having an affair, prosecutors alleged in court Thursday morning.
Norfolk County Assistant District Attorney Greg Connor claimed that Brian Walshe's mother hired a private investigator "with his input and direction" on Dec. 26 to follow Ana Walshe in Washington, D.C., where she lived during the week for her job at Tishman Speyer, a real estate company. That month, Walshe had been "routinely visiting the Instagram page of one of her male friends," Connor said.
Walshe's mother could not immediately be reached for comment by phone or email.
Prosecutors also said Walshe was motivated to claim his wife's life insurance policy of more than $2.7 million, for which he was the sole beneficiary.
Walshe's attorney, Tracy Miner, denied the allegation, saying that his client's mother is wealthy and that "there's no evidence he was in the least bit needing of money." Miner also said Walshe told his mother that she was "crazy" for hiring a private investigator and that he never suspected his wife was having an affair.
The explosive allegations were among several new details prosecutors revealed after Walshe pleaded not guilty in Norfolk County Superior Court to charges of murdering his wife, misleading a police investigation/obstruction of justice and improper conveyance of a human body.
Walshe shook his head as the charges were read out in court Thursday. He appeared handcuffed, with his hair cut short, and he was dressed in formal clothes. He said nothing other than "good morning" to the judge and "not guilty" when he entered his plea.
A Norfolk County grand jury indicted Walshe on those charges last month, which moved the case to Norfolk County Superior Court after he was initially arraigned in Quincy District Court in January.
Missing for months
Ana Walshe was last seen by a family friend in the early morning hours of Jan. 1 at the family's home in Cohasset, a suburb about 27 miles southeast of Boston, Connor said. After her husband reported her missing to her colleagues Jan. 4, the company's head of security reported her missing to police.
By that point, Connor alleged, Brian Walshe "had killed her, dismembered her and disposed of her body."
Ana Walshe's body has not been recovered. Experts say it is possible for a defendant to be charged and convicted of murder without a body as long as there is enough circumstantial evidence for a jury to infer that the victim is dead and the defendant is guilty.
Norfolk County Assistant District Attorney Lynn Beland has said investigators found the couple's DNA — along with a Covid vaccination card for Ana Walshe and some of her clothes, a hacksaw, cutting shears and a hatchet — in trash bags in a dumpster at Brian Walshe's mother's apartment complex in Swampscott, about 40 miles north of Cohasset. Investigators have also said they found blood and a damaged knife with blood on it in the basement of the Walshe home.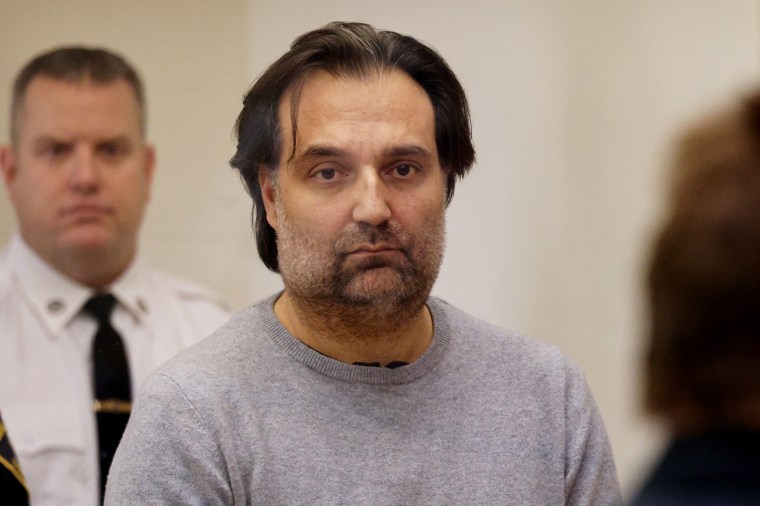 Connor added in court that investigators also found rugs from the family's living room and kitchen that bore red-brown stains and a piece of a Gucci necklace Ana Walshe used to wear in the dumpster.
Brian Walshe's car also tested positive for the presumptive presence of blood throughout, Connor said.
Miner sought to cast doubt on the prosecution evidence, appearing to imply that Ana Walshe may have voluntarily disappeared and arguing there was no proof she was dead.
"It is easy for a single person to disappear if they want to disappear," Miner said.
She added that one of the eight swabs investigators collected from the couple's basement that they thought contained blood came back negative for Brian Walshe's DNA and that blood believed to have been found on a Tyvek suit found in a dumpster tested positive for an unknown person and could not conclusively be traced to her client. Three searches of the home police conducted with blood-sniffing canines also came up with nothing, Miner added, as did a drain of the family pool.
Miner also said Brian Walshe waited a few days to inquire about Ana Walshe's whereabouts because it had been common for her in the months before she disappeared not to communicate with him for days on end while she was working in Washington.
More disturbing internet searches
Connor said that the day after Brian Walshe's mother hired the private investigator, someone using his oldest son's iPad made Google searches including "best states to get divorced in" and "worst states to get divorced in."
Those are among a litany of other previously reported disturbing internet searches — including "10 ways to dispose of a dead body if you really need to" and "how to stop a body from decomposing" — that prosecutors accused Brian Walshe of making in relation to his wife's disappearance.
Connor added that on Jan. 1, Brian Walshe also searched for "how long someone must go missing in order to collect" and visited a website for luxury watches.
Early Jan. 2, Connor said, Brian Walshe used his oldest son's iPad to make additional, previously unreported searches about a company that cleans up crime scenes and how to remove blood from concrete, the surface of the couple's basement floor.
After Brian Walshe handed over the devices on Jan. 6 and investigators downloaded their history and location data, "it had become clear that the defendant had not told the truth," Connor said.
Miner conceded in court that the internet searches appeared "problematic" but claimed that they were among other searches Walshe also made, including "best places to go for family vacations." She added that Walshe voluntarily turned the devices over to investigators.
On Dec. 28, Ana Walshe had dinner with a friend in Washington and became "uncharacteristically upset," Connor claimed, saying that she believed her husband was going to be incarcerated for charges he faces in a federal wire fraud case and that she was prepared to leave him and move her children to Washington.
Two days later, on Dec. 30, Ana Walshe flew back to Massachusetts, where she expected to stay until Jan. 3.
Miner asked the judge to set bail at $250,000 cash and claimed "it is not easy to disappear with three young children," alleging that Walshe was therefore not a flight risk. (A spokesperson for the Massachusetts Department of Children and Families previously told NBC News the three children are in state custody.)
The judge rejected Miner's request and ordered that Walshe held without bail. He is next due in court Aug. 23 for a pretrial conference.