A man was arrested on a manslaughter charge in connection with the fatal stabbing of a New York City subway rider who allegedly punched his girlfriend and harassed other passengers.
The altercation occurred just after 8 p.m. Tuesday on a northbound J train as it approached Marcy Avenue and Broadway, New York police said. The victim, identified as Devictor Ouedraogo, 36, of Brooklyn, was taken to NewYork-Presbyterian Brooklyn Methodist Hospital with a stab wound to the chest. He was pronounced dead at the hospital, police said. A toxicology report will be conducted.
Ouedraogo had allegedly been harassing people on the train and acting belligerently and erratically, law enforcement sources told NBC New York.
A police official told the station that one of the people he harassed was the girlfriend of the suspect, Jordan Williams, 20, of Queens. A source told NBC New York that Ouedraogo punched Williams' girlfriend.
It's not clear what led up to the stabbing.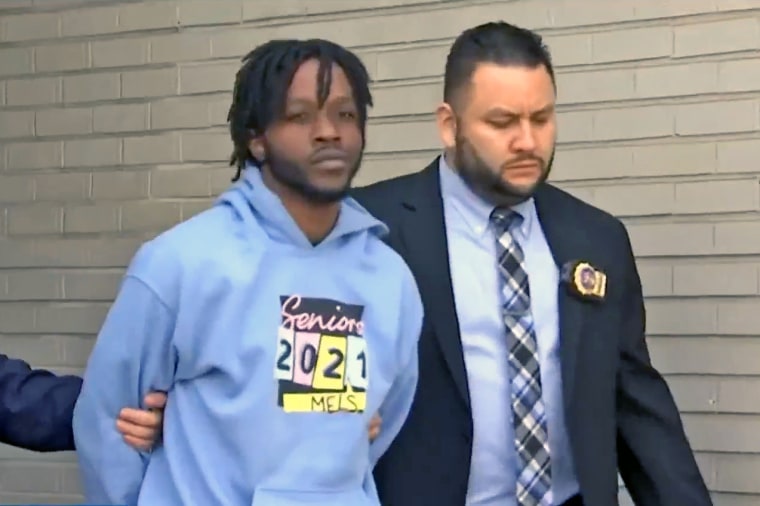 Two people police initially described as persons of interest were taken into custody. One of them was released, a police spokesperson said Thursday. The other, Williams, was arrested and charged Wednesday with manslaughter and criminal possession of a weapon, authorities said.
Jason Goldman, an attorney for Williams, said his client acted in self-defense. He said it was "upsetting" that Williams was charged without a thorough investigation.
"We understand that this was a packed subway car during rush hour with dozens of witnesses. We have spoken with some who have already confirmed that the victim was physically violent with others prior to and during this incident," Goldman said in a statement Thursday.
Goldman questioned why Williams, who is Black, had not received the same treatment as Daniel Penny, a white 24-year-old Marine veteran who was seen in a video putting Jordan Neely in a fatal chokehold on a subway train.
Penny's lawyers have said that Neely, a Black subway busker, was "aggressively threatening" passengers and that Penny never intended to harm him. Neely's family, however, rejected that account.
Penny was taken into custody after the May 1 incident and then released. He turned himself in to police on May 12. A New York City grand jury indicted him Wednesday on a second-degree manslaughter charge.
"Is Mr. Williams not getting the same treatment that Mr. Penny received — released, voluntary surrender, and low bail — because his skin color is different and he comes from a particular neighborhood?" Goldman asked.
"Instead, those very factors will likely result in Mr. Williams, a young boy, fighting this case of clear self-defense from a cage at Rikers," he said, referring to Rikers Island, the city's largest jail.
Relatives of Ouedraogo could not immediately be reached for comment.