There is enough evidence to send the person accused of killing five people in a mass shooting last year at a Colorado LGBTQ club to trial, a judge ruled Thursday.
A trial for Anderson Lee Aldrich on dozens of murder and hate crime charges was ordered after a hearing Wednesday in which prosecutors presented evidence that Aldrich visited Club Q at least six previous times, drew a map showing the layout of the club and appeared to be planning to livestream the attack using a mobile phone duct-taped to a baseball hat found in their SUV.
Aldrich, 22, who wore an orange jail jumpsuit at the hearing and cried at times, had no visible reaction to the judge's ruling. Aldrich, who identifies as nonbinary and uses the pronouns they and them, is charged with 323 criminal counts, including first-degree murder, attempted first-degree murder, first- and second-degree assault and bias-motivated crimes.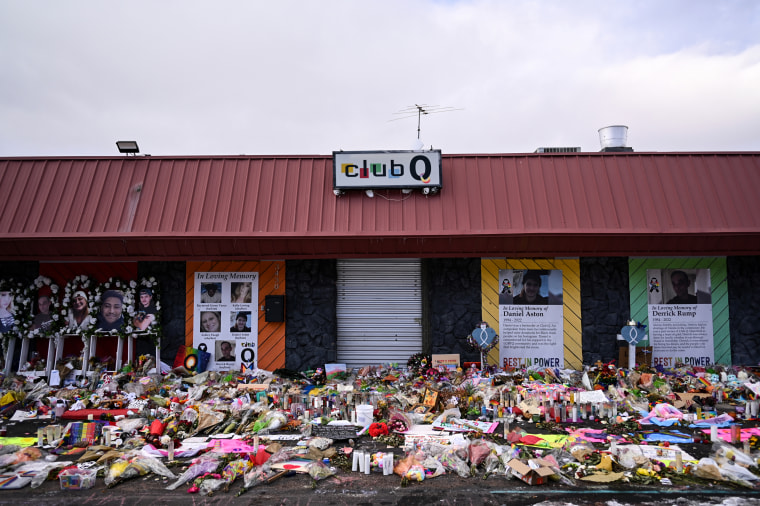 Fourth Judicial District Attorney Michael Allen told the judge that the evidence showed that Aldrich had an "aversion to the LGBTQ community." The prosecution argued that the attack in November was inspired by a "neo-Nazi white supremacist" who was shooting training video.
Aldrich's lawyers countered with a picture of a suspect under the influence of drugs. The defense also brought up Aldrich's mental health for the first time, showing photographs of pill bottles for drugs that Aldrich had been prescribed to treat mental illness, such as schizophrenia, bipolar disorder and post-traumatic stress disorder. But defense attorney Joseph Archambault didn't say whether Aldrich had been formally diagnosed with any of those mental illnesses.
Archambault told the judge that what happened was "senseless and it was tragic" but noted that Aldrich expressed remorse.
"It does not excuse it, but it is categorically different from people who target a group," Archambault said.
Judge Michael McHenry also ordered Aldrich to continue to be held without bond. He had to decide only whether prosecutors have shown during this week's hearing that there is probable cause that Aldrich committed the crimes they are charged with for the case to move ahead to a trial. At a trial, prosecutors are held to a higher standard and must prove guilt beyond a reasonable doubt to persuade jurors to convict defendants.
Unlike other crimes, hate crime charges require prosecutors to present evidence of a motive — that Aldrich was driven by bias, either wholly or in part.
Although Aldrich identifies as nonbinary, someone who is a member of a protected group such as the LGBTQ community can still be charged with a hate crime for targeting peers. Hate crime laws are focused on victims, not perpetrators.
The lead detective in the case, Rebecca Joines, testified that Aldrich posted the neo-Nazi video, which featured attacks on synagogues and mosques abroad, two of them on mosques in New Zealand in 2019, on a website they either created or administered. Joines said that Aldrich had not created the video, which many others have posted online, but that she believed they were seeking to emulate it with the attack on the club.
Xavier Kraus, a former neighbor and friend of the suspect, said in an exclusive interview last year that an FBI agent had asked him about two websites at an FBI field office in Colorado Springs.
One of the websites, a forum-type "free speech" site where people have anonymously posted racist and antisemitic memes, language and videos, was created by the suspect, Kraus said he told investigators.
Kraus, who, according to public records, lived one door away from Aldrich in a Colorado Springs apartment complex, said he told the FBI that Aldrich made the free speech website in late spring or early summer. Kraus said Aldrich described the site as "a platform where people could go and post pretty much whatever they want." 
Aldrich also shared an image of a rifle scope trained on a gay pride parade and often used an anti-gay slur, according to two online acquaintances interviewed by investigators, Joines said.
Authorities said Aldrich entered the club and immediately began firing with a semi-automatic rifle. Daniel Aston, Raymond Green Vance, Kelly Loving, Ashley Paugh and Derrick Rump were killed, and 17 other people were injured "because of a gunshot wound," police said.
Colorado Springs Police Chief Adrian Vasquez has said that "at least two heroic people" confronted and fought with the shooter and "were able to stop the suspect from continuing to kill and harm others." 
Mayor John Suthers said the patrons' actions "clearly saved lives."
The club announced last week that it plans to rebuild and reopen in the fall with enhanced security measures and a permanent tribute to those who died. Matthew Haynes, the founding owner of Club Q, said in a statement that he wanted to reassure people that they were "working very hard to bring our home back."
"We look forward to being able to gather as one community again," he said.
Two of the victims were hired as staff members and "will work on an administrative basis, assisting management with the rebuild efforts, community relations and more," the management team said. The team said it plans to hire at least one more victim and to distribute lost wages to former employees and contractors from fundraisers and a GoFundMe campaign.