HONG KONG — California Gov. Gavin Newsom met with Chinese President Xi Jinping in Beijing Wednesday during a trip to promote climate cooperation with China that has drawn bipartisan criticism at home.
The Democratic governor is on a weeklong visit aimed at deepening his state's work with China on climate change, which in turn he hopes will encourage greater cooperation at the national level.
"We're not going to move the needle on climate change unless the United States and China collaborate together," Newsom said at a news conference after his meeting with Xi, noting that the two countries produce more than 40% of the world's carbon emissions.
Newsom has received an unusually warm welcome from Chinese officials, as relations between the United States and China — the world's two biggest economies and two biggest greenhouse gas emitters — remain mired at their lowest point in decades.
In their meeting, Xi said he hoped Newsom's visit, which has raised objections from both Republicans and Democrats over China's human rights record and other issues, "will enhance mutual understanding between the two sides," Chinese state media reported.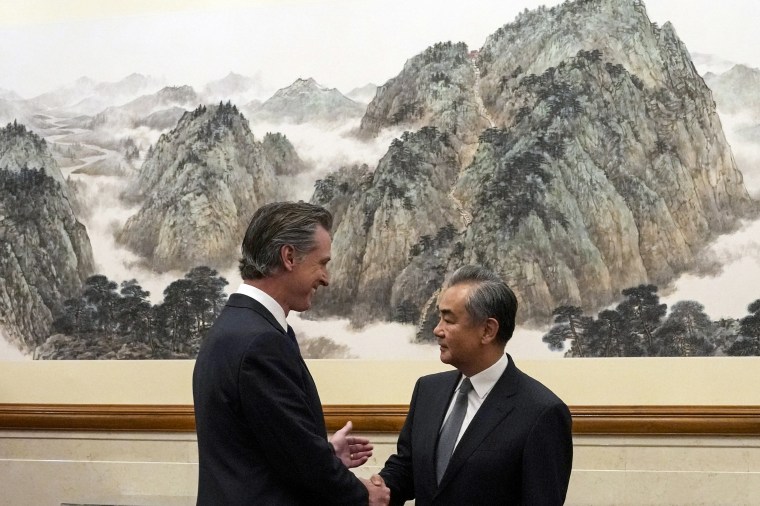 Newsom also met with Chinese Foreign Minister Wang Yi, who is heading to Washington on Thursday for meetings with Secretary of State Antony Blinken and national security adviser Jake Sullivan after a series of visits to Beijing over the summer by senior Biden administration officials.
Wang's visit could set the stage for what would be the first meeting in a year between Xi and President Joe Biden, at a forum for Asia-Pacific leaders being hosted in San Francisco next month.
The two countries are at odds over a range of issues including trade, technology, the status of Taiwan, the downing of an alleged Chinese spy balloon over U.S. territory and Beijing's stance on wars in the Middle East and Ukraine.
In a letter to the National Committee on U.S.-China Relations on Wednesday, Xi said he was willing to work with the United States to advance each other's progress and address global challenges, Chinese state media reported.
In addition to Newsom, Xi met this month with Senate Majority Leader Chuck Schumer and other U.S. senators who were visiting Beijing.
U.S.-China climate talks recently resumed after being derailed by last year's visit to Taiwan by Nancy Pelosi, the House speaker at the time, as well as the balloon incident. U.S. climate envoy John Kerry, who visited Beijing in July, has been having regular video calls with his Chinese counterpart, Xie Zhenhua, ahead of the annual U.N. climate change conference, which this year starts on Nov. 30 in Dubai.
Newsom argues that California and other state governments have a responsibility to act whether U.S. and Chinese leaders are talking or not. In recent years, his state has struggled with severe drought and devastating wildfires that scientists say are made worse by climate change.
China, too, has been experiencing intensifying bouts of extreme weather. The mainland lurched through a summer of triple-digit heat, flooding and drought that killed dozens and hurt harvests of staple crops. Last month, Hong Kong received more than six inches of rain in a single hour, the most since records began in 1884.
California, the world's fifth-largest economy, aims to achieve carbon neutrality by 2045, while China has pledged to reach peak emissions by 2030 and achieve net-zero emissions by 2060.
Newsom, who is trying to raise his national profile at home and also stopped in Israel on the way to China, noted the global anxiety over U.S. elections and their effect on climate change policy from administration to administration.
"I want you to know, regardless of what happens nationally, subnationally you have a partner in the state of California," he said at an event Monday at the University of Hong Kong.
California has a long history of climate cooperation with China, including under former governors Arnold Schwarzenegger, a Republican, and Jerry Brown, a Democrat. After leaving office in 2019, Brown established the California-China Climate Institute at the University of California, Berkeley, in partnership with Tsinghua, one of China's top universities.
Newsom was the first U.S. governor to meet with Xi since Brown in 2017.
"What Governor Newsom is doing is building on that and ratcheting it up to the next level," said Mary Nichols, vice chair of the California-China Climate Institute.
The institute's work "has proven to be a lifeline at times when China and the U.S. weren't really talking," Nichols said.
But even when national leaders agree on the need to take climate action, she said, "when it comes to actually delivering on those pledges, it's the state and local governments that make it happen."
In an editorial this week, China's state-backed nationalist tabloid Global Times praised California's "stability and continuity" in its handling of relations with China and said criticism of Newsom's visit "reflects the negative impact of the U.S. government's policy of containment and suppression toward China, as well as the increasingly extreme anti-China perception and bias in the political arena."
There had been calls for Newsom to cancel his trip, including from Republican members of Congress from his state. They said he should not meet with Chinese officials unless he was willing to raise issues including human rights violations, the erosion of civil liberties in Hong Kong and the flow of precursor chemicals for synthetic opioids like fentanyl from China to the United States.
"These issues are too pressing for you to overlook as they deeply impact our constituents," the lawmakers wrote in a letter last week.
In his meetings with Chinese officials, Newsom's office said Wednesday that he raised human rights issues in a number of places including Hong Kong, Tibet, Xinjiang and Taiwan, as well as the case of David Lin, a California pastor who has been imprisoned in China since 2006. It added that he also brought up the fentanyl crisis.
Rights activists were particularly critical of Newsom's decision to visit Hong Kong, a Chinese territory whose leader John Lee has been under U.S. sanctions since 2020 over his role in implementing a national security law imposed by Beijing in response to pro-democracy protests. The trip "sets a problematic tone for future diplomatic engagement," more than 50 U.S. advocacy groups said in a joint statement last week.
Newsom did not meet with any Hong Kong government officials during his visit.
His trip includes visits to Shenzhen, the world's first city with an all-electric bus fleet, as well as an offshore wind facility in the province of Jiangsu and U.S. automaker Tesla's electric vehicle factory in Shanghai. He will sign multiple memoranda of agreement at the subnational level, his office said.
Zhang Junjie, founder of the Environmental Research Center at Duke Kunshan University in China's Jiangsu province, said Beijing had "attached great importance" to Newsom's trip.
"Right now, there aren't many topics for China and the U.S. to discuss with each other," he said.
"Climate change could be the new ping-pong table in the contemporary era, as it is a common challenge that both countries are responsible to address for the whole of mankind," he said, referring to the exchange of table tennis players in the 1970s that paved the way for the normalization of U.S.-China relations.
Zhang said China had made "remarkable industrial and technological progress" in the past decade and is now "more capable of making contributions to the climate issue."
But he said U.S. export restrictions and technology bans aimed at China, which the Biden administration says are driven by national security concerns, can make bilateral cooperation on climate "extremely difficult."
"It is rather difficult to make major achievements as many obstacles are mainly rooted at the federal level," Zhang said.