A World Cup final for the ages delivered a crowning glory for soccer icon Lionel Messi on Sunday as Argentina beat reigning men's champion France on penalty kicks.
One of the most dramatic major sporting events in history had the teams tied 3-3 after extra time, with the French ultimately missing twice in the shootout before Gonzalo Montiel converted to seal an exhausting and emotional victory.
Argentina had dominated the bulk of the match, leading 2-0 with just about 10 minutes to go, but France burst into life with star forward Kylian Mbappé scoring twice in as many minutes. Both sides traded missed chances and then late goals again in the 30 minutes of extra time before the tension of penalty kicks.
The game capped a month of sporting drama and geopolitical controversy in Qatar. The tournament featured surprise results and fairy-tale runs, but the final had two giants of the game compete for the title — headlined by a pair of stars.
The speedy and skillful Mbappé solidified his claim as the young pretender to Messi's throne, scoring a hat trick as France came so close to being the first team to go back to back since Brazil in 1962.
But ultimately, it was Messi, 35, who took the glory, securing the trophy that cements his status as perhaps the game's greatest ever player by sealing a third title for his soccer-mad country.
Afterward, he said he isn't through.
"I'm not retiring from the national team. I want to continue playing as a champion," Messi said in a Spanish-language interview with TyC Sports after the final. "It's the most beautiful thing there is."
Follow our live coverage here.
What to know about the World Cup final
Argentina wins on penalty kicks after a dramatic final ended 3-3 in extra time.
France scored twice in 90 seconds late in the game to stun Argentina and tie the final.
Argentina led 2-0 at the half thanks to goals from Angel Di Maria and Lionel Messi.
Sunday's final took place in Lusail, a city fast-tracked into existence for the World Cup, which has been clouded by criticism of host Qatar's human rights record, as well as the environmental and financial cost of the tournament.
Photo: Lionel Messi holds the trophy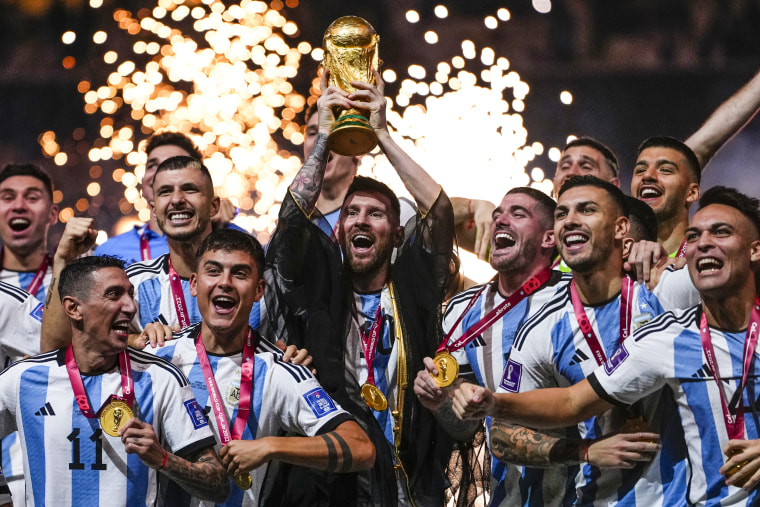 Golden Ball awarded to Lionel Messi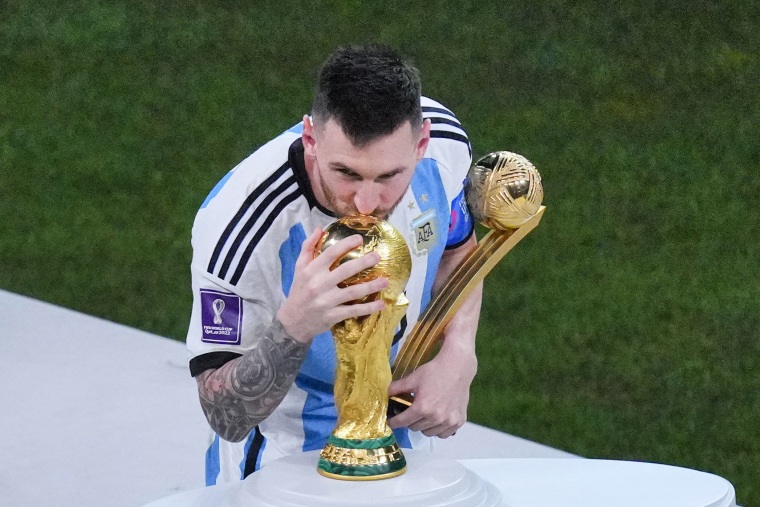 Lionel Messi was awarded the Golden Ball, recognizing him as the tournament's most outstanding player.
Moments after being given the honor, Messi kissed the World Cup.
The resume is complete: Messi has his World Cup trophy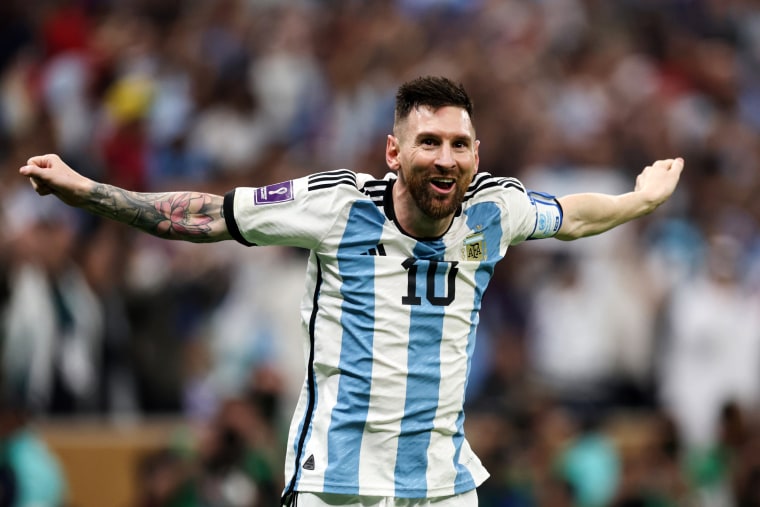 Teammates mobbed the great Lionel Messi moments after the winning kick, knowing he can no longer be dogged by the one trophy not on his mantle.
Despite being a seven-time Ballon d'Or winner and a member of 10 Spanish League championship teams and four UEFA Champions League-winning sides, fans back home in Argentina had long held that missing World Cup trophy against him.
Argentina won last year's Copa America, but fans weren't satisfied until Sunday, when Messi's side won the sport's ultimate prize.
Argentina thwarts France in thrilling World Cup final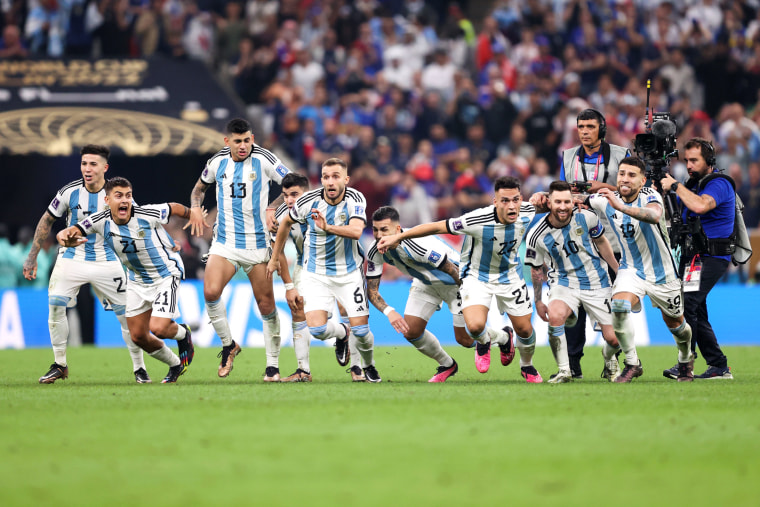 Argentina has defeated France, the returning champion, in a dramatic match that gives the South American country its first title since 1986.
Sunday's final was a battle of wills as the competitors met each other shot for shot well into extra time, until Argentina ended France's hope for a consecutive win in penalty kicks.
Argentina took an early lead, scoring two goals in the first half. France was thoroughly outplayed and was consistently on the defensive but rallied in the second half and in extra time.
Lionel Messi, Argentina's captain, has taken his first World Cup title in what is likely to be the 35-year-old's last appearance in the tournament. He solidified an incredible legacy as fans debate whether Messi is the greatest player of all time.
But he met his match in Kylian Mbappé, France's young upstart, who tied the game twice. The 23-year-old scored three goals in addition to a penalty kick, earning him the Golden Boot.
ARGENTINA WINS THE WORLD CUP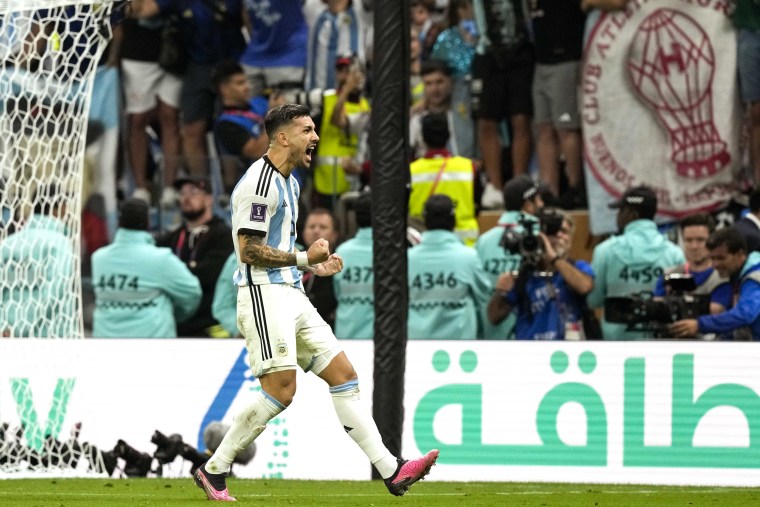 Gonzalo Montiel converts his penalty, and a dramatic final is won by Lionel Messi and his team!
FRANCE SCORES
Randal Kolo Muani ensures this isn't over just yet.
ARGENTINA SCORES
Leandro Paredes makes it 3-1. One away ...
FRANCE MISSES
Aurelien Tchouameni hits it wide, and France has missed 2 out of 3!
Photos: Fans watch as World Cup heads to penalty shootout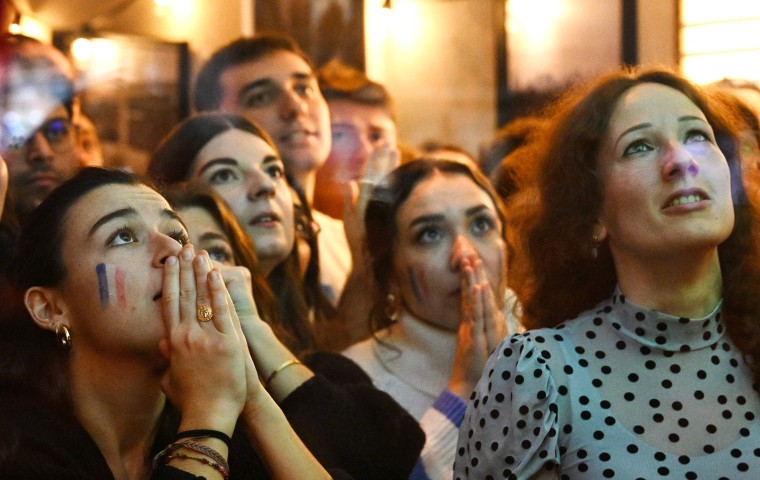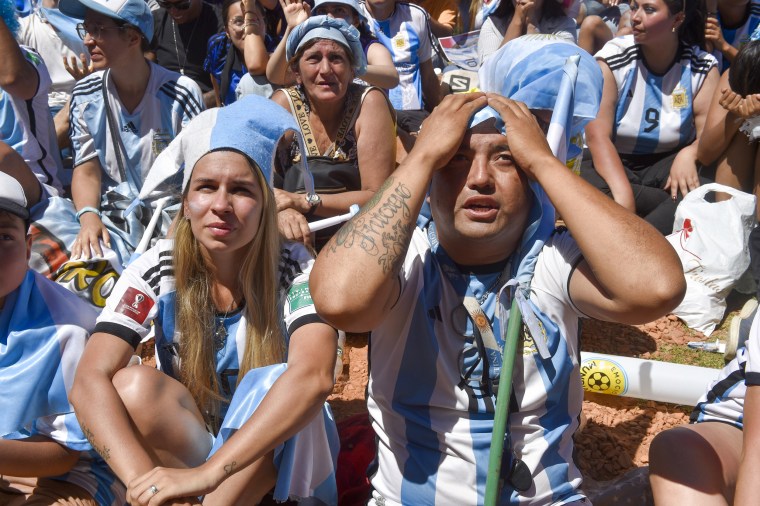 ARGENTINA SCORES
It's advantage Argentina! Paulo Dybala scores.
FRANCE MISSES!!
Kingsley Coman has his penalty saved by Emi Martinez!
MESSI SCORES! IT'S 1-1
We are tied on penalty kicks after 1 each.
Mbappé Scores! 1-0 TO FRANCE
Messi next ...
Kylian Mbappé to take first
He's scored two penalties already. Can he again?
Mbappé only second player to hat trick in World Cup final
France's Kylian Mbappé is the first player in more than 50 years to score three goals in a World Cup final.
Mbappé, 23, scored two back-to-back goals at 80 minutes to tie the game after an early deficit for France. HE once again saved Les Bleus' chances with a penalty kick goal.
England's Geoff Hurst was previously the only player to ever score a hat trick in a World Cup final. He was 24 when he made history against West Germany in 1966.
World Cup to be won on penalties
The 2022 World Cup final will be decided on penalty kicks after Argentina and France could not be separated at the end of extra time.
The shootout will bring back bitter memories for French fans, as the last World Cup to be decided by penalties was France's 2006 loss to Italy. Argentina may have a slight edge, having just won a quarterfinal in a shootout against the Netherlands.
Both teams have scored penalties in the game, adding an extra layer of intrigue to the decisive shootout.
Both teams miss huge chances to win it
First Argentina goalie Emi Martinez thwarts France with an incredible save, then Argentina pours forward and Lautaro Martinez heads wide.
One final twist?
We have three more minutes of a truly stunning final. Can someone win it before penalty kicks?
The NFL must go on as scheduled
English-language viewers in the U.S. will probably have to change channels if they want to see the World Cup trophy presentation.
With 1 p.m. ET NFL kickoffs approaching, postmatch action from Qatar will likely shift from Fox to Fox Sports 1.
GOAL!!!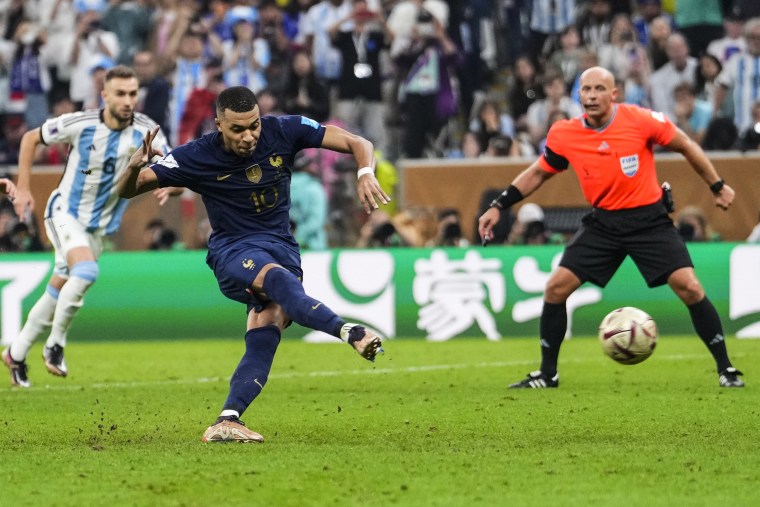 It's 3-3. Kylian Mbappé scores again and we are tied!
The French forward sent the goalkeeper the wrong way and has a hat trick in the World Cup final.
PENALTY TO FRANCE
The drama isn't over ... it's a handball.
GOAL ARGENTINA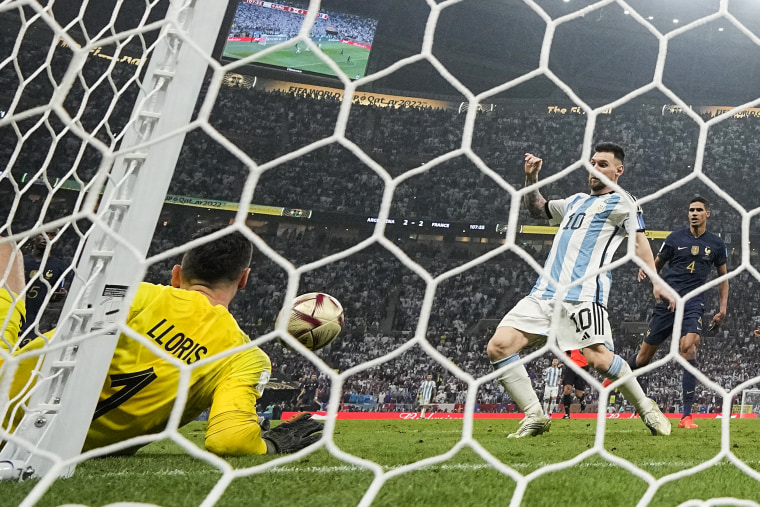 Lionel Messi has the ball in the net, and Argentina's players go wild.
There were suggestions of a potential offside in the buildup, but the goal stands, and Argentina leads this dramatic World Cup final 3-2 with 10 minutes of extra time to go.
Argentina misses chances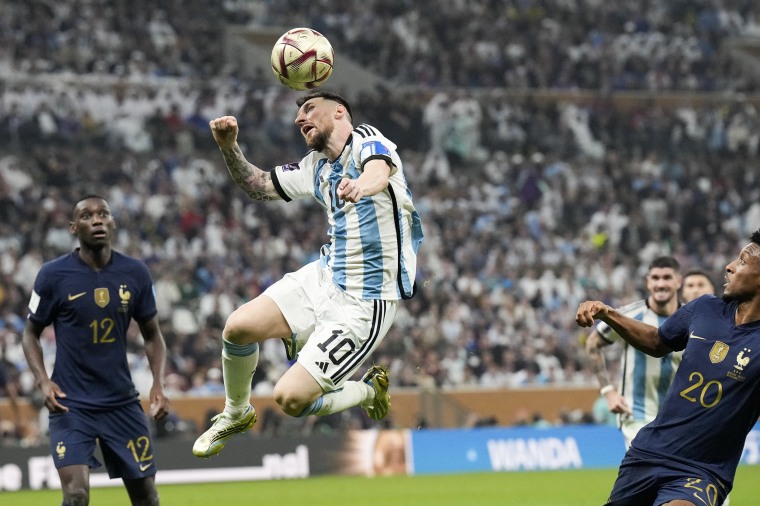 Argentina came close with a flurry of chances to end the first period of extra time.
Substitute forward Lautaro Martinez was twice played in behind the French line but missed thanks to a combination of desperate defending and wayward finishing.
The weekend of comebacks: Vikings and Les Bleus
The Minnesota Vikings scored the greatest comeback in NFL history on Saturday, and now France is on the verge of another historic rally.
The comparison wasn't lost on American sports fans.
Penalty kicks will follow if no winner after extra time
France and Argentina will be given two additional halves of 15 minutes to decide this final, and the match would go to penalty kicks if there's no winner after that.
The last World Cup final decided by a shootout was in 2006, when France lost to Italy.
Extra time underway
As if 90 minutes wasn't exhausting enough ... we're back underway for 30 more.
Messi almost wins it at the death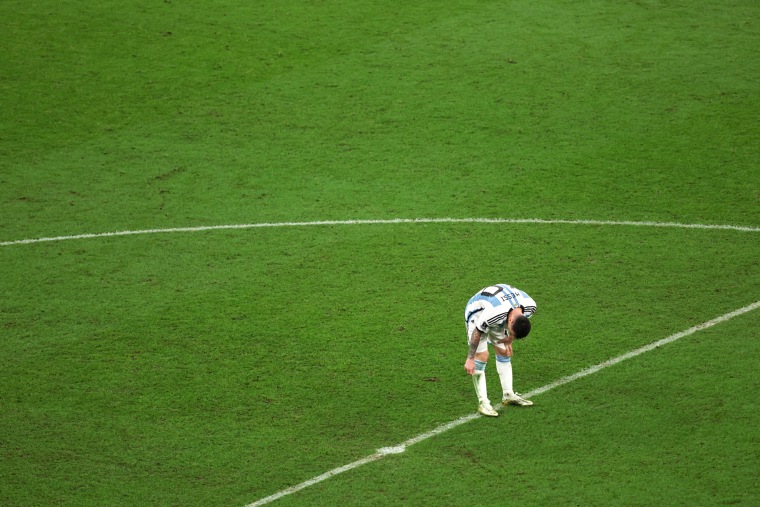 Messi may be 35, but he still has enough left in the tank to come oh so close to glory in the dying moments.
After consistent French pressure, a rare Argentina attack in the 96th minute saw the ball fall to Messi in a central position about 25 yards out. He struck a fierce shot that was just a little too close to French goalkeeper Hugo Lloris, who parried it away to ensure we would head to extra time.
90 minutes not enough to crown World Cup winner
France and Argentina are headed for at least 30 more minutes of play with the score tied, 2-2.
Extra time in the World Cup final is far from uncommon, as Germany needed more than 90 minutes to defeat Argentina, 1-0, for the 2014 crown in Brazil. Mario Götze scored in the 114th minute for the Germans.
Photos: Kylian Mbappé's  back-to-back goals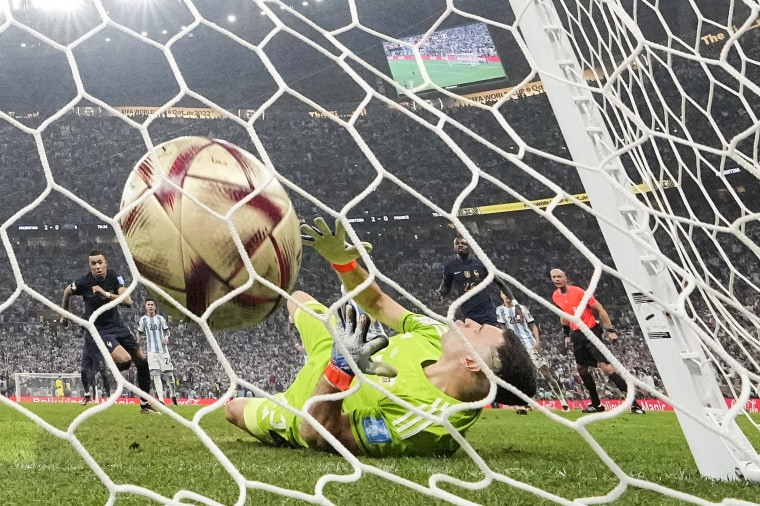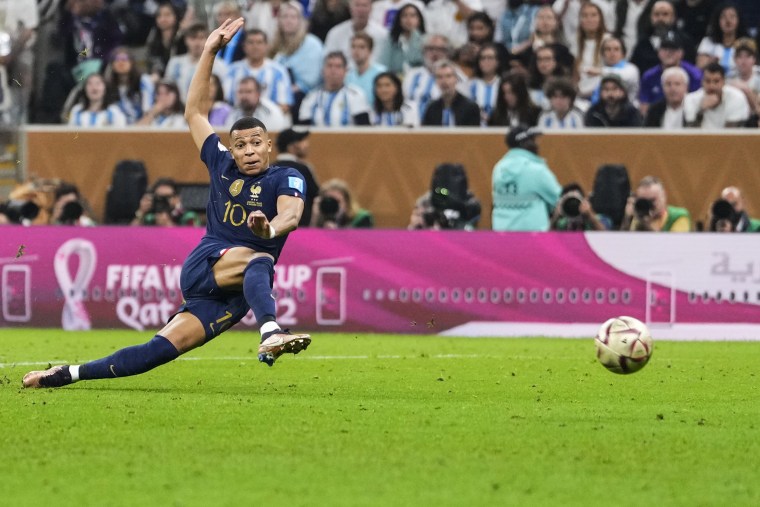 8 minutes of added time
The officials have added eight minutes on at the end here.
Is there time for one last dramatic twist, or are we heading for an extra 30?
Argentina gives up lead, echoing mistakes in Netherlands game
Soccer fans are in disbelief as France rallied from 2-0 goal deficit with back-to-back goals from Kylian Mbappé at about 80 minutes of play.
Argentina is echoing mistakes it made in the game against the Netherlands earlier in the tournament. The Dutch team equalized the game with two late goals in the quarterfinal. Argentina scraped a win on penalty kicks to advance to the semifinals.
France's comeback was unlikely after it had given up so much of the momentum to Argentina early in the game, but clearly not impossible.
GOAL!! 2-2
Incredible. Kylian Mbappé has scored again, a second goal in two minutes.
A remarkable turnaround from the reigning champs, barely threatening for 80 minutes but bursting into life to level the final and stun Argentina.
GOAL
It's 2-1 with 10 minutes to go after Kylian Mbappé converts the penalty kick.
Hugo Lloris staying busy, keeping France's slim hopes alive
Lloris, the French captain, has made four saves for Les Bleus, limiting what could be an even more one-sided match.
On the other side of the pitch, Argentina's Emiliano Martínez has not yet needed to stop an on-target French shot.
PENALTY TO FRANCE
France has a golden chance to get back in the final!
Nicolas Otamendi brought down Randal Kolo Muani inside the area, and after failing to threaten for 80 minutes, the holders have a chance.
France finally takes a shot on goal after an hour of play
Kylian Mbappé took the first shot on goal for France at the 70-minute mark of Sunday's final match.
Les Bleus are being devastated by the Argentine team, which has taken nine shots on goal and leads 2-0. It's been an abysmal attempt to keep the title of reigning champions by France despite a strong defense and a lineup of stars.
Hugo Lloris making two big plays to keep match within sight
Julián Álvarez's left-footed blast from a short angle was saved nicely by Hugo Lloris in the 59th minute.
Then, moments later, Lloris made a desperate sliding clearance to keep the ball away from Alexis Mac Allister and what could have been another goal for Argentina.
Argentina eases its attack, plays keepaway from France
In a big shift in tactics, Argentina came into the second half taking its time as it looks to secure its lead without exhausting its players.
The team came back after the break and appeared to be slowing down the pace of play. With a 2-0 lead, Argentina is looking to keep possession away from France but without the pressure it previously applied.
France had to come back with a more aggressive offensive than it applied at the beginning of the match. All eyes were on Kylian Mbappé, France's 23-year-old superstar.
But Mbappé hasn't shown the powerhouse attacks that have made him a French favorite.
France not making much headway into Argentina defense
Twelve minutes into the second half, Les Bleus have barely made a dent into Argentina's stout defense.
Argentina still holds a solid advantage in possession, holding on to the ball 47% of the time, compared to France's 37%.
This 2-0 deficit is looking more mountainous by the moment.
Was it a penalty kick? Referee's call draws scrutiny
Polish referee Szymon Marciniak wasted no time pointing to the spot when Angel Di Maria went down under the challenge of Ousmane Dembele midway through the half.
There appeared to be minimal contact, but the Video Assistant Referee saw nothing worthy of overturning the call. It will be scrutinized long after the game is over, but France has failed to perform regardless of the merits of the decision.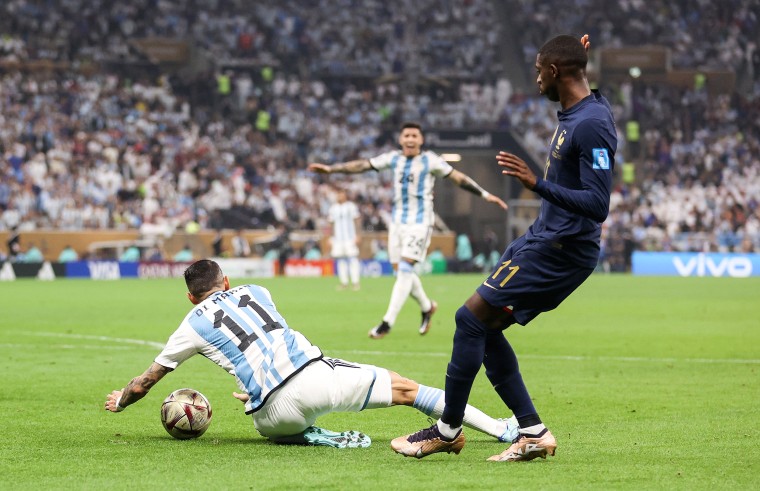 Second half underway
Argentina is 45 minutes, and maybe a few more, from glory.
France needs to turn things around to overcome the 2-goal hole it's left itself in.
France, down 2-0 at halftime, looking for a Swiss miracle
Only one team has ever rallied from a two-goal deficit in World Cup final history, and that was staged by a country that's no longer on the map.
In a match known as the "Miracle of Bern," Hungary scored twice in the first eight minutes before West Germany came back for a 3-2 victory in the 1954 final played in the Swiss capital.
France's mountain will be much more steep that West Germany's in "Das Wunder von Bern" as the underdogs responded immediately with two goals that had the match tied at halftime.
Helmut Rahn scored the winner in the 84th minute.
A goal fit for the final
Argentina's second was a thrilling goal that saw them sweep forward at pace, exposing France's defense with pinpoint passes from Messi and others.
The inclusion of Angel Di Maria for Argentina was a slight surprise, but he won the penalty and then converted the second to justify coach Lionel Scaloni's big call.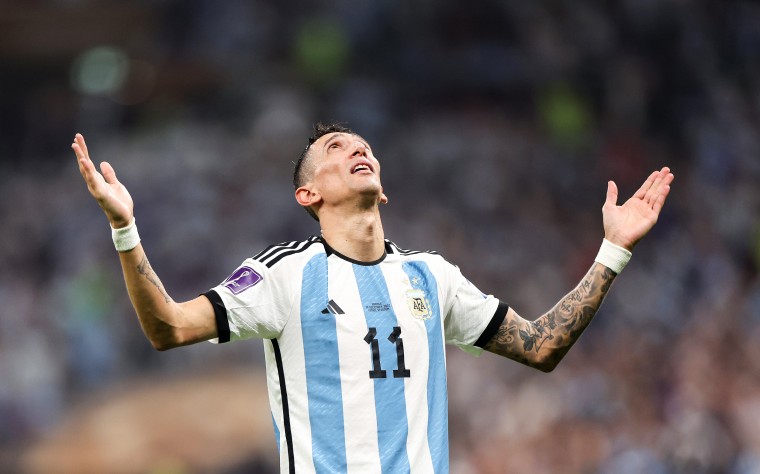 Reigning champs outplayed
Though France came in as the World Cup's reigning champions, they failed to show up in the first half against Argentina.
The French team has shown a strong defense throughout the tournament and sought to pick its moments to attack. But cracks showed in the goals from Lionel Messi and Angel Di Maria, and with the defense under pressure France's attack has failed to fire.
Argentina has 6 shots to 0 from Les Bleus, who will have to come out of halftime with a more aggressive game if they plan to overcome the deficit.
Struggling France makes early subs
France has barely had a kick so far, and now coach Didier Deschamps has made a pair of changes just before half time.
Center forward Olivier Giroud and wide forward Ousmane Dembele have been replaced by Marcus Thuram and Randal Kolo Muani, who scored in the semi final.
It's surprisingly early to make drastic changes but France needs to shift things, and there were reports of players being struck by a cold virus and some injuries in the past week.
Argentina fans overjoyed as team leads first half 2-0
Argentina fans in Qatar and around the world are besides themselves after a surprise goal from Angel Di Maria offers the team a deeper advantage before the conclusion of the first half.
France is being dominated offensively as Argentina attempts to take their title as reigning champions.
GOAL FOR ARGENTINA
It's 2-0!
Argentina burst through the French defense with a sweeping move on the counterattack and Angel Di Maria lifts his finish past helpless French goalie Hugo Lloris to double his side's lead.
Another free kick for France
France was awarded a second free kick after Argentina fouled Olivier Giroud as he approached the goal.
It's the second free kick where France failed to score in the first half hour of the game.
GOAL
Messi sends the goalie the wrong way and puts Argentina 1-0 up in the World Cup final.