LONDON — Parents and nannies bustling their children to school were enjoying an unseasonably sunny morning in the Parsons Green neighborhood on Friday when they were suddenly swamped by helicopters, police cars and ambulances.
Just after 8:20 a.m. local time (3:20 a.m. ET), the fiery detonation of an improvised device on a subway train brought terrorism to the affluent area.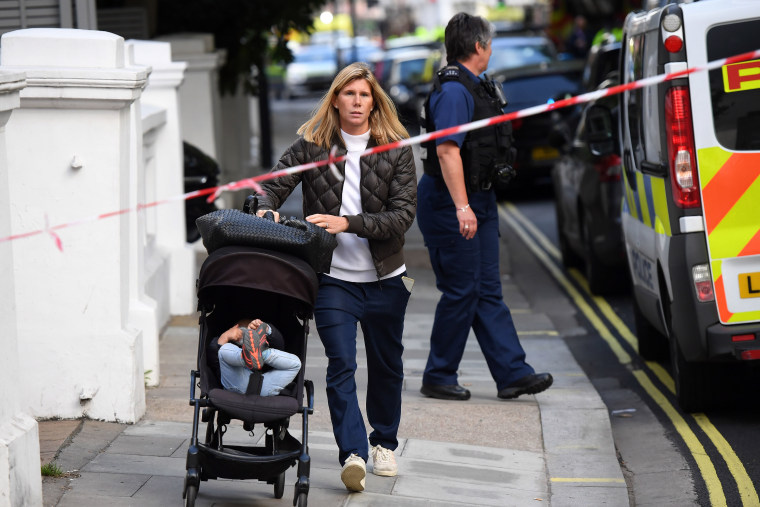 And amid the hysteria and stampede of commuters dashing for safety, some found themselves separated from young loved ones.
"Everyone was doing the 100-meter sprint at the same time. The girl I sat next to fell to the floor — she got trampled on and flattened," Luke Walmsley, 33, a video editor, told NBC News at the scene. "There were lots of kids and lots of nannies and moms trying to work out where their kids were."
Walmsley was a few subway cars away, but he and other witnesses described seeing a flash that caused minor burns to some passengers.
Lauren Hubbard, 24, described standing by the doors of the subway and suddenly hearing a loud bang.
"This wall of fire was just coming towards us, so we just ran," Hubbard said. "The fireball came at us. If the doors were shut, people would have been engulfed."
Victims were taken to a nearby brasserie, which was being used as an impromptu triage center.
Ben Geoghegan, 21, was in his house opposite Parsons Green station when the incident occurred.
"The sirens and the screaming and the people running out woke me up a bit, and I looked out the window to see people streaming out of the station," he said.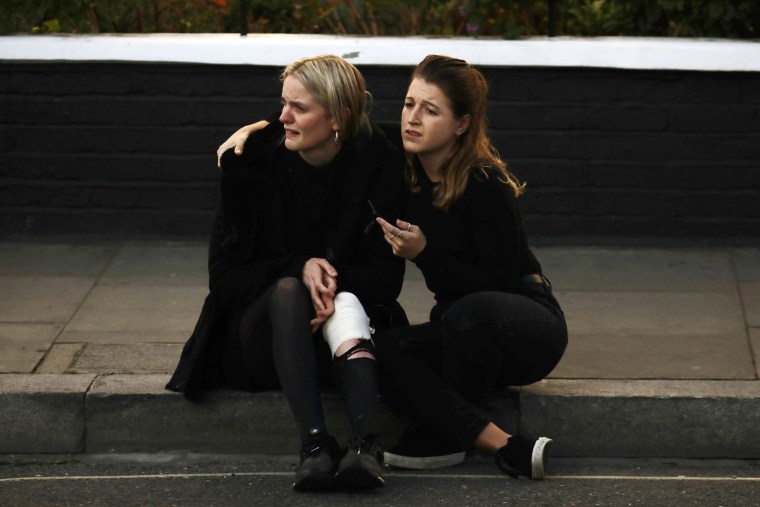 Geoghegan, who works in a bar, said he saw several victims taken to the restaurant for treatment.
"There was one lady stretchered," he said. "Other people just had burns on their arms or legs."
Police said none of the victims' wounds were life-threatening.
Antonio Bruno, 30, who also lives across the street, watched more than 10 people with burns leave the subway station.
He pointed out that the detonation occurred at a busy time of day, and that it coincided with the end of the second week of school.
"It's a very peak time," Bruno said.
Related: 90 Percent of U.K. Police Don't Carry Guns. Here's Why.
The British capital is no stranger to these sorts of incidents, after recent attacks on London Bridge and nearby Borough Market as well as Westminster Bridge this year.
Many Londoners have refused to be cowed — often invoking the World War II "spirit of the Blitz" and their stoic resolve in the face of decades of attacks by the IRA.
This "stiff upper lip" mentality was on show Friday, with many locals and passersby taking pictures on their iPhones or calmly waiting in their bathrobes after emerging from their Victorian and Georgian houses to see what all the commotion was about.
Despite the cavalry of police and journalists, many continued to walk their dogs, while others decided it was time for a pint in the local pub, the Duke on the Green, which of course, this being Britain, was already open.