Russian President Vladimir Putin promised African leaders tens of thousands of tons of free grain Thursday, following international condemnation for allegedly endangering the world's food supply by bombing Ukrainian ports and reneging on a landmark export deal.
Speaking at an event in St. Petersburg dedicated to Russia-Africa ties, he also said the war in Ukraine was "very significantly heated" at the moment.
Putin announced he would give 25,000-50,000 tons of "free grain" over the next three to four months to six countries: Somalia, Burkina Faso, Eritrea, Zimbabwe, Central African Republic and Mali.
"We will also provide free delivery of these products to consumers," he said to applause.
Russia received international backlash for its decision to quit the Black Sea Grain Initiative, which allowed Ukraine to export grain safe from the war in the south of the country. In recent weeks, it has also launched attacks on Ukraine's river ports, the country's only other route for getting ship-based trade out of the country.
The Russian president did not mention allowing Ukraine to continue its grain exports through the Black Sea, however. Moscow's decision to pull out of the grain deal has not only hit Ukrainian exports; it has also threatened to worsen a global food crisis exacerbated by the war.
Zimbabwean President Emmerson Mnangagwa told the summit his country was food secure, but thanked his Russian counterpart nonetheless. Savadogo Mahamadi, head of the Burkina Faso Chamber of Commerce and Industry, called the offer "a very good thing."
United Nations Secretary-General António Guterres said Monday that the jump in food prices following the collapsed deal was "especially devastating for vulnerable countries struggling to feed their people."
Guy Verhofstadt, a senior Belgian lawmaker in the European Parliament, tweeted Thursday that "famine and fear, destitution and death… all because of Putin's paranoia."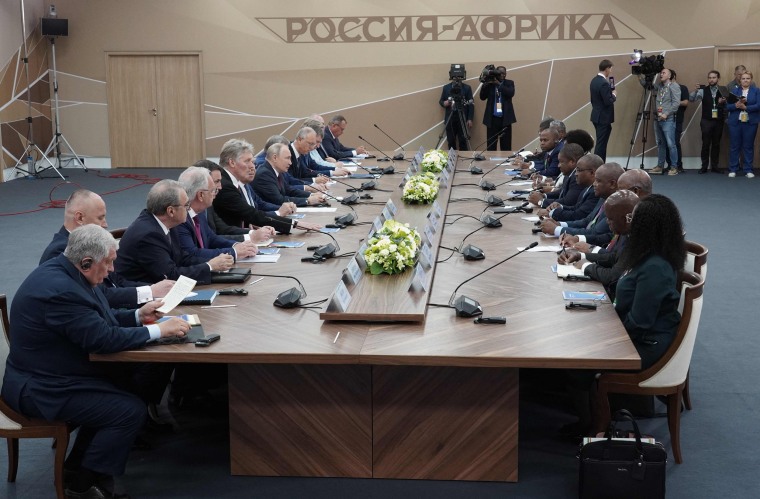 Russia said it quit the deal because while Ukraine had been allowed to export grain, its own agricultural shipment goals were not being met — despite enjoying record wheat shipments this year.
Putin said Thursday that Russia was on track for a record grain harvest, having exported 60 million tons last year.
The Russian president reserved his usual ire for what he called Western hypocrisy. The West, he claimed, was blocking Russian grain and fertilizer, while 70% of the food exported under Ukraine's deal was going to developed countries, with poorer countries being "screwed over." He called it a "paradoxical situation."
Putin did not address the fact that stopping Ukrainian exports has itself impacted global markets. NBC News has not confirmed the figures cited by Putin.
He also gave details of Russia's war against Ukraine, which is currently attempting a grinding counteroffensive against its invading neighbor. Both sides have suffered heavy losses in the conflict, each suffering north of 100,000 casualties, American officials have said.
"I can say without any exaggeration, that our soldiers and officers proved themselves to be examples of mass heroism," Putin said.
Ukrainian President Volodymyr Zelenskyy said in his nightly address Wednesday that "today our guys at the front had very good results."