Nine of the leading Democratic presidential contenders discussed gun safety Wednesday at a policy forum in Las Vegas organized by advocacy groups March For Our Lives and Giffords and moderated by "MSNBC Live" anchor Craig Melvin.
Candidates clashed over gun buyback and licensing plans while discussing how to address the causes of gun violence during the six-hour forum.
The event came a day after the second anniversary of the Route 91 Harvest music festival mass shooting — the deadliest in recent U.S. history.
Download the NBC News app for breaking news and politics
Booker elbows Biden and Beto on gun licensing
Setting up a conflict with Biden, Booker decried Democratic proposals on gun licensing that don't require all states to participate, saying not having a national standard would make it too easy for guns to illegally travel between states.
"We've created a system where you're only as safe as the state near you with the least restrictive gun laws," Booker said. 
Biden released a plan Wednesday that would provide grants to states to set up licensing requirements but would not require them to do so. Booker did not mention Biden, but his own plan would create a federal licensing program that requires prospective purchasers to get fingerprinted, undergo a background check and participate in safety training.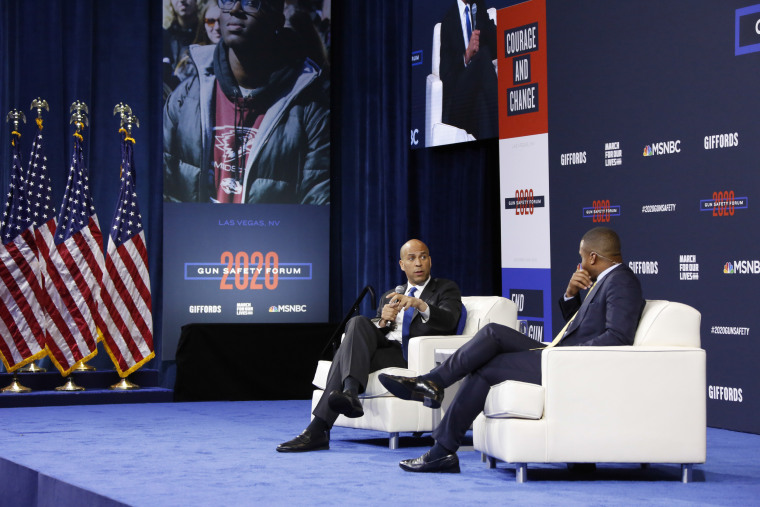 "You should not be a nominee from our party that can seriously stand in front of urban places and say, 'I will protect you' if you don't believe in gun licensing," Booker said.
Booker also noted that Beto O'Rourke criticized gun licensing until adopting the idea after the El Paso shooting and said candidates should not have mass shootings in their hometowns before coming out for stronger gun laws. 
"Beto O'Rourke was not for gun licensing, criticized me when I came out for it," Booker said. "He saw the horrors visiting his community. Are we going to have to wait until Hell's lottery comes to your community?"
Fourteen states and the District of Columbia already have a form of licensing for at least some categories of firearms, like handguns, according to the Giffords Law Center to Prevent Gun Violence. As Booker noted, a study by researchers at Johns Hopkins University attributed a 40 percent drop in gun homicides and 15 percent drop in gun suicides in Connecticut to their adoption of licensing. 
Booker touts experience as mayor of Newark, N.J., to tackle gun violence
Sen. Cory Booker, D-N.J., tapped into his past experience as mayor of Newark, New Jersey, to answer the question about how he would address gun violence. He said he has seen first-hand the effects of gun violence on low-income, minority communities.
"People in certain cities are living in war zones," he said.
Castro would back federal 'red flag' law
Castro said he would support a federal "red flag" law, which would allow people to petition courts to remove guns from individuals they fear are a danger to themselves or others.
Red flag laws have some bipartisan support and have passed in 17 states, but there are different national bills related to them, some of which focus on encouraging more states to pass them and others that propose enacting a national version.
Castro calls for better funding mental health counseling in schools
Castro called for better funding mental health counseling in schools and said it's important to also "raise a generation of young people who don't see violence as a first resort."
The 2020 Democratic candidate also said he seeks to change stigmas around mental health care. 
Asked about video game and movie violence, Castro said there are other areas that have a stronger correlation with gun violence than games and movies. He said in Japan and Europe, kids are playing the same games, and the gun violence numbers are nowhere near the same as in the U.S.
Castro talks ways to deal with ammunition
Julián Castro discussed his plan to change the laws around ammunition, including doubling excise taxes to 20 percent and putting the money toward violence prevention programs. He has also called for banning high-capacity magazines that can accept more than 10 rounds, which virtually all Democrats running for president support, and making ammunition easier to trace.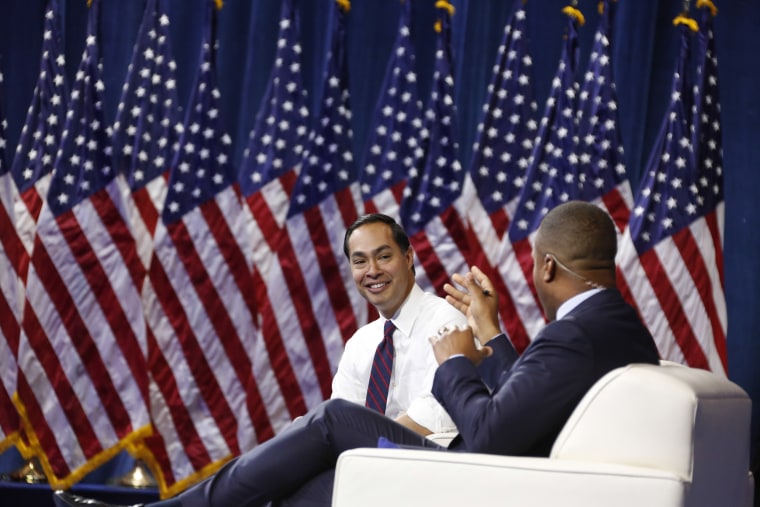 "We talk a lot about guns, but what we do with ammunition, just physically and also the way we tax it, is also part of the solution," Castro said.
Asked by moderator Craig Melvin whether he wants to make ammunition more expensive, Castro was straightforward: "I do," he said. Sen. Elizabeth Warren, D-Mass., has also called for raising excise taxes on ammunition to 30 percent.
Castro explains why he is not for a mandatory gun buyback
Former Housing Secretary Julián Castro explained why he does not support a mandatory buyback of semi-automatic weapons akin to former Rep. Beto O'Rourke's proposal.
Castro credited O'Rourke for having a strong response to gun violence — prominently, a mass shooting that took place in his hometown of El Paso. But Castro said that, for him at the moment, a voluntary gun buyback is the best approach. He also highlighted a "split" in the gun reform advocacy community over whether a voluntary or mandatory program is the best option.
Buttigieg on combating urban gun violence
Asked what he would do to combat urban gun violence, Buttigieg said the government must ensure there are fewer guns on the street, change societal expectations for youths of color, and improve the relationship between urban minority communities and the police.
On that second point, Buttigieg said society must change the "signals" being sent toward urban youth, which he said places the expectation that they are more likely "to wind up in the criminal justice system" than earn a college degree.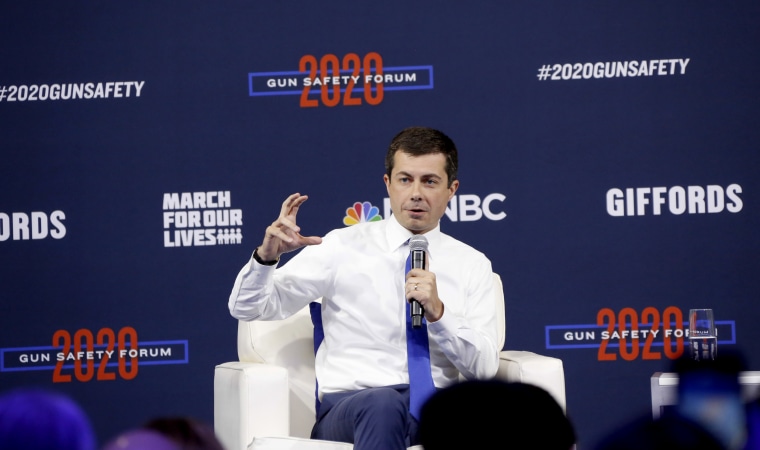 Buttigieg skeptical about gun buybacks
Buttigieg sounded a skeptical note on gun buybacks for assault weapons, saying that voluntary buyback programs for firearms "had mixed results" when tried in states and cities and that the mandatory buyback issue could distract from policies where Democrats are better positioned to make progress.
Beto O'Rourke has called for a mandatory buyback of existing assault weapons, and Sen. Cory Booker, D-N.J., has also expressed his support. Others like former Vice President Joe Biden have suggested a voluntary buyback program and alternative ways to deal with existing assault weapons, like requiring them to be registered with the government.
Buttigieg pledges $1 billion more to combat online extremism
South Bend, Indiana, Mayor Pete Buttigieg was first up at the gun safety forum and kicked off the day by pledging to spend $1 billion to further fund combating online extremism
"Not all terrorist threats come from abroad," he said in criticizing the Trump administration's efforts on combating white-identity extremists, some of whom have accounted for a number of the most deadly recent mass shootings.
Red flag laws often have bipartisan support. But do they stop mass shootings?
Measures to take guns out of the hands of people deemed at risk of hurting others, known as red flag laws, have been passed in more than a dozen states in recent years, often in the aftermath of a gun massacre and often with bipartisan support.
But while researchers say the laws hold promise, particularly in preventing suicides, there isn't enough research being done to understand their effect on homicides ─ let alone mass shootings. Read more about red flag laws.
School Shooting Tracker: Counting school shootings since 2013
Since 2013, 64 people have been killed and 103 injured in 41 school shootings, according to a school shooting tracker NBC News is making public. As of October 2, 2019, it has been 148 days since the last school shooting.
NBC's tracker is an ongoing effort to identify and contextualize shootings in all types of schools, from kindergarten to college, across the U.S. 
Active shooter drills are scaring kids and may not protect them. Some schools are taking a new approach.
Active shooter drills have become more common as school gun massacre after massacre has made headlines. The drills give teachers and students a blueprint to follow during emergencies, which may save lives.
Forty-two states have laws requiring some sort of emergency or safety drills in schools, many of which are designed to protect against active shooters, according to the nonprofit Education Commission of the States.
But there is hardly any research on the drills' effectiveness, and while there are some federal recommendations, there is no standard template for schools to follow in terms of how to do them, how often to conduct them and how to explain them to students of different ages. Read more.
The 2020 Democrats' gun proposals
Democrats have reached near-consensus on some gun proposals, but the presidential campaign has also brought forth new ideas and unearthed some dormant plans that are splitting the 2020 field.
Many of the candidates support banning assault weapons and expanding background checks on firearms to cover more sales. Here's the rundown on their plans.
2020 Gun Safety Forum candidates schedule
Here are the expected time slots (Eastern Time) for each of the nine candidates. (Programming note: Sen. Bernie Sanders, I-Vt., will not be appearing after undergoing a heart stent procedure.)
1-1:30 p.m.: South Bend, Indiana, Mayor Pete Buttigieg
1:30-2 p.m. Former Housing Secretary Julián Castro
2-2:30 p.m.: Sen. Cory Booker, D-N.J.
2:30-3-p.m.: Sen. Elizabeth Warren, D-Mass.
BREAK
4-4:30 p.m.: Former Vice President Joe Biden
4:30-5 p.m.: Former Rep. Beto O'Rourke, D-Texas
5-5:30p.m.: Sen. Amy Klobuchar, D-Minn.
BREAK
5:45-6:15 p.m. Entrepreneur Andrew Yang
6:15-6:45 p.m. Sen. Kamala Harris, D-Calif.
FORUM ENDS