Police have found a note inside the truck that was used Tuesday to run down people on a bike path in lower Manhattan that indicates the suspect claimed to have carried out the attack for the Islamic State terrorist group, law enforcement sources said.
Eight people were killed and 11 others were seriously injured when Sayfullo Habibullaevic Saipov, 29, a native of Uzbekistan who came to the United States in 2010, allegedly drove onto a bike path near the West Side Highway on Tuesday afternoon, officials said.
Saipov allegedly crashed the truck into a school bus, got out with two imitation firearms and shouted "Allahu Akbar," Arabic for "God is Great" before he was shot and wounded by police, authorities said.
The note inside the truck translates to "ISIS Lives Forever," according to a senior official briefed on the investigation. At least one knife was found in the truck, the official said.
Saipov, who read ISIS propaganda online, has been questioned by authorities at the hospital and showed no remorse and was boasting about the attack, the official said.
Saipov entered the U.S. through a diversity visa lottery program, two senior U.S. officials with direct knowledge said.
Related: Trump Blames Schumer for Letting Suspect in Via 'Diversity Lottery'
Saipov used to live in Florida, and Kobiljon Matkarov, a fellow Uzbek national who knew him there, said there was no indication that he would carry out such an attack. Matkarov said he last saw Saipov five or six months ago when Matkarov was in New York.
"He was very happy guy. He liked the US. He is no terrorist. He's all the time happy, smiling all the time," Matkarov said in a phone interview.
Law enforcement sources said Saipov rented the truck from a Home Depot in Passaic, New Jersey, at around 2 p.m. and drove to Manhattan. The truck was driven onto the West Side Highway bike path at around 3:05 p.m., police said.
Related: 20 Blocks of Terror: How the NYC Attack Unfolded
Public records show that Saipov has a commercial truck license. He was issued traffic citations in Maryland in 2011, in Pennsylvania in 2012 and 2015 and in Missouri in 2016, where records showed he was driving a tractor-trailer.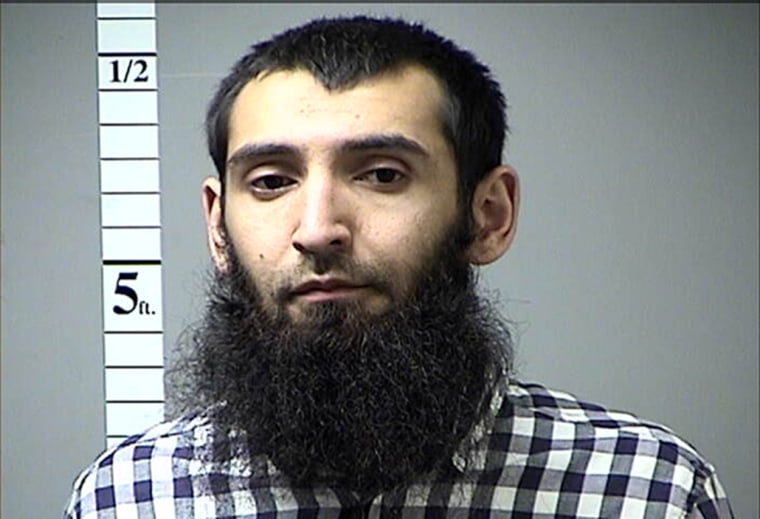 In all but one of the cases, in which the citation was withdrawn, Saipov pleaded guilty and paid a fine, according to records. He was issued a Class A commercial truck license in 2010, apparently originally in New Jersey and then in Florida.
Matkarov said he believed Saipov was recently living in New Jersey and was driving for Uber. Uber confirmed he had been a driver and passed a background check.
"We are horrified by this senseless act of violence. Our hearts are with the victims and their families. We have reached out to law enforcement to provide our full assistance," and Uber spokesperson said.
The rampage was being treated as a case of terrorism, but authorities in New York said it didn't appear to be part of any larger plot. New York Gov. Andrew Cuomo said it appeared to have been carried out by a lone actor.
After initial reports of the incident, President Donald Trump said on Twitter that it "looks like another attack by a very sick and deranged person" and "NOT IN THE U.S.A.!"
The president also Tweeted on Tuesday afternoon: "We must not allow ISIS to return, or enter, our country after defeating them in the Middle East and elsewhere. Enough!"
Related: New York Officials, Residents Say They Won't Be Intimidated by Terror
A U.S. counterterrorism official said Tuesday afternoon that the intelligence community was unaware of any claim of responsibility from any group at that time.
The FBI was seen at a home in Tampa, Florida, listed as being associated with Saipov, according to NBC affiliate WFLA.
Florida Gov. Rick Scott said in a statement: "I am absolutely disgusted by the act of terror that occurred in Manhattan today. All of Florida is praying for the victims, their families and our brave law enforcement and first responders."
Uzbekistan isn't on the list of countries covered under Trump's travel restrictions.
The attack follows other attacks in which vehicles were driven into crowds in other countries, like attacks in Nice, France, and Berlin in 2016.
A man arrested in a truck attack in Stockholm that killed four people and injured 15 others in April was from Uzbekistan. The State Department has warned Americans traveling to the country that supporters of some Islamic terrorist groups, including al-Qaeda and the Islamic State, are in Central Asia.
In 2015 a citizen of Uzbekistan who had been living in Brooklyn, Abdurasul Juraboev, pleaded guilty to conspiring to provide material support to the Islamic State, according to the Justice Department. He was sentenced in October to 15 years in prison, the department said.
Prosecutors said Juraboev planned to travel to Syria and also bomb Coney Island. Another man who is a citizen of Kazakhstan was also arrested and pleaded guilty to planning to travel to Syria, according to the Justice Department.
Bekhzod Abdusamatov, 22, of Cincinnati, told NBC News in a telephone interview that his parents took in Saipov for a time after he came to the United States in 2010, and the family was surprised that Saipov apparently registered a business in Ohio using his family's address. He said his father is friends with the suspect's grandfather from Uzbekistan.
Abdusamatov said that he remembered Saipov as polite, that there was nothing unusual about him and that he spent much of his time outside the house.
When he found out that Saipov was accused in Tuesday's attack, Abdusamatov said: "I was shocked. I never would've imagined something like this. I never would've thought this guy would do something violent."
CORRECTION (Nov. 1, 7:30 a.m.): An earlier version of this article misstated the state where Sayfullo Saipov received a traffic citation in 2012. It was Pennsylvania, not Maryland.
CORRECTION (Nov. 1, 12:45 p.m.): An earlier version of this article misstated the death toll for the attack in Stockholm in April. It was four, not 15.