A top youth volleyball coach accused of having inappropriate sexual relations with at least six underage players received a lifetime ban from the sport but then was let back in five years later — and allowed to stay for another 18 years.
Rick Butler was permanently banned from volleyball in January after a series of reports in The Chicago Sun-Times.
A federal lawsuit filed in an Illinois court on Tuesday accuses Butler of raping at least six of the girls he coached, beginning in 1981.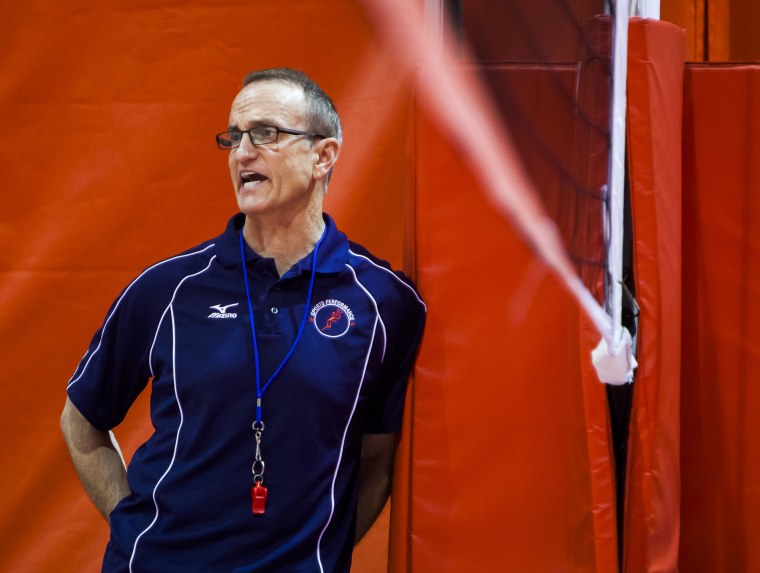 The lawsuit named several of the accusers, including one former player, Christine Tuzi.
Tuzi alleges that she was raped "hundreds" of times by Butler, that she became pregnant by him, and that Butler drove her to get an abortion. In a hotel room after the procedure, Butler forced her to give him a hand job, she claimed.
The allegations have rocked the youth volleyball world, in which Butler was considered to be one of the most powerful coaches in the country.
Butler founded Sports Performance Volleyball, a training facility based in Aurora, Illinois, and has coached nearly 20,000 girls. His club has churned out four Olympic medalists and nearly 100 national champions, according to the Sun-Times.
Related: Eight times Larry Nassar could have been stopped
Tuzi was among several players who came forward in 1995 alleging that Butler had sexually abused them when they were underage.
Butler never faced any criminal charges, but the accusations did result in a lifetime ban from USA Volleyball, the sport's national governing body. For reasons that are not clear, that ban was partially rescinded in 2000, resulting in Butler's re-entry into volleyball coaching.
An attorney for Butler did not return calls for comment from NBC News on Thursday.
In the past, Butler has said in statements through his attorney that he "never sexually abused any individual."
The graphic, 72-page class-action lawsuit filed this week was brought by the mother of a teen athlete who says she never would have allowed her daughter to be coached by Butler had she known his history.
Laura Mullen says her daughter was not sexually abused by Butler, but she claims in the lawsuit that he "made comments about her [daughter's] weight and appearance" and pressured her to go to play overseas at a tournament in China while her father was dying of prostate cancer. The girl's father died while she was on the trip.
"Sports Performance is considered a 'feeder' club to many of the top volleyball programs in the country," said the lawsuit, filed by Chicago attorney Jay Edelson. "Relying on these vulnerabilities and aspirations, Butler set up an environment of dependency and fear with each teenage girl."
The lawsuit alleges that Butler had a pattern of identifying "rising stars" in volleyball who he promised to turn into success stories — if they promised "to do everything he instructed," which included unwanted sexual contact.
One unnamed victim claimed the abuse started when she was a sophomore in high school, when Butler offered to drive her home but said she was too sweaty, and told her to stop at his apartment to take a shower. While she was showering, Butler allegedly came in and raped her, in what the suit claimed was "the first of over 40 incidents of rape and sexual abuse" she endured.
Sarah Powers-Barnhard, one of the other players named in the lawsuit, alleged that Butler raped her in the bathroom of a train car during a team trip to Germany, among other places. She also claimed that Butler made her watch pornography so she could "learn."
In January, USA Volleyball reinstated its lifetime ban of Butler; last month, the Amateur Athletic Union, the largest youth sports group in the U.S., also banned Butler for life.
What led to the ban being partially overturned in the first place in 2000 is not known. USA Volleyball would not comment on that, instead issuing a statement on the January ban.
"We are very grateful to the courageous women who came forward," said Lori Okimura, chair of the USA Volleyball board of directors, in the statement. "USA Volleyball is committed, through the U.S. Center for SafeSport program, to ridding our sport of coaches and others who engage in hurtful actions against athletes and young people. We will continue to have zero tolerance for this kind of behavior."
The statute of limitations has expired on the allegations of sexual abuse dating to the 1980s. None of the accusers are listed as plaintiffs in the lawsuit filed on Tuesday.
The suit seeks more than $5 million in damages from Butler, his training facility and Butler's wife, Cheryl, who it claims concealed the alleged abuse and tried to intimidate the accusers from speaking out by bullying them on social media.