Apple and Google are tightening the rules for smartphone apps that could notify people about exposure to the coronavirus after concern that the apps would violate privacy.
Public health agencies, academics and governors' offices are racing to deploy the apps in the U.S. as one step toward relaxing stay-at-home orders.
The apps would use Bluetooth technology to privately record when phones are near each other, and to send anonymous notifications to people who have spent time with infected individuals. A handful of states have already rolled out test versions.
But the two tech companies said Monday they want the apps to use only anonymous Bluetooth proximity data, not location data from cellular networks that could be more invasive.
In a statement, Google and Apple said they would prohibit apps from seeking permission to access a phone's location services if the apps are using tools from Google and Apple known as application programming interfaces, or APIs.
The companies also released some mock-ups of what notifications could look like.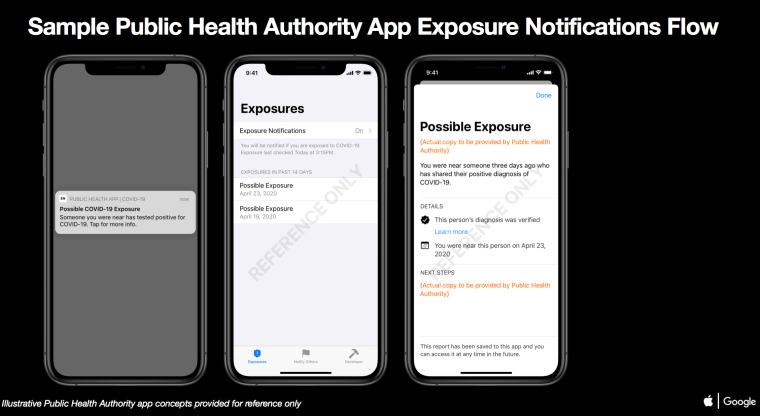 Some developers have been using location data in coronavirus tracing apps, including two such apps with thousands of users in Utah and North and South Dakota, Reuters reported.
Apple and Google aren't going so far as to boot those apps off their app stores. Those two apps were still available Monday in Apple's iOS App Store and Google's Android Play Store. Apple and Google declined to comment on the apps specifically. Not having access to an API may limit an app's functionality, though.
The developers behind the Utah app, Healthy Together, said in a statement that they would look at the Apple-Google system once it fully launches and adopt it if it's more effective. "Ultimately, we all share the same goal of stopping the spread of COVID-19," they said.
Google and Apple didn't elaborate on their reasoning behind their decision other than to emphasize that they were protecting privacy.
But the decision underscored how much power the companies have amassed, creating online systems where often they get to write the rules that government authorities need to follow.
The two tech companies also added another sweeping rule, saying that they would allow only one app per country — or, maybe, one app per state or region — to use the software toolbox that they are jointly creating. The reason was to "promote high user adoption and avoid fragmentation," the companies said.
Experts have said that a coronavirus tracking-and-notification app might need adoption by some 60 percent of a given area in order to be truly useful.