So many details from the early morning hours of June 28, 1969 — the start of the Stonewall uprising — are lost to history. But arrest records from the New York Police Department obtained by NBC News shed new light on what happened that night.
Earlier this year, NBC News sent a Freedom of Information Law request to the NYPD asking for "all police reports and all other relevant documents involving the protests and raid inside and outside of Stonewall Inn (53 Christopher St., NY, NY) between June 27 and June 30 of 1969."
NBC News received a five-page document containing five complaint reports — 6819, 6820, 6821, 6826 and 6827 — from June 28, 1969. Those reports can be viewed here.
Most of these reports are not completely new: NYPD released four of them to nonprofit OutHistory 10 years ago for the 40th anniversary of the Stonewall uprising. Four of the complaint reports are duplicates, but one, report 6821, appears to be entirely new. However, the duplicates received by NBC News have different sections blacked out when compared to the ones released a decade ago, leading to newfound public information.
COMPLAINT REPORT 6821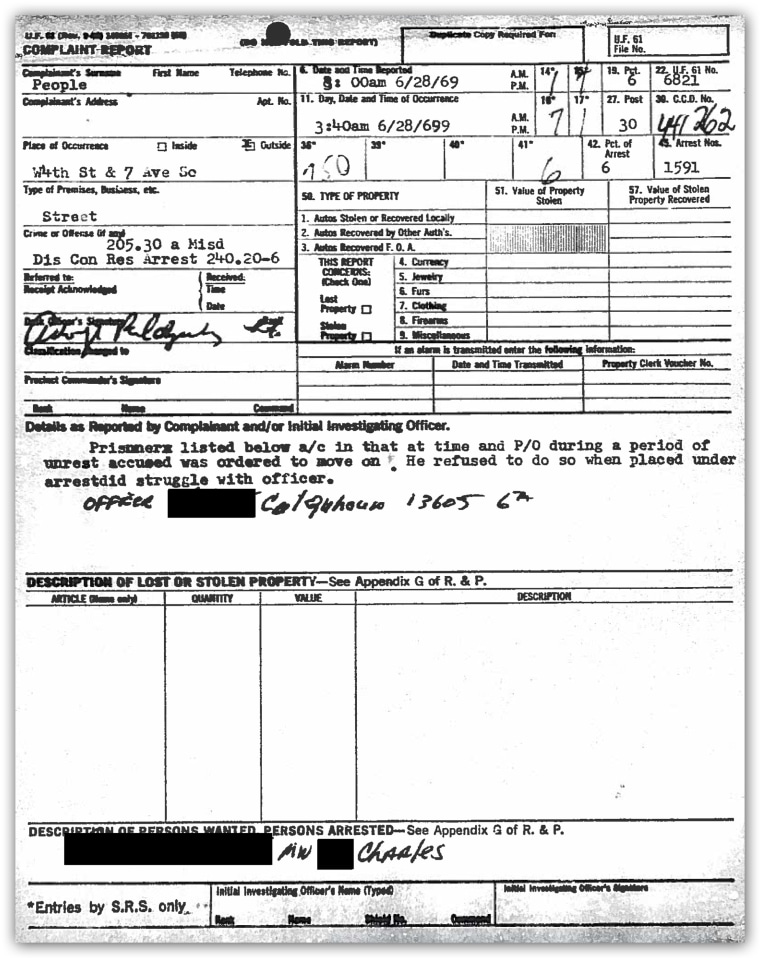 Report 6821, from 3:40 a.m. on June 28, 1969, lists two misdemeanors: disorderly conduct and resisting arrest.
"Prisoner listed below a/c in that at time and P/O during a period of unrest accused was ordered to move on. He refused to do so when placed under arrest did struggle with officer."
Next, a handwritten addition says, "Officer [redacted] [unreadable] 13605 6th."'

Below, under "description of persons, wanted persons arrested" it states [redaction] MW [redaction] Charles. Given the information provided, NBC News was unable to identify the person arrested.

NEW INFORMATION FROM EXISTING REPORTS
Complaint report 6819 is the only one that includes multiple "persons arrested": Raymond Castro, 27; Marilyn Fowler, 28; and Vincent DePaul, 24. OutHistory's publication of this report in 2009 marked the first time Fowler and DePaul had been documented as Stonewall participants; Castro was already known to have been involved. According to the police report, the trio "acting in concernt [sic] with each other did shove and kick the officer. Ptl Chas Broughton 8076 1st Div."
In her 2016 book, "The Gay Revolution," Lillian Faderman asserts that Castro was handcuffed by two police officers at the Stonewall Inn, but while his hands were tied behind his back, he shoved back and knocked both officers off their feet, energizing the crowd.
According to OutHistory, "Fowler's name is extremely significant, since no other woman's arrest has so far been documented, and a number of witnesses attributed the intensification of the riot to the arrest and resistance of an unnamed butch lesbian." Several witnesses have said the butch lesbian in question was activist and drag king Stormé DeLarverie, though others disputed that.
OutHistory has speculated that Vincent DePaul, the name of a saint, is likely a pseudonym.
Using both the 2009 and 2019 versions of complaint report 6819, the names, ages and addresses given to police by Castro, Fowler and DePaul are now known:
Raymond Castro, M, 27, [redacted] Amsterdam Ave NYC
Marilyn Fowler, F, 28, [redacted] 47th Ave Bayside Qns
Vincent DePaul, M, 24, [redacted] W 24th St NY NY
Castro died in 2010, and NBC News was unable to locate DePaul and Fowler using the newly discovered information. The Manhattan building where a woman believed to be the same Marilyn Fowler once lived has since been turned into a health care facility — and any other clues to where she may live, if she's still alive, stopped there. OutHistory published some additional information about Fowler, though that information has not been confirmed by NBC News.
Complaint report 6820 pertains to Dave Van Ronk, a popular folk singer who lived nearby and allegedly took part in the melee. The police report states that "he did throw unknown object which struck officer in right eye causing injury to same. Ptl Gilbert Weisman 18228 6th Pct."
The duplicate police report obtained earlier this month includes Van Ronk's age, 32, and part of his address at the time. Van Ronk died in 2002.
David Van Ronk, M, 32, [redacted] Sheridan Sq.
Complaint report 6826 alleges that Thomas Staton, 22, of Brooklyn, "did interfere with officer making lawfull [sic] arrest by throwing assorted objects while with others did become very loud and refused to comply." Staton's name had been previously known, but his age and part of his address were not included in the reports released in 2009. Additional information about Staton is not known.
Thomas Staton, M, 22, [redacted] 3rd Ave Bklyn
Complaint report 6827 pertains to Wolfgang Podolski, 27, a Manhattan resident who allegedly "did strike arresting officer in the left eye with a rolled up newspaper, causing officer to fall to ground sustaing [sic] a fractured left wrist." Like most of the others who were arrested, Podolski's name was previously known, but his age and part of his address was first released this month. Additional information about Podolski is not known.
Wolfgang Podolski, M, 27, [redacted] 8th Ave
With just a handful of police reports, news articles and photos from the now-historic Stonewall uprising, much of what is known about the multiday resistance comes from oral history. To hear what happened from witnesses to the Stonewall uprising, watch NBC Out and Nightly Film's exclusive documentary "Stonewall 50: The Revolution."