If it's THURSDAY… President Biden and Indian PM Modi hold a joint news conference at the White House at 12:45 pm ET… House Republicans, in rare step, censure Rep. Adam Schiff, D-Calif., over Trump-era probes… Former Rep. Will Hurd, R-Texas, announces that he's filed to run for president in GOP race, per NBC's Jillian Frankel… And meet the biggest ad spender right now in the 2024 presidential contest — Doug Burgum.
But FIRST… If not for Donald Trump and his multiple indictments, President Joe Biden's political standing right now might be the biggest 2024 story one year before the general election officially begins.
A new Pew Research Center poll finds his approval rating at 35% approve, 62% disapprove — with 67% of whites, 60% of Latinos and 51% of Asian respondents all disapproving (compared with 57% of Black respondents and 65% of Democrats who approve). 
A Quinnipiac University poll from a week earlier shows Biden's approval rating among registered voters at 42% approve, 53% disapprove — with 58% of independents disapproving. 
And CNN's poll even had Biden's fav/unfav rating at 32% favorable, 56% unfavorable. 
This approval territory for Biden (high 30s, low 40s) is similar to where Donald Trump was at this same point in his presidency, and that standing contributed to Trump being a one-term president. 
Then again, the "if not for Donald Trump" has been Biden's calling card. 
Trump's overall unpopularity (see: Charlottesville) was the reason why Biden ran for the presidency in 2019, and it helped him defeat Trump in 2020. 
It's one of the main reasons why Democrats were able to hold the Senate in the 2022 midterms — by defeating Trump-endorsed candidates in Arizona, Georgia, Nevada and Pennsylvania.
And it's why national polls show Biden performing better against Trump than other GOP alternatives.
Judging Biden against the Almighty? He's in a difficult place for a sitting president. 
But against Trump? That's a different story.
Graphic of the day: A rough report card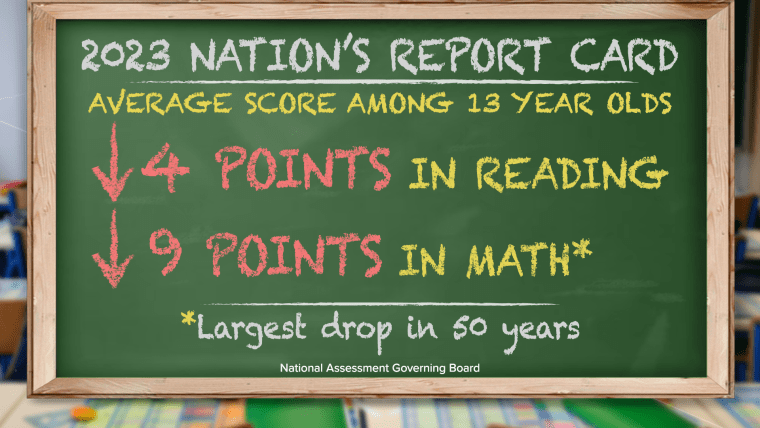 Data Download: The number of the day is … $2.9 million
That's how much money North Dakota Gov. Doug Burgum had spent on advertising between the start of his presidential campaign on June 7 and Wednesday, more than any other candidate or outside group over that same period. 
It's twice as much as South Carolina Republican Sen. Tim Scott spent over the same period, and just a hair more than what was spent by two prominent super PACs, Never Back Down (which supports Florida Republican Gov. Ron DeSantis) and MAGA Inc. (which supports former President Donald Trump). 
Burgum's big spending comes as he races to meet the polling and unique donor requirements to make August's first GOP primary debate. Read more on the Meet the Press Blog. 
Other numbers to know:
6: The number of federal counts to which Massachusetts Air National Guardsman Jack Teixera pleaded not guilty on Wednesday. He is accused of obtaining and leaking classified Pentagon documents online. 
12.5: How many years in prison Jan. 6 rioter Daniel Rodriguez, who used a stun gun to shock D.C.police officer Michael Fanone during the 2021 attack, was sentenced to on Wednesday. 
1: How many Senate Democrats supported an effort to override Biden's veto against a measure relating to emissions standards. The lone Democrat was West Virginia's Joe Manchin, and the measure fell short of the two-thirds threshold needed to override the veto, per NBC News' Frank Thorp. 
2: The number of people who guaranteed the $500,000 bail for indicted New York GOP Rep. George Santos. Their names will be revealed on Thursday.
85: The number of days Wall Street Journal reporter Evan Gershkovich has been detained by Russia, which just rejected an appeal for release and extended the detention until at least the end of August. 
24: The number of states that have restricted access to abortion since the Supreme Court overturned Roe v. Wade a year ago.
80%: The rate at which the IRS reduced its backlog of unprocessed paper tax returns, per a report to Congress.
Almost 4 years: How long a former FBI analyst was sentenced to in prison for keeping classified documents in her home.
50: The number of days Hollywood writers have been striking, as more productions have shut down in the weeks since the strike began.
Eyes on 2024: Schiff tries to turn censure into campaign lemonade
House Republicans voted to censure California Democratic Rep. Adam Schiff Wednesday for his criticism of Trump during the Russia investigation in the early years of the former president's term. And now that the censure no longer includes an eye-popping fine, the move could ultimately help bolster the argument the Democrat has been making in his bid for Senate in a crowded race to replace the retiring Democratic Sen. Dianne Feinstein. 
Schiff's sent at least five email fundraising appeals related to the censure since Tuesday, and at least 23 since late May. And as the Los Angeles Times reports, the Democrat has called the censure a "badge of honor."
"Roosevelt said you can judge a person by the enemies they make," Schiff told the paper. "By that standard, I'm doing pretty damn well."
One of those email fundraising appeals notes how "As McCarthy read out the resolution, my Democratic colleagues stood beside me and had my back" and all voted against the censure. It's the kind of party solidarity and publicity that Schiff is likely hoping he can leverage as he argues that he, not California Reps. Katie Porter or Barbara Lee, is the best Democrat to succeed Feinstein. 
In other campaign news…
DOJ divide: Hunter Biden's plea deal has highlighted deepening a political divide over the justice system and whether the Justice Department acts independently, NBC News' Peter Nicholas, Katherine Doyle with Scott Wong report.
About Mace: Rep. Nancy Mace, R-S.C., who sharply criticized Trump after the Jan. 6 riot at the Capitol but later showed up to Trump Tower to praise him after he endorsed her primary opponent, told Politico she is "willing to bury the hatchet" and did not rule out endorsing Trump in the GOP presidential primary.  
Wall Street ally: Wall Street executive Omeed Malik is supporting Robert F. Kennedy, Jr., CNBC's Brian Schwartz reports.
New day for Newsom: Politico unpacks the shift in Biden World regarding California Democratic Gov. Gavin Newsom, who has become a key ally to the president. 
Fore: The Washington Post reports that the chair of the University of Florida Board of Trustees loaned Florida Republican Gov. Ron DeSantis a golf simulator for the Governor's Mansion and let him use his private plane at least a dozen times. 
Not on the bingo card: Bloomberg reports that 2016 Green Party presidential nominee Jill Stein is running activist and academic Cornel West's presidential bid. 
Virginia is for primaries: Tuesday's primaries in Virginia set up key battles for November, which could provide some clues for 2024. NBC News' Adam Edelman details four takeaways from the contests. GOP Gov. Glenn Youngkin's team also took a victory lap with all of his preferred candidates who faced competitive primaries prevailing on Tuesday. Also in Virginia' three progressive prosecutors fended off primary challengers, per NBC News' Scott Bland.  
South Carolina is for late primaries: NBC News' Henry J. Gomez and Matt Dixon report on how the South Carolina Republicans' decision to schedule a late primary at the end of February could have an impact on the presidential primary field. 
Cleared: Georgia authorities cleared election workers Ruby Freeman and her daughter, Wandrea ArShaye Moss, of wrongdoing during the 2020 presidential election, saying claims that they participated in election fraud were "unsubstantiated and found to have no merit," per NBC News' Jane C. Timm. Trump has targeted both women and perpetuated those false claims. 
Fired up and ready to go: Politico reports on how former President Barack Obama has been taking meetings with rising House Democrats like New York Rep. Alexandria Ocasio-Cortez and New Jersey Rep. Mikie Sherrill.
More on message: The GOP firm OnMessage Inc. is adding four new partners: Stu Sandler, who recently served as the National Republican Senatorial Committee's political director; pollster Nathan Klein, a former head of the NRSC's independent expenditure arm; and OnMessage alums Jordan Shaw, former chief of staff to Sen. Thom Tillis, R-N.C., and Jacquie Brown, who served as the firm's media director and has worked for the Republican National Committee.
ICYMI: What ELSE is happening in the world 
House Republicans have deferred a vote on Rep. Lauren Boebert's, R-Colo., resolution to impeach President Biden, a bill that was causing tension within the GOP caucus.
Democrats grilled former special counsel John Durham in a hearing on Wednesday over his critique of the FBI's investigation into collusion between Trump and Russia following the 2016 election.