GREAT NECK, N.Y. — The five-bedroom house in New York's Long Island suburbs — listed for nearly $1.3 million — boasts a southern exposure and proximity to a country club.
But here's what's more interesting: The seller, a Chinese national named Sun Sidong, has been linked by American security experts to a network of Chinese companies under Treasury sanctions for helping companies and individuals who support North Korea's nuclear and ballistic missile programs.
According to Chinese corporate filings, Sun is the listed owner of Dandong Dongyuan Industrial Co., which has shared an email address with another Chinese company, Dandong Zhicheng Metallic Material Co., a coal exporter suspected of helping North Korea evade sanctions.
The coal company and "four related front companies" were targeted by a federal search warrant allowing prosecutors to secretly monitor their financial transactions at eight U.S. banks, seizing any funds stemming from illegal sanctions-busting, according to a May federal court ruling.
The ruling, by U.S. District Judge Beryl Howell of Washington, D.C., said the eight American financial institutions — Bank of America, Wells Fargo, BNY Mellon, Citibank, Deutsche Bank, HSBC, JP Morgan Chase, and Standard Chartered Bank — had already processed upwards of $700 million in prohibited transactions involving North Korea since 2009. The ruling does not allege any wrongdoing by any of the banks.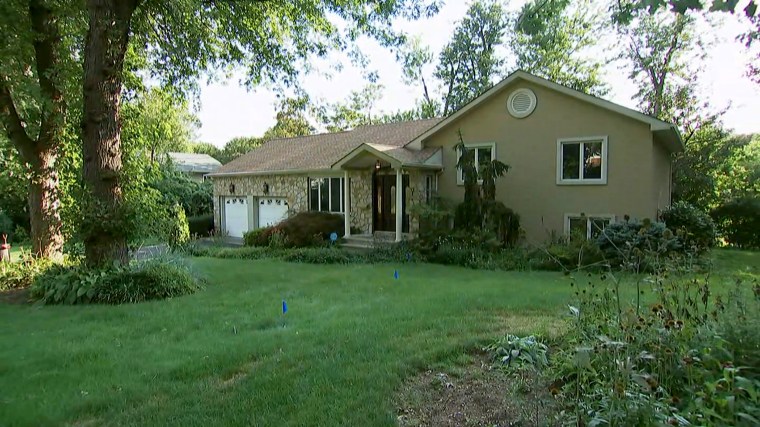 On Tuesday, the Treasury's Office of Foreign Assets Control (OFAC) sanctioned Dandong Zhicheng Metallic Material Co. and its primary shareholder in response to "attempted evasion of U.S. sanctions."
That shareholder, a Chinese businessman named Chi Yupeng, was also named in a civil complaint filed Tuesday by the Justice Department seeking a money laundering penalty against the firm, as well as the seizure of $4 million in funds allegedly laundered for North Korea's ruling party. The complaint alleges that front companies controlled by Chi Yupeng comprise one of the largest financial facilitators for North Korea.
Chi Yupeng hung up on NBC News several times when asked for comment.
The Justice Department also moved to seize nearly $7 million from a Singapore firm over similar allegations, and Treasury levied sanctions against a number of other Chinese and Russian entities — 16 in total — it accused of helping North Korea evade sanctions.
WATCH: At China-North Korea Border, Business as Usual Despite Sanctions
The government's investigation was supported by the Center for Advanced Defense Studies (C4ADS), a non-profit U.S. think tank, as part of a new get-tough approach to North Korean sanctions that began in the Obama administration and is accelerating under President Trump, current and former U.S. officials say.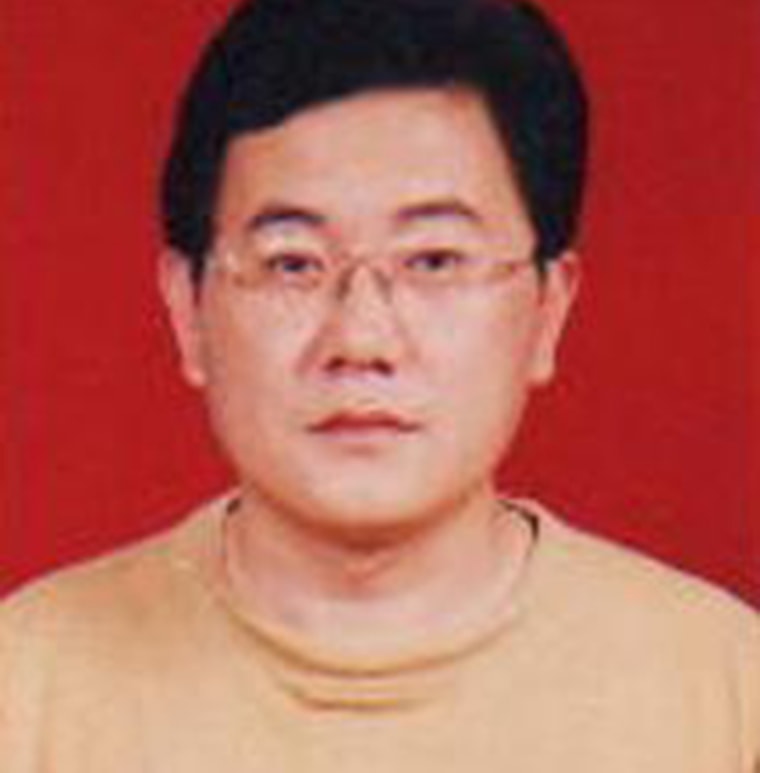 While it's widely assumed that North Korea has for years been subjected to punishing international pressure as it defied the world and advanced toward a nuclear missile capability, the sanctions against North Korea have been full of holes, experts say — far less restrictive, for example, than the measures that brought Iran to the nuclear bargaining table.
Sun's Great Neck house is an example of how the alleged sanction-busting networks can stretch around the globe, even to the luxe suburbs of Long Island. "The fact that you have somebody who's engaged in trade that is potentially not just sanctioned, but dangerous, and that individual then invests in real estate in the United States reflects that there are holes in the system," NBC News National Security Analyst Juan Zarate said.
The North Korea sanctions targeted specific military technology, "but what you didn't see until quite recently are these kind of broader sanctions to go after the North Korean economy as a whole," said Peter Harrell, who was the deputy assistant secretary for counter threat finance and sanctions in the State Department from 2012 to 2014.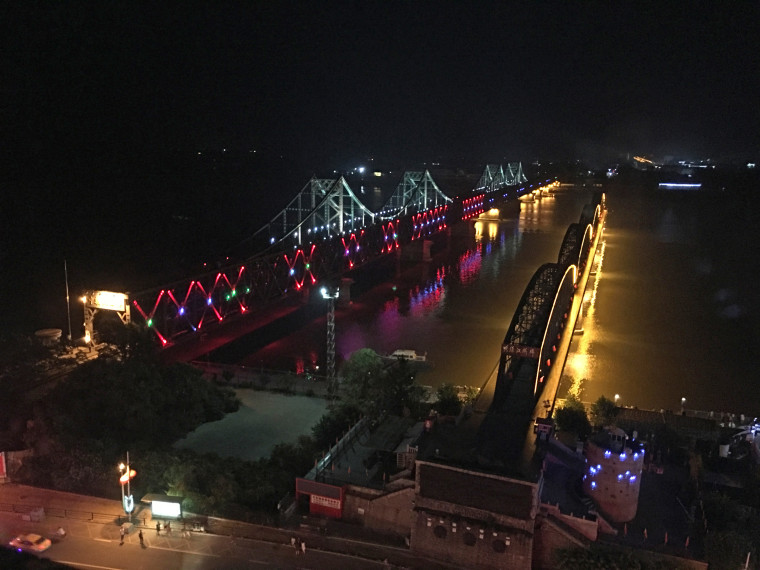 Nor was there an aggressive enforcement effort against banks and individuals doing business with Pyongyang. As a result, the North Korean economy has grown steadily over the last decade, analysts say. And while the country as a whole remains extremely poor, the elite live relatively well amid a building boom of gleaming skyscrapers in the capital.
"Until February of 2016, U.N. sanctions against North Korea were strong on paper but poorly enforced, and U.S. sanctions against North Korea were comparatively weak — weaker than our sanctions against Belarus and Zimbabwe," said Joshua Stanton, a North Korea expert and former Army officer.
Now, that is changing — though it may be too late. North Korea tested a missile that many experts say could strike the U.S. mainland, and American intelligence officials say the country may be months away from being able to mount a nuclear warhead on such a missile.
Still, aided by new sanctions imposed in the past year, the Trump administration is moving to increase economic pressure on North Korea, by targeting the Chinese companies that have for years helped the North fund its military activities.
"Justice is stepping it up by going after the Chinese banks," said Anthony Ruggiero, a senior fellow at the Foundation for Defense of Democracies, who served as the nonproliferation advisor to the U.S. delegation to the 2005 Six-Party Talks on North Korea.
In June, the U.S. Treasury Department designated China's Bank of Dandong — based in a city on the North Korean border that serves as a center of trade between the two countries — to be a "primary money laundering concern." It said the small bank "acts as a conduit for illicit North Korean financial activity." Two Chinese individuals were also targeted in the government's action.
Last September, the Justice Department charged Dandong-based businesswoman Ma Xiaohong with evading sanctions and laundering millions of dollars for North Korea. Ma has not made a court appearance and her whereabouts are unclear.
Sen. Cory Gardner, R-Colo., recently introduced a bill that would cut off entities that do business in North Korea, including the top ten Chinese importers of North Korean goods, from using the American financial system.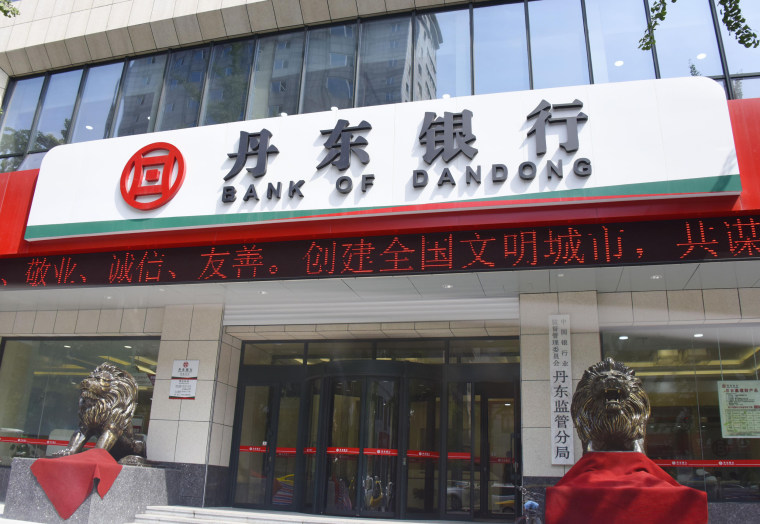 In August, the U.N. Security Council unanimously passed new sanctions meant to pressure Pyongyang's export revenue. They crack down on North Korea's primary exports — including iron, iron ore, coal, lead, lead ore and seafood — and target banks and joint ventures with foreign companies.
C4ADS, which focuses on international security, uses sophisticated software and business records to map links between companies involved with North Korea.
In June, the group published a report — titled "Risky Business" — naming Sun, who owns the Great Neck house, as part of a network that may be exporting technology that could be used in North Korea's missile program.
Chinese business records cited by C4ADS show Sun owns 97 percent of Dandong Dongyuan Industrial Co. Ltd., a general-purpose trading firm whose businesses include the sale of automobiles, machinery, natural resources, and general household products, the report says. NBC News confirmed that the records show Sun as primary shareholder.
Related: North Korea Already Has a Devastating Weapon: Cyberattacks
Customs records indicate the firm has exported to three countries: North Korea, the Democratic Republic of the Congo, and the United States. From 2013 to 2016, the company sent $28 million worth of material to North Korea, the records show.
For example, Dandong Dongyuan Industrial Co. sent North Korea a shipment of radio navigational aid apparatus valued at nearly $800,000 in June 2016, the C4ADS report said. Experts at the James Martin Center for Nonproliferation Studies concluded that "this category might contain guidance devices for ballistic missiles."
NBC News reviewed shipment data from Panjiva, which tracks global trade. It shows more than 60 shipments of items by Sun's company to North Korea that fall into the category of "nuclear reactors, boilers, machinery and mechanical appliances; parts thereof." This broad category is set by the country of origin, in this case the Chinese government. Experts say dual-use items like these help the Kim regime evade sanctions that are explicitly designed to prevent its nuclear capability.
"The danger with the export of dual-use items is that they appear to be legitimate. These are things that could be used for normal purposes," Zarate said. "You have parties that are willing to export what are really dangerous items to a regime that has been sanctioned, and trying to use the cloak of legitimate commerce in order to do that."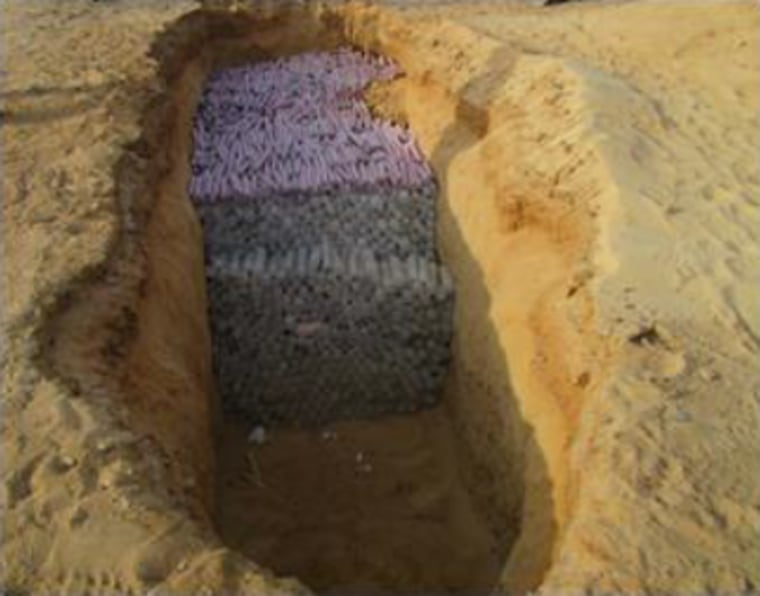 C4ADS also links Sun to a ship carrying arms from North Korea to an unknown destination. In August 2016, a cargo vessel flying a Cambodian flag was intercepted by Egyptian authorities entering the Suez Canal with parts for 30,000 rocket-propelled grenades aboard. The grenade parts were hidden under 2,300 tons of iron ore, which is one of the newly banned mineral exports targeted by the U.N.'s recent sanctions program.
According to shipping records reviewed by NBC News, one of Sun Sidong's companies owned the vessel from April 2012 until August 2014, when ownership was transferred to a company controlled by Sun Sihong, who according to C4ADS is Sun's sister.
In 2015, Sun registered a New York-based company called Dongyuan Enterprise USA. On March 2, it received a shipment of "used furniture" from Dandong Dongyuan Industrial Co., Sun's Chinese company. Originally shipped from Dandong, the cargo traveled to the U.S. from Busan, South Korea, according to its bill of lading.
The real estate agent who brokered the sale of the Great Neck home to Sun recalled that the family was expecting furniture to arrive from China.

Sun, whose U.S. company operates out of a New York City address he does not own, bought the Great Neck property near the country club for $1.1 million in December 2016.
The house is already on the market again. Sun's U.S. real estate broker told NBC News that's because Sun "doesn't want to do business here."
One lesson of Sun's activities is that targeting a small number of key actors could put a severe dent in North Korean's effort to evade sanctions, according to David Johnson, the executive director of C4ADS.
"The networks that perpetrate sanctions evasion for North Korea are limited, centralized, and vulnerable," Johnson said. "That is, we can touch them, there are very few pressure points, and we can make a major impact."