MONTEREY PARK, Calif. — Hundreds of mourners gathered Wednesday night at a vigil outside the Star Ballroom Dance Studio in Monterey Park, a typically quiet Los Angeles suburb now home to one of the worst tragedies in the county's history.
Community members brought flowers, incense and candles, which twinkled in place of the 11 people who once danced and laughed inside the storied venue that has served as a gathering spot.
"I'm honestly at a loss for words," said Andy Luu, who was born in Monterey Park. "This could have been prevented."
The suspect in the shooting hadn't been to the Star Ballroom Dance Studio in five years and investigators have so far found no connection between him and the victims, Los Angeles County Sheriff Robert Luna said Wednesday night.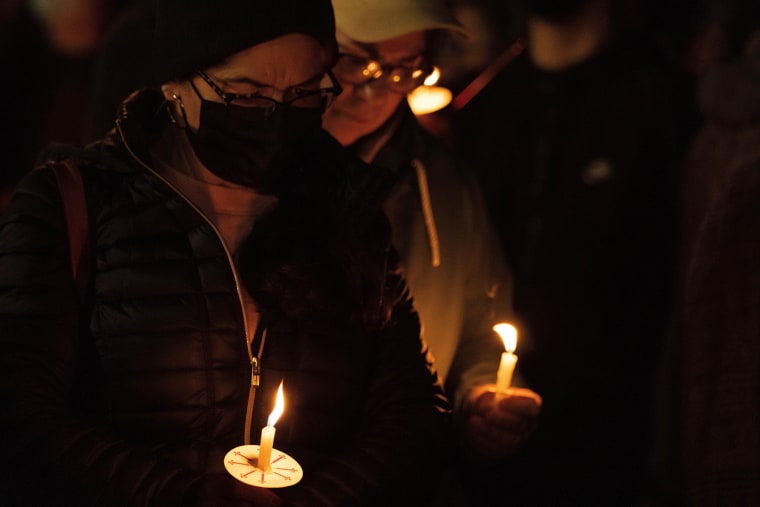 Twenty people were shot Saturday night during a Lunar New Year celebration, just an hour or so after tens of thousands of people attended festivities in the city.
The suspect, who died of a self-inflicted gunshot wound Sunday, showed up at a second dance hall shortly after the shooting but was disarmed and fled.
Vice President Kamala Harris, a California native, visited Wednesday night what has blossomed into a large memorial in the dance studio parking lot, somberly pausing at each of the large, rose-framed photos of the victims.
She placed a large bouquet of yellow and white flowers alongside scores of others and told reporters that "Congress must act."
"Tragically we keep saying the same thing," she said, referring to the number of recent mass shootings in the U.S.
Asked whether congressional leaders could enact gun safety laws, she said, "Yes."
"Should they do something? Yes. Will they do something? That is where we all must speak up," Harris added.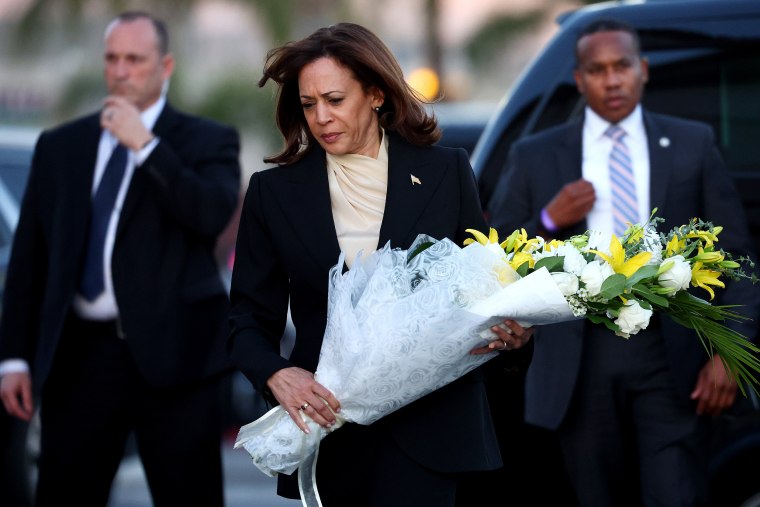 Moments after Harris boarded her motorcade, mourner Priscilla Wong erupted into heavy sobs.
She was a longtime regular at the dance studio and lost several friends Saturday night, including Diana Tom, a hardworking mother and grandmother who loved to dance.
"I promised them I wouldn't come because my children are scared," she said. "But I feel guilty not being here."
Los Angeles artist Noah Reich helped build the altars for the Monterey Park victims. He said he and his partner have also created public monuments for victims of mass shootings in Sacramento, California; Colorado Springs, Colorado; Buffalo, New York; Highland Park, Illinois; and Uvalde, Texas.
The idea came to them after the 2016 mass shooting at Pulse Nightclub in Orlando, Florida, in which 49 people were killed and 53 were wounded. Reich said that as a gay man, he deeply sympathizes with Monterey Park's Asian community and mourns not just the loss of life, but also the loss of a safe space.
"I keeping thinking back to Pulse Nightclub," he said. "They were just dancing. These were all just people dancing."
Late Wednesday night, the Los Angeles County Sheriff's Department gave its first public updates since Monday on the shooting at Star Ballroom.
Luna, the sheriff, said investigators discovered a motorcycle Wednesday that the suspect is believed to have parked one block from the dance hall just before the shooting. He said the suspect appeared to have left the motorcycle, described as a "street bike," there as an alternative getaway vehicle.
Investigators also determined the gun believed to have been used in the shooting — a compact semi-automatic and sometimes automatic firearm known as a MAC-10 — was not registered in California, Luna, the sheriff, said.
Luna said that the suspect bought the gun in 1999 in Monterey Park but that he didn't know whether he got it from a dealer or a private party, nor did he know whether it had been modified. Two other guns authorities linked to the suspect — a rifle and a pistol — were registered in the state, Luna said.
Officials are still working to identify a possible motive, he said.
"Sometimes it's frustrating when something like this happens that's so tragic and we're trying to understand it and it doesn't make sense," Luna said.