O.J. Simpson, whose murder trial tugged at racial tensions across America, says he believes football player Colin Kaepernick "made a bad choice" when he decided to keep kneeling during the national anthem to protest police brutality.
"I think Colin made a mistake," Simpson told the Buffalo News this week in his first substantial interview in a decade. "I really appreciate what he was trying to say. I thought he made a bad choice in attacking the flag."
Kaepernick helped galvanize a nationwide protest movement in 2016 that divided NFL fans and became a political flashpoint. President Donald Trump, most notably, said athlete protesters should be fired — and also insulted their mothers.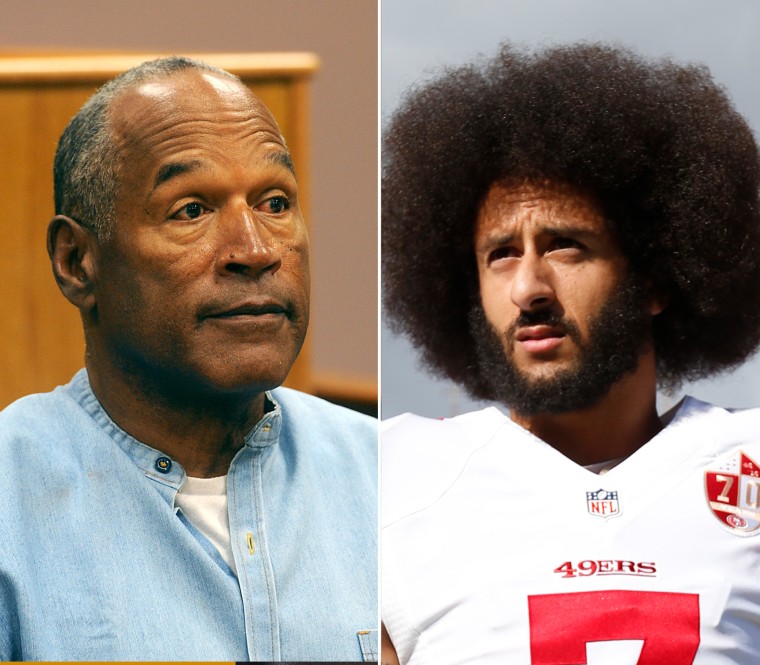 The Juice apparently takes a more nuanced position.
"I grew up at a time when [church] deacons were in the KKK. I don't disrespect the Bible because of those guys," Simpson told the Buffalo News, the hometown paper of his former team, the Bills. "The flag shouldn't be disrespected because of what cops do. The flag represents what we want America to be."
Kaepernick, 30, has been a free agent since the end of the 2016 season. In a lawsuit, he said he believes he has been shut out by NFL owners.
"When he did it the first time," Simpson said, "I thought, 'Well, you took a gamble, and I give you credit.' But it was him continuing to do it where he made the biggest mistake."
Related: Opinion shifts in favor of athletes' anthem protests in new poll
"I'm a firmer believer of doing what you think is right, but I would always stand for the flag."
Simpson was acquitted of murder in the 1994 killings of his ex-wife, Nicole Brown Simpson, and her friend Ronald Goldman. But a civil court jury found him liable and ordered him to pay $33.5 million, a sum that has more than doubled over two decades.
He served nine years of a nine-to-33-year prison sentence for his role in a bungled Las Vegas robbery before he was paroled last July.
The former football star spoke to the Buffalo News under certain pre-conditions: No video, no sensationalized promotion of the article, and questions limited to his athletic career instead of what he called "all that L.A. crap."
In the interview, Simpson also weighed in on Trump, his onetime friend and former golf buddy.
"Somebody asked me if I'd have voted for him," Simpson told the paper. "Probably not, but I only know two of my friends I'd vote to be president. Some of my best, best besties I would not vote to be president."