LONDON — An alcohol-soaked scandal could bring down British Prime Minister Boris Johnson. 
Garden parties with wine and cheese and an email invitation to "bring your own booze" to Johnson's official residence during Covid lockdown have set off a firestorm of anger and disdain, including from some lawmakers of his own party. The scandal is seen as so serious that senior civil servant Sue Gray has been tasked with looking into the allegations, with her findings expected this week.
But the reports have done more than reveal potential rule breaking at the highest echelons — they have also highlighted a culture of heavy drinking in Britain and the outsize role that alcohol often plays in society.
For Bethany Hinton, the allegations of refrigerators full of alcoholic drinks in the prime minister's official No. 10 Downing St. residence weren't surprising. The London office where she started working in marketing six months ago has a fridge filled with beer, wine and cans of mixed drinks. It was opened in the afternoon "sometimes at 5, sometimes at 3," whenever there were big updates or celebrations, she said.
"It is centered a lot around drinking," said Hinton, 25, of her job.
When pandemic restrictions were lifted last summer, she went into the office once a week, and would end the day in the pub with her colleagues.
"It's a young workforce, everyone is like-minded," said Hinton, who returned to working from home when omicron started spreading. "I've made a lot of work friends through socially drinking through work rather than sitting in the office."
While the stereotype of repressed Brits becoming rowdy, maudlin or overly amorous after over-imbibing has long dogged the country, on average, U.K. drinkers don't consume significantly more than Americans. Also, the pandemic has increased alcohol consumption in both countries, with alcohol duty receipts going up 4.5 percent in the U.K., compared to 4 percent in 15 U.S. states from April to October 2020, according to the Organization for Economic Co-operation and Development.
One difference appears to be who is drinking and how.
According to the latest Health Survey for England published in 2019, drinking habits are strongly related to income level. Unlike in other parts of the world, a larger proportion of high earners in Britain drink more than those earning less.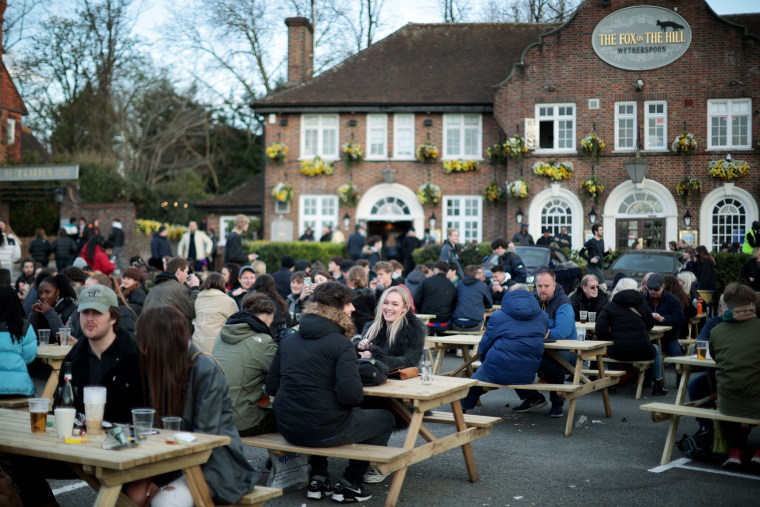 In Britain, women who have finished college are 21 percent more likely to binge drink monthly, while in the U.S. they are 17 percent less likely, according to an OECD report released in May. In the U.K., 30 percent of adults binge drink monthly compared to 26 percent in the U.S.
"Historically leisure has always been built up around the alcohol sector and the pub trade among a large part of the population," said Thomas Thurnell-Read, a lecturer in sociology at Loughborough University in England, who researches alcohol consumption.
"There's a history of workplace drinking around the rhythms of working life: celebrating the end of the working week on Friday afternoons, when payday comes around people celebrate that, pre-drinks around Christmas and leaving parties. There are moments of ritual or occasions where alcohol, or offering to take people to the pub, is part of the social function around working office life."
This strong intersection of alcohol and work life appears to be what has landed Johnson in hot water, with former aides describing an environment where staff members regularly drank.
"Drinks would start at lunchtime, they could start a little bit later in the day," Sonia Khan, who was fired as a former Downing St. special adviser in August 2019, said in an interview on the BBC last week. "The idea of kind of minifridges or having drinks underneath your table wasn't uncommon."
For nearly two months, British media has reported on gathering after gathering, most with alcohol, in Downing Street while Covid restrictions were in place, including one attended by staff members the night before Prince Philip's funeral.
The latest revelation came on Monday evening, forcing the prime minister's office to tell broadcaster ITV that Johnson attended his birthday celebration in June 2020 for less than 10 minutes.
Johnson has apologized several times for attending an outdoor gathering in May 2020. ITV reported that the event was organized by an aide who wrote "bring your own booze" in the email invitation.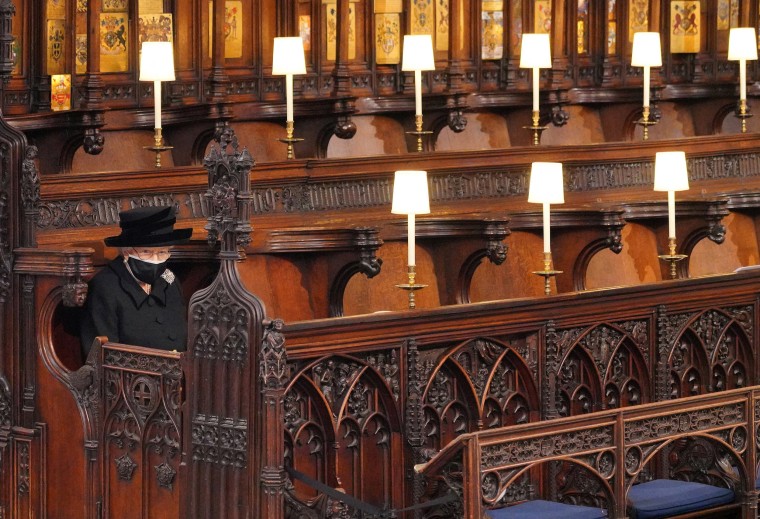 "Politicians have used alcohol to try and show they are normal," said Thurnell-Read. However, these incidents in Downing St. feel "like there is something inverted here. The general population is saying, 'We've made all these sacrifices and they're down in Westminster having a jolly old time.'"
For Mick Maddams, a construction sales engineer in London, food and drink play an important role socializing with clients and he goes out around four times a week, though he didn't during the various lockdowns.
"If you go out and you're not drinking it's considered quite 'Ugh, let's not do it then,'" said Maddams, 49. "You don't want to be the only one sitting around drinking a water."
On a light evening out, he said he will drink seven to eight pints of beer and a bottle of wine. On the days he doesn't entertain clients he will often run a half marathon to stay in shape.
"I need to earn my money, I need to get my contracts," he said of going out, in a phone interview while he was out to lunch with clients. "People buy from people — it's a relationship business."
However, drinking habits in the U.K. seem to be slowly changing, especially among young people, some studies show.
A study looking at the proportion of people ages 16 to 24 who consumed alcohol in the last week fell from a high of 67 percent in 2005 to 41 percent in 2019, according to NHS Digital.  A University of Sheffield report released in 2018 also showed a drop among that age bracket who reported drinking "nowadays," declining from 90 percent to 78 percent.
At the same time, as some young people are changing their habits, companies are increasingly aware that alcohol in and around the workplace may alienate some workers, according to Richard Piper, the head of Alcohol Change, a nonprofit that advocates to end harm from alcohol.
"There is a big change happening whereby workplaces, and we are working with some of the biggest workplaces in the U.K., and they are all working out that if they talk about well-being that alcohol is part of that," he said. "That shift has taken us by surprise."
The pandemic will likely further change the way people drink, according to experts.
Prior to lockdown, Dominic Emery, a technical adoption specialist in London, went to the pub with work colleagues at least once a week. In the nearly two years since the pandemic hit, he's been working from home. 
This past Friday night, he met a friend at a pub for the first time in months. 
"I've filled my time with other things," said Emery, 51, who lives in Hertfordshire, just outside London. "I've seen my family more, I've taken up other activities. I do enjoy that social catch-up with colleagues and friends, but I don't think it'll go back to what it was before."