Coverage on this live blog has ended, please click here for the latest updates.
The flagship of Russia's Black Sea fleet sank Thursday after Ukraine claimed to have launched a successful missile attack on it, forcing the crew to evacuate.
The Russian defense ministry said the Moskva warship had been "seriously damaged" and blamed the incident on a fire. U.S. and other Western officials could not confirm the cause of the fire.
The loss of the ship could prove a significant setback in the Russian forces' efforts in Ukraine's south and east, where a fierce battle for Mariupol is ongoing.
The head of the U.N. World Food Program offered a grim assessment of the situation in the city, saying people are being "starved to death" and predicting that the country's humanitarian crisis will worsen as Russia intensifies its assault in the coming weeks.
The International Red Cross says it's rolling out its largest-ever cash assistance program to help more than 2 million people in Ukraine or those who have fled abroad cope with the fallout from Russia's invasion.
Russia has committed human rights abuses and broken international law in its invasion of Ukraine, the Organization for Security and Co-operation in Europe has found.
U.N. Secretary-General Antonio Guterres has said there is no chance at the moment for a humanitarian cease-fire in Ukraine, as the United Nations had been seeking.
Russian finance minister to attend G-20 meeting virtually, Indonesia says
JAKARTA — G-20 host Indonesia said Thursday that Russian Finance Minister Anton Siluanov had confirmed he plans to virtually attend next week's meeting of finance ministers and central bank governors from the Group of 20 major economies.
Indonesian finance ministry official Wempi Saputra also told a briefing that Jakarta was considering whether to invite Ukraine to the meeting, which will be held April 20 in Washington "to discuss the impact of the conflict in Ukraine on global economic conditions."
"We don't have the capacity to not invite (any member)," Wempi said. "As the president, Indonesia has invited all members, and as of today, some have confirmed physical attendance and some virtual."
The issue of Russia's G-20 membership has split the group, with strong calls from Western nations for it to be excluded, but support for Moscow staying from members, including China.
Last week, Treasury Secretary Janet Yellen said Russia should be expelled from the G-20, and warned that the United States would boycott some of the meetings if Russian officials show up.
German Finance Minister Christian Lindner added his voice to Yellen's in rejecting any form of cooperation with Russia at the G-20 level.
"Russia is at present not a country with which one can interact like in the past," he said. "We assume that the G-20 will take place next week and we will send a clear political message."
Moscow has said Russian President Vladimir Putin intends to attend the G-20 summit in Bali in November. 
Indonesia, which will also host a G-20 finance meeting in July, has said Jakarta's position was one of neutrality and it intended to use its group leadership to try to resolve global economic problems.
Two aid workers, 5 others killed in attack on charity's building in Mariupol
The United Nations' humanitarian chief said he is deeply saddened by the deaths of two charity aid workers and their relatives who were killed in the besieged Ukrainian city of Mariupol last month.
The two staffers for the Catholic charity organization Caritas Ukraine and five of their relatives were killed, likely March 15, when a tank fired at the organization's building, Caritas said in a statement Tuesday.
Caritas said the information was just recently learned. Mariupol has been under assault by Russian forces for weeks. It was encircled and residents trapped. The head of the U.N. World Food Program told The Associated Press people there are being "starved to death."
Martin Griffiths, the U.N. undersecretary-general for humanitarian affairs and emergency relief coordinator, said Thursday that he was "deeply saddened" by the deaths and that the aid workers dedicated their lives to service.
"On behalf of the United Nations and the humanitarian community, I send our heartfelt condolences to their families and colleagues, and to those of the other civilians who were killed," Griffiths said.
Caritas Internationalis Secretary General Aloysius John said the war must end.
"The international community must do the impossible to stop this massacre immediately. Peace must be given a chance," he said in a statement.
Canadian soldiers heading to Poland to help with Ukrainian refugees
OTTAWA, Ontario — Canada is sending soldiers to Poland to help with the care, coordination and resettlement of Ukrainian refugees in Poland, including some who will come to Canada.
Defense Minister Anita Anand announced the deployment of up to 150 troops Thursday.
More than 2.6 million Ukrainians have fled to Poland since the first Russian troops crossed into Ukraine on Feb. 24 and over 2 million more have fled into other surrounding countries.
Anand said the majority of the deployed troops will head to reception centers across Poland to help care for and register Ukrainian refugees.
Another group is being sent to help coordinate international aid efforts.
Canada has deployed hundreds of additional troops to Eastern Europe since Russia's invasion as the NATO military alliance seeks to both support Ukraine and prevent the conflict from expanding into a broader war.
2 Republicans become first U.S. officials to visit Ukraine since war started
A pair of Republican lawmakers traveled to Kyiv on Thursday, making them the first U.S. officials known to have visited Ukraine since Russia launched its invasion in late February.
Sen. Steve Daines of Montana, who shared photos of the trip, and Rep. Victoria Spartz of Indiana visited the Kyiv suburbs and mass graves in nearby Bucha. Daines said the world needed to see what Russian President Vladimir Putin has done.
"There is indisputable evidence of Putin's war crimes everywhere—the images of shallow mass graves filled with civilians, women and children are heart wrenching," Daines said in a statement. "America and the world need to know about Putin's atrocities against the innocent people of Ukraine now, not after time has passed and the aftermath of evil and bloodshed have been cleaned up."
3 Russians charged in alleged scheme that targeted U.S. lawmakers
Federal prosecutors have charged a high-ranking Putin-aligned Russian legislator and two of his staff members with operating a foreign influence and disinformation network in the U.S. that included attempts to sway members of Congress.
According to an indictment unsealed Thursday in federal court in New York City, Aleksander Babakov, the deputy chairman in the lower house of the Russian Parliament, and two of his aides, Aleksandr Nikolayevich Vorobev and Mikhail Alekseyevich Plisyuk, conspired to violate U.S. sanctions and recruited a New York-based American with experience in international relations and media to act as an unregistered agent of Russia to help them gain access to elected officials and affect U.S. policy toward Russia.
U.S. Attorney Damian Williams said the alleged propaganda campaign was levied "to advance Russia's malevolent political designs" against Ukraine, the U.S. and other countries.
"Today's indictment demonstrates that Russia's illegitimate actions against Ukraine extend beyond the battlefield, as political influencers under Russia's control allegedly plotted to steer geopolitical change in Russia's favor through surreptitious and illegal means in the U.S. and elsewhere in the West," Williams said in a statement.
'Russia wants to destroy Donbas,' Zelenskyy says in address
Ukrainian President Volodymyr Zelenskyy marked the 50th day of Russia's full-scale attack on his country by hailing the heroism of Ukrainians.
"To put it mildly, nobody was sure that we would withhold. Everyone sympathized, many advised to leave the country, advised to practically surrender. But they did not know us," Zelenskyy said.
He also noted that fighting has been going on in eastern Ukraine for eight years, since Russia annexed Crimea.
"During the 50 days of the full-scale invasion of the Russian Federation, they showed that Donbas is the main target for Russia, that Russia wants to destroy Donbas," Zelenskyy said.
Russia attacked and invaded Ukraine on Feb. 24 in what has been condemned as an unprovoked and unjustified assault.
Russian forces moved on the capital, Kyiv, but faced setbacks and then withdrew forces from around the capital — exposing what Ukrainian officials say are mass graves and dead civilians in territories that were held. Ukrainian and other officials have warned that Russia is posturing for an intensified offensive in the east of the country.
U.N. food chief says Mariupol is starving
KYIV, Ukraine — The head of the U.N. World Food Program said people are being "starved to death" in the besieged Ukrainian city of Mariupol, and he predicted the country's humanitarian crisis is likely to worsen as Russia intensifies its assault in the coming weeks.
World Food Program Executive Director David Beasley also warned in an interview Thursday with The Associated Press in Kyiv that Russia's invasion of grain-exporting Ukraine risks destabilizing countries far from its shores and could trigger waves of migrants seeking better lives elsewhere.
The war, which began Feb. 24, is "devastating the people in Ukraine," he said, lamenting the lack of access the food program and other aid organizations face in reaching those in need amid the conflict.
"I don't see any of that easing up. I just don't see it happening right now," he said.
U.S. State Department eyes return to Ukraine when practical
The U.S. will re-establish a diplomatic presence in Ukraine as soon as it is safe and practical to do so, a State Department spokesperson said Thursday.
The U.S. moved diplomats out of Kyiv in February amid fears that an invasion was imminent, and a consular presence was kept in Lviv, a city in Ukraine's west. The State Department later moved embassy operations to Poland.
Other countries also relocated staff members. The European Union said last week it would return diplomats to Kyiv. France said Thursday its embassy, currently in Lviv, would move to the Ukrainian capital.
"It is, of course, our goal to have a diplomatic presence re-established in Ukraine as soon as it would be safe and practical to have U.S. diplomats on the ground there," State Department spokesperson Ned Price said when he was asked about a possible move.
"But I would also hasten to add that the lack of a U.S. diplomatic presence, U.S. diplomatic officials, in Ukraine has in no way hampered our ability to coordinate and to consult with our Ukrainian partners," he said.
Death toll in Kramatorsk railway station attack rises to 59, Ukraine says
Two children who were injured in last week's missile attack on a railway station in eastern Ukraine have died, bringing the death toll in the blast to 59, Ukraine's Defense Ministry said Thursday.
The attack in Kramatorsk occurred as thousands of people were trying to flee ahead of an expected Russian offensive.
The attack sparked condemnation from international leaders and others and new accusations that Russian forces have committed war crimes.
Seven of the 59 dead were children, the Ukrainian Defense Ministry said.
NBC News has not independently confirmed the number of deaths. The Defense Department has said it assesses that Russia carried out the attack with a short-range ballistic missile. Russia has claimed it did not attack the station.
Russian warship sinks in Black Sea
LVIV, Ukraine — Russia's Defense Ministry said its warship Moskva sank in a stormy sea because of a fire started by "the detonation of ammunition."
Ukraine said it damaged the ship's hull with a missile strike.
"Due to damage to the hull received during the fire caused by the detonation of ammunition, the ship lost stability," the ministry said in a statement. "The ship sank in a stormy sea."
Powerful art of protest and support hangs in a youth library in Lviv
LVIV, Ukraine — On the first floor of a youth library in Rynok Square, a popular marketplace in Lviv, one wall is covered in art that takes a dark view of Russia and President Vladimir Putin while praising the Ukraine's war efforts and its military.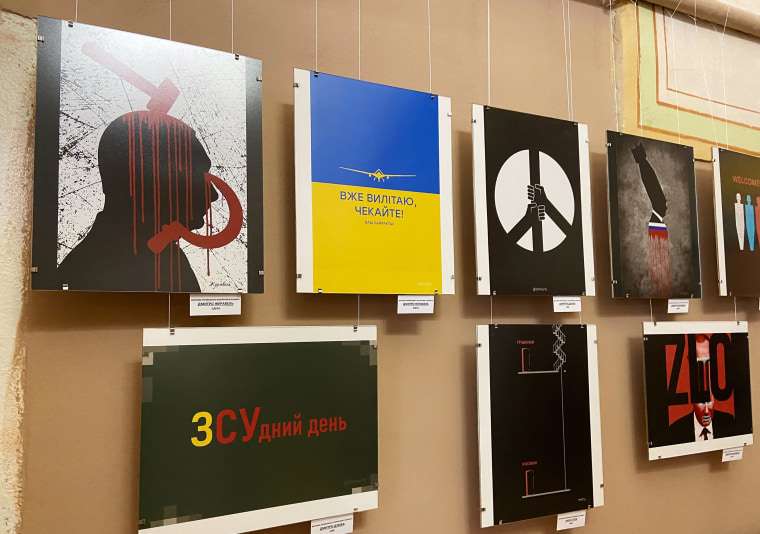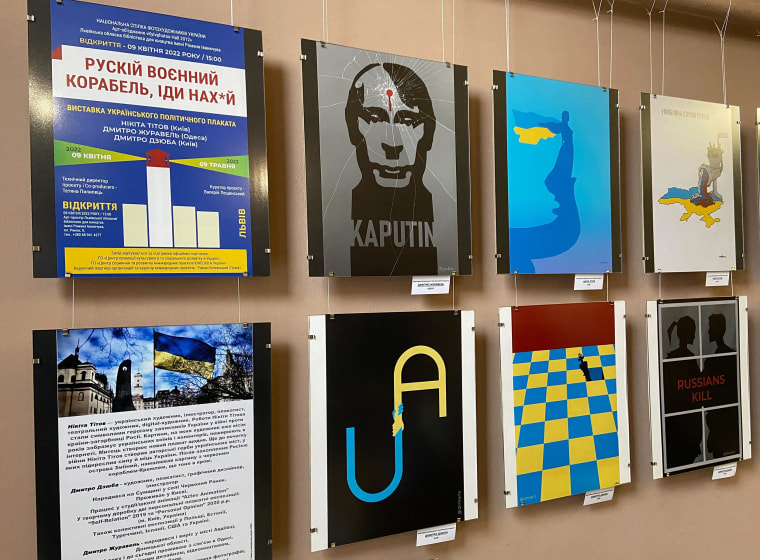 That war effort extends to the second floor of the library, where volunteers make camouflage nets for members of the Ukrainian military out of volleyball nets and ripped bedsheets.
France moves embassy in Ukraine back to Kyiv
PARIS — France is moving its embassy in Ukraine back to Kyiv from the western city of Lviv after Russian troops pulled away from regions around the capital and have concentrated on embattled eastern Ukraine.
The French Foreign Ministry announced the move Thursday after Foreign Minister Jean-Yves Le Drian spoke with his Ukrainian counterpart, Dmytro Kuleba, about French military and humanitarian support for Ukraine. A date for the move was not announced.
France had maintained its embassy in Kyiv at the outset of the war, but it moved its operations to Lviv last month. France sent a new convoy of fire trucks, ambulance and emergency equipment to Ukraine on Thursday, and a team of French investigators arrived this week to gather evidence of war crimes.
Putin warns against Western countries' attempts to phase out Russian gas imports
MOSCOW — Russian President Vladimir Putin has warned that Western countries' attempts to phase out Russian gas imports will have a negative impact on their economies.
Putin said Thursday that European attempts to find alternatives to Russian gas shipments will be "quite painful for the initiators of such policies."
He argued that "there is simply no reasonable replacement for it in Europe now."
Putin said that "supplies from other countries that could be sent to Europe, primarily from the United States, would cost consumers many times more." He added they could "affect people's standard of living and the competitiveness of the European economy."
The European Union depends on Russia for 40 percent of its natural gas and 25 percent of its oil.
Blinken, Kuleba speak about an additional $800 million in war aid
U.S. Secretary of State Antony Blinken and Ukrainian Foreign Minister Dmytro Kuleba spoke Thursday by phone about securing an additional $800 million to assist Ukraine's defense in the war with Russia, federal officials said.
The additional funding would help Ukraine amass "weapons, ammunition and other security assistance," according to Ned Price, a spokesman for the State Department.
Blinken reinforced to Kuleba the U.S. government's "steadfast commitment to Ukraine's sovereignty and territorial integrity."
"We are resolved to continue to provide security, economic, and humanitarian support to the government and people of Ukraine as they defend against President Putin's brutal and unprovoked war," Price said in a statement.
Blinken and Kuleba also said the assistance from the U.S. government and allies has been "instrumental" in Ukraine's fight against Russian forces, Price said.
Blinken "commended the bravery of the Ukrainian people, noting in particular those defending Mariupol," Price said.
Report: Criminal case opened against Siberian journalist who published content critical of Russia
Russian news reports say a criminal case has been opened against a Siberian journalist whose news website had published content critical of Russia's military operation in Ukraine.
Security forces on Wednesday arrested Mikhail Afanasyev, the chief editor of Novy Fokus in the Russian region of Khakassia, over the website's reporting on 11 riot police who had allegedly refused deployment to Ukraine as part of Russia's military action.
Afanasyev was accused Thursday of disseminating "deliberately false information" about the Russian armed forces, an offense that carries a maximum 10-year jail sentence under a law passed early last month.
Another Siberia-based journalist was also arrested Wednesday on suspicion of breaching Russia's new laws about the media coverage of the situation in Ukraine. Sergei Mikhailov, the founder of the LIStok weekly newspaper based in the Altai republic of western Siberia, was reportedly placed in pre-trial detention over the newspaper's alleged "calls for sanctions against Russia."
Red Cross rolling out largest-ever cash assistance program to help more than 2 million in Ukraine
GENEVA — The international Red Cross says it's rolling out its largest-ever cash assistance program to help more than 2 million people in Ukraine and those who have fled abroad cope with the fallout from Russia's invasion.
Nicole Robicheau, a spokeswoman for the International Federation of Red Cross and Red Crescent Societies, said Thursday that the organization plans to distribute "well over 100 million" Swiss francs — about $106 million — to people affected by Russia's seven-week war in Ukraine.
Humanitarian groups like the Red Cross have recently touted the effectiveness of cash assistance programs for people in places hit by events like natural disasters, drought, famine and conflict as a way to "allow people to decide what they need" and "put money back into the local economy," Robicheau said by phone.
The program aims to help 360,000 people in Ukraine and many more in countries of refuge.
The international Red Cross says it and national Red Cross organizations have helped over 1 million people with items like blankets, food, mats and kitchen equipment.
Uber service returns to Kyiv
As some normalcy returns to Kyiv, Uber is restoring service in the city.
Uber said Thursday that city authorities gave approval for the company to resume operation. Uber also said it is waiving service charges on drivers and will donate 10,000 trips to city government employees and emergency workers.
Uber is still operating in other major Ukrainian cities, including Lviv.
 'We are beginning to rebuild,' says principal of destroyed school
MAKARIV, Ukraine — Hanna Polyvach cried as she looked at the burned out wreckage of the kindergarten she used to run in the town of Makariv, about 30 miles west of Kyiv. 
She said that a Russian aerial bombardment on March 7 gutted one building, razed adjacent classrooms and blew up the playground. 
"Birds used to sing here, there were flowers in the garden, on every playground. There was such a paradise here," Polyvach said Wednesday as she looked at the bombed out school. It was built by hand by local residents and teachers 53 years ago, she added, "and everything was destroyed in one day."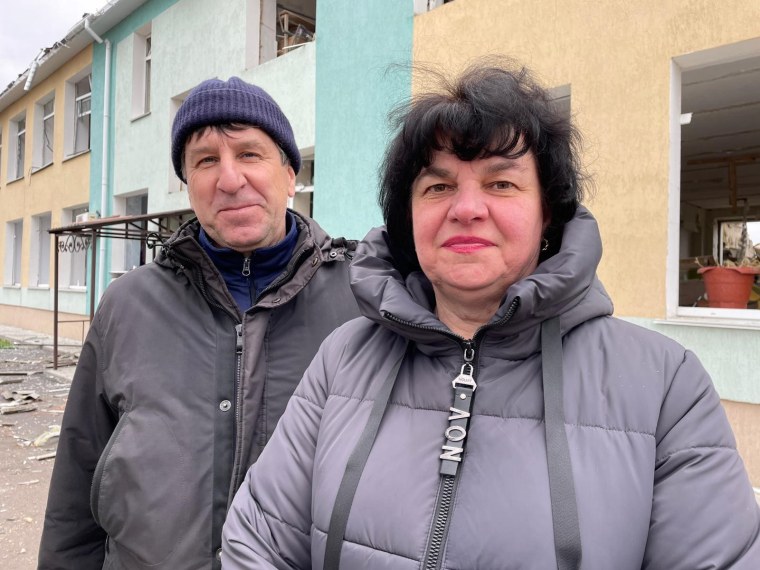 But the community and staff are determined to rebuild. 
"We are beginning to rebuild tomorrow," Polyvach said. "Volunteers and our staff are coming and we will start rebuilding everything. Everything has to be rebuilt."
Putin speaks with senior officials about energy sector
Russian President Putin spoke with senior energy officials on Thursday, emphasizing that his country will continue to avoid using dollars or euros in sales of oil and gas.
He added that Russian energy companies are responsible players in the world market and warned against further attempts for Western countries to replace Russian oil with alternatives. "This will have consequences for the world economy and the consequences of such steps can be very painful," Putin said. 
Ukraine says Russian naval ship has 'begun to sink'
Ukraine's southern military command said the Russian warship it allegedly hit in the Black Sea earlier on Thursday has "begun to sink."
The "Moskva" missile cruiser had received "significant damage" and a fire ignited onboard, the military command wrote in a statement on Facebook. The strike also forced the crew to evacuate the vessel, according to earlier statements by Ukrainian officials.
"Other units of the ship's group tried to help, but a storm and a powerful explosion of ammunition overturned the cruiser and it began to sink," the military command wrote in a statement on Facebook.
Russia's defense ministry, meanwhile, said the cruiser remained buoyant and that "measures are being taken to tow the cruiser to the port." It added that "the causes of the fire are being established."
NBC News was unable to verify the reports.
Ukraine warns that deported children face 'threat of illegal adoption' in Russia
Ukraine's Ministry of Foreign Affairs said Thursday it has appealed to the U.N. to facilitate the return of Ukrainian children who have been "illegally deported from Ukraine."
"The threat of illegal adoption of Ukrainian children by Russian citizens without following all the necessary procedures set out in Ukrainian law is glaring," the statement said. NBC News was unable to verify these claims.
"In violation of international humanitarian law and basic standards of humanity, Russia is engaged in state-organized kidnapping of children and the destruction of future of the Ukrainian nation," it said.
Ukrainian officials have repeatedly accused Moscow of forcefully moving thousands of civilians from the besieged eastern city of Mariupol to Russia. Kremlin has denounced the accusation, alleging Kyiv has hindered evacuation efforts.
Attacks on residential areas in Kharkiv kill 4, governor says
Russian forces continued shelling residential areas in Kharkiv, according to its governor, killing four people and injuring 10 others on Thursday.
"Today during the day the occupiers continued to fire on residential areas of Kharkiv, where there is no military infrastructure. These are brutal deliberate attacks on civilians," Kharkiv Gov. Oleh Syniehubov wrote on his Telegram channel.
Syniehubov described "intense artillery strikes" on four separate residential districts. Humanitarian aid to the city of Zolochiv have also been suspended due to the shelling, the governor said.
He urged civilians to heed air raid signals, warning Russian forces were "constantly and chaotically striking at residential areas."
Russia preparing for new offensive in eastern Ukraine: U.K. officials
Russian forces are attacking Ukrainian troops in a region in the eastern part of the country on the border with Russia in preparation for a "renewed offensive," Britain's Ministry of Defence said on Thursday.
The towns of Kramatorsk and Kostiantynivka in the Donbas region are likely to be targeted with indiscriminate attacks and similar violence seen in other urban centers throughout the conflict, the ministry in its latest intelligence report.
"The combination of widespread missile and artillery strikes and efforts to concentrate forces for an offensive represents a reversion to traditional Russian military doctrine," the ministry said.
It added such an offensive would require a large number of troops, and a significant number Russian troops and equipment are tied up in and around the besieged city of Mariupol.
31,000 people arrived in Ukraine on Wednesday as 71,000 left, officials say
More than 31,000 people crossed the border into Ukraine on Wednesday, including 27,000 Ukrainians, the State Border Guard Service said Thursday.
In a Telegram post, it said that over 71,000 people and more than 16,000 vehicles left Ukraine, crossing the western borders into the European Union and Moldova.
There has been an influx of returning Ukrainians as Russian forces regroup and focus on eastern and southern parts of the country.
Border guards did not say where the non-Ukrainians coming into the country were from or what they were likely to be doing, but in the past officials have reported an influx of humanitarian workers and military volunteers.
Russia warns Finland, Sweden joining NATO might end talk of a nuclear-free Baltic
Russia has warned it could rule out keeping the Baltics nuclear free if Finland and Sweden joined NATO, saying such a move would force it to boost its defenses in the region.
"There can be no more talk of any nuclear-free status for the Baltic — the balance must be restored," Dmitry Medvedev, deputy chairman of Russia's Security Council and the country's former president, said in a statement on his official Telegram channel Thursday.
In the same statement, Medvedev said the addition of Finland and Sweden to the military alliance was merely a few more opponents for Russia. "Two less, two more — with their importance and population, there is no big difference."
Finland and Sweden on Wednesday reached important stages on their way to NATO membership with the Finnish government issuing a security report to lawmakers and Sweden's ruling party initiated a review of security policy options.
Ukrainian resistance 'tying down' Russian troops in Mariupol
As Russia prepares for a renewed offensive in eastern Ukraine, Ukrainian resistance is "tying down" the invading troops in Mariupol, according to the British defense ministry.
In an intelligence update published Thursday, it said "the combination of widespread missile and artillery strikes and efforts to concentrate forces for an offensive represents a reversion to traditional Russian military doctrine."
Urban centers have faced indiscriminate attacks from Russia, it said, adding that the eastern towns of Kramatorsk and Kostiantynivka are likely to be targets of "similar levels of violence."
9 humanitarian corridors to open in Ukraine
Nine humanitarian corridors will open in Ukraine on Thursday after a day of closure, Deputy Prime Minister Iryna Vereshchuk has announced.
In a Telegram post, she said that residents of the encircled city of Mariupol and Berdyansk will be able to evacuate to Zaphorizhzhia via their own transport. Five more routes to the eastern city of Bakhmut in Donetsk will be available.
"Humanitarian corridors in Luhansk region will operate provided that the shelling by the occupying forces ceases," she said. 
No corridors were opened Wednesday as Vereshchuk said the Russian military had blocked evacuation buses in Zaphorizhzhia and violated a cease-fire in the eastern region of Luhansk.
Ukrainian officials have repeatedly accused Russia of hindering humanitarian efforts, especially out of Mariupol, where Russian forces have circled thousands of residents who remain without access to food, water, electricity and other essentials.
Ukraine says it damaged Russian warship in the Black Sea
Ukrainian officials said their forces have damaged a Russian warship in the Black Sea with cruise missiles.
Ukrainian presidential adviser Oleksiy Arestovych said the ship, Moskva, was the same one that demanded the surrender of Ukrainian forces on Snake Island early on in the February invasion.
Russia's defense ministry said the warship had been "seriously damaged," but blamed the incident on a fire, according to the Russian state news agency Tass. NBC News has been unable to verify what happened on the ship.
Russia has been cracking down on the media, limiting what can be said under the threat of imprisonment.
The governor of the Odesa region in Ukraine, Maksym Marchenko, said on Telegram that Neptune missiles, which are a type of cruise missile, caused serious damage to the warship.