WASHINGTON — Amid the upheaval caused by the coronavirus epidemic, the 2020 election season heats up Tuesday with the first competitive House special elections since the pandemic began with contests in California and Wisconsin that will produce two new members of Congress.
Republicans have high hopes of winning both races, keeping the Wisconsin seat in GOP hands and winning back a California seat they lost to the Democrats in 2018.
But the ongoing uncertainty around the virus and the new realities of social distancing restrictions have driven many voters to cast mail-in ballots, a process that has created more uncertainty than usual — and more unpredictability given that special elections historically draw lower voter participation.
And as the unknown trajectory of the virus threatens to also disrupt the fall campaign season and November's elections as well, Tuesday's races could provide a possible roadmap for campaigning in the coronavirus era.
"The dynamics right now are setting up for the biggest shift in how campaigns are run since the advent of early voting," said Matt Gorman, the former communications director for the National Republican Congressional Committee.
"Being able to motivate voters to go out to the polls, chase absentee and mail-in ballots and just overall get an accurate picture of turnout is going to be very instructive for the fall."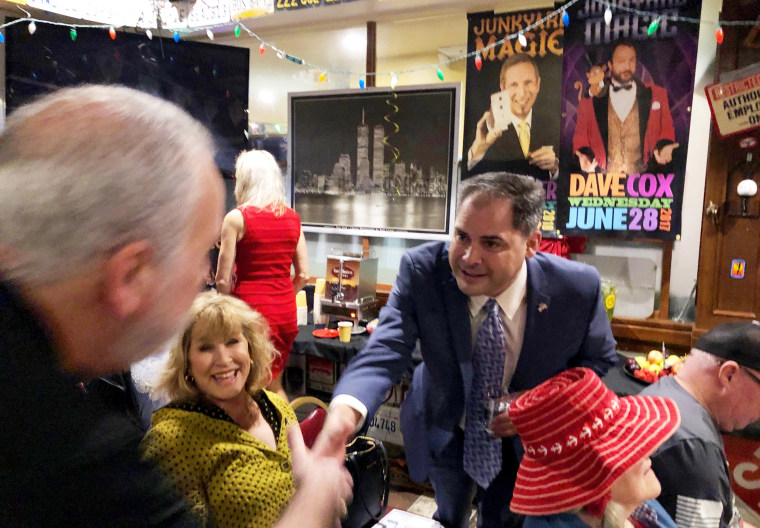 The special election in California's 25th District pits Democratic state Assemblywoman Christy Smith against a former Navy pilot, Republican Mike Garcia. The Los Angeles-area seat had been in GOP hands for years, but President Donald Trump lost the district by 7 points in 2016, a harbinger for Democrat Katie Hill's victory two years later over the GOP incumbent, Steve Knight.
In 2019, Hill abruptly resigned from Congress amid an ethics investigation over an allegedly inappropriate relationship with a staffer and after some news organizations published nude photos of her without her consent.
The special election called to fill her seat became even more unpredictable when just over two weeks after the March 3 special primary, California Gov. Gavin Newsom, a Democrat, issued a stay-at-home order that transformed both daily life and campaigning.
Smith and Garcia say their campaigns initially focused on helping connect voters with needed information and services, shifting away from traditional in-person campaigning.
"I'm a handshaking candidate," Smith told NBC News. "There is no meaningful substitute for that person-to-person contact in earning a voter's trust and support."
"This campaign has been hardened by fire and unorthodox environments," Garcia said in an interview in March.
Now the race is being conducted almost entirely by mail because of Newsom's executive order requiring all voters to receive a mail-in ballot — a practice that the state has promoted in previous elections, but has prompted concerns in the past.
The simmering tensions over mail-in ballots exploded over the weekend after the decision to add an in-person polling place in Lancaster, a city with a significant minority population. Trump blasted the move on Twitter, arguing it was proof of Democrats' moving for a "rigged election." And Garcia questioned the timing of the decision after polling places had already been publicized.
But Democrats countered by pointing out that the mayor of Lancaster, a Republican, supported adding the center, as well as to concerns about not having a voting center in such a diverse area of the district.
While the pandemic has flipped the notion of traditional campaigning upside down, some parts of the election still look familiar, albeit with a coronavirus twist.
Republicans are trying to cast Smith as too liberal for the swing district, focusing on votes she took in the state legislature to raise taxes. And Democrats are trying to tie Garcia as being close to Trump, saddling him with the criticism over the federal government's response to the pandemic.
The race has drawn some big endorsements. On the right, Trump endorsed Garcia, repeatedly stoking fears about "dishonesty" regarding mail-in ballots despite no evidence that the method results in high rates of fraud.
Smith garnered support from both former President Barack Obama and 2016 Democratic presidential nominee Hillary Clinton. But another high-profile appearance proved more controversial.
Hill aired a TV spot in the district in which she donned a mask and called on voters to "vote like their lives depended on it."
That "was probably not completely welcomed by Democrats," said Rob Pyers, research director at the nonpartisan California Target Book, which tracks elections in the state.
Regardless of who wins, Smith and Garcia will face off again in November for the right to take over the seat in 2021.
In Wisconsin's 7th Congressional District, a seat Trump won by 20 points in 2016, Democrat Tricia Zunker and Republican state Sen. Tom Tiffany are vying for the seat vacated by GOP Rep. Sean Duffy, who resigned citing his child's health complications. If she wins, Zunker would be Wisconsin's first Native American woman elected to Congress.
After April's primary elections were marred by a last-minute debate over the safety of in-person voting, Tuesday's election is expected to be smoother as many voters are casting absentee ballots.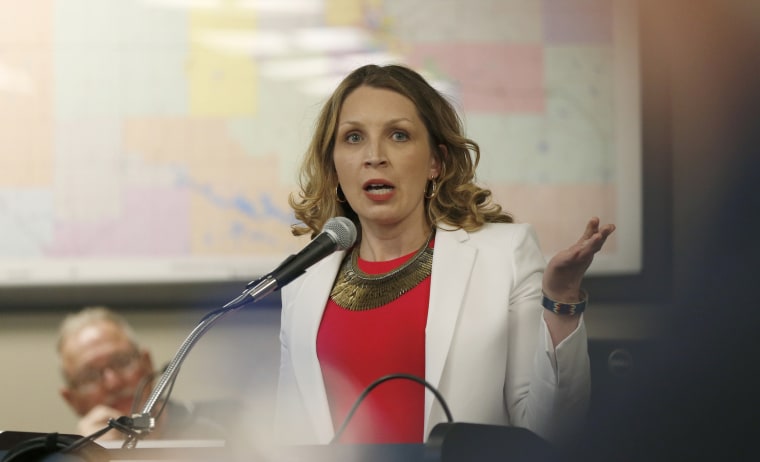 Handicappers believe the GOP will easily hold the historically Republican seat, and the party's combined effort has outspent Zunker on the airwaves. Zunker though, argues that the pandemic could propel support for Democratic causes like the push for affordable health care.
"The pathway to a new president starts with our win on May 12," she said.
Tiffany, however, said that the president — who has endorsed him — remains a "real force" in the district and that together they can get the "economy back to prosperity."
Though past special elections have become top news stories, these races have been overshadowed by the virus, and winners may not get significant publicity bounces. And experts say that Tuesday's results, particularly in California, don't guarantee a November repeat because of the unusual circumstances compounding already-unforeseeable election outcomes.
"I don't think we can draw larger partisan conclusions from the upcoming specials because they are so unique and specials don't always predict which way the wind is blowing," Dave Wasserman, the House editor for the Cook Political Report, told NBC.
He added that November's elections will be more of a referendum on the president since he'll be on the ballot.
Another factor is the Democratic cash advantage. Both sides have spent in relative parity but Democratic campaigns have largely outraised their Republican rivals so far this cycle with the California race as an exception — potentially making it even less of a bellwether, according to Kyle Kondik of the University of Virginia Center for Politics.
"Democrats are defending their vulnerable seats with incumbents, and those incumbents (in many instances) have giant money edges over their top Republican rivals," Kondik said.