A two-year-old House Ethics Committee investigation into sexual harassment allegations against Rep. Blake Farenthold intensified this week after the Texas Republican's accuser decided to cooperate with the probe.
The committee announced Thursday night it had impaneled an investigative subcommittee as part of its existing probe into misconduct allegations made against the conservative congressman by his former communications director in 2014.
The probe, which was opened in 2015, had been delayed by "difficulties in obtaining live testimony from key witnesses other than Representative Farenthold," the panel said in a statement.
Farenthold reached an $84,000-settlement with the former staffer, Lauren Greene, in 2015, after she accused her then-boss of sexual harassment, and alleged he discriminated against her because of her gender and created a hostile work environment.
Greene is now willing to appear before the Ethics Committee — and hopes to do within the next two weeks — her attorney, Les Alderman, told NBC News Thursday, after having not cooperated with the panel since it first opened its probe.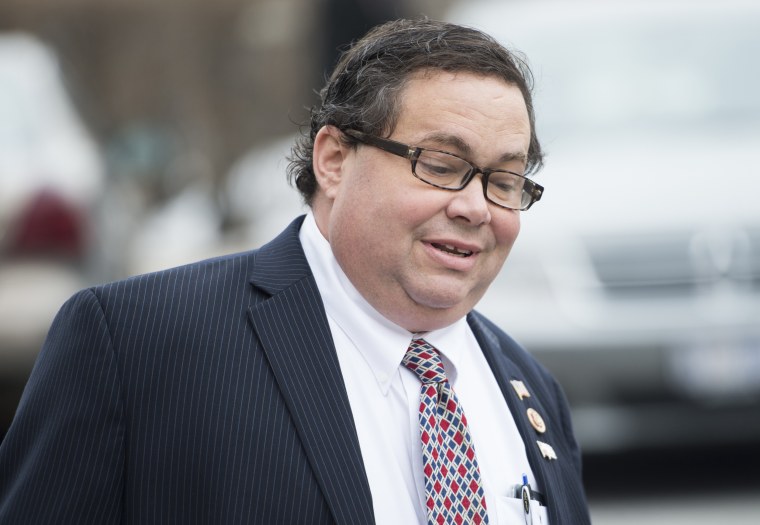 Farenthold said in a statement that he was "relieved" that the committee was looking into the issue again.
"Once all the facts are released, I'm confident this matter will once and for all be settled and resolved," he said.
Still, at least one of Farenthold's colleagues called on him to step down after the development.
"I think that he should voluntarily resign," Rep. Mia Love, R-Utah, told CNN Thursday night.
In the court complaint from 2015, Greene alleged that Farenthold told another staffer that he had "sexual fantasies" and "wet dreams" about Greene. She also complained that the congressman consistently made comments to her to see if she was interested in a sexual relationship. Greene said these instances made her work environment uncomfortable.
However, the details of Greene's settlement with her — that it cost $84,000 and was paid for with taxpayer dollars by the Office of Compliance — didn't emerge until last week, amid increased scrutiny surrounding the issue of sexual harassment around the country.
That growing wave of sexual misconduct allegations has had particular impact on Capitol Hill in recent weeks.
On Thursday night, Rep. Trent Franks, R-Ariz., said he was resigning after the House Ethics Committee announced it was opening an investigation into potential sexual misconduct. Hours earlier, Sen. Al Franken, D-Minn., announced he would resign, while Rep. John Conyers, D-Mich., said Tuesday he was retiring immediately. Franken and Conyers both faced multiple allegations of sexual misconduct.
Meanwhile, Rep. Joe Barton, R-Texas, who served alongside Farenthold as a Texas GOP congressman, said last month that he would not run for re-election next year, after a nude photo of him, as well as, a salacious text he'd sent to a woman, surfaced on social media.
Adam Edelman reported from New York and Leigh Ann Caldwell reported from Washington, D.C.