VILNIUS, Lithuania — President Joe Biden promised Ukraine that its Western partners would not back away from its defense in a speech Wednesday after two days of high-stakes meetings with leaders at a NATO summit.
Speaking before a heaving crowd on a bright Wednesday evening, Biden said that "the defense of freedom is not the work of a day or a year. It's the calling of our lifetime — of all time."
"We are steeled for the struggle ahead," he added. Of Ukraine's partners, he said, "Our unity will not falter, I promise you."
The event here proved a test of Biden's promise upon taking office to repair America's international relationships, which include NATO, the 31-country mutual defense pact forged in the aftermath of World War II. Top of the agenda was Russia's war in Ukraine, which has raged on NATO's doorstep for close to 18 months.
The lines built steadily in the hours before Biden was set to take the stage at Vilnius University, snaking through narrow cobbled streets. 
"We will not waver. I mean that," Biden continued. "Our commitment to Ukraine will not weaken. We will stand for freedom today, tomorrow and for as long as it takes."
He said the world was at a crossroads, with freedom hinging on America's global alliances.
"We face a choice, a choice between a world defined by coercion and exploitation, where might makes right, or a world where we recognize that our own success is bound to the success of others — when others do better, we do better, as well," Biden said.
He added, "The idea that the United States could prosper without a secure Europe is not reasonable."
A White House official previewing Biden's remarks on Wednesday promised a speech that would highlight "the strength of the NATO alliance and how it remains a force for global security and stability."
"The president will talk about how the widespread support for Ukraine is reflective of the value of our alliances and partnerships, which he has revitalized since taking office," said Amanda Sloat, the National Security Council's Europe director.
Biden would make the case for NATO's "vital" role, a hard-won outcome "that didn't happen by accident," Sloat said.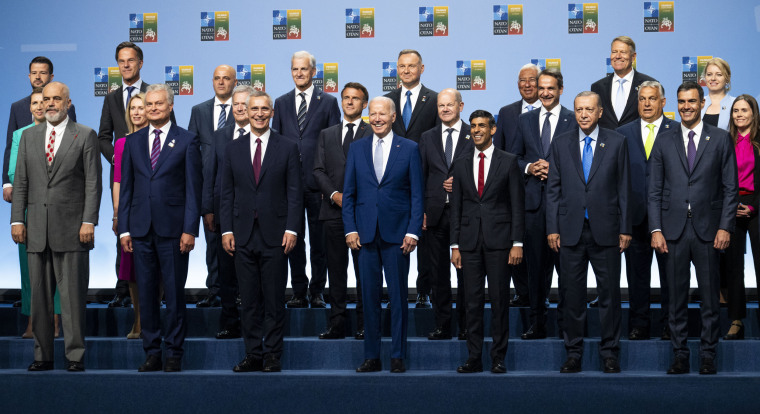 "Vladimir Putin thought he could break our resolve when he invaded Ukraine, but our NATO allies and our partners around the world responded by coming together to support the brave people of Ukraine as they defend their freedom, their independence and their democracy," she added. 
But more than 15 years after NATO first promised Ukraine future membership, the alliance's long-sought security guarantees remain vexingly out of reach. 
Kyiv has campaigned for a fast track into the defense alliance, with President Volodymyr Zelenskyy mounting a full-court press for membership in the lead-up and into the summit. Zelenskyy hopscotched across European capitals in search of the unanimous approval expansion demands.
The campaign has tested the alliance, as its leaders echoed Zelenskyy's argument that Ukraine "deserves" membership.
In remarks before a packed crowd in Vilnius on Tuesday, Zelenskyy said, "Ukraine will make NATO stronger."
Pressure to speed access for Ukraine had grown deafening as the summit opened with the news that Sweden would soon be added after a sudden reversal by holdout member state Turkey.
But disappointment hung in the air for Ukraine and its fiercest supporters, leaving the White House to answer questions about Washington's role in a communiqué Zelenskyy called "absurd" for its failure to offer his country a tangible pathway into NATO. 
"Uncertainty is weakness," Zelenskyy said on the eve of the speech.
Before Biden was set to meet with Zelenskyy and other allies, Foreign Minister Dmytro Kuleba said the war-torn Eastern European nation was still seeking clarity about its future membership in NATO.