WASHINGTON — The U.S. will impose a new round of economic sanctions on Russia, the White House announced Wednesday, including sanctions on the adult children of President Vladimir Putin and other influential Russians, in response to new accusations that he committed war crimes in Ukraine.
"These oligarchs and their family members are not allowed to hold on to their wealth in Europe and the United States and keep these yachts worth hundreds of millions of dollars, the luxury vacation homes, while children in Ukraine are being killed, displaced from their homes, every single day," President Joe Biden said in a speech Wednesday afternoon.
The U.S. and allies in Europe have already imposed a series of sanctions, including limiting Russian imports and largely cutting the country off from the international financial system. Many major U.S.-based corporations, including Starbucks and McDonald's, have also announced they were withdrawing or limiting their operations in Russia after it launched the unprovoked invasion in February.
U.K. Foreign Minister Liz Truss also announced new sanctions Wednesday, including an end to all Russian oil and coal imports by the end of the year.
"Together with our allies, we are showing the Russian elite that they cannot wash their hands of the atrocities committed on Putin's orders," she said. "We will not rest until Ukraine prevails."
Other European allies are expected to follow suit.
Biden said Monday that he would roll out more sanctions after he called Putin a "war criminal" over reports of attacks on civilians in Bucha, including images of civilians who were shot with their hands tied behind their backs.
The sanctions announced Wednesday target the families of influential Russians, including Putin's adult children, the wife and daughter of Foreign Minister Sergei Lavrov and members of Russia's Security Council, including former President Dmitry Medvedev and Prime Minister Mikhail Mishustin.
"These individuals have enriched themselves at the expense of the Russian people," the White House said earlier in the day in a statement announcing the new sanctions. "Some of them are responsible for providing the support necessary to underpin Putin's war on Ukraine."
Biden said the U.S. will also prohibit any new investments in the Russian Federation.
"Corporate America is stepping up for a change, from McDonald's to Exxon. They've left the Russian market on their own accord, 600 of them. Think about that — the private businesses choose to leave Russia rather than risk being associated with Putin's brutal war," Biden said. "And this ban on investments is going to make sure new money can't come into Russia to replace what's left."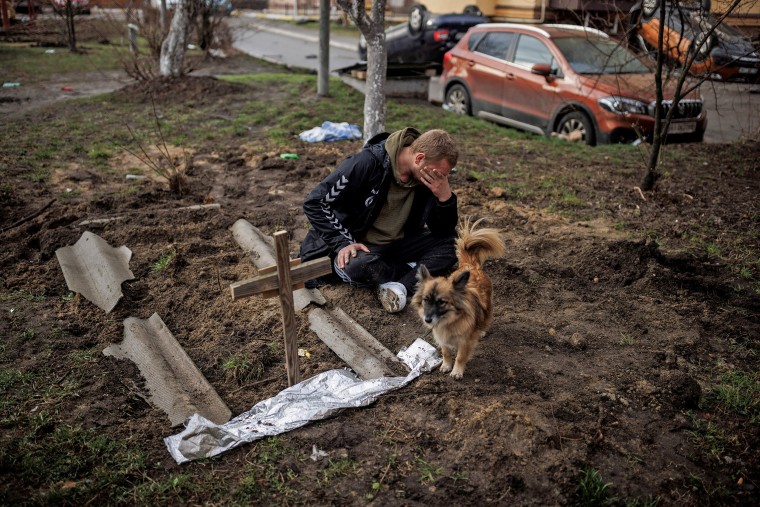 Biden said the U.S. would also impose blocking sanctions on Russia's largest financial institution, Sberbank, and on its largest private bank, Alfa Bank. The U.S will also impose full blocking sanctions on any state-owned entities in Russia.
"We're locking down any accounts, any funds, that those banks hold in the United States," Biden said. "They'll not be able to touch any of their money. They'll not be able to do any business here."
The U.S. Treasury will also prohibit Russia from making debt payments with any funds subject to U.S. jurisdiction, the White House said.