Jesus Contreras, a Houston-area paramedic, barely slept this week. There wasn't much time for rest after Harvey started pummeling southeast Texas last Friday. Too many people needed his help — diabetics, cancer patients, elderly folks trapped in their homes.
Contreras camped out at a fire station when he wasn't rushing around in an ambulance. He didn't make it back to his house in Spring, a suburb north of Houston, until Thursday afternoon. That's when he turned on the news and heard that President Donald Trump was considering ending the federal program that allowed him to stay and work in the United States.
"We just got hit by a hurricane here — and now we're getting hit by another storm, an even bigger one," Contreras, 23, told NBC News on Friday.
Contreras is one of roughly 800,000 so-called "Dreamers" who signed up for Deferred Action for Childhood Arrivals, or DACA, an initiative that protects young undocumented immigrants from deportation. The White House said Friday that Trump would announce his decision on the Obama-era policy on Tuesday.
Dreamers across the country are sure to spend Labor Day weekend anxiously waiting for word on their fates. And for the tens of thousands of DACA-eligible people in Harris County, which includes storm-battered Houston, the legal limbo is another blow.
"I worked for six days helping with disaster relief," said Contreras. "And if DACA had been removed in the middle of that, I would've been taken off the ambulance. You're out there giving your heart out — and then you find out this might happen."
Related: Trump to Announce 'Dreamer' Decision Tuesday
Contreras arrived in the United States with his mother when he was 6. They had come from Nuevo Laredo, a city in the Mexican state of Tamaulipas, where their lives were strained by a "violent situation at home." The promise of a new life in America was partly about "getting away from my dad and the things he was involved with in Mexico," Contreras said.
He came of age in Houston, working hard through high school and college while volunteering at his local church. He earned his paramedic certification at a community college last year and soon got to work — something that would not have been possible without DACA.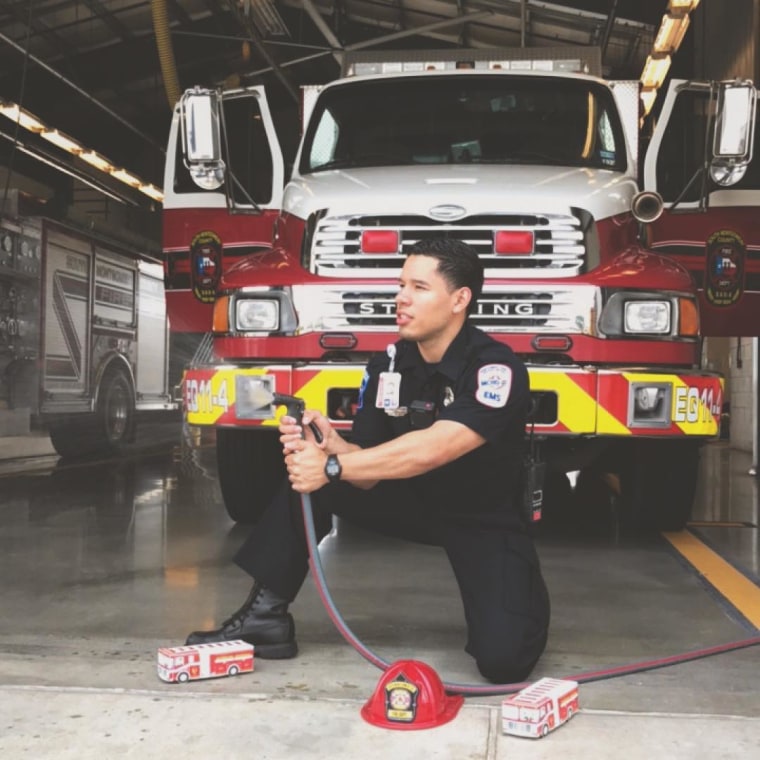 Enrique Badillo, who has known Contreras since they were little kids, spent the week dealing with half-a-foot of floodwater in his home in Aldine, a suburb of Houston. He also watched television news "intensively," keeping tabs on the DACA debate — an issue that has consumed him since he signed up for the program about four years ago.
"I'm very upset right now," said Badillo, 25. "If I lose my DACA, I'm probably not going to be able to work at all."
Badillo, an architect at a large firm, said he couldn't help but feel confused and angry on Friday afternoon, desperate for more clarity on his legal future. He and his girlfriend of nine years, also a DACA recipient, are planning to get married and buy a house. Their careers and their plans for the future now appeared to be threatened, he said.
"If the president takes DACA away, we're going to be devastated," Badillo said. "We feel like this is another storm."
Badillo arrived in the United States when he was 6 months old. His parents, who had owned a string of video-store franchises in Mexico, were intent on starting fresh. Growing up in Houston, Badillo didn't even realize he wasn't a U.S. citizen.
He learned the truth when he was in high school. You aren't a natural-born American citizen, his parents told him — "but you're still important and you're still a human being."
Signing up for DACA, Badillo said, changed everything, solidifying his sense of belonging.
The program allows eligible young people to seek protection for renewable two-year periods. Applicants can file when they turn 15, and immigration experts say the program could end up covering 1.3 million young people if it were allowed to continue. Requests for renewals are now being filed at the rate of about 8,000 a week.
If the program is ended by simply blocking any further applications, 1,100 young people a day would not be able to renew work permits and would no longer be assured they could remain in the U.S., though they would not face the prospect of immediate deportation.
At the White House briefing on Friday afternoon, NBC News' Hallie Jackson asked White House press secretary Sarah Huckabee Sanders if Trump had a message for Contreras. "This president is a president that loves people," Sanders replied. "And we are working on the best decision possible."
Contreras said he worried about the future — "What's going to happen to my career?" — but he was more immediately concerned with "families in Texas that lost everything."
"It's just heartbreaking to see that. You don't want to see people hurting," he said.
The same might be said of DACA recipients and their loved ones, whose futures hang in the balance.
"These are families just like anybody else," Contreras said. "We're as American as can be."