The Texas church where a gunman armed with a Ruger assault-type rifle massacred more than two dozen worshipers could soon have a date with a wrecking ball.
Pastor Frank Pomeroy said it would be "too stark a memory" to resume services in the First Baptist Church and wants to tear down the bullet-ridden building and possibly turn the site into a memorial for the victims, the Southern Baptist Convention confirmed Thursday.
Then, Pomeroy hopes to build another sanctuary elsewhere on the church property in Sutherland Springs, SBC spokesman Sing Oldham said.
"Pastor Pomeroy has expressed his desire, but the church members have not made a decision yet to go ahead, although I expect they will follow his lead," Oldham said.
Related: Who Were the Victims of the Sutherland Springs Massacre?
The pastor's 14-year-old daughter, Annabelle, known to family and friends as Belle, was among the victims of the worst mass shooting inside an American house of worship in modern U.S. history.
The SBC is paying for the funerals of the victims, Oldham said. And if the church does go ahead and demolish the existing structure, Pomeroy's flock will get plenty of help rebuilding, he added.
"There have been incoming calls from across the nation from people expressing their desire to help and assist the church in rebuilding," Oldham said.
Also, the Southern Baptists of Texas Convention has put up a link on its site where people can make donations.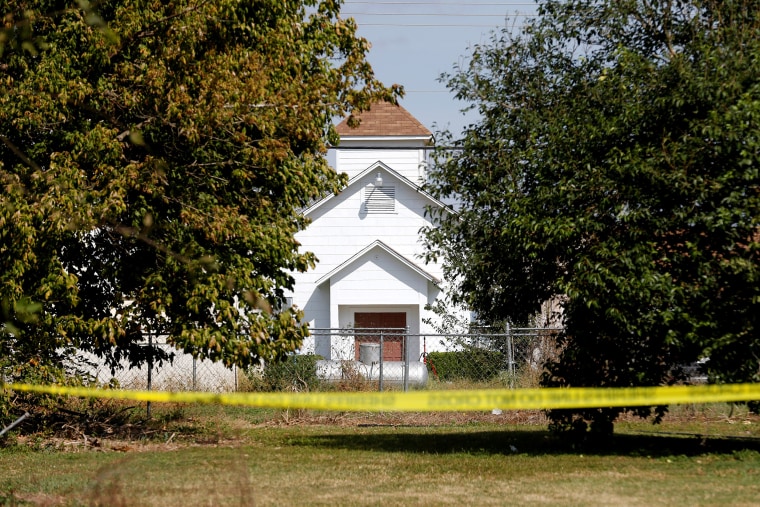 There is a heartbreaking precedent for tearing down a mass killing zone to spare the feelings of the survivors and the victims' loved ones.
Related: Grandmother Died Protecting Grandson During Texas Church Shooting
The Sandy Hook Elementary School in Newtown, Connecticut, where 20 first-graders and six staffers were murdered by a deranged gunman just before Christmas 2012, was demolished a year later.
A new 86,000-square-foot Sandy Hook Elementary School opened four years later.
A total of 26 people, including seven children and an unborn child, were killed Sunday when 26-year-old Devin Patrick Kelley attacked the church, police have said.
Security video from inside the sanctuary showed Kelley methodically shooting people in the head, a federal source close to the investigation told NBC News. Kelley died later of what appears to have been a self-inflicted gunshot wound.