LA County, the most populous in the nation, has ordered citizens to stay at home and banned public and private gatherings until at least Dec. 20 as Covid-19 cases in the area continue to grow. The news came as the U.S. passed 13 million Covid-19 cases.
Meanwhile the NFL ordered all facilities to shut down Monday and Tuesday due to a national rise in cases and after some players and coaching staff "celebrated the Thanksgiving holiday with out-of-town guests."
In Europe, leaders are warning against family Christmas gatherings and urging people to stay at home with immediate family only.
This liveblog has now ended. Find the most recent version here.
---
---
Pfizer's first Covid-19 vaccine doses flown to U.S.
The first doses of Pfizer's Covid-19 vaccine are on the move.
A source familiar with the planning tells NBC News that United Airlines has already flown its first doses of the vaccine on a chartered plane from Belgium. The flight was first reported by the Wall Street Journal.
Pfizer is developing the vaccine with German partner BioNTech. The pharmaceutical has said it has vaccine production facilities in Puurs, Belgium; St. Louis, Missouri; Andover, Maryland; and Kalamazoo, Michigan.
Pfizer has already applied for emergency use authorization, and its vaccine will be distributed upon federal approval.
United wouldn't confirm details, but in a written statement said it will "support a vaccine distribution effort on a global scale."
In a separate statement, the Federal Aviation Administration said it was "supporting the first mass air shipment of a vaccine."
A source familiar with the process told NBC News the FAA is allowing United to carry 15,000 pounds of dry ice per flight — five times more than is usually permitted — to keep the doses sufficiently cold.
Queues at barber shops as France eases coronavirus lockdown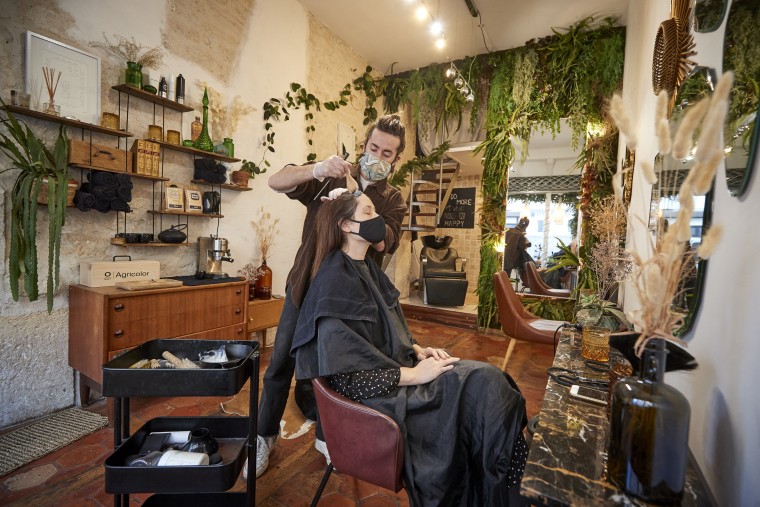 People eager to get a haircut stood in line outside barber shops and department stores selling gifts and Christmas decorations were busy on Saturday as France partially reopened following a month-long lockdown.
Shops selling non-essential goods such as shoes, clothes and toys reopened in the first easing of a nationwide lockdown that started on Oct. 30 and will remain in place until Dec. 15. Bars and restaurants remain closed till Jan. 20,
"Today we have people who had been waiting for weeks while others are coming now so they can look good for Christmas, as one never know what happens next," Remi Thor, a barber in central Paris, told Reuters.
London police tell anti-lockdown protesters to stay home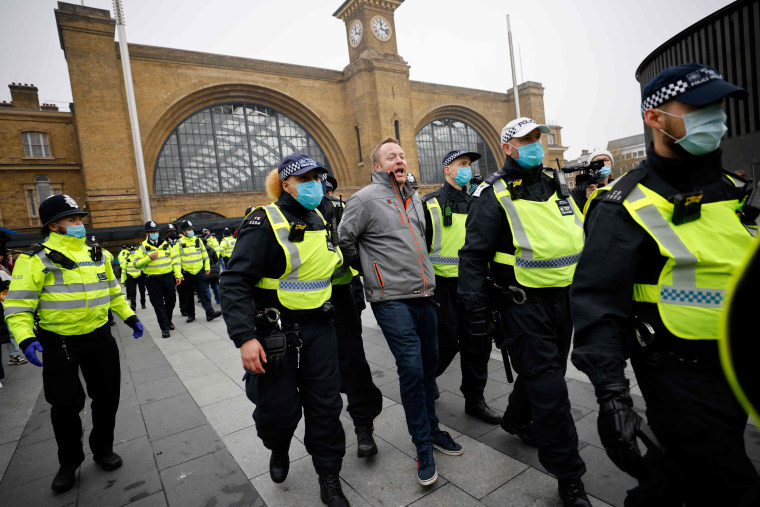 Police in London have warned thousands planning to attend an anti-lockdown protest in the city that the gathering will be unlawful due to national coronavirus restrictions.
The United Kingdom, which has recorded 1.5 million Covid-19 cases and more than 57,000 related deaths, is on a month-long lockdown until Dec. 2 when a system of regional restrictions comes into force.
"The Met has a proud history of facilitating protest. However, our city is in a critical fight against Covid-19 and we cannot allow gatherings to jeopardize the progress and sacrifices our communities have made in fighting this virus," Chief Superintendent Stuart Bell said in a statement.
'A big safety net': Affordable Care Act filled need, fended off dismantling in 2020
Since March, more than 250,000 people infected by the coronavirus have died and millions more have lost their health insurance in the economic crisis caused by the pandemic.
During the presidential campaign, both President Donald Trump and President-elect Joe Biden promised much to address these health and economic issues, sparring on how best to provide Americans access to health care.
Central to both of their arguments remained a decade-old law: the Affordable Care Act — landmark health care legislation that showed its continued significance during this particularly difficult year.
Europe's Christmas dilemma: risk empty chairs next year?
BRUSSELS — Please leave a chair empty at this year's family Christmas dinner as a precaution, or face the possibility of having that chair empty forever.
That's the stark dilemma Belgium's prime minister has set to urge smaller festive family gatherings, as Europeans battle with containing the surging COVID-19 pandemic over the holiday season.
NFL orders all facilities to close next Monday and Tuesday
In anticipation of the expected spike in COVID-19 cases after Thanksgiving weekend, the NFL has issued a mandate for next week: All facilities will close on Monday and Tuesday.
"In response to the continuous increase in positivity rates throughout the country, as well as our understanding that a number of players and staff celebrated the Thanksgiving holiday with out-of-town guests, all in-person team activities on Monday, November 30 and Tuesday, December 1 will be prohibited," Commissioner Roger Goodell wrote to all teams in a Friday memo, a copy of which PFT has obtained.
Los Angeles County adopts new stay-at-home order as Covid-19 cases rise
Health officials in Los Angeles County, the nation's most populous, announced a new Covid-19 stay-at-home order Friday that will ban most public and private gatherings.
The new restrictions, to take effect Monday and to stay in place at least until Dec. 20, will prohibit public and private gatherings except for those people already living together. Religious services and protests will be exempted.