The severed wing from Yevgeny Prigozhin's private jet was apparently found miles away from the crash site Friday — evidence, according to aviation experts, to support a growing consensus that the Russian mercenary leader was killed after his plane was sabotaged and tumbled out of the sky in pieces.
Prigozhin is believed to have been on board the Embraer Legacy 600 that crashed north of Moscow on Wednesday, exactly two months after he launched a brief rebellion against Russian President Vladimir Putin's military.
While much remains unclear, Western officials and analysts shared a mounting conviction based on public evidence and private intelligence: This was no simple accident.
"The aircraft clearly came apart in-flight following some sort of catastrophic event at altitude," said Jeff Guzzetti, an aviation expert and NBC News contributor. "It literally fell to the ground like a Coke bottle, totally out of control and missing wing parts. New jets like this don't come apart like this unless something bad happened."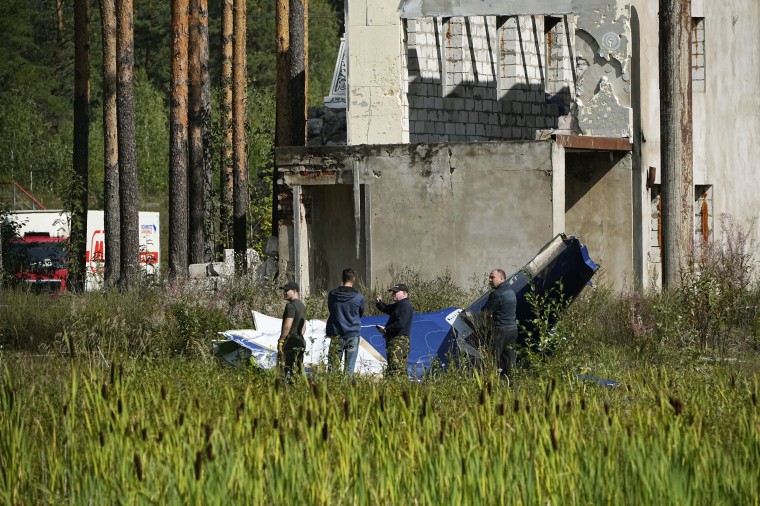 U.S. intel points to sabotage
Video clips geolocated by NBC News appeared to show the Embraer falling uncontrollably to the ground, missing one of its wings and trailing puffs of smoke amid the white clouds in the blue sky north of Moscow.
What appeared to be the plane's severed wing was found almost 2 miles away from the main crash site, based on photos shared by Russian mainstream and social media early Friday showing that section of the aircraft bearing the same serial number.
Two American officials told NBC News that intelligence points to sabotage being the most likely cause, one of them adding that a leading theory is the plane was downed by an explosive on board, although information is still too scant to confirm that.
There is no evidence to support the idea that the jet was downed by a surface-to-air missile, Brig. Gen. Pat Ryder, the Pentagon's press secretary, told a briefing Thursday. The unnamed officials said that's because neither the United States nor its allies detected the heat signature of a missile capable of hitting this jet at cruising altitude.
The Pentagon spokesman said the "initial assessment based on a variety of factors" was Prigozhin was likely killed. The British defense ministry added that while there was no "definitive proof" the Wagner boss was aboard, "it is highly likely that he is indeed dead."
President Joe Biden and German Foreign Minister Annalena Baerbock are among those raising the suggestion that Prigozhin has become the latest Kremlin enemy to die in suspicious circumstances — something Moscow railed against Friday.
Putin's spokesman decried as "absolute lies" the speculation that the Russian leader had ordered a hit on Prigozhin, and urged the world to wait for forensic tests and more facts to emerge.
"I think that Washington officials' reasoning about what is happening in our country is a reflection of the general and blatant disregard for diplomatic methods," Russian Deputy Foreign Minister Sergei Ryabkov said. "It is not really up to the U.S. president, in my opinion, to comment on tragic events of such nature."
Experts see signs of an explosion
But the public assessment of U.S. and Western officials was backed up by air safety experts, for whom the crash was shocking in purely technical terms at least.
Three top Western aviation analysts said that it was extremely rare, even unheard of, to see a reliable aircraft such as the Embraer Legacy 600 lose a wing midair — without some catastrophic in-flight event, such as an explosion.
The Reuters news agency said the Embraer Legacy 600 model has only had one accident in 20 years of service, and that was not related to a mechanical incident.
The jet was cruising normally at 28,000 feet before making "a series of vertical movements" up and down and then suffering a "rapid descent," losing 8,000 feet in 30 seconds, said Chris Lomas, an aviation content specialist with the tracking website Flightradar24.
That sudden change — from cruising to midair break-up — "indicates an explosion of a great magnitude," said John Cox, a retired airline pilot, air crash investigator and NBC News aviation analyst. "Could it be an onboard explosion? Possibly."
Whatever happened, "this airplane was flying along normally one minute and experienced catastrophic failure the next," added Cox, who flew for 25 years with US Airways.
The main causes of plane crashes are usually pilot error, poor maintenance or bad weather. But on modern aircraft, it's just not possible for a pilot to detach the wings no matter how badly they fly it, and no amount of neglect would cause them to break off, said Peter Bernard Ladkin, a professor emeritus specializing in aviation safety at Germany's Bielefeld University.
It might be possible for the wings to come off when flown into the core of a violent thunderstorm, he added, but it was a clear day when the plane reportedly carrying Prigozhin came down.
"The fact that the fuselage is tumbling shows there was in-flight breakup. We know something happened up there," said Ladkin, who now leads the safety consultancy Causalis, which has assisted on a number of air crash investigations. "The airplane somehow stopped in midair and it fell straight down like a stone."
"It is difficult to see how a wing would come off in-flight unless the airplane had encountered exceptional forces of some kind such as the core of a violent thunderstorm — or something else," he added.
Embraer, a Brazilian aircraft manufacturer, said in a statement that it did not have any information about the incident because it had not been providing parts or servicing to this particular aircraft, in line with international sanctions on Russia.
Alexander Smith and Bianca Britton reported from London, and Courtney Kube reported from Washington.