And that's a wrap: Day 2 of Barrett hearings close out after over 11 hours of testimony
Day 2 of Barrett's confirmation hearing wrapped up after more than 11 hours of testimony.
Barrett was sharply cross-examined by Democratic lawmakers over her personal and judicial philosophies and pressed for answers on subjects such as abortion and LGBTQ rights. The Affordable Care Act was also a focal point for many Democrats. 
Barrett repeatedly insisted to senators that she has no "agenda" on issues like the Affordable Care Act, the future of abortion rights or same-sex marriage and that she would be nobody's "pawn" if confirmed to the Supreme Court.
Barrett dodged several questions from lawmakers but told when pressed by Sen. Amy Klobuchar, D-Minn., about Trump's remarks on him only appointing judges that advance his agenda she told the committee: "I am 100 percent committed to judicial independence from political pressure."
Trump told reporters on the White House South Lawn that he thought Barrett was doing "incredibly well" in her confirmation hearings. Trump has tweeted about the hearings throughout the day on Monday and Tuesday.
The hearing will return tomorrow at 9 a.m. and each senator will be given 20 minutes each. 
Harris takes to Twitter after her questioning
Trump on Harris questioning: 'So pathetic'
President Donald Trump told a rally in Johnstown, Pennsylvania Tuesday night that he'd watched Sen. Kamala Harris's questioning of Barrett, calling the California senator "pathetic."
"I just watched her on television. She's so pathetic," Trump said of Harris. He said he'd watched them aboard Air Force One en route to the rally. 
He told the thousands gathered at the Johnstown airport where the event was being held that "I tried to watch as much [of the hearing] as I could," referring to Barrett as "our great future Supreme Court justice."
"I will tell you, Amy's made a great impression," he said, as the crowd chanted, "Fill that seat!"
Blackburn last senator to question Barrett on Day 2
Blackburn, one of the junior Republican members of the committee, is the last senator to question Barrett. 
Blackburn has used her time during the dayslong hearing to humanize Barrett with questions about her family life and being a conservative female judge.  
Barrett: 'I am not a liar'
Kennedy picked up after Harris grilled Barrett about her judicial philosophy and other topics, including the president.
Kennedy, R-La., claimed that Harris had called Barrett a liar, apparently referring to the moment when Harris pressed Barrett about whether she knew that Trump had said he wanted specific types of justices on the court.
"Sen. Harris called you a liar. Are you a liar?" Kennedy asked.
"I am not a liar, Sen. Kennedy," Barrett replied.
"So when Sen. Harris and her colleagues say you're a liar, they're wrong?" He continued.
"They are," she said.
It's been common in this hearing for Democrats to be sharply critical of Barrett, and Republicans have followed up to offer her wiggle room to explain further on controversial topics.
Harris points out significant timeline on view of Obamacare decision
Barrett dodges Harris' questions about recusal
Barrett dodged questions about how she would decide to recuse herself from cases that might present conflicts when pressed by Harris. 
Barrett has repeatedly sidestepped the question when asked by other Democratic senators, noting that there is a process of recusal. But Harris noted that the decision to recuse is up to the justice. 
Barrett did answer Harris' question about whether she weighs how a judicial decision affects American lives. This is notable, as Democratic senators, including Harris, have said millions of people would be affected if the Affordable Care Act is overturned. 
Kamala Harris uses opening to talk about protecting health care, Covid-19 relief
Harris began her opening to directly focus on protecting health care, such as the Affordable Care Act and the Senate's passing new coronavirus relief legislation. 
That has been a talking point of many Democratic senators over the past two days. They have also called the hearing part of a larger ploy by Republicans to repeal Obamacare. 
Harris' opening was more of a campaign speech to voters about what is at stake in the election. 
"Following a decade of failure, Washington Republicans have realized that the Affordable Care Act is working too well and helping too many people to repeal it," she said, claiming that the GOP is using the Supreme Court to strike down the law. 
Harris has started her virtual questioning
Following a dinner break, the hearing continued with Kamala Harris, the Democratic nominee for vice president, who is questioning Barrett virtually.  
She is the last Democratic senator who will address Barrett during the second day of hearings. 
Barrett won't say that Trump should commit to a peaceful transfer of power
Barrett would not say that Trump should commit to a peaceful transfer of power when pressed by Sen. Booker at her confirmation hearing. 
"Senator, that seems, to me, to be pulling me in a little bit into this question of whether the president has said that he would not peacefully leave office," she said. "And so to the extent that this is a political controversy right now, as a judge, I want to stay out of it and I do not want to express a view."
Trump, who has made baseless claims about election rigging, has repeatedly dodged questions about whether he would accept the results of the election. 
Barrett did, however, speak generally and called the idea of peaceful transfers of power the "genius of our Constitution" and the "good faith and goodwill" of American voters. 
Dinner break until Harris speaks
The Senate took a 30-minute dinner break beginning around 6:22 p.m. ET. They will return shortly before 7 p.m. ET, at which point Harris will begin her line of questioning.
As the Democratic vice presidential pick, she could be the senator most directly affected by Barrett's confirmation should the high court take up an election-related case later.
Trump says Barrett is doing 'incredibly well'
Trump told reporters on the White House South Lawn that he thought Barrett was doing "incredibly well" in her confirmation hearings. 
Trump has tweeted about the hearings throughout the day on Monday and Tuesday.
Trump responds to Booker in real time on Twitter
President Donald Trump responded to Sen. Cory Booker, D-N.J., as the senator questioned Judge Barrett. 
Barrett apologizes for earlier comments on sexual 'preference'
Sen. Mazie Hirono, D-Hawaii, pressed Barrett on comments she made earlier Tuesday referring to sexual "preference" instead of sexual orientation.
As advocates have pointed out, the use of the term "preference" over "orientation" frames being a part of the LGBTQ community as a choice.
Barrett replied, "I certainly didn't mean and would never mean to use a term that would" offend LGBTQ Americans. 
"If I did, I greatly apologize for that," she added.
Trump's words haunt Barrett as she vows not to be a 'pawn' on Supreme Court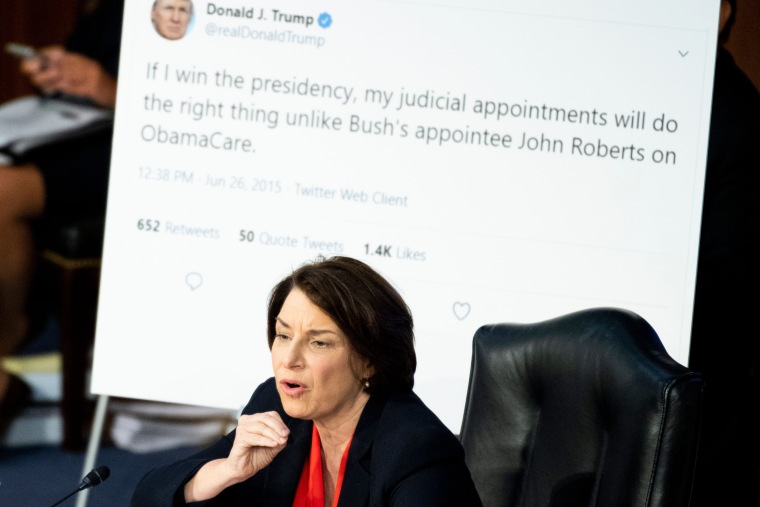 Again and again, Amy Coney Barrett insisted to senators on Tuesday that she has no "agenda" on issues like the Affordable Care Act, the future of abortion rights or same-sex marriage, and that she would be nobody's "pawn" if confirmed to the Supreme Court.
"Do you think we should take the president at his word when he says his nominee will do the right thing and overturn the Affordable Care Act?" Sen. Amy Klobuchar, D-Minn., asked, displaying a poster of a President Donald Trump tweet criticizing the 2012 ACA decision.
"I can't really speak to what the president has said on Twitter," Barrett responded. "He hasn't said any of that to me." She added, "I am 100 percent committed to judicial independence from political pressure."
The exchange captured the central tension of the Supreme Court hearing: Barrett insisted she will continue to be open-minded, but Trump had already told Americans his judicial picks will faithfully advance his agenda before he put her in the hot seat.
Blumenthal presses Barrett about past signings of anti-abortion statements
After senators returned from the break, Blumenthal focused his initial questioning around abortion rights and pressed Barrett about her signing of anti-abortion statements in the past, including a 2006 newspaper advertisement sponsored by St. Joseph County Right to Life and a 2013 letter sponsored by the University of Notre Dame's Faculty for Life and Fund to Protect Human Life.
Blumenthal first addressed the 2006 ad, which he said Barrett did not provide to the committee ahead of her initial confirmation hearing to a federal appeals court in 2017. She said she did not include the ad because she "didn't have any recollection of that letter, or statement."
"I signed it almost 15 years ago quickly on my way out of church, and, you know, the questionnaire asks me for 30 years' worth of material, and I've produced more than 1,800 pages, and so I didn't recall it," she said. She later added that the documents amount to "no more than an expression of a pro-life view."
In one contentious exchange, Blumenthal told the story of a rape survivor who was impregnated, asking whether Barrett viewed Roe v. Wade as constitutional and as having been correctly decided. He also shared the experience of a woman who conceived using in vitro fertilization, which the Roman Catholic Church has opposed. Barrett said she would not discuss how she would rule on cases she did not get to take part in.
Committee takes short break
Graham announced the hearing will take a 20-minute recess. 
Senators are expected to return before 4 p.m. ET with Sen. Richard Blumenthal, D-Conn., set to question Barrett first after the break. 
Senators will proceed until their dinner break, which is expected around 6:30 p.m.
Barrett says her children don't influence her judicial decision-making
Barrett said her life experiences and those of her children do not influence her decision-making on the bench.
In an exchange with Sen. Josh Hawley, R-Mo., Barrett discussed how having a multiracial family and a child with a disability have "shaped me as a person."
"While my life experiences, I think, I hope have given me wisdom and compassion, they don't dictate how I decide cases," she said. The exchange was one of several she had this week related to her family.
On Tuesday, Barrett discussed how when writing "an opinion resolving a case, I read every word from the perspective of the losing party," asking "how would I view the decision if one of my children was the party I was ruling against."
"Even though I would not like the result, would I understand that the decision was fairly reasoned and grounded in the law?," she said. "That is the standard I set for myself in every case, and it is the standard I will follow as long as I am a judge on any court."
Barrett discusses her 'integrity' when asked about handling 2020 election case
Sen. Chris Coons, D-Del., pressed Barrett on remarks Trump made prior to her nomination about wanting to have nine justices in place ahead of the election to deal with any potential litigation.
Given that background, Coons asked Barrett if she would "commit to recusing yourself from any case arising from a dispute in the presidential results coming three weeks from now?"
"I want to be very clear to all members of this committee that no matter what anyone else may think or expect, I have not committed to anyone or so much as signaled — I have even written a couple of opinions in the [U.S. Court of Appeals for the 7th Circuit] that relate to election law," she said. "But I haven't written anything that would make anyone probably say, 'Oh, this is how she would solve an election dispute.'"
"I would consider it — I certainly hope that all members of the committee have more confidence in my integrity than to think I would allow myself to be used as a pawn to decide this election for the American people," she added.
Trump attorneys ask Supreme Court for stay in Manhattan DA's tax case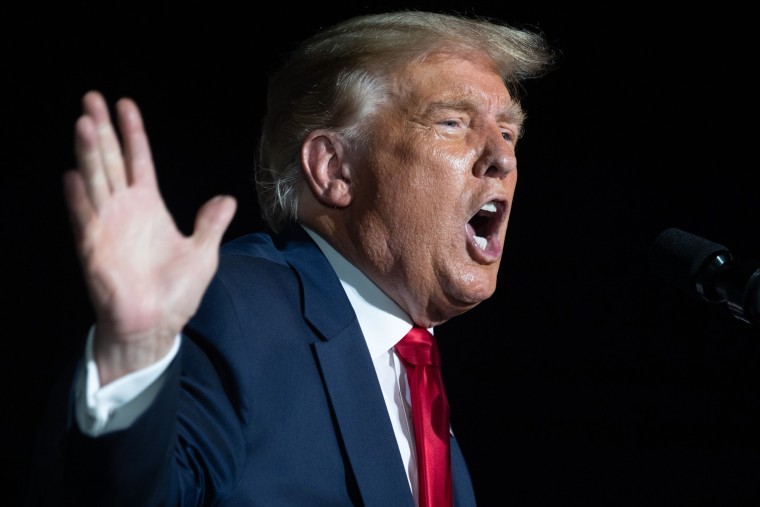 Attorneys for President Donald Trump have asked the Supreme Court for an emergency application to stay — or put on hold — the recent decision by an appeals court to let Manhattan District Attorney Cy Vance get Trump's tax documents pursuant to a grand jury subpoena.
Trump's attorneys are asking for the stay pending the filing of a writ of certiorari by the president asking the Supreme Court to review the appeals court decision on the grounds that the Manhattan DA's subpoena is "overbroad" and lacks a "good faith basis," two arguments the appeals court didn't buy.
The president's lawyers argued for a stay because they believe there is an "intensely factual" basis for the Supreme Court to eventually overturn the appeals court decision. Specifically, they argue, "a demand for virtually every financial record of a global corporation and its owner is of course plausibly overbroad if the grand jury is focused on certain payments made in 2016." 
Democrats keep mentioning that millions of Americans are already voting
Democrats keep mentioning the fact that millions of Americans are already voting, reminding viewers that Republicans decided to push ahead with the nomination just weeks before polls close and refocusing attention on the looming Supreme Court case challenge to the Affordable Care Act that is scheduled to begin a week after the election. 
"In more than 40 states, people are voting as we speak," Klobuchar said. "Do you think it is faithful to our democratic principles to fulfill a Supreme Court seat this close to the election when people are voting?"
Sen. Chris Coons, D-Del., spoke in front of a blown-up calendar with two dates circled in red: Election Day and the day that opening arguments are scheduled in the ACA challenge.
"We are just three weeks from an election," Coons said. "Just a week after that election, the Supreme Court is going to hear a case that could take away health care protections from more than half of all Americans. So this is not an abstract academic argument, it is one that will have real life consequences."
More than 10 million ballots have already been cast in the 2020 election. Polls show that most Americans want to wait until after the election to fill the vacant Supreme Court seat.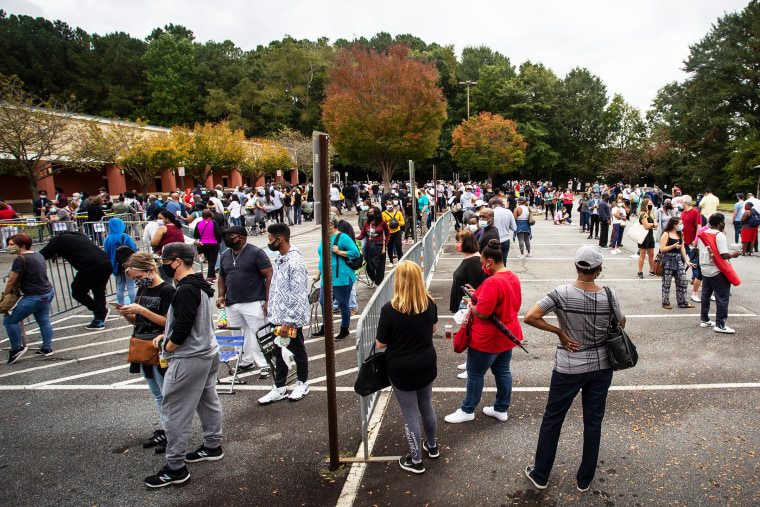 ANALYSIS: Barrett implies Roe vs. Wade is vulnerable now and Brown vs. Board could be if there were calls to overturn it
Barrett has said repeatedly that she can't answer questions designed to elicit her views on cases and rulings to which she was not a party, but Klobuchar elicited from the nominee very clear views on the sanctity of the rulings protecting abortion rights and banning school segregation.
Klobuchar asked Barrett whether the Brown vs. Board of Education school desegregation decision is "superprecedent," meaning broadly that the bar for overturning it is higher than that for other rulings.
Klobuchar then asked if Roe vs. Wade is a superprecedent.
Barrett would not say that.
Barrett instead answered that the difference is there are no calls to overturn Brown, while the focus on abortion in her ongoing hearing is evidence of disagreement over Roe. Roe is not superprecedent, she implied, because some people think it should be reversed. She added that does not mean that Roe should be overturned.
But the clear indication is that Barrett believes 1) Roe is more susceptible to reversal than Brown and 2) that Brown could cease to become superprecedent if there were suddenly calls to overturn it.
Barrett says abortion decision Roe v. Wade is not a 'superprecedent' protected from reversal
Responding to questioning from Sen. Amy Klobuchar, D-Minn., Barrett said she did not consider Roe v. Wade, the decision that helped ensure a woman's ability to obtain an abortion, to be a "superprecedent" protected from reversal.  
Barrett said that she defined "superprecedent" as a case that is "so well settled that no political actors and no people seriously push for their overruling." 
"I am answering a lot of questions about Roe, which I think indicates that it does not fall in that category," Barrett said, adding that her answers does not mean that Roe should be overturned.
Barrett has written that she feels that Brown v. Board of Education was a superprecedent.
Klobuchar used her time to discuss the "tracks" the Barrett has left throughout her career, arguing that they paint a picture of an extremely conservative judge who would drastically change the shape of the Supreme Court in a way that is out of step with American public opinion. 
"I am then left the looking at the tracks of your record and where it leads the American people and I think it leads to a place that is going to have severe repercussions for them," Klobuchar said in conclusion. 
Sen. Gary Peters shares his family's abortion story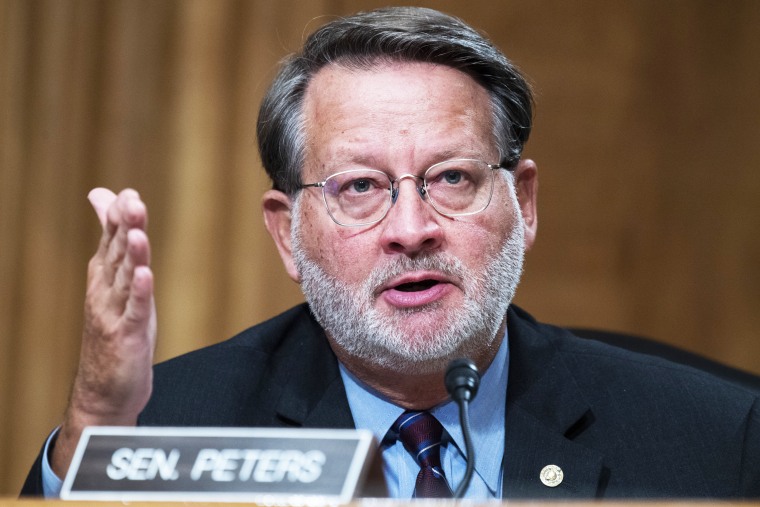 A U.S. senator is sharing his family's abortion story.
Sen. Gary Peters, D-Mich., told Elle magazine in an interview published Monday how an abortion may have saved the life of his first wife.
Peters, who is running for re-election to a second term in the Senate, said in the interview that he is speaking out because he is concerned that the confirmation of President Donald Trump's nominee to the Supreme Court, Judge Amy Coney Barrett, could result in the court's striking down Roe v. Wade.
Group of 88 Notre Dame faculty pens letter asking Barrett to refuse nomination
A group of 88 faculty members at Notre Dame — none of whom are part of the law school where Judge Barrett teaches — penned a letter asking her to refuse her appointment to the Supreme Court. 
"We're asking a lot, we know," the opponents wrote. "Should Vice-President Biden be elected, your seat on the court will almost certainly be lost. That would be painful, surely. Yet there is much to be gained in risking your seat." 
Blackburn tweets edited photo of Whitehouse presentation deck
Sen. Marsha Blackburn, R-Tenn., tweeted an edited photo suggesting the dark money Whitehouse referenced in his questioning was funneled by billionaire George Soros to "fund radical left activists." 
Whitehouse used his allotted time to highlight the influence of dark money in elections, connecting conservative organizations and their role in influencing political appointments. Whitehouse referenced an article on the Federalist Society, by The Washington Post. 
Soros, a major Democratic donor, is a popular target of right-wing conspiracy theories.
Sen. Cruz defends Citizens United
Following Sen. Whitehouse's 30-minute denunciation of dark money, Sen. Ted Cruz, R-Texas, used part of his time to defend the landmark Supreme Court case Citizens United that allowed for corporations and unions to spend unlimited money on political ads and other forms of influence campaigns. 
"Citizens United concerned whether or not it was legal to make a movie criticizing a politician, specifically, Citizens United is a small nonprofit organization based in the — based in D.C. That made a movie that was critical of Clinton," Cruz said. 
Cruz also spoke about the Second Amendment and religious liberty, attacking Joe Biden and Senate Democrats. 
After nearly an hour without any questions being asked, Cruz is now asking Barrett about her family.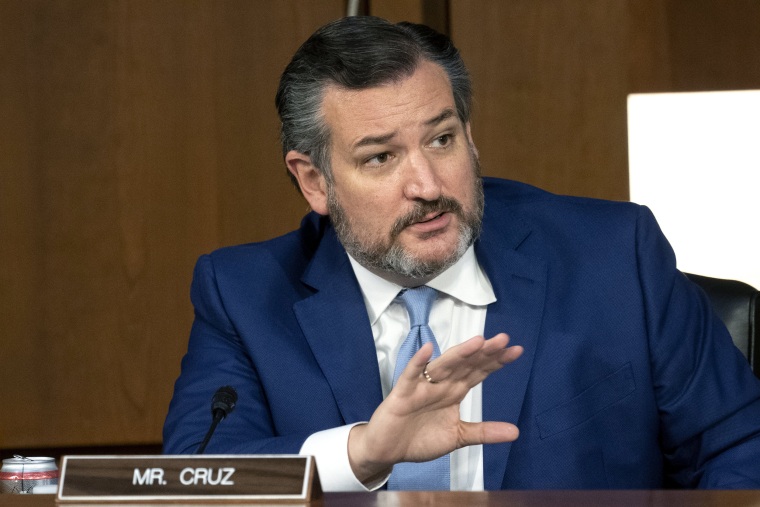 Whitehouse decries dark money in court process, does not ask Barrett any questions
Sen. Whitehouse used his time to break down how conservative legal groups like the Federalist Society and the Judicial Crisis Network use their deep pockets to influence the Supreme Court process. 
"This is a pretty big deal. I've never seen this with any court I've been involved with, where there's this much dark money being used," Whitehouse said. "That raises the question, what are they getting for it?" 
Whitehouse did not ask Barrett, who has ties to the Federalist Society, any questions during his time. He thanked Barrett for listening and said it would tee them up for a good conversation Wednesday, the third day of the hearing.
Hearing resumes
Sen. Sheldon Whitehouse, D-R.I., is now up for questioning after a brief lunch break. 
Committee breaks for lunch
Graham announced a lunch break, which will last until 12:45 p.m. ET. Seven senators have questioned Barrett so far, and there are 15 left to go after the break.
Sen. Sheldon Whitehouse, D-R.I., will be up first when the committee returns. Graham said the panel might take additional breaks later. The hearing could go to 9 p.m. ET or later.
Lee, not wearing mask, goes on at length about judicial philosophy
Sen. Mike Lee, R-Utah, went on a filibuster of sorts, speaking about the Federalist Papers, judicial philosophy and the foundation of the U.S. legal system — all without a mask. 
Lee recently tested positive for Covid-19 but said he was told Monday by his doctor that he could participate in the hearing in person. He spoke for 30 minutes without a mask on. 
One of the few questions he asked of Barrett was about the difference between will and judgment. She said that will is an imposition of policy preferences as it happens in the making of law and judgment is evaluating that law for its consistency with the Constitution. 
"A judge who approaches a case as an opportunity for an exercise of will has betrayed her judicial duty," she said. 
ANALYSIS: Barrett concedes point on originalism
Under questioning from Sen. Durbin, D-Ill., Barrett appeared to acknowledge that the Constitution and the law are open to multiple interpretations. That can be gleaned from the need for appellate courts, not to mention the fact that there are Supreme Court decisions rendered as majority, concurring and dissenting opinions — meaning two justices can come to the same ruling from different applications of the Constitution to the law.
"It's hard," she said.
That's an acknowledgment of the inherent difficulty in the theories of "originalism" and "textualism" to which she subscribes. If the text and original "public meaning" were clear and agreed upon, there would be no need for a federal judiciary at all.
Originalism "is the original public meaning, not the subjective intent of any particular drafter," Barrett said under friendly questioning from Sen. Lee, R-Utah. It's the "full body" of Congress that speaks, not any single lawmaker who participates in the process, she continued in rejecting the idea of legislative intent being implied by congressional debates. And yet, liberals and conservatives often vote for the same text believing that it has different meanings.
That's true in Congress and on the Supreme Court, which leads to Barrett's view that "the original public meaning" of laws should be the standard for determining their constitutionality. It is equally true that members of the public have different interpretations of what the law says. That's why there are lawsuits.
Durbin takes aim at Barrett's interpretation of felons owning guns and voting
Durbin asked Barrett what her legal opinion is about people previously convicted of a felony having the right to own a gun and how that's different from felons having the right to vote. 
Barrett said that owning firearms is an individual right, but voting is only a collective civil right. 
"To the extent, Senator Durbin, that you're suggesting that I have some sort of agenda on felon voting rights or guns or campaign finance or anything else, I can assure you and the whole committee that I do not," she said during the exchange. 
Barrett says George Floyd's death was 'personal,' but she can't make broad statement about racism
Durbin asked whether Barrett saw the video of George Floyd's death in police custody earlier this year, and Barrett said she has and it was "very, very personal" for her family because she has two Black children. 
She said she cried with her daughter, for example, who was adopted from Haiti, about the video. Barrett said she had to explain to her children what had happened because she said they've had the benefit of "growing up in a cocoon" and not experiencing hatred or violence. 
Barrett, however, said that she couldn't give a broad statement or diagnoses about the "problem of racism" because she said it's "kind of beyond what I'm capable of doing as a judge." 
"I would doubt it," Durbin responded. "I just don't believe you can be as passionate about originalism, and the history behind language that we've had for decades, if not centuries, without having some thought about where we stand today." 
Barrett: 'I'm not hostile to the ACA'
Sen. Dick Durbin, D-Ill., expressed concern that Barrett's previous writings that were critical of the Affordable Care Act signal that she would vote to dismantle the law when the Supreme Court rules on it in an upcoming case. 
"I think that your concern is that because I critiqued the statutory reasoning that I'm hostile to the ACA, and that because I'm hostile to the ACA, I would decide a case a particular way," Barrett said. "I'm not hostile to the ACA. I'm not hostile to any statute that you pass." 
Democrats again tell stories of Obamacare recipients
Like many did on Monday, several Democrats on the committee have told stories of constituents who rely on Obamacare for their medical conditions and have shown images of them on large easels inside the hearing room for Barrett — and the public — to see. 
Saying they fear Barrett's confirmation would lead to the demise of the 2010 health care law, the Democrats' strategy is to show real people who would suffer if they lost their health insurance provided by the Affordable Care Act. The Supreme Court is set to hear oral arguments in a case challenging the law on Nov. 10. 
Panel will take a 30-minute break after Durbin, Lee finish questions, Graham says
Graham announced a 30-minute lunch break after Sens. Dick Durbin, D-Ill., and Mike Lee, R-Utah, conclude their questions. If both senators use their full allotted time, the lunch break will begin at around noon.
'That's impressive': Cornyn praises Barrett as she shows she has no notes in front of her
Sen. John Cornyn, R-Texas, asked Barrett to hold up the notepad on the table in front of her and asked if it said anything on it. 
Barrett said it just showed the U.S. Senate letterhead, but nothing was written on it. 
"That's impressive," Cornyn said, given that many witnesses testifying before lawmakers take notes or have notes in front of them. 
Barrett dodges question about whether she'd recuse herself from any 2020 election case
Sen. Patrick Leahy, D-Vt., who questioned Barrett virtually because of his concerns about Covid-19 safety precautions, asked Barrett if she would recuse herself if a dispute with the 2020 presidential election comes before the court. 
"I want to begin by making two very important points, and they have to do with the ACA, and with any election dispute that may or may not arise," she said. "I have had no conversation with the president or any of his staff on how I might rule in that case."
"It would be a gross violation of judicial independence for me to make any such commitment or for me to be asked about that case and how I would rule," she added. "I also think it would be a complete violation of the independence of the judiciary for anyone to put a justice on the court as a means of obtaining a particular result." 
Barrett says she has not made any pre-commitments on any issue or case to anyone
Grassley asked if Barrett has made any promises or guarantees to anyone about how she might rule on a case or issue that would come before her on the Supreme Court. 
"I want to be very, very clear about this, Senator Grassley," Barrett said. "The answer is no, and I submitted a questionnaire to this committee in which I said no, no one ever talked about any case with me, no one on the executive branch side of it."
Barrett said she has not made any pre-commitments to anyone and has not been asked to make any by the executive branch. She said she can't make any pre-commitments to Congress either because "it would be inconsistent with judicial independence."
Asked if it's her agenda or goal to repeal the Affordable Care Act if she's confirmed, Barrett said, "Absolutely not. I was never asked — if I had been, that would have been a short conversation." 
Grassley: 'If people don't like what we do, they can vote us out of office'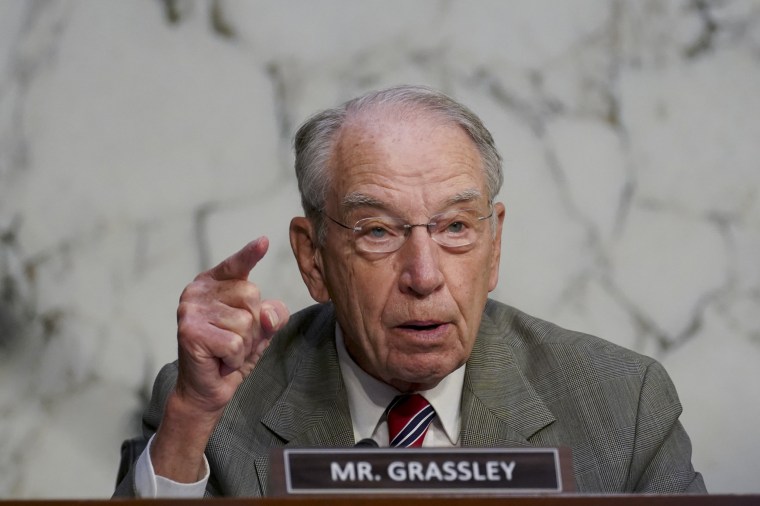 Sen. Chuck Grassley, R-Iowa, spent the first half of his questioning round by criticizing Democrats' attacks against Barrett for what her confirmation would mean for the future of the Affordable Care Act. 
"If people don't like what we do, they can vote us out of office," Grassley said, noting the difference between the roles of senators and judges.
Barrett refuses to express a view on LGBT rights, whether she agrees with Scalia's dissent
Feinstein asked Barrett is she agrees with the late Justice Antonin Scalia's view that the Constitution does not afford gay people the fundamental right to marry. 
"Senator Feinstein, as I said to Senator Graham at the outset, if I were confirmed you would be getting Justice Barrett, not Justice Scalia," she said. "I'm not going to express a view on whether I agree or disagree with Justice Scalia for the same reasons that I've been giving."
Barrett said the late Justice Ruth Bader Ginsburg said the way a nominee should comport herself at a hearing is "no hints, no previews, no forecasts." '
Pressed again by Feinstein to answer the question, Barrett said that she has "never discriminated on the basis of sexual preference and would not ever discriminate on the basis of sexual preference" and considers discrimination, like racism, "abhorrent." 
"On the questions of law, however, just because I'm a sitting judge, and because you can't answer questions without going through the judicial process, I can't give answers to those very specific questions," she said.  
Barrett said she won't be 'legal pundit' when asked about Trump's suggestion to delay election
Feinstein asked Barrett if the Constitution gives the president the authority to unilaterally delay a general election under any circumstances.
"If that question ever came before me, I would need to hear arguments from the litigants, and read briefs and consult with my law clerks, and talk to my colleagues, and go through the opinion writing process," Barrett said.
"So, you know, if I give off-the cuff answers, then I would be basically a legal pundit," she said. "And I don't think we want judges to be legal pundits. I think we want judges to approach cases properly and with an open mind."
President Trump in July suggested that the 2020 presidential election should be postponed, claiming it could be ripe for fraud, although he cannot unilaterally change the date of the presidential election.
Senate Minority Leader Chuck Schumer, D-N.Y., later released a statement calling for Barrett to recuse herself from any case involving the election. "Her refusal to stand up to the president on this obvious legal question is alarming, and indicates that she is more interested in pleasing President Trump than she would be in stopping his illegal behavior," Schumer said.
Barrett says upcoming Obamacare lawsuit does not challenge pre-existing conditions coverage
Feinstein asked Barrett about the Affordable Care Act and the upcoming arguments that the Supreme Court is set to hear on Nov. 10. 
Barrett said that the Obamacare lawsuit led by Texas is "not a challenge to pre-existing conditions coverage or to the lifetime maximum relief cap."
"For the court, it's really a question of the law and going where the law leads, and leaving the policy decisions up to you," Barrett said. 
What it's like inside the Senate hearing room
The GOP side of the room is full, with all members present. All are wearing masks except Sen. Marsha Blackburn, R-Tenn., on the far end of the lower table.
Texas Sens. Ted Cruz and John Cornyn are wearing matching Texas flag masks.
Several Democratic members are absent - including Sen. Cory Booker of New Jersey and Mazie Hirono of Hawaii. Rhode Island Sen. Sheldon Whitehouse is the lone Democrat not wearing a mask. Barrett's family, including her children, sit behind her on one side. On the other side is White House counsel Pat Cipollone.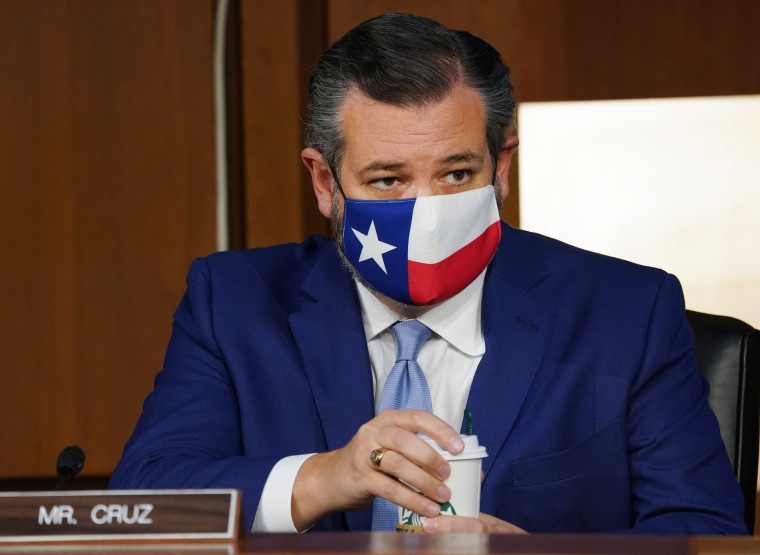 Barrett declines to say whether Roe v. Wade was wrongly decided
Sen. Dianne Feinstein, D-Calif., the top Democrat on the Judiciary Committee, asked Barrett if she agrees with the late Justice Antonin Scalia's view that Roe v. Wade was wrongly decided in 1973. 
Barrett said she would invoke the description given by Justice Elena Kagan in her confirmation hearing about grading a precedent to give it a thumbs up or down, saying she can't express a view on a precedent one way or another because it would "signal to litigants" how she might rule in a case. 
Feinstein called her response "distressing" and pressed Barrett to answer the question again.
"Senator, I completely understand why you are asking the question. But again, I can't pre-commit or say, yes, I'm going in with some agenda, because I'm not, I don't have any agenda," Barrett said. "I have an agenda to stick to the rule of law and decide cases as they come." 
Barrett talks precedent regarding abortion
Barrett says she owns a gun, but can rule on Second Amendment fairly
In response to a question from Graham, Barrett said that her family does own a gun, but that she would be able to set aside her views on gun ownership in ruling on the Second Amendment. 
She made a similar comment about her Catholic faith, saying, "I can, I have done that in my time on the 7th Circuit. If I stay on the 7th Circuit, I'll continue to do that. If I'm confirmed to the Supreme Court, I will do that still." 
Graham voices interest in campaign finance reform after being outraised in Senate race
Graham told Sen. Sheldon Whitehouse, D-R.I., he's getting closer to him on the issue of campaign finance. 
"I don't know what's going on out there, but I can tell you there's a lot of money being raised in this campaign," said Graham, whose Democratic opponent Jaime Harrison raised $57 million in one three-month period, more than any Senate candidate ever.
"I'd like to know where the hell some of it's coming from, but that's not your problem," Graham said. 
Biden says he is not a fan of expanding Supreme Court
After coming under fire from President Donald Trump and Republicans about whether he backed expanding the Supreme Court to more than nine justices, Joe Biden said Monday that he's "not a fan of court packing."
"I've already spoken on — I'm not a fan of court packing, but I don't want to get off on that whole issue. I want to keep focused," the 2020 Democratic presidential nominee said in an interview with Cincinnati's WKRC.
The former vice president said Trump's decision to quickly fill the Supreme Court vacancy left by the death of Justice Ruth Bader Ginsburg ahead of the election is the "court packing" that he wants people to pay attention to.
"The focus is why is he doing what he's doing now? Why now with less than 24 days to go until the election?" he said. "That's the court packing ... the public should be focused on."
Biden's comments Monday were his clearest on the issue since Ginsburg's death and come as he and Harris have been hit with a barrage of GOP attacks and have deflected numerous questions from the press in recent weeks about whether they would expand the Supreme Court.
Barrett says she would listen to both sides if she hears case challenging Roe v. Wade
Graham brought up Roe v. Wade and explained that unlike Brown v. Board of Education, there are states passing strict abortion laws challenging the 1973 landmark decision. 
Asked if she would listen to both sides if such a case came before the Supreme Court, Barrett said, "Of course. I'll do that in every case." 
Where does Barrett stand on Brown v. Board of Education?
In response to a question from Graham about Brown v. Board of Education, Barrett said that she considers it a "superprecedent." 
Barrett said that a superprecedent is "a precedent that is so well established that it would be unthinkable that it would ever be overruled."
She said that there would have to be a case and a controversy for the Supreme Court to revisit the landmark 1954 decision. 
"I do not see that happening anytime soon," she said. 
Graham begins his round of questioning by bashing Obamacare
Sen. Lindsey Graham, R-S.C., chairman of the Judiciary Committee, began his time for questions by bashing Obamacare, as Democrats have warned that Barrett's confirmation would result in the reversal of the health care law. 
"All of you want to impose Obamacare in South Carolina — we don't want it," Graham said. "We want South Carolina-care, not Obamacare."
Graham, who faces a competitive re-election race against Democrat Jaime Harrison, said that if it were up to him, he would "block grant this money, send it back to the states and in a more fair allocation." 
"And we would require pre-existing conditions to be covered as part of the block grant," he said. 
Graham then asked Barrett what she means to be an originalist. She said that she interprets the Constitution as having "the meaning that it had at the time people ratified it," and that "meaning doesn't change over time and it's not up to me to update it or infuse my own policy views into it."
Harris, Leahy are only senators expected to participate virtually
Sens. Kamala Harris, D-Calif., and Patrick Leahy, D-Vt., are the only senators on the Senate Judiciary Committee who are expected to participate remotely in the hearing Tuesday.
Both senators have voiced concern about safety protocols during the pandemic. Negative Covid-19 tests are not required to appear at the hearing in person, despite requests from Democrats, though senators, staff and members of the press are asked to complete self-screening forms.
Sen. Thom Tillis, R-N.C., is expected to appear in person Tuesday after delivering his opening statement virtually Monday because of his recent Covid-19 diagnosis. Tillis released a letter from his personal physician Tuesday stating that his isolation ended at 4 p.m. Monday.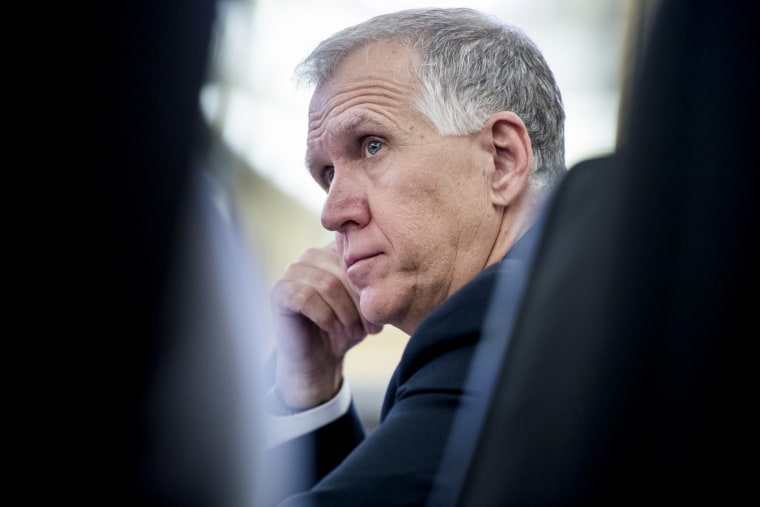 Here's what happened on Day 1 of Barrett hearings
Just catching up on Barrett's confirmation? Here are some highlights from Monday's hearing:
With eye on election, Democrats hammer health care on first day of Barrett hearing
Senate Democrats came to the first day of the Supreme Court hearings Monday with a singular message: Health care coverage and protections for millions of Americans are at risk if Barrett is confirmed.
Like a choir singing in unison, Democrats carried the same tune, in different vocal ranges. Each showed photos of constituents who have battled illness and stand to lose potential lifesaving treatment if the Affordable Care Act were axed, demonstrating an unusual level of harmony for a party not known for message discipline.
The relentless attacks were aimed at exploiting the GOP's Achilles' heel in the election — a pandemic-weary public that continues to cite health care as a top issue and trusts Democrats more on the topic. Without the votes to stop Republicans from confirming Barrett, 48, to a lifetime appointment on the court, Democrats are seeking to maximize their revenge at the ballot box.