Dr. Anthony Fauci on Tuesday cautioned that reopening state economies before COVID-19 prevention measures are in place could lead to "little spikes that might turn into outbreaks."
Fauci's warning, part of his testimony by video conference before a Senate hearing, stands in stark contrast to President Donald Trump's urging on Monday that the U.S. is prevailing against the coronavirus and should "reopen."
The number of deaths linked to COVID-19 has passed 80,000, a figure that Fauci admitted is probably lower than the actual death toll because some who died were not tested for the coronavirus.
Also Tuesday, House Democratic leaders pushed for a second round of payments of up to $1,200 per person in new coronavirus relief legislation that's headed for a vote Friday.
Its prospects in the Republican-run Senate are far from certain. Michael Zona, a spokesman for Senate Finance Committee Chairman Chuck Grassley, R-Iowa, called the overall legislation "DOA in the Senate," although he didn't comment specifically on the stimulus money.
Here's what to know about the coronavirus, plus a timeline of the most critical moments:
Download the NBC News app for latest updates on the coronavirus outbreak.
This live coverage has now ended. Continue reading May 13 coronavirus news.
In Nicaragua, express burials cast doubt on official coronavirus numbers, doctors and families say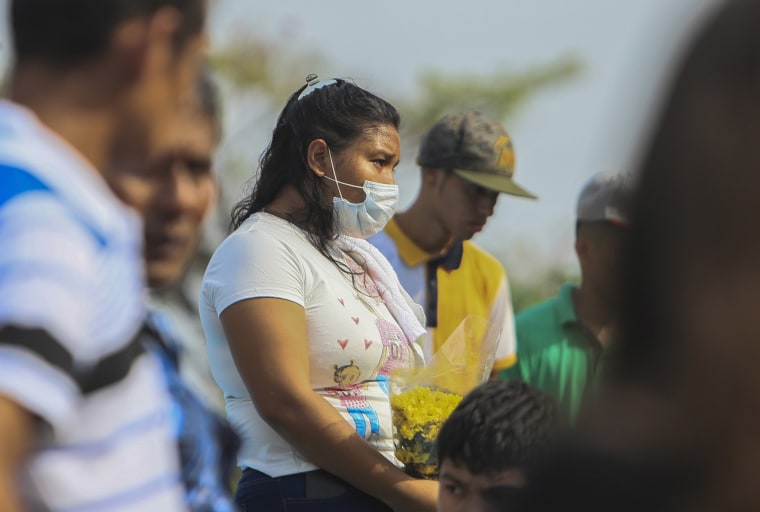 President Daniel Ortega's government has stood out for its refusal to impose measures to halt the coronavirus for more than two months since the disease was first diagnosed in Nicaragua. Now, doctors and family members of apparent victims say, the government has gone from denying the disease's presence in the country to actively trying to conceal its spread.
Kremlin spokesman falls ill with coronavirus
Kremlin spokesman Dmitry Peskov told Russian state news agencies Tuesday that he has been hospitalized after testing positive for COVID-19.
"Yes, I have fallen ill," he told that TASS news wire. "I am being treated." 
Peskov follows Prime Minister Mikhail Mishustin, who announced he was heading to a hospital on April 30 after testing positive.
It is not known when Peskov last came in contact with President Vladimir Putin. Putin has been seen in recent days taking one-on-one meetings without wearing a mask. 
Fauci set to testify to Congress on U.S. coronavirus response, reopening plans
Dr. Anthony Fauci and other top Trump administration officials are set to testify at a public Senate hearing Tuesday about the coronavirus response and plans for people to return to work and school.
Fauci, the nation's top infectious disease expert, is expected to testify by videoconference during the hearing before the Senate Health, Education, Labor and Pensions Committee because he has decided to self-quarantine after possibly being exposed to COVID-19.
This is the Democrats' first opportunity since March to grill top administration officials on their response to the coronavirus.
In an email to The New York Times, Fauci, director of the National Institute of Allergy and Infectious Diseases, said he plans to warn senators Tuesday of "needless suffering and death" if the country opens too early.
Pakistanis throng to shops as some businesses re-open
Pakistan began the limited opening of businesses and commercial activities this week, after two months of lockdown due to the coronavirus pandemic.
People thronged to markets and shops in large numbers, in many cases ignoring continuing government measures in place to stem the virus.
On Monday, 28 people died from COVID-19 bringing the total to 667 deaths. Pakistan has recorded almost 31,000 cases, officials said, mostly in the densely populated Punjab region.
Coronavirus pandemic could force a major U.S. airline out of business, says Boeing CEO
The airline industry is having an "apocalyptic" moment that could force a major U.S. carrier out of business, said David Calhoun, president and CEO of Boeing, in an interview with Savannah Guthrie on NBC's "TODAY" show that aired on Tuesday morning.
"The threat to the airline industry is grave. There's no question about it. And apocalyptic does actually accurately describe the moment," Calhoun said of the impact of the coronavirus.
Despite billions of dollars in emergency funding as part of the government's CARES Act, the future for the industry remains uncertain, with many airline executives forecasting traffic will not return to prior levels for three to five years, leading to questions about the survival of some major carriers.
"I don't want to get too predictive on that subject. But yes, most likely," Calhoun said when asked if he thought a major U.S. carrier would have to go out of business.
"Something will happen when September comes around. Traffic levels will not be back to 100 percent. They won't even be back to 25 percent. So there will definitely be adjustments that have to be made on the part of the airlines," Calhoun said.
Italy gives green light to reopening bars and restaurants
Bars, restaurants, hairdressers and barbers are set to open in Italy from Monday, May 18, as the government accelerates its plan to relax coronavirus lockdown measures. Previously, the government had planned for these businesses not to open until June 1.
Some 270,000 Italian commercial and service-sector firms risk shutting down for good unless economic conditions improve fast and there is a full reopening in October, retail association Confcommercio said Monday. The worst-hit sectors include clothing shops, hotels, bars, restaurants and businesses linked to entertainment and caring for people, as well as street sellers and travelling sales people.
According to ISTAT, the National Statistics Institute, the country's industrial production fell 28.4% in March with respect to February. All the main sectors showed big negative variations, ISTAT said
China eases U.S. tariffs and edges back to everyday life
More than 100 million students are back in classrooms, China's education ministry said on Tuesday, accounting for almost 40 percent of the country's students. 
Only four provinces have yet to re-open schools and universities — Beijing, Hebei, Hubei and Heilongjiang — Wang Dengfeng, a senior Ministry of Education official said, as the country edges back to normal. 
China has also continued a streak of no new deaths from coronavirus since mid-April, although it reported 32 new cases over the weekend, bringing its total cases to 82,919.
In a sign that strained relations with the U.S. may also be easing, China announced a suspension of tariffs on a number of U.S. goods from chemical elements to television cameras. 
UK's COVID-19 death toll tops 38,000, worst in Europe
The United Kingdom's COVID-19 death toll topped 38,000 as of early May, by far the worst yet reported in Europe, raising questions about Prime Minister Boris Johnson's handling of the coronavirus crisis.
Figures published by the Office for National Statistics for England and Wales brought the United Kingdom's official death toll to 38,289 as of May 3 — up nearly 6,000 in the space of a week, according to a Reuters tally of death registrations data.
While different ways of counting make comparisons with other countries difficult, the figure confirmed Britain was among those hit worst by a pandemic that has killed more than 285,000 worldwide.
Migrants stalled at U.S. border fear COVID-19 outbreak
U.S. officials, immigration attorneys and health care workers fear that border cities in Mexico, where many migrants live in crowded shelters where families share beds, may be a new hot spot for COVID-19 infections.
Migrant health care workers operating in the cities of Juarez, Matamoros and Tijuana say the conditions are right for a "public health disaster in the making."
WHO warns summer heatwaves pose greater risks for vulnerable in lockdown
The World Health Organization is warning that summer heatwaves amplified expected to hit Europe in the coming months will add to the risks facing those already vulnerable to coronavirus outbreak. 
High temperatures can trigger heatstroke and aggravate conditions such as cardiovascular, respiratory, kidney or mental illnesses, particularly among people who are older, infants, those working outdoors and people with existing illnesses, the health agency said in a news release Monday. A spike in heat-related illnesses also risks overwhelming already stretched health systems. 
People who are the most vulnerable are recommended to stay at home or in cool environments and avoid sun exposure in over 77-degree heat. The agency is also recommending that countries review their heat health plans to add measures to reduce transmission of COVID-19. 
Japan to approve its first antigen test kits despite false negatives
Japan will be approving its first antigen test kits on Wednesday to bolster its testing rate despite imperfections in the results. 
The Fujirebio tests will take only 30 minutes to process compared with the four to six hours required for polymerase chain reaction (PCR) tests currently being used, the health ministry said in a release on Tuesday. But it also risks showing false negatives when there isn't enough of the virus detected in a patient. 
The tests, which are 80 to 90 percent accurate for positive results, are intended to supplement ongoing PCR testing, the ministry said. As of Tuesday, Japan had reported 15,847 cases and 633 deaths, according to Johns Hopkins University. 
Sheriff: California inmates tried to infect themselves in hopes of release
A group of Los Angeles County inmates deliberately tried to infect themselves with the coronavirus in a mistaken belief they would be released if they were sick, the sheriff said Monday.
Video released Monday by Los Angeles County Sheriff Alex Villanueva appeared to show inmates at North County Correctional Facility in Castaic drinking from the same bottle of hot water and taking turns breathing through the same mask.
Villanueva called the behavior disturbing.
"As a direct result of the behavior seen in the video, 21 men tested positive for COVID-19 within a week," he said in a statement.
Organ transplants dive amid virus crisis, start to inch back
WASHINGTON — Organ transplants plummeted as COVID-19 swept through communities, with surgeons wary of endangering living donors and unable to retrieve possibly usable organs from the dead -- and hospitals sometimes too full even when they could.
Deceased donor transplants -- the most common kind -- dropped by about half in the U.S. and 90 percent in France from late February into early April, researchers reported Monday in the journal Lancet.
Transplants from living donors had a similarly staggering dive, according to the United Network for Organ Sharing, which runs the U.S. transplant system. There were 151 living donor transplants in the U.S. in the second week of March when a pandemic was declared. There were only 16 such transplants the week of April 5, according to UNOS.
It's too soon to know how many people waiting for a lifesaving organ transplant may die not from COVID-19 infection but because the pandemic blocked their chance at a new organ. Kidney transplants make up the vast majority of the drop, but heart, lung and liver transplants declined, too.
IRS sets deadline for relief payment by direct deposit
The Treasury Department and the IRS are urging taxpayers who want to get their economic impact payments directly deposited to their bank accounts to enter their information online by Wednesday.
The government has sent out about 130 million payments in the first four weeks of the program by both direct deposit and by mail.
The IRS said Monday that people should use the "Get My Payment " tool on the IRS website by noon on Wednesday to provide their direct deposit information.
After that time, the agency will begin preparing millions of files to send to Bureau of Financial Services for paper checks that will begin arriving through late May and into June. The government cannot provide direct deposit once the process of sending a paper check has commenced.