United Nations Secretary General Antonio Guterres warned Tuesday that the world faces a "generational catastrophe" because so many schools have been closed because of the coronavirus pandemic.
"The COVID-19 pandemic has led to the largest disruption of education ever," the U.N. chief said.
One billion students were left without classrooms when schools were closed in 160 countries across the globe and 40 million children "missed out on education in their critical pre-school year," he said.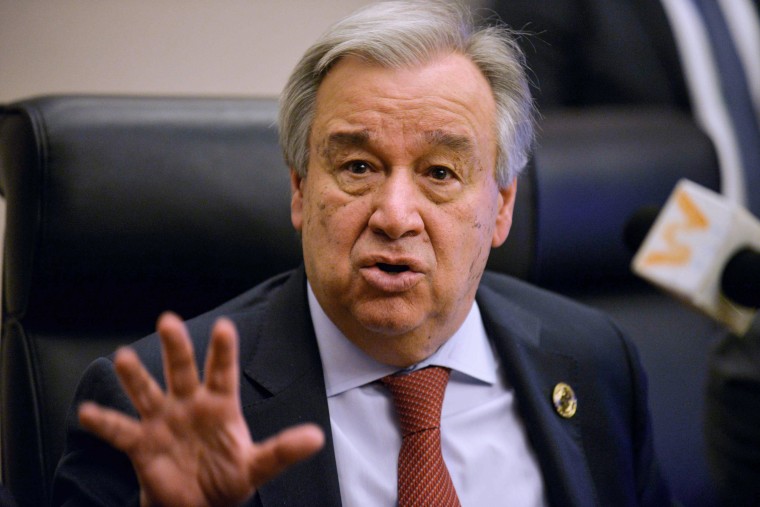 "Now we face a generational catastrophe that could waste untold human potential, undermine decades of progress, and exacerbate entrenched inequalities," Gutteres said. "Getting students back into schools and learning institutions as safely as possible must be a top priority."
The pandemic has killed nearly 700,000 people across the globe.
In the U.S., the question of how and when schools should reopen has pitted politicians versus parents versus teachers while President Donald Trump has pushed for a rapid reopening of schools even as the grim arithmetic scoffs at his prediction that the pandemic would "just disappear."
Trump on Tuesday suggested Democrats want to keep the economy hobbled and schools closed for political rather than safety reasons.
"Frankly, they want to keep it closed, I think, as long as possible," he told Lou Dobbs of the Fox Business Network. "Maybe for some good reasons but maybe also for political reasons. But we want it opened. We want the schools open, Lou. You know, young people have better immune systems than we do, Lou."
But now the U.S. is closing in on 5 million confirmed COVID-19 cases and 156,000 deaths, both world-leading numbers, according to the latest NBC News tally. And the president has had to acknowledge that reality.
"They are dying, that's true," Trump said of the exploding death rate in an interview recorded last week with Axios' Jonathan Swan. "And you have — it is what it is."
Arizona, Alabama, Florida, Mississippi and Louisiana -- all (except Louisiana) states led by Republican governors loyal to Trump that reopened before local health officials could flatten the coronavirus curve -- have seen the biggest increases in the number of new cases over the last two weeks when adjusting for population, NBC News has calculated.
Florida on Tuesday reported 290 new deaths, which is a new single-day record for the state.
It's so bad in Texas the Dallas public school system, which serves over 155,000 students, pushed its re-opening date to next month.
"We'd like to be open, but it looks highly doubtful," Dallas Independent School District Superintendent Michael Hinojosa said on MSNBC. "We'll have to look at, evaluate the numbers. But we were supposed to start August 17th, and the board supported us in moving it back to September the eighth."
While the elderly and infirm have been the most like to catch COVID-19, young children have also been getting infected. In Kentucky, among the 700 or so new confirmed cases reported Tuesday by Gov. Andy Beshear, 18 are children under the age of 5 and one is two months old.
Even states like New Jersey, Maryland, Massachusetts and Ohio, which are led by Democratic and Republican governors who did not follow Trump's lead and slowed the spread by shutting down the economy and schools early, are now reimposing -- or considering reimposing -- restrictions because their numbers are rising again.
In those states, the chief culprits appeared to be quarantine-weary young people and others who have refused to follow the recommendations of the federal Centers for Disease Control and Prevention to slow the spread of the disease, like wearing masks and practicing social distancing.
"People in Massachusetts have done a really good job in complying with a lot of the guidance and rule-making that's been put out there, " said Massachusetts Gov. Charlie Baker. "We've seen some slippage in a few places and I really hope we don't see that going forward because that is going to effect our positive test rate and it is going to to effect the way we move forward. It has to."
While Trump has rarely been seeing in public wearing a mask, Republican leaders like Mississippi Gov. Tate Reeves have now joined Democrats in urging their constituents to don them and –- unlike the president –- they are leading by example.
In other developments:
The Trump administration intends to supply nursing homes with rapid COVID-19 testing machines. But The Associated Press found a catch. "The government won't supply enough test kits to check staff and residents beyond an initial couple of rounds," the AP reported. Why is this a big deal? Because some 4 out of 10 coronavirus fatalities were elderly residents in nursing homes. "I think the biggest fear is that the instruments may be delivered but it won't do any good if you don't have the test kit," said George Linial, who advocates on behalf of nonprofit nursing homes.
Fewer than a third of Americans trust what Trump says about the pandemic, according to a new NBC News/Survey Monkey weekly tracking poll. Of those who believed Trump, most are Republicans. By contrast, a majority of Americans (51 percent) said they trust Dr. Anthony Fauci, the director of the National Institute of Allergy and Infectious Diseases and a frequent Trump target, along with the federal Centers for Disease Control and Prevention (55 percent) to provide accurate info about the crisis, although many GOP voters are disbelieving of Fauci or the CDC.
Many U.S. universities were sitting ducks when the pandemic hit because they went on hiring sprees and building booms as enrollment was plummeting and as some schools were facing a sex abuse reckoning and paying out huge settlements, according to an article produced in partnership with the Hechinger Report. Now the worst-hit schools are being forced to shed staffers and cut programs to keep from going under. "What this whole crisis has done to higher education is just exposed the cracks that have been there for over a decade of financial mismanagement," said Fernanda Borges Nogueira of the Roosevelt Institute, a think tank that advocates making colleges affordable and more accessible.
The famed Indianapolis 500 race is a go, but there won't be anybody in the stands cheering on the drivers. "It is with great regret that we announce the 104th Running of the Indianapolis 500 will take place on Aug. 23 without fans," the Indianapolis Motor Speedway said in a statement. The original plan was to limit attendance to 25 percent. But the coronavirus crisis has worsened in Indiana, especially in Marion County, where the track is and where the number of cases have tripled in recent weeks. "While hosting spectators at a limited capacity with our robust plan in place was appropriate in late June, it is not the right path forward based on the current environment," the speedway said.
A grieving Texas widow blamed Trump, her state's governor, Greg Abbott, and the "ignorant, self centered and selfish people" who refuse to wear masks for the coronavirus death of her 79-year-old husband David Nagy. "The blame for his death and the deaths of all the other innocent people falls on Trump, Abbott and all the other politicians who did not take this pandemic seriously and were more concerned with their popularity and votes than lives," Stacey Nagy wrote in a scathing obit. Also guilty, she wrote, are all those who insisted "their 'right' not to wear a mask was more important than killing innocent people. Dave did everything he was supposed to do, but you did not. Shame on all of you, and may Karma find you all!"
CORRECTION (Aug. 6, 2020, 1:20 p.m. ET): An earlier version of this article misidentified Lou Dobbs' affiliation. He is with Fox Business Network, not Fox News.