BARCELONA, Spain — The dead, piled up around the globe, tell a tale.
When the outbreak hit Spain, coffin makers couldn't keep up with the demand. In Italy, the bodies were stacked unceremoniously in the back of military vehicles and hauled away. As the coronavirus death toll in the United States mounts, experts can only estimate as to how high it will go.
Accusations flew across continents as governments accused each other of lying about their coronavirus casualties.
So while the official global death toll stands at more than 126,000 on Wednesday, according to Johns Hopkins University, that number represents a mere estimate. Only countries with extensive testing can confirm their mortalities and, even in those with the necessary medical technologies, the simple act of counting the dead reflects the chaos that COVID-19 has wrought.
Accurate counts are critical to understanding where to place scarce resources, such as ventilators and personal protective equipment. They are also one of the few ways to understand how and where the disease will likely intensify.
"We don't test, we don't know who counts," said Gerardo Chowell, professor of epidemiology and biostatistics at the Georgia State University School of Public Health in Atlanta. "The number of confirmed deaths in Korea means something different than the number of confirmed deaths in Mexico. (South) Korea quickly ramped up testing rates and they have tested all, if not all of the suspected cases. In Mexico, that has not been the case."
NBC News takes a look at how some of the world's leading health authorities have tried, and often failed, to count their dead from the pandemic.
United States
Official deaths according to Johns Hopkins University: 24,429
On Feb. 28, a Washington state man in his 50s became the first confirmed coronavirus death in the U.S. As of April 14, the nation's death toll stood at more than 24,000, making it the highest in the world.
And epidemiologists in the U.S. suspect that, due to the general lack of testing capacity and varying standards from state to state, this number may be an underestimate. Earlier this year, the percentage of deaths due to pneumonia nationwide was declining.
By mid-March, pneumonia-related deaths were above the threshold that would be considered alarming. Normally, a decline in flu deaths would coincide with a decline in pneumonia fatalities. In Washington state, Florida and New York, pneumonia deaths increased even as deaths due to the flu were declining, according to data collected by the Centers for Disease Control and Prevention.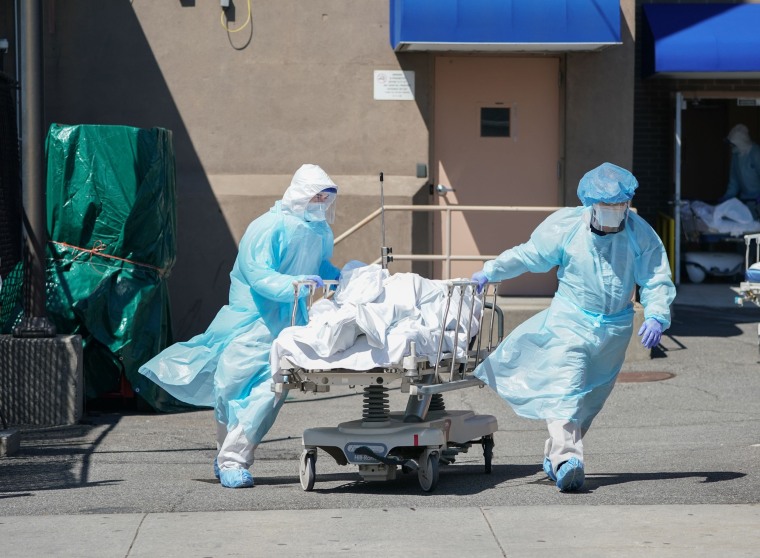 "In the United States, testing started very slowly which allowed the virus to spread silently through the population," Chowell said. "And then obviously when people start to die, they are classified as a death from a respiratory disease or flu-like symptoms who may also have hypertension or diabetes. Those deaths will likely not get counted when in reality it was the virus that triggered their death."
The CDC came to pretty much the same conclusion: "Deaths due to COVID-19 may be misclassified as pneumonia deaths in the absence of positive test results, and pneumonia may appear on death certificates as a comorbid condition. Thus, increases in pneumonia deaths may be an indicator of excess COVID-19-related mortality."
As with some countries in Europe, the U.S. is working to establish a more real-time understanding of deaths that may be coronavirus related but have been attributed to other causes. Normally, this kind of analysis — called excess mortality surveys — takes a year to develop.
Italy
Official deaths according to Johns Hopkins University: 21,067
There are varying theories as to the identity of the first person to bring the coronavirus into Italy.
A team of researchers in Milan believes the person to be an asymptomatic carrier who likely brought the disease in from Munich. Italy's first officially diagnosed patient was a 38-year-old married man who had never been to China, where the coronavirus was first identified. The man, identified by the Italian National Institute of Health only as Mattia, was athletic and resided in the small town of Codogno, south of Milan according to Flavia Riccardo, an epidemiologist at the institute.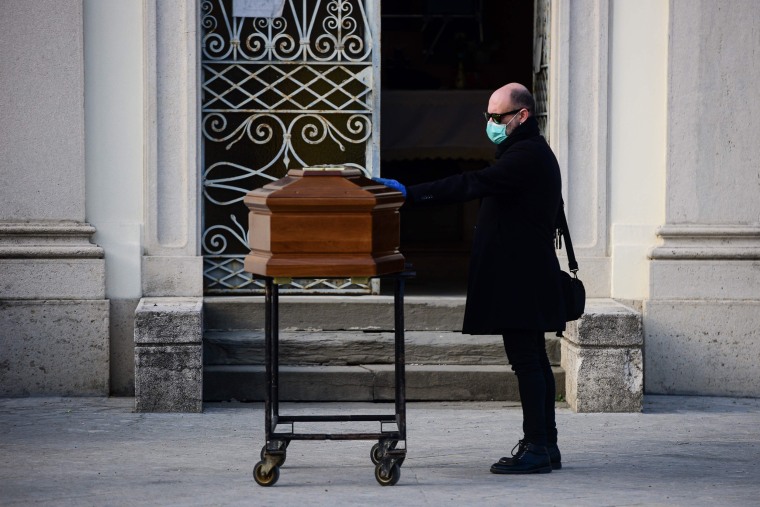 Local doctors thought he had contracted the flu Feb. 21. His pregnant wife became infected. And when he went to the hospital, the coronavirus was passed on to doctors, nurses and other patients. From there, the virus spread widely.
Italy has reported more than 21,000 fatalities. Some claim that it may be one of the few countries in the world whose actual coronavirus deaths may be fewer than officially stated. Others think just the opposite. And this is typical of the confusion that ensues when a curtain of death descends over a period of just a few weeks.
On the one hand, the Italian health system counts not only people who died directly from the coronavirus but also those who died of other causes, although they may have contracted the virus. Dr. Walter Ricciardi, the scientific adviser to Italy's health minister, said last week.
"Only 12 percent of death certificates have shown a direct causality from coronavirus," he said in a press conference.
Full coverage of the coronavirus outbreak
On the other hand, it is unclear the extent to which people who have died in their homes have been counted. The procedures mandate postmortem testing. In the chaos that ensued when the outbreak hit, however, it was not at all clear that procedures were being followed, according to Marina Davoli, who directs the department of epidemiology for the Italian region of Lazio.
The regional epidemiology department of Lazio has long been monitoring excess mortality in Italy for the national ministry of health. They have found that, between Feb. 1 and March 21, excess fatalities in Milan increased by 36 percent and in Brescia by 88 percent over the previous year.
Most of these deaths are attributable to the coronavirus, and the virus hit after a previously mild winter.
"We have a pool of old people who were killed immediately," Davoli says.
At the same time, epidemiologists are concerned that a portion of the excess deaths may be due to a general fear of going to the hospital in the midst of the pandemic.
Spain
Official deaths according to Johns Hopkins University: 18,255
Spain's official tally, the third-highest after the United States and Italy, is grim enough. And yet these figures likely do not reflect the true extent of how badly the virus has ravaged the nation.
When the pandemic first arrived, Spain did not take into account those who have died in their homes or in nursing facilities. Soldiers working for emergency response units tasked to disinfect the country's nursing homes encountered horrible scenes of the dead "completely abandoned, or even dead, in their beds," Defense Minister Margarita Robles said recently.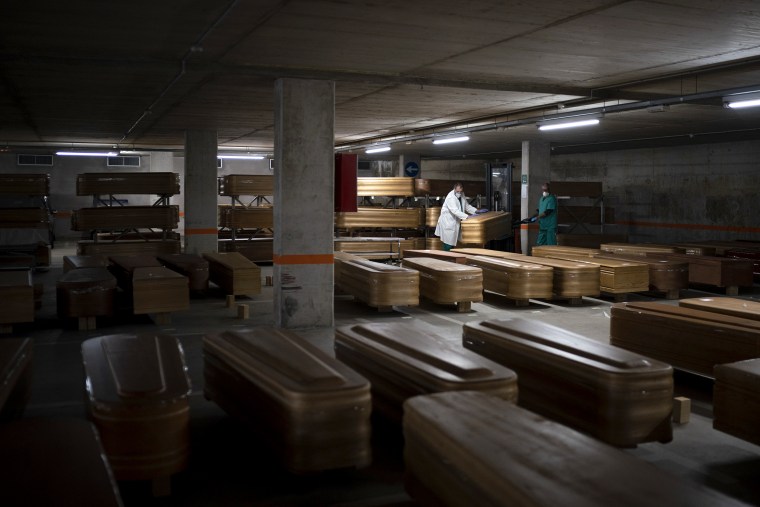 More bodies were found in subsequent days, including 25 in a nursing home in the posh district of Chamartin in Madrid.
The lack of molecular testing kits means the overall number of dead may be underreported. In some parts of the country, the number of dead was 70 percent higher than previous years even taking into account coronavirus mortalities, according to research conducted by the Carlos III Health Institute, published in the El Pais newspaper.
The institute conducted an excess mortality survey, which, in the absence of blanket testing, gives a more accurate indication of coronavirus fatalities.
France
Official deaths according to Johns Hopkins University: 15,729
At the outset of the crisis, France also undercounted its dead. Until recently, authorities only counted coronavirus deaths from the 600 public hospitals in the country. Those who died at home or in the nation's 7,500 facilities for the elderly were not included in the official tally of coronavirus deaths.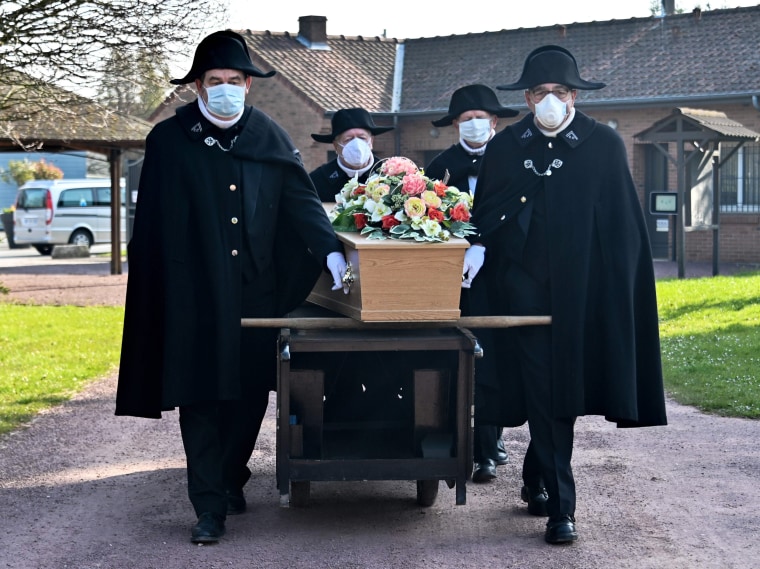 In the wake of multiple deaths in French nursing homes, President Emmanuel Macron announced that deaths at these centers would now be tallied. On April 6, French Health Ministry announced that 1,000 health establishments were submitting data on mortalities.
Like Spain, France is moving quickly to fortify its system of reporting excess mortalities. While there is a two-week delay in getting this information, it does give French authorities the capacity to provide a good estimate of deaths from all causes during the epidemic. A quick turnaround means that French authorities will be able to get a better idea of possible coronavirus deaths that may not have been otherwise registered.
United Kingdom
Official deaths according to Johns Hopkins University: 12,107
Like Spain and France, the U.K. appears to have had a problem counting the number of deaths in nursing homes. On Tuesday, the Office for National Statistics said 5,979 people in England had died by April 3 with COVID-19 — 15 percent more than numbers published by the health service.
Public Health England Medical Director Yvonne Doyle has said that while daily figures record only hospital deaths, the ministry is working to include statistics from nursing homes into their official tally.
"We just need to be absolutely clear that the cause of death that is attributed is correct and that is what takes time on the death certificate to get right," she said in a news conference. "But we would like to have much more rapid data, preferably on a daily basis, and that is what we are working towards."
Even before the new figures, the official British death toll was the fifth-highest globally and a senior scientific adviser to the government has said the country risks becoming the worst-hit in Europe.
China
Official deaths according to Johns Hopkins University: 3,345
China, where the outbreak began in 2019, has reported 83,351 cases of infection. Long lines and stacks of ash urns greeting family members of the dead at funeral homes in Wuhan in Hubei province, where the outbreak began, showed the toll the pandemic has wrought even as the government has eased the lockdown in some areas while tightening it in others.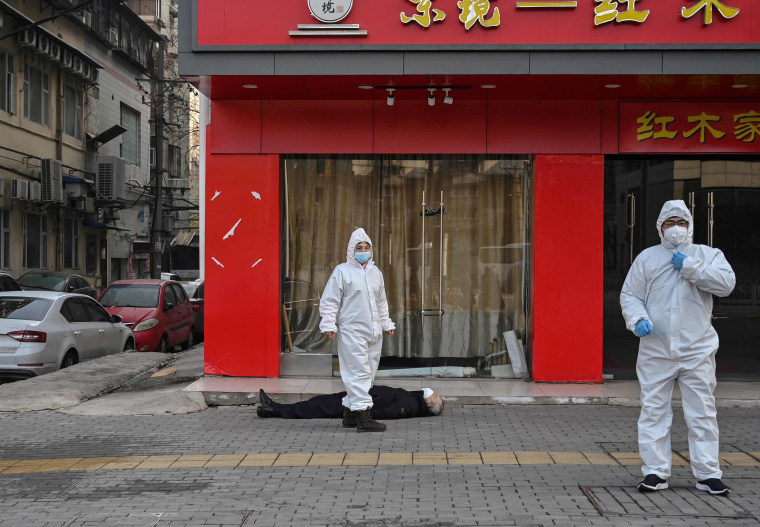 China's National Health Commission updates its death toll each day. The numbers of confirmed and suspected cases and deaths should be filed by the medical and health organizations (those that are authorized to receive coronavirus patients) directly into the commission's internal system. When some of those hospitals cannot log into the system, they can report to the local disease control center, which will then file the information. This means they count the deaths reported by authorized hospitals.
The manner of counting the dead has become a political question as the U.S. and China trade accusations during the pandemic.
President Donald Trump, who has in the past referred to COVID-19 as a "Chinese" virus, said on April 1 that China's numbers appear to be suppressed — a claim Beijing denies.
Download the NBC News app for full coverage and alerts about the coronavirus outbreak
"Their numbers seem to be a little bit on the light side, and I'm being nice when I say that," he said at a daily coronavirus briefing at the White House. He did not, however, cite specific evidence. The Chinese government has said that Trump's accusations are an effort to deflect attention from Washington's mishandling of the crisis.
U.S.-China relations have suffered under Trump, who started a trade war with the world's second-largest economy. His administration alleges that Beijing initially tried to cover up the coronavirus outbreak — a claim Chinese officials deny. Meanwhile, some Chinese officials have fueled bogus claims that the virus was an American invention.
South Korea
Official deaths according to Johns Hopkins University: 225
Because of a rigorous testing regime, South Korea's mortality statistics are likely the most accurate in the world, said Daniel Lopez-Acuna, an epidemiologist who spent 30 years at the World Health Organization. South Korea's testing regime, which is responsible for roughly 400,000 molecular tests, has enabled it to "trace, test, treat" a large proportion of the population relative to other countries. This has also kept the number of reported infections at 10,591.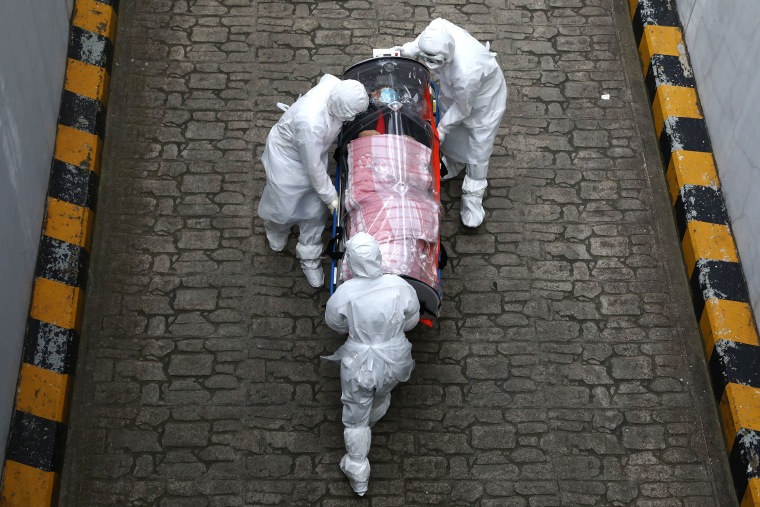 Russia
Official deaths according to Johns Hopkins University: 198
Officially at least, the coronavirus outbreak in Russia has been slower to take hold than in Western Europe.
Nevertheless, Moscow and several other cities and regions are on strict lockdown, with residents allowed to leave their apartments only for necessities. A nationwide stay-at-home regime has been extended until April 30. Authorities are hoping they've prevented the explosion of cases and deaths seen elsewhere in Europe.
Last month, Russian President Vladimir Putin attributed this to "prompt measures taken proactively" in the first few weeks of the crisis. "We managed to contain massive — and I would like to underscore — massive penetration and spread of the infection in Russia," he said March 17, when Russia still had reported just 114 cases and zero fatalities.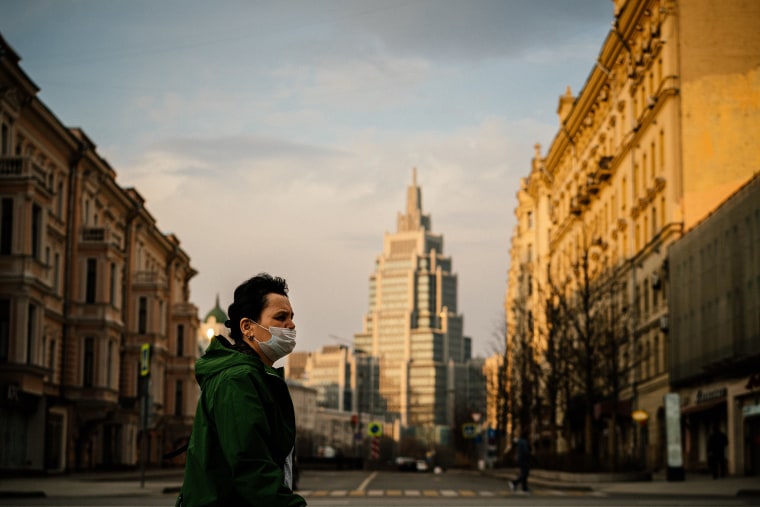 Between April 8 and April 14, the number of cases more than doubled from 8,672 to 24,490 according to Johns Hopkins University. The death toll remains low but has also more than doubled over the past week from 68 confirmed deaths on April 8 to 198.
Groups opposed to Putin have, since early in the crisis, insisted that the government is lowballing its coronavirus statistics. Ivan Konovalov, a spokesman for the Alliance of Doctors, a professional organization politically allied with the Russian opposition, said early on that the official statistics do not conform with reality.
"According to a few accounts, a portion of the coronavirus cases are being masked as so-called community-transmitted pneumonia," he told NBC News last month. "Patients are diagnosed with 'pneumonia' without being tested for coronavirus, which could have caused it."
Reuters contributed to this report.