WASHINGTON — If it's Monday ... President Biden marks the anniversary of "Bloody Sunday" march in Selma, Ala. ... New Hampshire Gov. Chris Sununu, on "Meet the Press," declares that Trump won't be Republican nominee. ... Former Maryland Gov. Larry Hogan announces he won't enter 2024 GOP presidential race. ... Nevada Democrats vote out a democratic socialist leadership. ... And the Texas GOP censures Rep. Tony Gonzales, R-Texas, for voting for bipartisan gun law passed after Uvalde shooting.
But first: This past weekend featured two very different speeches by the co-frontrunners in the very early 2024 Republican presidential contest. 
At CPAC outside of D.C. on Saturday, Donald Trump cast himself as the party's outsider, despite serving as the nation's president for four years. "We are never going back to the party of Paul Ryan, Karl Rove and Jeb Bush," he said, per NBC's Henry J. Gomez and Natasha Korecki. 
Trump promised to serve as "retribution" for Republicans who've felt "wronged" by Democrats and the political system. "If you put me back in White House, their reign is over," he said. "In 2016, I declared, 'I am your voice.' Today, I add, I am your warrior. I am your justice. And for those who have been wronged and betrayed, I am your retribution."
And he made a not-so-subtle dig at Florida Gov. Ron DeSantis, who voted to restructure entitlement programs when he was in Congress. 
"We're not going back to people that want to destroy our great Social Security system," Trump said in his speech. "Even some in our own party." 
He added, "I wonder who that might be."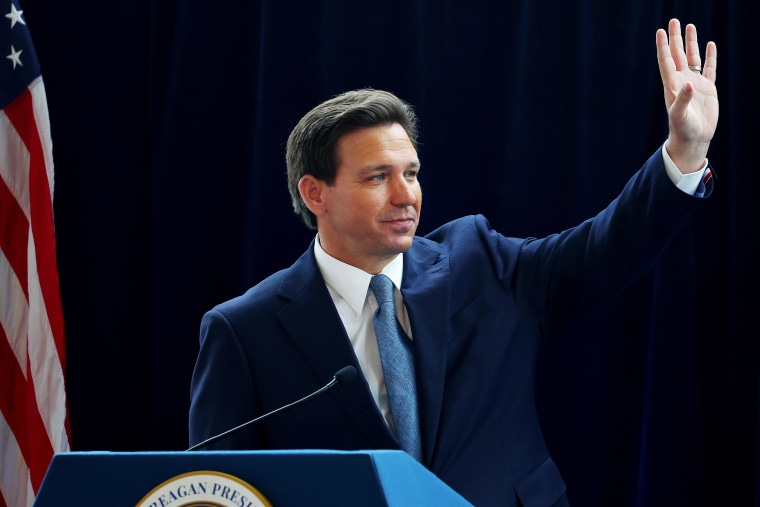 Meanwhile, DeSantis — who spoke Sunday at the Ronald Reagan Presidential Library in California — took aim at liberal states and their governments.
"If you look over the last four years, we've witnessed a great American exodus from states governed by leftist politicians imposing leftist ideology and delivering poor results. And you've seen massive gains in states like Florida who are governing according to the tried and true principles that President Reagan held dear." 
And DeSantis, who still hasn't officially announced his 2024 plans, took his own not-so-subtle shot at Trump, as NBC's Hallie Jackson observed on "Today" this morning.
"You didn't see our administration leaking like a sieve. You didn't see a lot of drama or palace intrigue. What you saw was surgical precision execution day after day after day."
We wonder who that might be.
Headline of the day
Data Download: The number of the day is … 57
That's how many members of the Texas State Republican Executive Committee voted to censure GOP Rep. Tony Gonzales over the weekend, with just five opposing the resolution, per NBC News' Mirna Alsharif. The censure was part of a state party rule that allows the party to condemn elected officials "who violate Texas Republican Party principles and priorities."
Members of the state party committee chastised Gonzales for his vote for bipartisan gun control legislation following the tragic shooting at an elementary school in Uvalde, Texas, which is in Gonzales' House district. Republicans also took issue with Gonzales' votes to protect same-sex marriage and oppose the House rules package. 
Other numbers to know:
28: The number of cars on a Norfolk Southern train that derailed near Springfield, Ohio, over the weekend. The train was not carrying any hazardous chemicals.
62%: The share that former President Donald Trump won in CPAC's presidential straw poll this past weekend. 
2: The number of Ukrainian pilots who traveled to the U.S. to undergo assessments to determine how long it would take to train them to fly attack aircraft, NBC News' Courtney Kube and Carol E. Lee report. 
7.2%: The increase in spending on defense that China is planning this year, as tensions with Taiwan rise. 
3: The number of people convicted for assaulting Metropolitan Police Officer Michael Fanone on Jan. 6, 2021, as a third rioter pled guilty on Friday.
$250 million: The amount of penalties that former President Donald Trump faces as part of a civil lawsuit against him. Trump is seeking to delay the suit, filed last year, by months in a new court filing. 
$3.15 million: The amount for which Paul Manafort plans to settle with the Justice Department in a civil suit over his foreign bank accounts, the Washington Post reports.
300%: The amount that prices for food at secondary and primary schools was up in January from the year before, NBC News' Sara Ruberg reports. 
Eyes on 2024: A tale of two anti-Trump governors
With the GOP presidential field continuing to take shape, two governors took different paths over the weekend as they weighed their own runs for the White House. 
Former Maryland Gov. Larry Hogan, a vocal critic of former President Donald Trump, announced he won't seek the GOP presidential nomination, arguing that his candidacy could contribute to a Trump victory in the primary. 
"To once again be a successful governing party, we must move on from Donald Trump," Hogan said in a statement. "There are several competent Republican leaders who have the potential to step up and lead. But the stakes are too high for me to risk being part of another multicar pileup that could potentially help Mr. Trump recapture the nomination. 
Another Trump critic, New Hampshire Gov. Chris Sununu, is still weighing a run for president. He told "Meet the Press" on Sunday that there "will be plenty of time" to make his decision, and he stressed that Trump is "not going to be the nominee; that's just not going to happen." But he did say he would support the nominee, whoever that may be. 
"Thank you for your service. We're moving on," Sununu said of Trump. "I just don't believe the Republican Party is going to say that the best leadership for America tomorrow is yesterday's leadership."
In other campaign news:
A bridge to a second term? NBC News' Peter Nicholas and Scott Wong report on how President Joe Biden appears to be banking that his administration's infrastructure push will help him at the ballot box next year. 
Biden gives Dems a clear signal on crime: And another story from NBC News' Alex Seitz-Wald and Carol E. Lee looks at how Biden's decision to let Congress block the Washington D.C. city council's attempts to change the city's criminal code is a clear message about how he thinks his party should handle crime. 
Back-up plan: While Illinois Democratic Gov. J.B. Pritzker told CBS News that no "serious" Democrat will run against Biden in the primary, the New York Times is out with a new profile on how "the Democrats' SOS candidate keeps his options open." 
Seizing the means of party production: Nevada Democrats voted out their democratic socialist leadership over the weekend, including nixing state Chair Judith Whitmer in exchange for state Assemblywoman Daniele Monroe-Moreno. 
He's legislating: Politico reports how DeSantis and the Florida legislature are posturing ahead of a pivotal legislative session where Republicans are expected to deliver their governor even more legislative victories as he readies a possible presidential bid. 
She's running: Author Marianne Williamson on Saturday announced she's running for the Democratic presidential nomination again. 
He's messaging: When asked by CNN about his timeline to decide whether he's running for president, former Arkansas Republican Gov. Asa Hutchinson said that "March is a message month" while "April is a decision time." 
He's in: Shawn Wilson, the former secretary of Louisiana's Transportation and Development Department, became the first high-profile Democrat to jump into the governor's race on Monday.
He's trying to win the Senate: The Washington Post reports on the careful tightrope that Montana Republican Steve Daines, the chairman of the Senate GOP's campaign arm, is walking as he looks to channel his party's united energy toward flipping the Senate majority.  
ICYMI: What else is happening in the world
Top congressional leaders were "given a flavor" of what was in the classified documents found at Biden's, Trump's, and former Vice President Mike Pence's properties, Rep. Jim Himes, D-Conn., told "Meet the Press."
Former Brazilian president Jair Bolsonaro told NBC News over the weekend that he plans to return to Brazil later this month.
Tens of thousands of Israelis protested in the streets on Saturday against Israeli President Benjamin Netanyahu's plan for reforms aimed at limiting judicial power.
Transportation Secretary Pete Buttigieg acknowledged to CNN that some criticism of his handling of the East Palestine, Ohio, train derailment was fair.