Highlights from Garland's appearance on Capitol Hill:
The House Judiciary Committee, led by chair Rep. Jim Jordan, R-Ohio, is hearing from Attorney General Merrick Garland. The hearing began at 10 a.m. ET and lasted about five hours.
Jordan and Republicans focused heavily on how the Justice Department has handled its investigation and prosecution of Hunter Biden on felony gun charges. That investigation is being led by special counsel David Weiss.
Garland's appointment of special counsel Jack Smith, who has indicted former President Donald Trump twice on the federal level, was also a major topic of GOP questioning.
Democrats, meanwhile, defended the DOJ, saying Republicans used the hearing to defend Trump and arguing that GOP calls to defund the FBI would be harmful to national security.
The hearing came as House Republicans pursue an impeachment inquiry into President Joe Biden.
Jordan and Republicans have accused the Biden administration more broadly of "weaponizing" the DOJ against conservatives.
Protester interrupts end of hearing, calling Garland 'a liar'
After the hearing ended, a protester was heard yelling, "Merrick Garland you're a liar ... [you] need to repent before God."
During the hearing, Garland spoke about rhetoric being weaponized to inspire violence and threats against officials.
"As I've already said, the agents of the FBI and prosecutors understand that criticism comes with their job and they will continue to do their jobs without fear or favor. But the idea of threatening their safety or their families is just abhorrent," Garland said.
The hearing has ended
After roughly five hours of testimony, Jordan ended the hearing.
White House says hearing is a 'distraction' by House Republicans
The White House issued a statement claiming House Republicans are using Garland's hearing as a distraction from an impending government shutdown.
"Don't be fooled: they want to distract from the reality that their own chaos and inability to govern is going to shut down the government in a matter of days, hurting our economy and national security and jeopardizing everything from troop pay to fighting fentanyl," Ian Sams, a White House spokesperson, said.
The shutdown will be the result of House Republicans' inability to pass legislation due to their demands for "devastating cuts," Sams said.
Sams called the hearing "a circus of a hearing full of lies and disinformation with the sole goal of baselessly attacking President Biden and his family."
"These sideshows won't spare House Republicans from bearing responsibility for inflicting serious damage on the country," Sams said.
GOP Rep. Nehls brings up Viktor Shokin's firing, says Garland should be impeached
Rep. Troy Nehls, R-Texas, pressed Garland on Biden's involvement in the firing of Ukrainian prosecutor Viktor Shokin — a popular GOP talking point that was part of Trump's first impeachment.
Shokin was investigating Burisma, the Ukrainian gas company at which Hunter Biden was a board member. Later, Joe Biden, while serving as vice president, had successfully pushed for Shokin's removal.
But there's no evidence connecting those two things. There was, however, wide acceptance among Western nations at the time that Shokin was himself corrupt, going soft on targets of investigation and had to go; Biden was far from the only political leader in the U.S. or allied countries who wanted him gone.
Bloomberg reported that Shokin's investigation into Burisma was long-dormant when Biden called for his ousting. Trump and his lawyer Rudy Giuliani had tried to find evidence tying these issues together, pressing Ukraine to do so in a phone call that got the former president impeached for the first time.
Garland hears first real Democratic criticism from Rep. Cori Bush
Rep. Cori Bush, D-Mo., offered Garland his first serious criticism from a Democrat in today's hearing, citing a lack of action on mass incarceration, the death penalty and other issues under the Biden DOJ.
Bush, elected in 2020 and known in particular for advocating for Black Lives Matter, slammed Garland for the first increase in the federal incarceration rate in nearly a decade.
"The reality is you preside over most of the federal system of mass incarceration and every day in courtrooms around the country, including St. Louis, prosecutors who ultimately report to you are continuing to disproportionately prosecute disproportionately Black and brown people for disproportionately low-level immigration and narcotics and firearm offenses," Bush said.
"I'm also incredibly disheartened that the department has continued to pursue the death penalty, despite the president's pledge to end it. I urge the department to reverse course," Bush continued.
She asked Garland to commit to work with her staff on those and other issues.
Bush ended with a fiery statement against her Republican colleagues and Trump.
"Finally, I want to remind everyone yet again, that this is what good faith oversight looks like, not the Republican playbook of running interference for twice-impeached, four-times indicted white supremacist demagogue who would rather overthrow our democracy than admit he lost an election," Bush said.
The hearing is taking another pause for House votes
It's unclear how long this recess will be.
GOP Rep. Buck breaks with his party again and defends Garland
Conservative Rep. Ken Buck, R-Colo., who has bucked his own party by saying there is not enough evidence to impeach President Biden, appeared to defend Garland during the hearing.
Buck noted that Garland sought the death penalty against Oklahoma City bomber Timothy McVeigh, and explained that Garland would have been blamed by members of his party no matter what decision he made with respect to Weiss and the special counsel investigation.
"You know what people would have said if you had asked for U.S. Attorney Weiss' resignation when you became attorney general?" Buck asked Garland. "They would have said that you were obstructing the Hunter Biden investigation. That you were firing a Republican appointee so that you could appoint a Democrat to slow walk this investigation and lose the leadership of that investigation."
Still some more hearing to go
The House is holding votes around 1:50-2 p.m. ET, and members are expecting to come back to the hearing after that.
The committee is back in session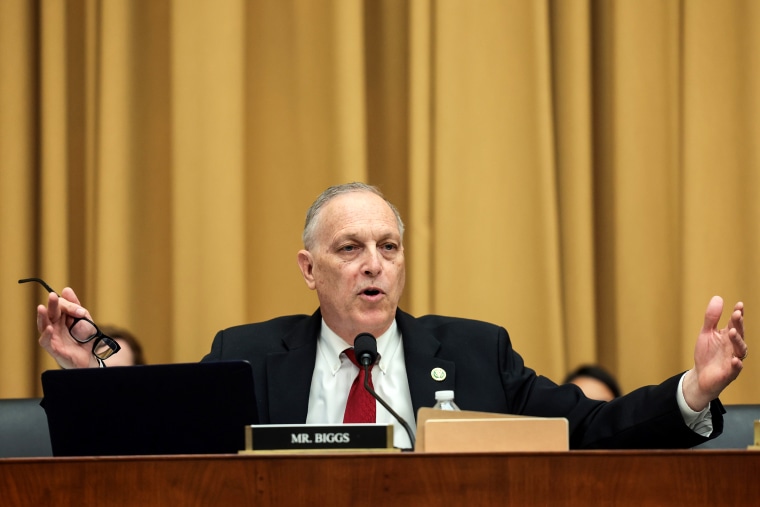 Rep. Andy Biggs, R-Ariz., is starting the questioning.
Asked to respond to Trump, Garland: 'No one has told me to indict'
Rep. Adam Schiff, D-Calif., brought up Trump's allegation on NBC's "Meet the Press" that Biden told Garland to indict the former president and asked Garland to respond.
"No one has told me to indict — and in this case, the decision to indict was made by the special counsel," Garland said, referring to Jack Smith.
"So that statement the president made on Sunday was false?" Schiff asked.
"Just going to say again that no one has told me who should be indicted in any matter like this and the decision about indictment was made by Mr. Smith," Garland said.   
Garland grows angry, emotional in clash with Rep. Van Drew
Garland raised his voice and grew emotional after Rep. Jeff Van Drew, the Democrat-turned-Republican from New Jersey, attacked the attorney general and suggested he should be held accountable for an FBI field office memo that raised red flags about "radical traditional" Catholics within the bureau.
"The idea that someone of my family background would discriminate against any religion is so outrageous! So absurd!" Garland shot back at Van Drew, one of the rare times the mild-mannered attorney general has ever shown emotion.
Garland's family is Jewish and he has relatives who were killed in the Holocaust, which he mentioned in his opening statement.
"Mr. Attorney General, it was your FBI that did this. It was your FBI that was sending … undercover agents into Catholic churches," Van Drew interjected.
"Both I and the director of the FBI have said that we were appalled by that memo," Garland replied.
"Are they extremists or not, Mr. Attorney General?" Van Drew asked repeatedly after Garland wouldn't answer directly. "Say no if you think that was wrong."
"Catholics are not extremists. Nooo," Garland said.
The committee is taking another short recess
Jordan suggested this will be the last recess and they'll return for final questions from members.
Jayapal says GOP-led Judiciary panel has become 'a soapbox for political conspiracy theorists'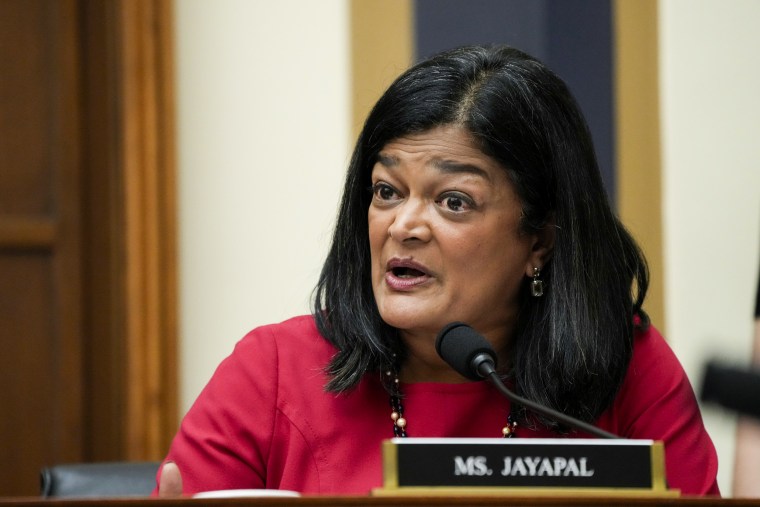 Rep. Pramila Jayapal, D-Wash., thanked Garland for the DOJ's prosecution of Jan. 6 rioters who attacked the Capitol and bashed her fellow Republicans and their handling of Wednesday's hearing.
"This is a night and day transformation from a Justice Department that was constantly used by Donald Trump for his own political gain. And it is my firm belief that we have to hold those accountable who tried to destroy our country, including the former president, or we risk losing our country altogether," Jayapal said.
"So I thank you for your steadfast leadership," she continued. "It is just sad that this committee has also been transformed into a soapbox for political conspiracy theorists instead of focusing on the really important issues that the American people care about."
Schiff goes after Jordan over Jan. 6, Trump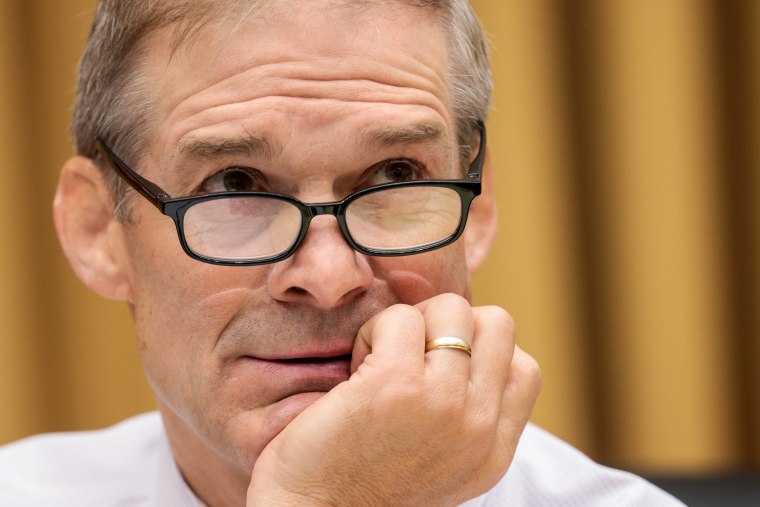 Rep. Adam Schiff, D-Calif., went right at Jordan, accusing him of using his committee to interfere in the multiple prosecutions of Donald Trump and trying to help him stay in power on Jan. 6 after he lost the 2020 election to Joe Biden.
"The chairman would abuse the power of this committee by trying to interfere in the prosecution of Donald Trump by trying to use the committee's power of subpoena to compel criminal discovery in effect, making the committee a kind of criminal defense firm for the former president," said Schiff, who led the Democrats' prosecution of Trump during his first impeachment trial and was censured and booted from the Intelligence Committee after Republicans took back power in the House this year.
"Through Mr. Jordan's actions, he would establish the principle that the rule of law should apply to almost everyone — just not the leader of his party," Schiff continued. "According to this alternate proposition, if you were the president of the United States, and you lose your re-election, you can violate the law and Constitution to try to stay in power. And if you are successful, well, then maybe you get to be president for life. And if you fail, there is no repercussion."
He added, "This proposition is also well known to the world, and it is called dictatorship."
Rep. Massie brings up Ray Epps, Jan. 6 defendant at center of conspiracy theories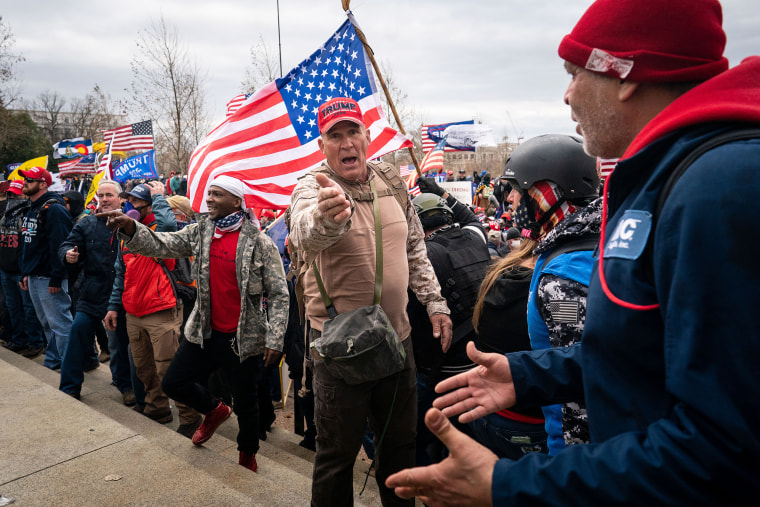 Rep. Massie, R-Ky., pressed Garland on the Jan. 6 attack on the Capitol, asking how many federal agents or assets were on the ground that day and raising the case of Ray Epps, a man at the center of many Capitol attack conspiracy theories.
"Isn't that a wonderful coincidence?" Massie said, suggesting that DOJ charged Epps two years after the investigation intentionally ahead of Garland's appearance in this hearing.
He also called the misdemeanor charge against Epps, who was indicted Tuesday, "a joke."
Epps is charged with disorderly conduct on Capitol grounds but is not accused of entering the building. He was seen on video telling people to go into the Capitol, and that video, along with the fact that Epps was removed from the FBI's Capitol violence page, led to conspiracy theories that Epps was a federal informant.
Tuesday's indictment proved otherwise and Garland said again in today's hearing that Epps doesn't work for and isn't an informant for the FBI. Epps is expected to enter a plea agreement in a hearing later today.
Still, Massie suggested there was something fishy about Epps being charged with a misdemeanor.
"You got the guy on video. He's saying go into the Capitol. He's directing people to the Capitol before the speech ends. He's at the site of the first breach. You've got all the goods on him 10 videos, and it's an indictment for a misdemeanor," Massie said. "The American public isn't buying it."
Most of the thousands who unlawfully gathered on the restricted grounds of the Capitol have not been charged, just those who engaged in some sort of aggravating conduct, like attacking police or destroying property.
Video shows that Epps attempted to de-escalate tensions between the police and rioters. He was, however, seen with his hands on a giant Trump sign that rioters had jammed into the police line.
Massie suggests Garland is in contempt of Congress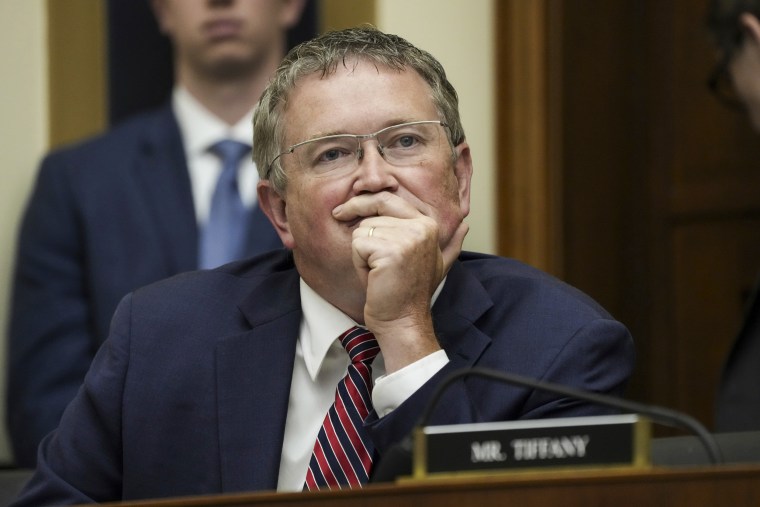 Rep. Thomas Massie, R-Ky., suggested during his questioning of Garland that the attorney general is in contempt of Congress because Republicans aren't satisfied with his answers regarding the Hunter Biden investigation.
Massie implied that Garland and other DOJ officials saying they can't comment on ongoing criminal probes amounts to contempt of Congress.
"Aren't you, in fact, in contempt of Congress when you give us this answer? This is an answer that's appropriate at a press conference. It's not an answer that's appropriate when we are asking questions," Massie said. "We are the committee that is responsible for your creation, for your existence of your department. You cannot continue to give us these answers. Aren't you, in fact, in contempt of Congress when you refuse to answer?"
"Congressman, I have the greatest respect for Congress. I also have the greatest respect for the Constitution and laws of the United States," Garland replied.
Rep. Eric Swalwell, D-Calif., then said it was a joke to suggest Garland was in contempt of Congress when it's been nearly 500 days since Congress subpoenaed Jordan, a subpoena he's ignored. Swalwell showed a countdown clock on his laptop showing nearly 500 days as he was talking. Some Democrats in the room laughed.
Democrats defend DOJ, repeatedly point out that Weiss was appointed by Trump
Democrats on the judiciary committee have sought to defend the Justice Department throughout the hearing, noting numerous times that U.S. Attorney David Weiss was nominated by Trump.
Nadler also pointed out his opening statement that many commentators have said in the past week that people like Hunter Biden — accused of gun possession while under the influence of a drug — "are rarely, if ever, prosecuted."
Gearing up for impeachment, Trump allies use hearing to prosecute 'Biden crime family'
As House Republicans kick off their impeachment investigation into Biden, some of Donald Trump's top allies are using today's hearing as a platform to prosecute what they've been calling the "Biden crime family."
Rep. Matt Gaetz, R-Fla., alleged that Hunter Biden has been selling his artwork for thousands of dollars to pay for his high-flying lifestyle and to help buyers curry favor with the president.
"How can you guarantee that the people buying that aren't doing so to gain favor with the president? Someone who bought Hunter Biden's art ended up with a prestigious appointment to a federal position. Doesn't it look weird?" Gaetz told Garland, referring to a report from Business Insider that NBC News has not independently confirmed.
"He's become this immediate success in the art world and his dad is president of the United States. Isn't that odd?" Gaetz kept pressing.
Garland declined to comment on Hunter Biden, citing the ongoing special counsel investigation.
Later, conservative Rep. Tom McClintock, R-Calif., knocked Garland for appointing Weiss in that case, someone who the congressman said "deliberately allowed the statute of limitations to run out on any charges that could have implicated Joe Biden in influence peddling."
And we're back ...
Jordan has gaveled the hearing back in. Rep. Hank Johnson, D-Ga., is kicking off questioning.
The committee is taking a 5-minute recess
We're off for a short break, per Chairman Jordan.
Rep. Lofgren raises bipartisan Section 702 privacy concerns with Garland
Rep. Zoe Lofgren, D-Calif., a senior Judiciary member, told Garland members of both parties are "very concerned" about the thousands of searches the FBI does of Americans each year in the Section 702 database in the name of national security.
Section 702 of the Foreign Intelligence Surveillance Act will expire on Dec. 31 unless Congress reauthorizes it. A report from April 2023 showed that the FBI made 119,000 annual queries of U.S. persons under the 702 database.
"This committee, on a bipartisan basis, is very concerned about querying of the 702 database for U.S. persons without a warrant," Lofgren told Garland.
"We're not suggesting that the law does not permit that," she continued. "But we are going to visit this issue because it is my view that querying the 702 database that has been collected without due process — because it relates to foreign individuals — is completely wrong in terms of the privacy rights of Americans."
Garland says politically charged rhetoric has led to violence, attack on FBI office
During an exchange with Rep. Sheila Jackson Lee, D-Texas, Garland said that politically charged rhetoric has led to violence against law enforcement.
"This can lead to threats of violence and actual violence. We have the actual example of an attack on an FBI office by somebody who was incensed by political rhetoric. This does happen. We must not allow that to happen in this country," Garland said.
Asked if rhetoric surrounding the Hunter Biden case has any basis in reality, Garland said, "No, it does not."
"As I've already said, the agents of the FBI and prosecutors understand that criticism comes with their job and they will continue to do their jobs without fear or favor. But the idea of threatening their safety or their families is just abhorrent."
Garland reminds Republicans that Trump appointed Hunter Biden prosecutor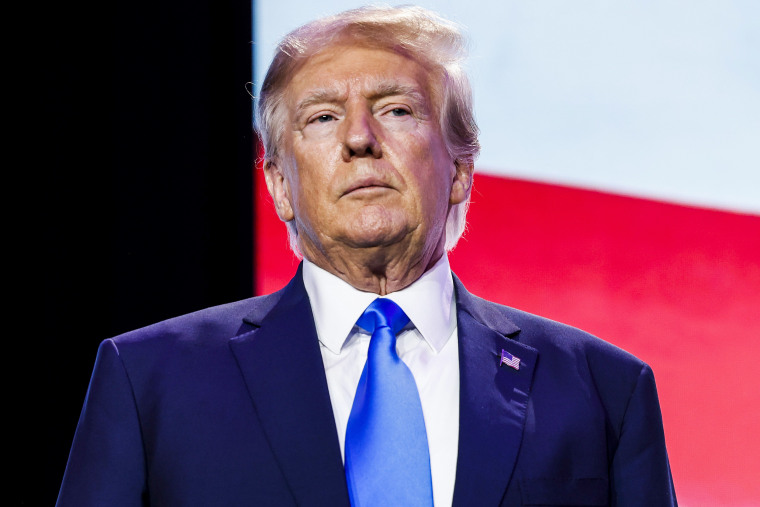 Garland reminded Republicans again and again on Wednesday that former President Donald Trump appointed Weiss, a career prosecutor, as U.S. attorney for the District of Delaware.
House Republicans, citing whistleblower testimony that has been disputed, have continued to insist that there was improper interference in the investigation, which resulted in rarely used felony gun charges against the sitting president's son.
Garland uses opening to statement to provide 'clarity' about the Justice Department
Rep. Mike Johnson accidentally calls Garland 'Mr. Weiss,' presses him on interference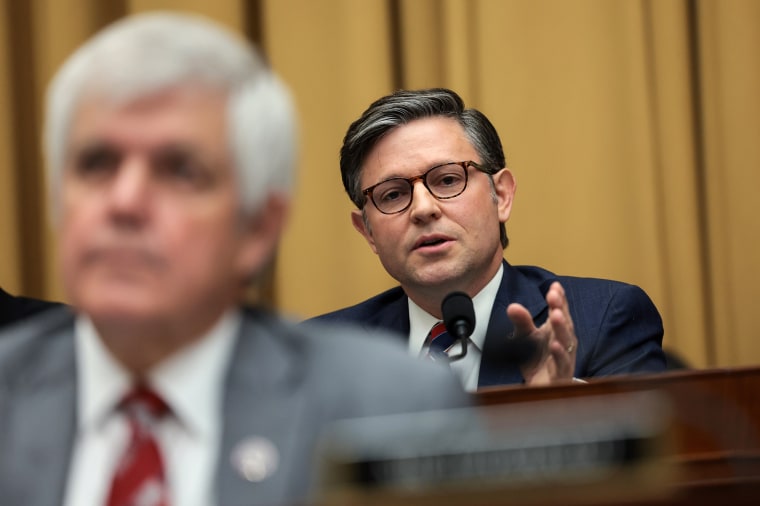 Rep. Mike Johnson, R-La., a member of GOP leadership, kicked off member questioning by accidentally calling Garland "Mr. Weiss," then pressed the AG about whether he had interfered in the Hunter Biden probe.
"Has anyone from the White House provided direction at any time to you personally or to any senior officials at the DOJ regarding how the Hunter Biden investigation was to be carried out?"
"No," Garland replied.
He was then asked if he had any contact at FBI headquarters about the Biden probe. Garland said he could not remember, adding that he promised senators during his confirmation process that he would "leave Mr. Weiss in place and I would not interfere with his investigation" into Hunter Biden.
"I have kept that promise," Garland said.
Garland warns about 'catastrophic' consequences if Congress defunds the FBI
Nadler brought up calls by some congressional Republicans to defund the FBI in the upcoming bill to fund the federal government and asked Garland what the impact would be on the country.
Defunding the FBI, Garland said, would leave the U.S. exposed "to the malign influence of the Chinese Communist Party, the attacks by Iranians on American citizens and attempts to assassinate former officials, to Russian aggression, to North Korean cyberattacks, to violent crime in the United States, which the FBI helps to fight against, to all kinds of espionage to domestic violent extremists who have attacked our churches or synagogues or mosques and who have killed individuals out of racial hatred."
"I just cannot imagine the consequences of defunding the FBI, but they would be catastrophic," Garland said.
FBI agent disputed key parts of IRS whistleblower claims about Hunter Biden investigation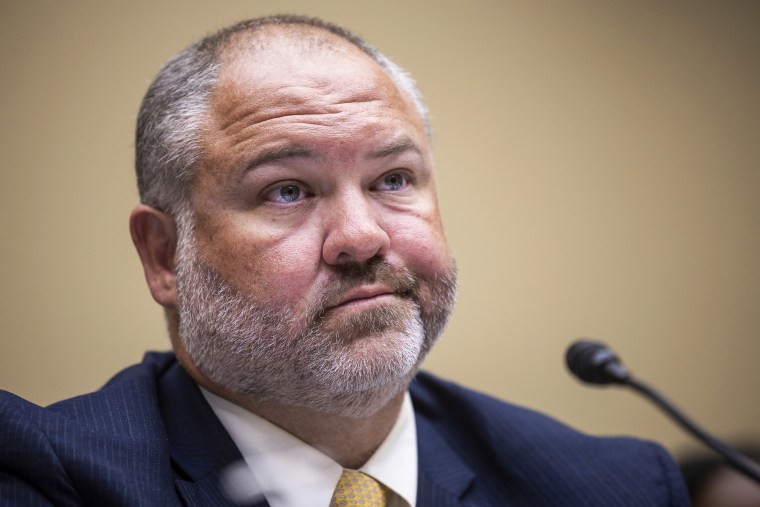 The FBI agent who oversaw the agency's investigation into Hunter Biden disputed a claim by IRS whistleblower Gary Shapley that the Justice Department gave preferential treatment to President Joe Biden's son, according to a transcript of an interview obtained by NBC News.
In an interview Sept. 7 with the House Judiciary and Ways and Means committees, Thomas Sobocinski rebutted Shapley's claim that U.S. Attorney David Weiss had said he was not the deciding person on whether to bring charges in the case.
After an Oct. 7 meeting with Weiss' team and investigators from the FBI and the IRS working on the case, Shapley prepared an email of notes that stated that Weiss said he was "not the deciding person on whether charges are filed." That claim has been central to the House GOP's scrutiny of Weiss' investigation.
Sobocinski, who oversaw the FBI's work on the investigation when he became the special agent in charge of the Baltimore field office in July 2021, said he did not remember Weiss making that statement.
"I was consistently aware that David Weiss had the authority in the U.S. to bring the charges where venue presented itself," Sobocinski said. "The minute I got there in July of '21, it was always the understanding and the communication between David Weiss and myself is that he had that authority to bring it on behalf of the Department."
Garland grows emotional talking about family's Holocaust experience
Garland grew emotional in his opening statement as he discussed how his family fled religious persecution in the last century.
"My family fled religious persecution in Eastern Europe at the start of the 20th century. My grandmother, who was one of five children born in what is now Belarus, made it to the United States, as did two of her siblings," Garland said. "Two did not. Those two were later killed in the Holocaust."
"If not for America, there is little doubt that the same would have happened to my grandmother," he continued. "But this country took her in. And under the protection of our laws, she was able to live without fear of persecution."
"That protection is what distinguishes our country from so many others. The protection of law — the rule of law — is the foundation of our system of government," Garland said.
"Repaying this country for the debt my family owes for our very lives has been the focus of my entire professional life," Garland said.
Nadler argues GOP is trying to distract from indictments against Trump
Rep. Jerry Nadler, D-N.Y., ranking member on the Judiciary Committee, slammed Republicans in his opening statement for focusing the hearing on the investigations into Hunter Biden and Trump.
Nadler said that Republican supporters of Trump are prioritizing this in order to shift the attention from the indictments charging the former president.
"Extreme MAGA Republicans have poisoned our vital oversight work. They've ignored our legitimate oversight responsibilities, and use their power to stage one political stunt after another," said Nadler, who added that Republicans are wasting taxpayer dollars on investigations into President Biden and his family.
He said they are "desperate to find evidence for an absurd impeachment and desperate to distract from the mounting legal peril facing Donald Trump."
"Today I implore the public to see through the sham," Nadler said. "I have no doubt that you will hear a deluge of conspiracy theories and baseless accusations. They will quote freely from so-called whistleblowers who have been broadly discredited or contradicted. They will viciously attack federal law enforcement."
Who is David Weiss?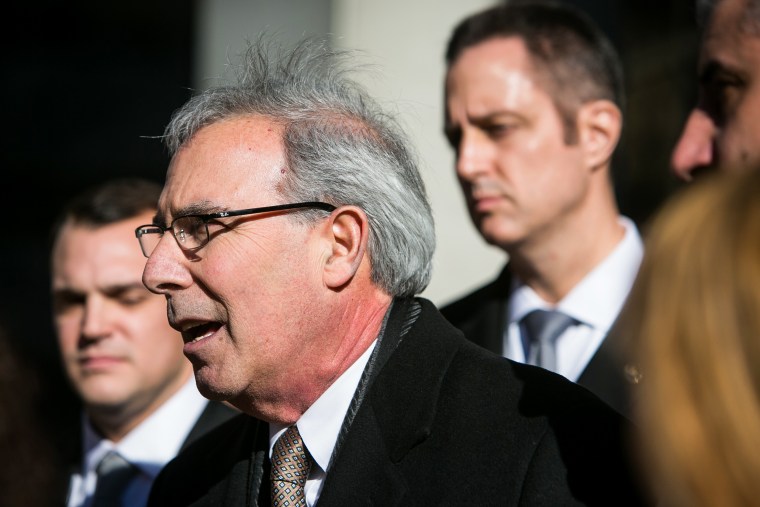 U.S. Attorney David Weiss, based in Delaware, was nominated by Trump and confirmed by the Senate and has been in charge of the federal investigation into Hunter Biden.
Federal officials from that office launched the probe in 2018 and last month, Garland named Weiss as a special counsel for the investigation.
Earlier this year, Weiss's office charged Hunter Biden with two misdemeanor tax offenses and a felony firearm crime, which was possession of a gun while using narcotics.
After a plea deal collapsed, Weiss indicted the president's son last week on gun charges.
The hearing is underway
Jordan has opened the hearing and is giving an opening statement, accusing the Justice Department of working to protect President Biden while attacking Trump.
Jordan focused a lot of his opening statement on Weiss, the special counsel in the Hunter Biden case, accusing DOJ of going easy on the president's son.
He also argued that Justice Department has treated Trump unfairly in the classified documents case while not charging Biden for having classified documents at his home. The circumstances have some key differences.
GOP lawmakers say they don't think they'll be satisfied with Garland's testimony
Rep. Mike Johnson, R-La., told reporters ahead of the hearing that he doesn't think he'll hear what he wants to hear from Garland.
"I don't think he can satisfy us," Johnson said.
As Rep. Andy Biggs, R-Ariz., entered the hearing room, he was asked what he needs to hear from Garland in order to be satisfied.
"What do I need to hear? Probably nothing he is going to say," he said.
'I am not the president's lawyer,' Garland will say in opening remarks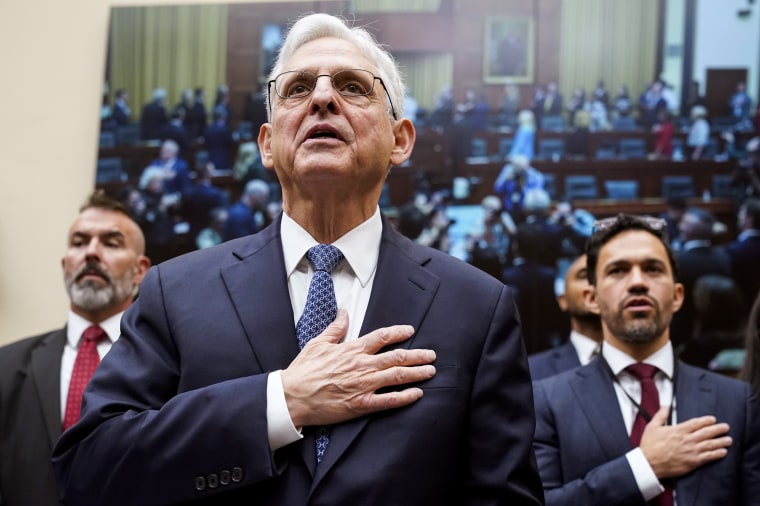 Garland plans to use strong language later this morning in pushing back against Republican criticism of the DOJ in what is expected to be a contentious hearing. 
"Our job is to pursue justice, without fear or favor. Our job is not to do what is politically convenient," he will say, according to excerpts of his prepared testimony obtained by NBC News.
"As the president himself has said, and I reaffirm here today: I am not the president's lawyer," Garland will say. "I will also add that I am not Congress's prosecutor. The Justice Department works for the American people. Our job is to follow the facts and the law, wherever they lead. And that is what we do."
Jordan also wants an interview with Hunter Biden special counsel
In a letter to Garland on Tuesday, Jordan requested that Hunter Biden special counsel David Weiss attend a transcribed interview with the committee on Oct. 11, followed by a public hearing on Oct. 18, according to a letter provided to NBC News.
In the letter, Jordan requested transcribed interviews with six other Justice Department officials as the committee probes the Hunter Biden case.
Garland to face questions about the Trump and Hunter Biden probes
Garland is set to testify before the Judiciary panel at 10 a.m. ET. It's a routine oversight hearing, but you can expect lots of questions from House Republicans about DOJ's handling of the Hunter Biden investigation and what exactly Special Counsel Weiss' authority to bring charges in that case looked like.
Additionally, Jordan and GOP members are likely to press Garland on the two federal indictments Trump is facing.