The latest news coverage of the Trump indictment continues here.
The latest news on Trump's indictment
adding a post
This is the post
Miami mayor: 'We are prepared' for any demonstrations tomorrow
In an interview with NBC News' Tom Llamas, Miami Mayor Francis X. Suarez said the city is ready for any level of protests or demonstrations around Trump's arraignment tomorrow.
"We are prepared," Suarez, a Republican who has teased a 2024 presidential bid, said on "Top Story."
Suarez did not dispute Miami Police Chief Manny Morales' remarks today that the city is bringing in enough resources to handle crowds from 5,000 to 50,000.
"The numbers that he put out there are numbers that indicate our readiness, right?" Suarez said. "It could be, you know, 1,000 people; it could be 5,000 people. But we're ready for anything upwards of beyond that and at scale."
Judge says media can't have electronic devices in courthouse for arraignment
A federal judge tonight said members of the media will be prohibited from taking cellphones or other electronic devices into the courthouse where Trump is scheduled to be arraigned tomorrow afternoon.
"All cellular phones and/or electronic equipment are hereby prohibited for news reporters and other members of the media inside the Wilkie D. Ferguson, Jr. United States Courthouse in Miami," Chief U.S. District Judge Cecilia M. Altonaga wrote in a court order.
Separately, Magistrate Judge John Goodman rejected a request from a media coalition that includes NBC News to allow a "limited number of photographs and video-recordings in the courtroom and/or the outside corridor before tomorrow's proceedings begin." He said "allowing photographs would undermine the massive security arrangements put in place" for the hearing.
Goodman will preside over the arraignment, and U.S. District Judge Aileen Cannon will oversee the subsequent trial.
Christie rips White House candidates for not criticizing Trump after indictment
GOP presidential candidate Chris Christie tonight blasted other White House hopefuls in the Republican Party, saying they are "playing games" by not speaking out against Trump after his federal indictment.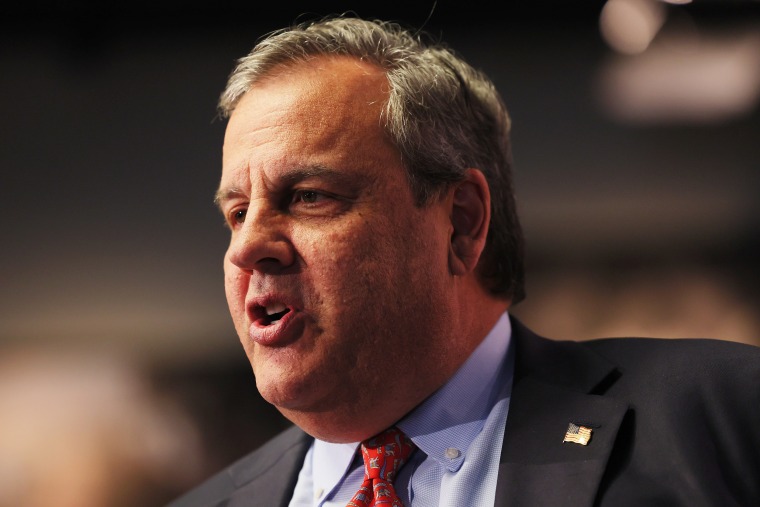 "People in my own party are blaming DOJ. How about blame him?" Christie, the former New Jersey governor, said during a CNN town hall.
Trump's opponents for the Republican nomination have largely focused their attacks on the Justice Department, not the former president, since he was indicted.
Republican Sens. Thune and Capito call Trump charges 'serious'
While Senate Minority Leader Mitch McConnell, R-Ky., has yet to comment on the charges against Trump, two other members of Republican leadership in the chamber weighed in today, calling the allegations "serious."
"You're talking about national security secrets, classified information and, you know, a very detailed indictment. So they're serious allegations," said John Thune of South Dakota, the No. 2 Republican in the Senate.
As other congressional Republicans have done, Thune also suggested there was a double standard in the eyes of the Justice Department when it comes to Democrats and Republicans. The "Justice Department has a high burden of proof here, because I think there's perception across the country that in some cases there are different standards of justice that are applied. And the standard should be that nobody's above the law," he said.
Sen. Shelley Moore Capito, R-W.Va., told reporters that she thinks Trump "should be concerned," adding, "I mean, any time you get indicted, it's concerning."
She said she was unsure how the charges would affect Trump's presidential bid, because there's a belief that "he's been targeted and it has been unfair justice, and I think there's some cases to be made for that." As for his chances in the general election if he's the GOP nominee, she said: "I think that it's a pretty steep hill to climb. I'm not saying it would be impossible for him. But ... I think it's serious."
On eve of arraignment, Trump says his mood is 'fine,' plans to plead not guilty
Asked how his mood was ahead of tomorrow's court appearance, Trump told Boston radio host Howie Carr, "It's fine."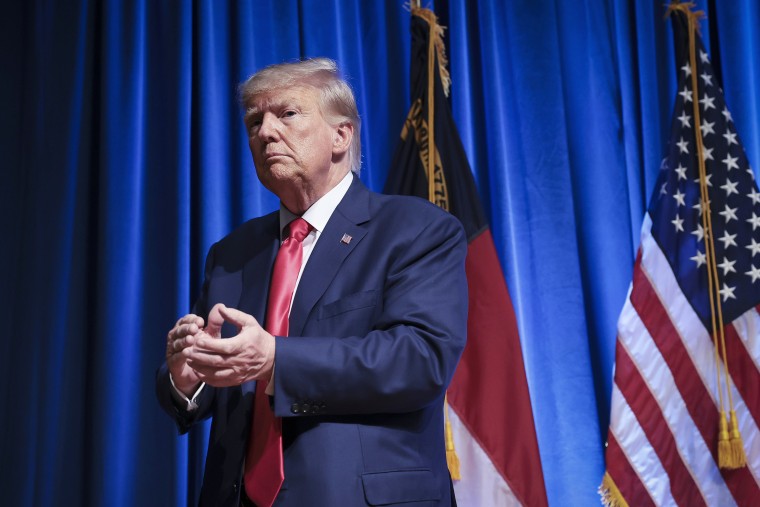 During the 12-minute interview on WRKO's "The Howie Carr Show," Trump repeated his denials of any wrongdoing.
When Carr asked Trump whether he planned to say anything in court besides entering his plea, Trump said: "I'll just say 'not guilty.' I didn't do anything wrong."
Group says no plans identified for large-scale violence ahead of arraignment
Advance Democracy Inc., an organization that tracks online threats, said today that it had not found signs that large-scale violence was being organized ahead of Trump's arraignment.
But the group did say supporters were expressing a willingness online to engage in violence.
The group found that users on Truth Social, the social media platform owned by Trump, were using "extreme, threatening, and violent language directed at Special Counsel Jack Smith and FBI Director Christopher Wray."
The group also said some users of the messaging app Telegram and the Patriots.win website were expressing a "willingness to engage in violence relating to Trump's arraignment on Tuesday."
Attorney Todd Blanche traveled with Trump to Florida
Attorney Todd Blanche, who Trump has said will represent him in the classified documents case, flew with Trump to Miami, according to a source with direct knowledge of the situation.
Blanche, who is based in New York City, will represent Trump tomorrow at his initial appearance.
Durbin says he is 'concerned' over judge in Trump case
Senate Judiciary Committee Chairman Dick Durbin, D-Ill., says he is "concerned" that U.S. District Judge Aileen Cannon has been assigned to the federal case against Trump.
"I am concerned," Durbin told reporters today. "I mean, she was a Trump appointee, she was overruled by the appellate court in one of her earlier rulings, she's back in charge of this case — again, this is an historic case."
Durbin said he's not ready "at this point" to call on Cannon to recuse herself, saying, "That really is up to her at this point, if she feels that she should."
Durbin said his concern is how Cannon's rulings on motions could delay the case unnecessarily.
"It may be in the best interest of one of the parties to the case to stretch it out forever," Durbin said. "We have investigations underway in Chicago that have been going on for months and years. So timing is one of the most important things and ruling on motions and discovery and the like, you know, really how you build your case. So I hope that she's up to the job and does it right."
Greene says she will try to defund the special counsel office
Rep. Marjorie Taylor Greene, R-Ga., a close ally of Trump, announced in brief remarks on the House floor that she plans to amend an appropriations bill to defund the office of special counsel Jack Smith.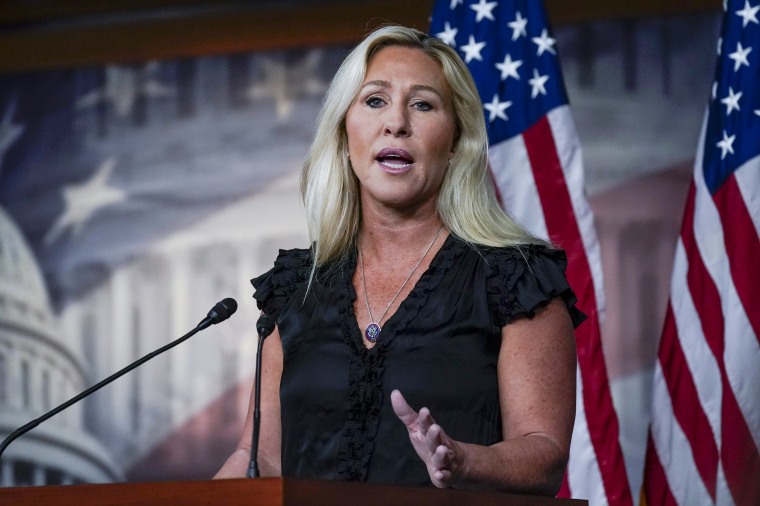 Her proposal stands little to no chance of passing Congress, and it most likely wouldn't stop the investigations of Trump.
"This is a weaponized government attempt to take down the top political enemy and leading presidential candidate of the United States, Donald J. Trump. We cannot allow the government to be weaponized for political purposes," Greene said.
She continued, "We have to use the power of appropriations to stop the weaponization of government, especially in light that we know that there are others who are guilty of true crimes."
Trump lands in Miami
The former president's plane has landed in Florida.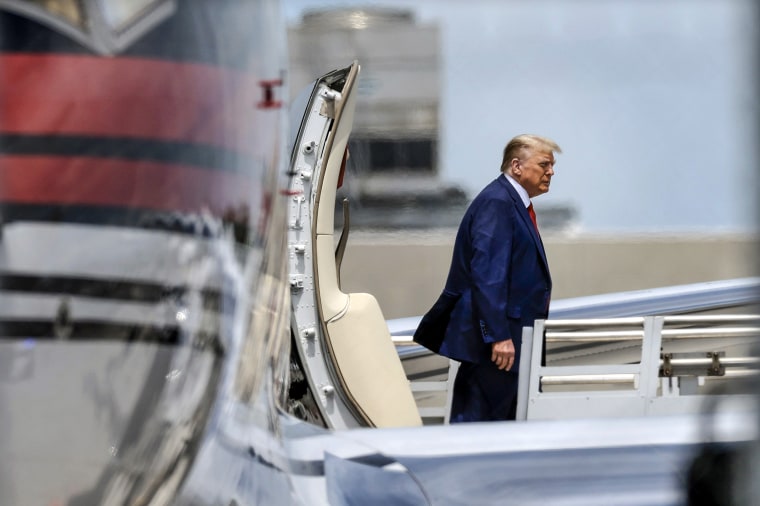 Miami mayor, police chief express confidence city will be safe during Trump's arraignment
Miami Mayor Francis Suarez, a Republican, told reporters that the city has prepared a comprehensive strategy to address security and safety during Trump's arraignment tomorrow.
Suarez, who said he hadn't spoken to the former president because he doesn't have his phone number, said he encourages protesters to remain peaceful.
Police Chief Manny Morales said the city has been coordinating with federal, state and local partners "to ensure that we maintain not only peace and order, like the mayor said, but that everyone has the right to express themselves and their First Amendment rights."
He said law enforcement agencies will operate under a unified command approach so that all involved agencies will be working together in the same room.
"We're taking this event extremely serious," Morales said. "We know that there is a potential of things taking a turn for the worse, but that's not the Miami way."
He added that the police department is bringing in enough resources to handle crowds of from 5,000 to 50,000 but that he doesn't expect any issues.
Supporters gather outside Trump resort
After a series of rain showers swept through South Florida today, a small group of Trump supporters braved the humid, sweltering temperatures to greet the former president as he arrived at his Doral resort and golf course ahead of his federal arraignment.
"This looks like a witch hunt," said Ruth Watson, 42, wearing a red MAGA hat.
The group, which waved Trump flags, was dwarfed by a growing media presence. 
"This isn't America anymore," Patrick Decker, 57, said. "It's truly not."
Trump is expected to stay at Doral tonight and tomorrow morning before he makes the trip to downtown Miami for his court appearance.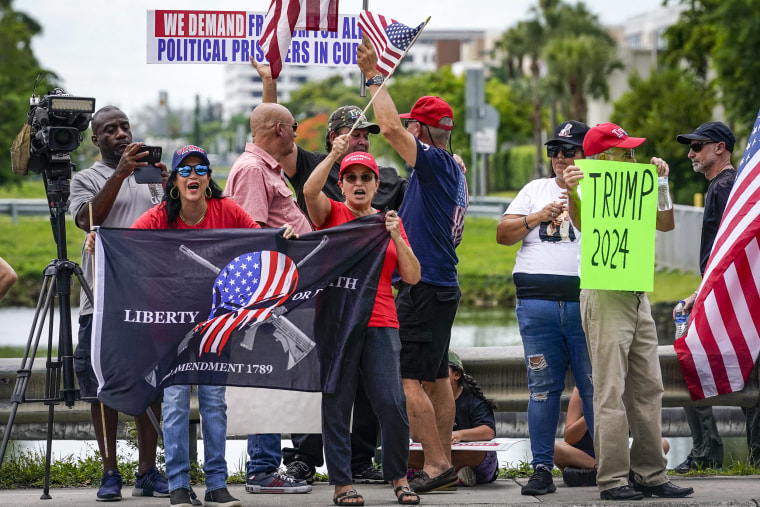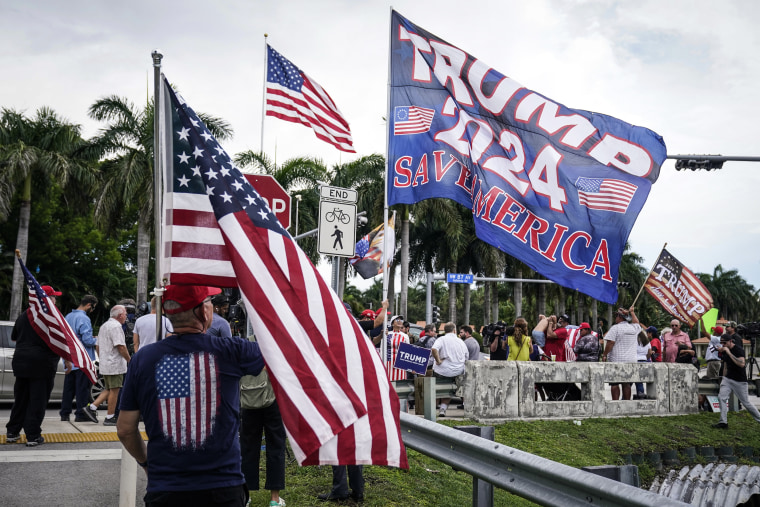 McCarthy defends Trump after indictment: 'Equal justice is not playing out here'
Speaking with reporters for the first time since learning about Trump's indictment, House Speaker Kevin McCarthy defended the former president by comparing it to the federal investigation into President Joe Biden's handling of classified documents.
"The idea of equal justice is not playing out here. And so that's a real concern to all Americans," McCarthy said.
Asked whether it's a "good look" for Trump to store classified documents in a bathroom, according to the indictment, McCarthy again tried to draw parallels between Trump and Biden's classified documents cases.
"I don't know. Is it a good picture to have boxes in a garage that opens up all the time? A bathroom door locks," he said.
McCarthy also told NBC News that he has not spoken to Trump since the indictment news broke, and he has not read the indictment in full, only "parts."
FIRST READ: Trump survives the weekend, thanks to GOP support
If it's MONDAY… Prosecutors unseal federal indictment of Trump, which accuses him of lying and scheming to keep classified documents stored at his home… Early polls show indictment hasn't changed GOP perceptions of Trump… Trump delivers speech over the weekend: "In the end, they're not coming after me. They're coming after you"… How the judge overseeing Trump's trial could hurt the Justice Department's case… And President Biden meets with NATO Secretary-General Stoltenberg at 3:15 pm ET. 
But FIRST... Trump survived the weekend. 
And here's why: We saw most of the Republican Party rally behind him, both before and after the federal indictment against him was unsealed.
The early polls (though not with our favorite methodologies) showed most Republicans standing behind the former president, and found him leading the GOP race nationally by a commanding margin. 
Trump's Republican rivals defended him, with the exceptions being the usual suspects (Chris Christie, Asa Hutchinson). And even a Republican senator like South Dakota's Mike Rounds — who has endorsed Tim Scott and who believes the GOP should go in a direction away from Trump — criticized the Justice Department. 
In all-caps post, Trump vows to appoint 'real special prosecutor' to go after Biden if elected
Piling on more grievances against special counsel Jack Smith after his indictment, Trump vowed to appoint a "real special 'prosecutor'" to go after President Joe Biden and his family if he wins a second presidential term next year.
"Now that the 'seal' is broken, in addition to closing the border & removing all of the 'criminal' elements that have illegally invaded our country, making America energy independent, & even dominant again, & immediately ending the war between Russia & Ukraine, I will appoint a real special 'prosecutor' to go after the most corrupt president in the history of the USA, Joe Biden, the entire Biden crime family, & all others involved with the destruction of our elections, borders, & country itself!" Trump wrote in an all-caps Truth Social post.
Meanwhile, the federal investigation into Biden's handling of classified documents is ongoing, with few signs of an imminent conclusion, three people familiar with the matter told NBC News last week.
Trump arrives at Newark Airport
The former president has arrived at Newark Liberty International Airport in New Jersey, from which he'll take off for Miami.
William Barr says if half of Trump indictment is true, 'then he's toast'
William Barr, the attorney general during the last two years of Trump's term, described the federal indictment in an appearance on "Fox News Sunday" as "very, very damning."
"If even half of it is true, then he's toast," Barr said, explaining that he was frankly "shocked by the degree of sensitivity of these documents and how many there were."
Barr pushed back against Trump's claims that he was being wrongly persecuted: "The idea of presenting Trump as a victim here — a victim of a witch hunt — is ridiculous."
Later Sunday, Trump fired back in a post to his social media platform, Truth Social, calling Barr a "disgruntled former employee" who was "weak & totally ineffective."
Trump leaves Bedminister, N.J. en route to Miami
The former president was seen leaving his golf club in Bedminster, N.J., on Monday shortly after 11 a.m. ET, to fly to Miami for his arraignment on Tuesday.
Trump calls on supporters to join protests outside of Miami courthouse
Trump urged his supporters to participate in a planned protest at the Miami courthouse where he is set to be arraigned tomorrow.
"We need strength in our country now," Trump said during an interview with longtime adviser Roger Stone on WABC Radio yesterday. "And they have to go out and they have to protest peacefully. They have to go out."
"Look, our country has to protest. We have plenty ... to protest. We've lost everything," he added.
Trump's call to his supporters comes as he has escalated rhetoric against special counsel Jack Smith, whom Trump called "deranged" as he baselessly accused prosecutors of being a part of a political hit job against him.
In a Truth Social post after the interview, Stone insisted that he called for any protest in Miami to be "peaceful, civil, and legal."
Trump says he's en route to Florida
In a post to his Truth Social platform this morning, the former president said he's heading to Doral, Florida, ahead of his arraignment tomorrow in Miami.
GOP presidential candidate Ramaswamy files FOIA request to 'uncover' Biden White House communications
Vivek Ramaswamy, a longshot Republican presidential candidate, announced that his campaign had filed a Freedom of Information Act request to "uncover communications" between the White House, Attorney General Merrick Garland and special counsel Jack Smith related to Trump's indictment.
There has been no evidence that any such communications exist and the request appeared to be a fishing expedition.
In a statement announcing the FOIA request, Ramaswamy did not provide any evidence. He scheduled a news conference in Miami tomorrow at 10:30 a.m. to discuss the FOIA request and "another announcement."
"I'm running to win this election and it would be easier for me if Trump were eliminated from running, but that is not the right answer for our nation," he said. "America First Always." 
Has Trump found a lawyer in Florida ahead of his arraignment?
Trump's arraignment in Miami tomorrow can't go forward unless the former president finds local counsel — and it's unclear whether he has, sources familiar with the matter told NBC News.
At least one prominent Miami-based defense attorney has turned Trump down, a source said.
If Trump doesn't find local counsel, the surrender and first appearance will still happen tomorrow, but the arraignment may have to be postponed. 
Gallego rips Lake's remarks threatening violence over Trump indictment as 'dangerous'
Rep. Ruben Gallego, D-Ariz., criticized his state's former GOP candidate for governor, Kari Lake, for her "dangerous" remarks on Trump's indictment.
At a Georgia GOP convention last week, Lake threatened violence toward Attorney General Merrick Garland, President Joe Biden, special counsel Jack Smith and the media for what she characterized as a political hit job against the former president.
"If you want to get to President Trump, you're going to have to go through me, and you're going to have to go through 75 million Americans just like me," Lake said, AZ Central reported. "And I'm going to tell you, most of us are card-carrying members of the NRA. That's not a threat, that's a public service announcement." 
Gallego, who is running for independent Sen. Kyrsten Sinema's seat, responded on Twitter: "As a Marine who went all the way to Iraq to defend this country, our democracy, and our freedoms, I know this language isn't just hyperbole — it's dangerous, and it threatens the very core of our democracy."
"For that, Kari owes every America-loving Arizonan an apology," he said.
Indictment hasn't changed Republicans' view of Trump, polls say
Trump's federal indictment hasn't had a significant impact on Republicans' perception of the former president as he seeks re-election, two polls released yesterday indicate.
As many as 2 in 3 of Republicans who support Trump, or 67%, say he shouldn't have been charged, according to an ABC News/Ipsos poll. Most Republicans, 80%, who were polled also say the charges were politically motivated.
Most Republican primary voters, 76%, also said they're concerned that Trump's indictment was politically motivated in a new CBS News poll. A majority, 61%, ruled out that the charges would change their views of Trump, and 80% of Republican primary voters said he should win a second term in office.
How the judge overseeing Trump's trial could hobble the DOJ's case
The federal indictment of Trump, unsealed Friday, was filled with startling new accounts of how the former president allegedly mishandled classified information. But the revelation of who would oversee the case could present unique challenges for the Justice Department. 
Cannon, a former prosecutor in her early 40s who has spent 2½ years on the bench, is the same Trump appointee who repeatedly ruled in his favor in a related case. She will now oversee a trial that experts believe could influence the American public's trust in the fairness of the court system for years to come. She will guide how quickly the case goes to trial, oversee the selection of jurors and determine what evidence can be presented to the jury.
Trump to deliver post-arraignment remarks in New Jersey tomorrow
Trump will deliver remarks at 8:15 p.m. from his golf club in Bedminster, New Jersey, after his scheduled arraignment tomorrow in Miami, his campaign said in a statement.
Trump held a similar event at Mar-a-Lago in April after his arraignment in New York, which stemmed from a separate criminal investigation. In that case, he was charged with 34 felony counts of falsifying business records related to his alleged role in hush money payments toward the end of his 2016 presidential campaign.
The event in Bedminster tomorrow night had originally been scheduled to be a closed press and private fundraiser for Trump's 77th birthday, which is Wednesday.