In a historic vote, the House of Representatives on Wednesday impeached President Donald Trump for urging his supporters to march on the U.S. Capitol last week, making him the first president to be impeached twice.
The article of impeachment, for "incitement of insurrection," was adopted by the Democratic-controlled House, 232 to 197, after several hours of debate. A group of 10 Republicans joined Democrats in voting to impeach Trump.
Democrats are prepared to send the resolution to the Senate immediately to allow a trial to determine whether to convict Trump and bar him from holding future office, although it is unclear when that trial will happen.
Trump has defended his speech at a march last week that helped incite a crowd of his supporters to violently storm the U.S. Capitol, calling it "totally appropriate" on Tuesday. That remark came just hours before the House approved a separate resolution calling on Vice President Mike Pence to invoke the 25th Amendment to remove the president from office.
This live coverage has ended. Continue to read about the impeachment process from Monday and Tuesday and about the events leading up to the riot at the Capitol last week and its aftermath.
Read the highlights:
— Pence rejected House Democrats' demand to invoke the 25th Amendment as more Republicans back impeachment.
— "Mind-blowing" number of crimes committed during Capitol riot, 160 case files opened, say officials.
— "Chilling": Security tightens around the Capitol ahead of Biden inauguration amid "increased threat."
Hoyer says House will send article of impeachment to Senate immediately
House Majority Leader Steny Hoyer, D-Md., told NBC News that he would send over the article of impeachment to the Senate immediately once it is passed.
He did not specify if immediately meant later Wednesday or another day. The House is set to vote on the article later Wednesday and it is expected to pass with support from both Democrats and a handful of Republicans.
There had been some debate among Democratic leadership, led by Rep. Jim Clyburn of South Carolina, who suggested that they could wait until after Biden's first 100 days in office. Hoyer said that is no longer being discussed.
Capitol Police official tells Congress he saw no FBI intelligence before Jan. 6 siege
The acting assistant chief of the Capitol Police told Congress Tuesday that he was not aware of any intelligence from the FBI in advance of Jan. 6, raising questions about an assertion by a top FBI official that threat information was shared with local police in advance of the Capitol riot.
Steven D'Antuono, the head of the FBI's Washington DC field office, said Tuesday that the FBI had shared some information about threats of violence with local police before the Jan. 6 storming of the Capitol, including a report by the FBI's Norfolk field office that extremists were threatening a "war."
The report mentioned people sharing a map of tunnels at the Capitol complex and coordinating travel to Washington, according to The Washington Post, which first reported on the F.B.I. document.
But a readout of a closed-door briefing of Republican House members Tuesday, obtained by NBC News, quotes acting U.S. Capitol Police Assistant Chief Sean Gallagher as saying he never saw any such information.
National Guard troops rest before impeachment vote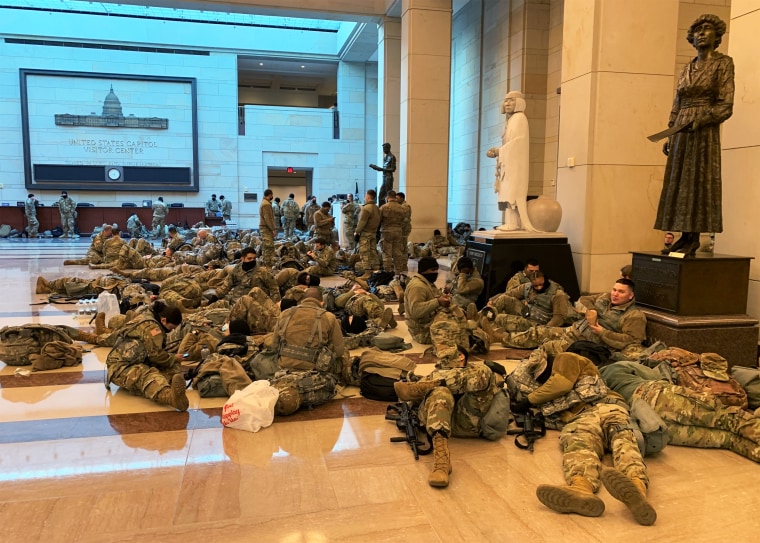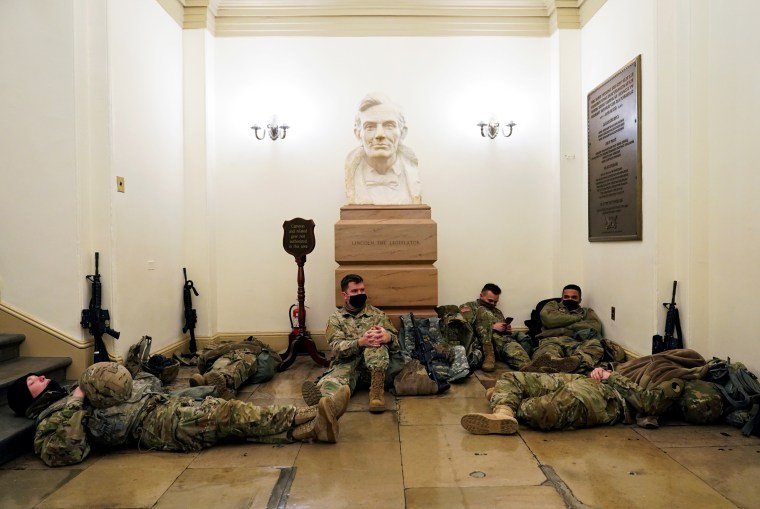 Worried about free speech, FBI never issued intelligence bulletin about possible Capitol violence
FBI intelligence analysts gathered information about possible violence involving the U.S. Capitol on Jan. 6., but the FBI never distributed a formal intelligence bulletin, in part because of concerns that doing so might have run afoul of free speech protections, a current and two former senior FBI officials familiar with the matter told NBC News.
While the FBI did share some threat intelligence with law enforcement agencies, the lack of a comprehensive Joint Intelligence Bulletin compiled by the FBI's Intelligence Branch — which would have made assessments about possible threats and would have been shared with relevant law enforcement agencies — left the Capitol Police and other agencies lacking the full picture of what the FBI had learned from human sources and social media postings about what extremists were saying about plans to assault the Capitol.
De Blasio announces NYC severs all contracts with Trump Organization
New York City Mayor Bill de Blasio announced Wednesday that the city of New York is cutting ties with the Trump Organization. 
"The city of New York is severing all contracts with the Trump Organization. Our legal team has done an assessment, and the contracts make very clear if a company and the leadership of that company is engaged in criminal activity, we have the right to sever that contract," De Blasio said in an interview on MSNBC's "Morning Joe."
"Inciting an insurrection against the United States government clearly constitutes criminal activity," he said.
President Donald Trump's son Eric Trump, who has been running the family's company along with his brother, Donald Jr., since their father took office, said in a statement that the move is "another example of Mayor de Blasio's blatant disregard for the facts. The City of New York has no legal right to end our contracts and if they elect to proceed, they will owe The Trump Organization over $30 million dollars. This is nothing more than political discrimination, an attempt to infringe on the first amendment and we plan to fight vigorously."
AOC says she feared for her life during Capitol riot: 'I thought I was going to die'
Rep. Alexandria Ocasio-Cortez, D-N.Y., says she feared for her life as a violent mob stormed the Capitol building last week.
In a lengthy Instagram Live video Tuesday night, Ocasio-Cortez said that she had a "very close encounter," during which she thought she "was going to die." She didn't elaborate on the details, but cited security concerns.
"I did not know if I was going to make it to the end of that day alive, and not just in a general sense but also in a very, very specific sense," the congresswoman said during the hour-long live stream, calling the encounter during the Jan. 6 riot at the Capitol "traumatizing."
Ocasio-Cortez said it is "not an exaggeration" to say that many members of the House were "nearly assassinated."
Republicans protest, circumvent new metal detectors inside Capitol after riot
Several Republican members of Congress on Tuesday complained about — or outright bypassed — the metal detectors to enter the House floor, which were ordered put in place by Speaker Nancy Pelosi, D-Calif., after last week's deadly riot at the Capitol.
Ahead of a House vote Tuesday evening calling for Vice President Mike Pence to invoke the 25th Amendment to remove President Donald Trump from office, the Republican members expressed anger and frustration in accessing the chamber.
Republican Reps. Louie Gohmert of Texas, Steve Stivers of Ohio, Van Taylor of Texas, Lauren Boebert of Colorado, Debbie Lesko of Arizona and Larry Bucshon of Indiana, among others, were seen not complying with police at checkpoints or complained about the measure's implementation, according to press pool and media reports.
Boebert, a newly elected member who vowed in a viral video to carry a gun in the Capitol, was seen in an apparent dispute with police over going through the metal detector.
Trump impeachment may define the Republican Party
With an impeachment vote Wednesday, Republicans stand on the brink of a historic decision over whether to punish or protect a president who many say incited a deadly mob to overrun the U.S. Capitol in a push to overturn the election result.
The decision could define the party and shape American democracy for generations to come.
A handful of House Republicans have endorsed impeachment, most notably the third-ranking Rep. Liz Cheney, of Wyoming, who said President Donald Trump "lit the flame of this attack" and who accused him of an unprecedented "betrayal" of his oath to the Constitution.
Others Republicans who announced support for impeachment Tuesday were Reps. John Katko of New York, Adam Kinzinger of Illinois, Fred Upton of Michigan and Jaime Herrera Beutler of Washington. The impeachment measure is likely to sail through the Democratic-led House, with or without Republican support.
House poised to impeach Trump for second time
The House on Wednesday is poised to impeach President Donald Trump a second time, which will make him the first president to ever face this punishment twice.
House lawmakers are expected to vote on a single article of impeachment around 3 p.m. ET, charging Trump with "incitement of insurrection" in the wake of a pro-Trump mob violently storming the U.S. Capitol building last Wednesday.
The vote comes exactly one week before Inauguration Day when Trump will leave office and Joe Biden will be sworn in as president on the steps of the Capitol.
Fifth GOP House member backs impeachment
Rep. Jaime Herrera Beutler, R-Wa., tweeted Tuesday night that she believes President Trump acted against his oath of office and that she will vote Wednesday to impeach him — making her the fifth Republican to sign on to the Democratic effort to remove the president from office before his term ends.
Rep. Jim Jordan laments new House rules, 'cancel culture'
Speaking Tuesday, Rep. Jim Jordan, R-Ohio, lamented new rules put in place that mandate masks of the House floor and require that members enter the Capitol through metal detectors following last Wednesday's riot, saying they were passed with "less than 40 minutes of debate."
He then criticized Democrats for having "an obsession" with removing President Donald Trump from office.
"This is more than about impeaching the president of the United States," he said. "This is about canceling the president and canceling all the people you guys disagree with. And that's what scares me more than anything."
"I don't know where it ends," he continued. "The cancel culture doesn't just go after conservatives and Republicans. It won't just stop there. It'll come for us all. That's what's frightening."
Jordan, one of Trump's closest allies and staunchest defenders, then called for unity as the president faces a second impeachment for his role in egging on the crowd that rioted at the Capitol.
In response, Rep. Jamie Raskin, D-Mc., said: "The cancel culture of violent white supremacy tried to cancel out all of our lives last Wednesday."
Later, in delivering his closing remarks, Jordan condemned the violence and pointed to protests over the summer, saying Republicans condemned "violence" then as well.
"Democrats have been consistent in their one quest: To overturn the 2016 election," he said, adding, "Continuing this quest is not what the country needs, particularly after the year the country has lived through. So I hope we will not vote for" calling on Vice President Mike Pence to invoke the 25th Amendment.