California has declared an emergency over the coronavirus outbreak, as tests continue Thursday on board a Princess cruise ship that has been linked to two cases of the illness in the state.
The first death in California related to coronavirus was confirmed Wednesday, while another fatality in Washington brought that state's death toll to 10.
Congressional leaders have agreed on an $8 billion emergency funding package to help fight the coronavirus that is headed to the House.
The virus is now spreading more rapidly outside China, where the epidemic started, with mainland China recording just 119 new confirmed cases while hundreds of cases were reported globally.
South Korea alone recorded an additional 516 cases of coronavirus Wednesday, bringing the total to 5,328 confirmed cases, the largest outbreak outside of mainland China.
Governments around the world are introducing a range of measures to stop the spread of the disease. In Italy, where there have been more than 2,000 cases, all schools and colleges are shut for 10 days.
Full coverage of the coronavirus outbreak
Download the NBC News app for latest updates on the coronavirus outbreak.
This live coverage has ended. Continue reading March 5 Coronavirus news.
Japan to close schools nationwide to control spread of virus, AP reports
TOKYO — Japan will close all elementary, junior and high schools after a plea by Japanese Prime Minister Shinzo Abe, government officials said on Thursday.
The measure affects 12.8 million students at 34,847 schools nationwide, the education ministry said, according to the Associated Press. 
"The coming week or two is an extremely important time," Abe said. "This is to prioritize the health and safety of the children and take precautions to avoid the risk of possible large-scale infections for many children and teachers who gather and spend hours together every day."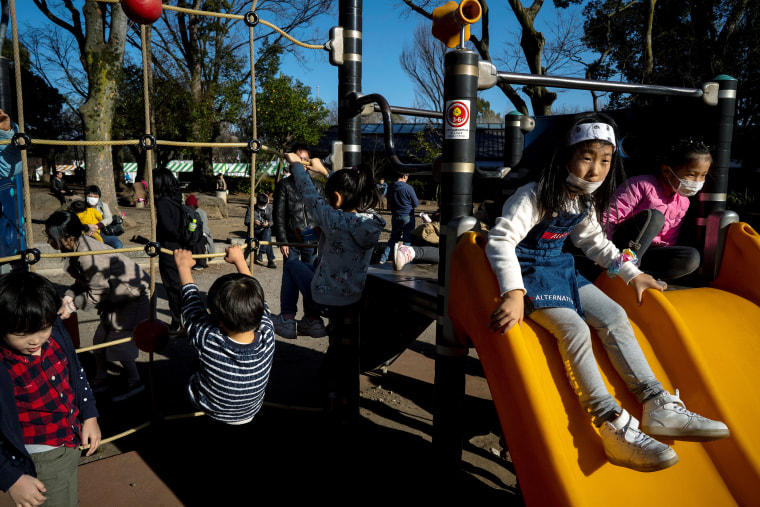 The decision comes amid growing concern about the rise in the number of untraceable cases of the virus in northern Japan and elsewhere. Japan now has more than 890 cases, including 705 from a quarantined cruise ship.
An eighth death from the virus was confirmed Thursday in Japan's northernmost island of Hokkaido, now considered a site of growing cluster.
Abe's announcement came hours after several local governments announced their own decisions to suspend classes.
McDonalds workers don protective suits amid coronavirus outbreak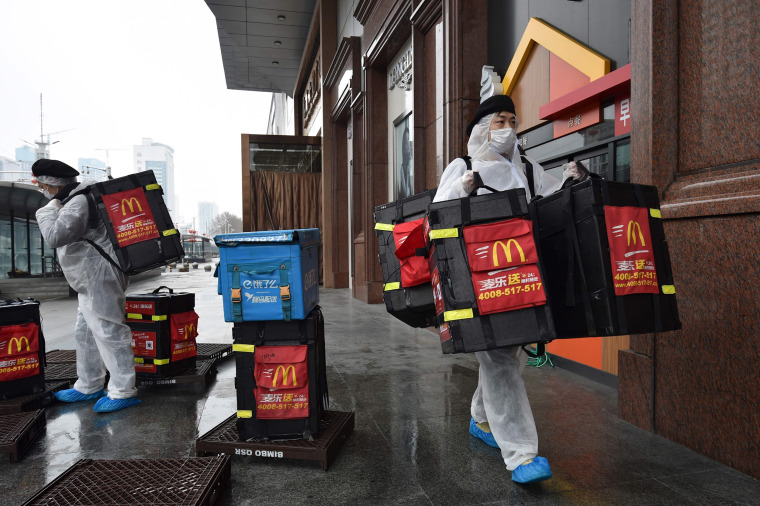 U.S. and South Korea postpone joint military operations
Joint South Korean-U.S. military drills planned for the first half of this year have been postponed as a result of the coronavirus outbreak, South Korean and U.S. officials said on Thursday. 
"The containment efforts of COVID-19 and the safety of [the Republic of Korea] and U.S. service members were prioritized in making this decision," the military officers said during a news conference in Seoul.
The U.S. military reported its first case of coronavirus on Wednesday at the Camp Carroll Army Base, which is located 12 miles from Daegu, where most of South Korea's cases have been reported.
U.S. military officials from the Army Garrison Humphreys camp in South Korea provided an update on measures in a video posted on Facebook.
Saudi Arabia halts pilgrimages over virus
Saudi Arabia announced on Thursday that it was suspending entry for the Umrah pilgrimage and tourism from countries where the new coronavirus has spread.
The ban is part of measures to prevent coronavirus from entering the Kingdom, according to a statement released on the Foreign Ministry's official Twitter account. 
Officials also said that the suspensions were temporary but provided no timeframe for their expiry. It was unclear if the hajj pilgrimage, which is scheduled to begin in late July, would be impacted.
North Korea marathon cancelled over coronavirus fears
Organizers of the annual Pyongyang Marathon announced Thursday that the event had been cancelled this year.
"This is due to the ongoing closure of the North Korean border and COVID-19 virus situation in China and the greater region," partner Koryo Tours said in a written statement.
North Korea has not recorded any cases of the virus. 
CDC didn't immediately test COVID-19 patient, California medical system head says
The head of a Sacramento health system says that the Centers for Disease Control and Prevention did not immediately test a patient in what may be the first case of person-to-person transmission of COVID-19 in the general public in the United States.
University of California, Davis, Health CEO Dr. David Lubarsky said in a note to staff obtained by NBC News that after the patient was transferred to UC Davis Medical Center on Feb. 19, it asked the centers to conduct testing but the federal agency declined.
"We requested COVID-19 testing by the CDC, since neither Sacramento County nor CDPH is doing testing for coronavirus at this time," said the note, which was signed by Lubarsky and UC Davis Medical Center interim CEO Brad Simmons. (CDPH is an acronym for California's department of public health).
"Since the patient did not fit the existing CDC criteria for COVID-19, a test was not immediately administered. UC Davis Health does not control the testing process," the two officials wrote in the letter.
Deaths in mainland China continue to grow, now reported at 2,744
China's National Health Commission on Thursday morning local time reported 29 new deaths linked to the coronavirus illness COVID-19, bringing the total number of deaths on the mainland to 2,744.
The National Health Commission also reported 433 new confirmed cases by the end of Wednesday, bringing the number of confirmed cases on the mainland to more than 78,497.
Previously, the health commission had reported 2,715 deaths linked to the novel coronavirus illness out of 78,064 cases.
Of the 29 new deaths reported Thursday, 26 were in Hubei province, which is the center of the coronavirus outbreak and where the city of Wuhan is located.
Analysis: Trump's not worried about coronavirus. But his scientists are.
President Donald Trump congratulated himself for protecting the public from the deadly coronavirus Wednesday, reassured Americans that there's a "very low" risk of an outbreak in this country and handed off any future responsibility to Vice President Mike Pence and Congress.
Then, with subtle grace, the highest-ranking career official at the Centers for Disease Control and Prevention delivered a slightly different message from the same podium in the White House briefing room: Not so fast.
"Our aggressive containment strategy here in the United States has been working," Principal Deputy Director Ann Shuchat said. "However, we do expect more cases, and this is a good time to prepare."
Trump, speeding to catch up with his administration's public relations response to evidence of a potential pandemic, had just taken the equivalent of a victory lap in the midst of what experts are warning could be an Iron Man race.
Fact checking Trump on coronavirus
President Donald Trump tried to stick to the facts Wednesday in a news conference at the White House after being criticized for downplaying the coronavirus threat.
He accurately told the nation that the risk to Americans is low but that the country should prepare out of an abundance of caution. He said a vaccine is in the works.
Asked whether he agreed with health officials' view that coronavirus will inevitably spread in the U.S., Trump said: "I don't think it's inevitable. It probably will. It possibly will. It could be at a very small level, or it could be at a larger level. Whatever happens, we're totally prepared."
Read more on what the president said and what the facts are.
Coronavirus case with unknown source confirmed in California
The source of a new case of the coronavirus in California is unknown, the Centers for Disease Control and Prevention said in a statement Wednesday. 
The case near Sacramento is the 15th in the U.S. not involving a person who was evacuated from Wuhan, China, or the Diamond Princess cruise ship. There have been 45 cases among those evacuated patients, bringing the total in the country to 60. 
The sources of 14 of the cases not related to evacuations are known: They stem either from travel to China or from close contact with another infected person. The newest case does not have a clear source. 
"At this time, the patient's exposure is unknown," the statement said.
"It's possible this could be an instance of community spread of COVID-19, which would be the first time this has happened in the United States. Community spread means spread of an illness for which the source of infection is unknown. It's also possible, however, that the patient may have been exposed to a returned traveler who was infected."
The CDC noted that the case was detected through the public health system.
Why is Iran's reported mortality rate for coronavirus higher than in other countries?
Iran has the highest reported number of deaths from the coronavirus outside China, raising questions about how the government is handling the public health crisis and whether the often secretive regime has been fully transparent about the extent of the outbreak.
Iran's health ministry spokesman said on Wednesday that 19 Iranians have died out of a total of 139 positive cases. And Iran's reported mortality rate — about 14 percent — surpasses the rate for other countries by a dramatic margin.
Click here to read the full story.
Trump to hold White House news conference on coronavirus efforts
As warnings on the spread of the deadly coronavirus intensified and markets plummeted, President Donald Trump announced he will hold a White House news conference on the outbreak Wednesday evening alongside representatives from the Centers for Disease Control and Prevention and others.
Trump is expected to speak at the White House around 6:30 p.m. ET.
Read more on the president's reaction to the coronavirus outbreak here. 
Major U.S. stock indexes drop for third straight day
The Dow Jones Industrial Average and the S&P 500 — the two most closely watched U.S. indexes of stocks — dropped for a third straight day Wednesday.
Concerns over a larger global outbreak of the coronavirus have pushed many companies to issue warnings that they could be hit by declines in demand and problems with their supply chains, especially if they are closely tied to China.
The Dow finished Wednesday down 123 points, or about 0.5 percent. The index, which is a collection of major U.S. companies, has lost almost 2,400 points since Thursday.
The broader S&P 500 declined 0.4 percent. The tech-heavy Nasdaq provided some reason to believe the market decline has slowed. It added 0.2 percent.
'The people have vanished': Some bars and clubs reopen in Milan
Bars and clubs in Milan can reopen in the evenings, local authorities announced on Wednesday, in the first rollback of tough restrictions imposed at the weekend to try to contain a coronavirus outbreak in Italy.
The move came even as the number of cases nationwide jumped by almost 100 in a day to more than 400, while the death toll rose to 12 since last Friday.
The outbreak is centered on Italy's industrial heartlands of Lombardy and Veneto, and the government has closed schools and universities, shuttered cinemas and banned public events in an effort to prevent the spread of the highly infectious disease. Hotels say they have been hit by cancellations while bar, club and disco owners wrote to the mayor of Lombardy's capital, Milan, to urge him to lift a 6.00 p.m. curfew on their operations.
But even though early closing was lifted in time for Wednesday evening trade, there seemed to be few people around to take advantage in the eerily empty city.
"We have reverted to usual hours," said Antonio Musotto, manager of the Archimede Caffe. "The problem is the people have vanished."
The most recent death reported was a 69-year old man in the northern region of Emilia Romagna. In all, almost 420 cases have been registered, including at least six children.
Hospitals across the U.S. prepare for coronavirus
Before the first confirmed U.S. case of the new coronavirus infection showed up at a hospital in late January, the patient did exactly what hospital officials in Washington state had hoped for: He gave them a heads-up he was coming.
"What we really want patients to do is call and click through virtual ways, so when they come in, we're ready for them," said Dr. Amy Compton-Phillips, executive vice president and chief clinical officer of Providence St. Joseph Health, the health care system which includes the hospital in Everett to which the patient went.
Preparation is key, she said, and if health care workers can activate so-called disaster readiness plans before patients arrive, the likelihood of containing and properly treating the illness goes up. It's a lesson learned from prior outbreaks, such as Ebola, and other coronavirus epidemics, including severe acute respiratory syndrome, or SARS, and Middle East respiratory syndrome, or MERS.
Read more on how hospitals across the country are preparing for the coronavirus.
Azar: 'We have a 15th confirmed case' of coronavirus
In testimony before a House Energy and Commerce subcommittee meeting Wednesday, Health and Human Services Secretary Alex Azar said that there was a new coronavirus case confirmed in the U.S.
"Coming into this hearing, I was informed that we have a 15th confirmed case, the epidemiology of which we are still discerning," Azar said.
The Centers for Disease Control and Prevention breaks down U.S. cases into two main categories: Travel-related, which includes person-to-person spread, and repatriated individuals.
A total of 45 repatriated individuals, who were evacuated from either Wuhan, China or the Diamond Princess cruise ship, have tested positive. 
There were fourteen cases among individuals who traveled back to the U.S. on their own or individuals who were infected through close contact with one of these travelers. It is unclear how the new case mentioned by Azar was infected. 
NBC News has reached out to the CDC for more information.
Colleges suspend Italy study abroad trips amid coronavirus fears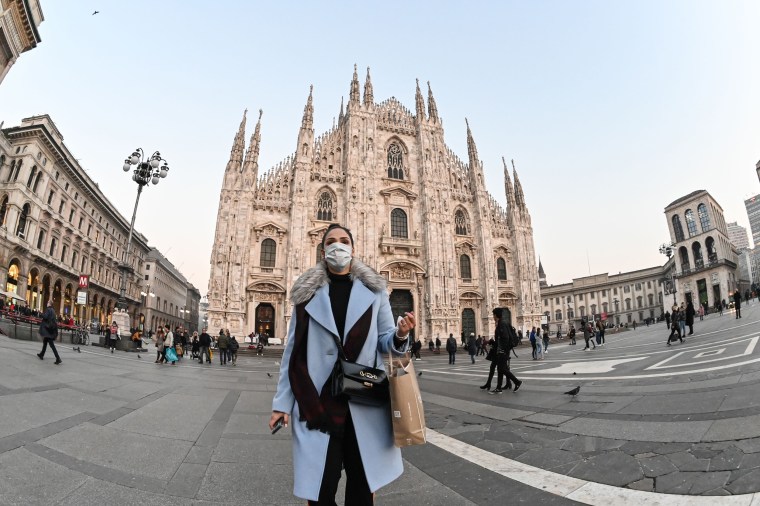 Hundreds of American college students in Italy are expected to head back to the United States as global concern over the coronavirus continues to increase, as schools suspend or postpone their study abroad programs there.
Syracuse University, Fairfield University and Elon University are among the schools suspending their programs in Florence for the remainder of the semester. New York University is shutting its Florence campus down until at least March 29; however, students will continue their classes online. The University of New Haven is also recommending that its students in Tuscany return home.
"Students from Florence will not return to the Syracuse University campus until after spring break, which is consistent with the CDC's 14-day incubation period guideline," Chancellor Kent Syverud said in a statement Wednesday.
Janean Lawyea's daughter Camryn is one of 342 students from Syracuse University in the Florence program and is being sent home immediately. "It is concerning because the students are taking a full class load while they are doing their study abroad program. My daughter is taking 16 credits this semester," Lawyea told NBC News.
Sacred Heart University asked its 17 students studying in Rome to return to the U.S., a spokesperson said. Those students will be allowed to return to campus on March 9, following spring break.
More than 36,000 American students studied in Italy during the 2017-18 school year, according to the Institute of International Education's annual Open Doors report.