This blog has now ended. Follow our continuing live coverage of the war in Ukraine here.
Russia's attack on Ukraine stretched into its sixth day Tuesday, as a massive armored convoy advanced toward the capital, Kyiv, and major cities were hit by more heavy shelling.
In Kharkiv, Ukraine's second-largest city, video captured a deadly explosion at the regional state administration building that left at least 10 people dead, according to Ukrainian Interior Ministry adviser Anton Herashchenko.
The International Criminal Court said Monday it would open an investigation into whether Russia has committed war crimes and crimes against humanity in Ukraine. The decision was announced hours after peace talks in Belarus ended without any clear progress.
Ukrainian President Volodymyr Zelenskyy implored the European Union to accept Ukraine's application to join the bloc in a speech before the European Parliament on Tuesday that was met with a standing ovation.
It came amid a swift Western response to Russia's invasion, with countries imposing widening sanctions that hit Russia's economy hard and forced its currency, the ruble, to drop to around 30 percent against the U.S. dollar Monday.
Follow our in-depth coverage of the Russia-Ukraine crisis here.
Satellite images show 40-mile military convoy nearing Kyiv, U.S. firm says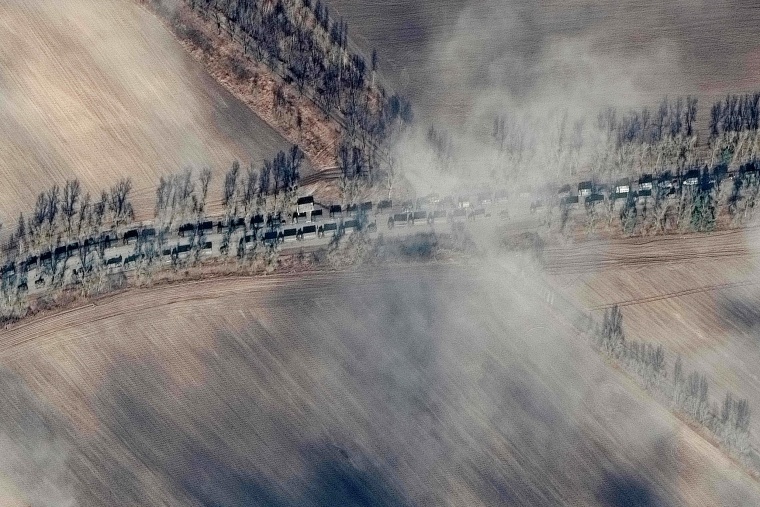 Satellite images captured by an American firm, Maxar Technologies, showed what it said was a roughly 40-mile military convoy approaching Ukraine's capital on Monday.
Maxar added that a number of homes and buildings appeared to be burning north and northwest of the area where the convoy was traveling.
Putin may see doubling down as only option, officials say
U.S. intelligence agencies have determined that Russian President Vladimir Putin is growing increasingly frustrated by his military struggles in Ukraine and may see his only option as doubling down on violence, current and former U.S. officials briefed on the matter said.
As the Russian economy teeters under unprecedented global sanctions and his purportedly superior military force appears bogged down, Putin has lashed out in anger at underlings, even as he remains largely isolated from the Kremlin in part because of concerns about Covid, the sources said.
"This is somebody that's clearly been caught off guard by the size of the Ukrainian resistance," Sen. Mark Warner, D-Va., the chairman of the Intelligence Committee, said on MSNBC. "He has isolated himself. He's not been in the Kremlin very much. ... You've got less and less inputs, and these inputs are from sycophants."
He added: "I do worry that he's been backed into a corner. I do worry that there is no obvious exit ramp."
Read the full story here. 
Dennis Miller will stop making talk show for Kremlin-backed RT America
The comedian and political commentator Dennis Miller will stop making a talk show that airs on the Kremlin-funded television network RT America, citing the Russian invasion of Ukraine, according to a source familiar with his thinking.
"Dennis Miller + One" is produced by the media organization Ora TV, which licenses the series to RT America. The channel is part of the Moscow-based RT network, which U.S. intelligence agencies have described as "Russia's state-run propaganda machine."
"He has no plans on going back," the source said.
Miller's show has aired on RT America since March 2020.
"Star Trek" icon William Shatner also has a show that airs on RT America. Shatner's representative did not immediately respond to an email requesting comment on his client's relationship with the network.
Canada sending antitank weapons to Ukraine
Prime Minister Justin Trudeau says Canada is sending antitank weapons systems and "upgraded" ammunition to Ukraine as it fights Russia's invasion.
Trudeau said the weapons and ammunition add to three previous shipments of armaments, as well as to the imminent allotment of night-vision goggles, body armor, gas masks and helmets.
"We also intend to ban all imports of Russian crude oil," Trudeau said Monday in his announcement on Twitter.
Trudeau said that although Canada imports very little Russian oil, the prohibition "sends a powerful message," because global exports of crude account for more than a third of Russia's revenue. 
Trudeau's crackdown on Russia might also affect its global voice. He has asked federal communications regulators to review the presence of Russian state media, including RT television, on Canada's airwaves and cable systems. Some TV providers in Canada have already announced they're dropping RT, formerly known as Russia Today.
"We cannot allow falsehoods, propaganda and disinformation about Russia's war to continue spreading in Canada," he said.
Disney pausing release of movies in Russia, including latest Pixar film
The Walt Disney Company, one of the most powerful media corporations in the world, announced Monday it would hold off on putting new movies in Russian theaters because of "the unprovoked invasion of Ukraine and the tragic humanitarian crisis."
"We are pausing the release of theatrical films in Russia, including the upcoming 'Turned Red' from Pixar," Disney said in a statement on Twitter. "We will make future business decisions based on the evolving situation."
"Turning Red" had been scheduled to debut in Russian movie theaters March 10. (In the U.S., the film will be released directly to the streaming service Disney+ on March 11.)
Disney's other high-profile coming releases include Marvel's "Doctor Strange in the Multiverse of Madness" and Pixar's "Lightyear."
In recent months, Russian moviegoers have turned out for marquee Hollywood releases, including the international smash "Spider-Man: No Way Home," which has grossed more than $44 million there to date, according to Box Office Mojo.
Ukraine's youngest cancer patients shelter in hospital basements, hoping to evacuate
Over the past five days, as Russia's invasion has continued, the basements of Ukraine's children's hospitals have become bomb shelters for the country's youngest cancer patients.
Thin mattresses, pillows and blankets cover the floors of underground hallways as the sound of explosions and gunfire can be heard above. Parents speak quiet reassurances to their sick children, encouraging them to eat or sleep.
Doctors and nurses try to provide the limited treatments they can, despite dwindling supplies of necessary medications, as well as food and water.
"These children suffer more because they need to stay alive to fight with the cancer — and this fight cannot wait," Dr. Lesia Lysytsia said over the phone from the basement of Okhmatdyt, a Kyiv children's hospital, the country's largest, where sirens warn of bombings every few hours and child victims of the battles are treated.
Read the full story here.
Zelenskyy: 'Fair negotiations can only happen when one side is not shooting at the other'
Ukraine President Volodymyr Zelenskyy said effective diplomacy cannot happen while invading forces from Russia continue their assault. 
"Fair negotiations can only happen when one side is not shooting at the other one during the exact time the negotiations are happening," he said in a translation of a video message posted on the Telegram communications app Monday night.
During Monday's diplomatic effort, requested by Zelenskyy, Russian forces were accused of continuing an incursion in Ukraine's second-largest city, Kharkiv. 
Moscow said both sides had "heard" each other at Monday's meeting.
Zelenskyy read off the names of dead soldiers to punctuate his condemnation of Russia's onslaught. He asked the world to help close off airspace to Russian air offensives. 
"The evil that is armed with missiles, bombs and artillery must be stopped immediately, destroyed economically, to show that humanity is able to defend itself," Zelenskyy said.
Ukraine's ambassador to U.S. says Russia used a vacuum bomb
Russia used a vacuum bomb on Monday in its invasion of Ukraine, the Ukrainian ambassador to the U.S., Oksana Markarova, said.
"They used the vacuum bomb today, which is actually prohibited by the Geneva convention," Markarova said after briefing U.S. Congress members. "The devastation that Russia is trying to inflict on Ukraine is large."
A vacuum bomb uses oxygen from the surrounding air to generate a high-temperature explosion, typically producing a blast wave of a significantly longer duration than that of a conventional explosive.
Markarova said Ukraine was working actively with the Biden administration and Congress to obtain more weapons and tougher sanctions.
"They should pay, they should pay a heavy price," she told reporters after leaving the meeting.
One lawmaker who attended the meeting, Democratic Representative Brad Sherman, said the Ukrainians had asked for a U.S.-enforced no-fly zone over Ukraine but that he felt that was too dangerous because it could provoke conflict with Russia.
Senate leaders discuss America's next steps in Russia-Ukraine crisis
Senate Majority Leader Chuck Schumer and Minority Leader Mitch McConnell discussed the U.S.' next actions in the Russia-Ukraine crisis in remarks on the Senate floor Monday. 
Schumer, D-N.Y., said the Senate will work on preparing a $6.4 billion bipartisan aid package to be included in the omnibus government funding bill. The package will include humanitarian, economic and defense aid, he said, and it will be implemented "in lockstep with the Biden administration."
McConnell, R-Ky., called for further action from the administration, including a 5 percent increase in defense spending above inflation, in the president's next budget. He said the increases are essential to "seriously meet the growing threats posed by Russia and China," which he said will not end with Ukraine.  
Sanctions alone will not be a sufficient tool to end this crisis, said McConnell, who warned about potential opposition to more extreme economic hurdles for Russia.
"The sanctions that would hurt Moscow the most would also have a significant impact on our friends in Europe," McConnell said. "So there will continue to be resistance to maximalist sanctions."
U.S. to expel 12 Russian intelligence operatives from U.N. mission, Psaki says
The United States has begun the process of expelling 12 Russian intelligence operatives from the Russian Mission to the United Nations, White House press secretary Jen Psaki confirmed Monday. 
The information was first made public Monday afternoon when Vasily Nebenzya, the Russian ambassador to the U.N., announced he had been informed of the decision at the start of a news conference. Nebenzya said the U.S. is requiring the operatives to leave the country by March 7. 
Psaki said the move, which has been in the works for several months, was made because the operatives were engaging in activities she described as "adverse to our national security."
New Twitter feed tracks private jets owned by Russian oligarchs
Jets and helicopters belonging to the owner of the British soccer team Chelsea F.C., Roman Abramovich, were on the move Monday in such far-flung locales as Moscow and Codrington, a town in Antigua and Barbuda.
And at around the same time, a jet owned by steel magnate and fellow Russian oligarch Alexander Abramov touched down in Abu Dhabi, capital of the United Arab Emirates.
The comings and goings of powerful Russian elites have come under intense scrutiny since Vladimir Putin's forces invaded Ukraine last week, an attack that's drawn international condemnation.
And that's why 19-year-old Jack Sweeney, a University of Central Florida student, started tracking them on the Twitter feed Russian Oligarch Jets, which he launched this past weekend and which already has more than 52,000 followers as of Monday afternoon. 
Read full story here.
Biden to promote allied unity against Russia, economic gains during State of the Union address
President Joe Biden plans to use his State of the Union address Tuesday to emphasize the united response by the U.S. and its allies against Russia while seeking to promote the condition of the economy and sell an optimistic view of the country's future, administration officials said ahead of the address. 
The president's team has been reworking his remarks in recent days to more heavily emphasize the response to Russia's invasion of Ukraine in a speech expected to take place amid scenes of a growing assault on Kyiv. But administration officials said Biden's domestic policy agenda will also be a major focus of his remarks, which are to include a plea to Congress to pass parts of his stalled Build Back Better legislation.  
Just catching up? Here's what you need to know
Just catching up? Here's what you may have missed:
The International Crime Court will open an investigation into potential war crimes and crimes against humanity in Ukraine, prosecutor Karim Khan announced Monday. Based on a preliminary examination of the Russian invasion of Ukraine, Khan said there is a "reasonable basis" to believe Russia has committed both war crimes and crimes against humanity. 
Facebook's parent company said Monday it would restrict state-affiliated media outlets Russia Today and Sputnik for users in the European Union, in response to an E.U. request.
President Joe Biden said on Monday that Americans do not need to be worried about a nuclear war, after Russian President Vladimir Putin declared Sunday that he was putting his nuclear forces on high alert.