Many people took up bread baking during the pandemic, leading some to rely on Dutch ovens or bread machines to make loaves. And Le Creuset recently released a new piece of cookware designed to help you bake your bread: the Le Creuset Bread Oven. The brand says you can also use it to make baked goods, meat and vegetables.
Le Creuset is well known for its Dutch oven models, one of which is featured in our guide to Dutch ovens. But the brand said the Bread Oven is meant to build off of — not compete with — Dutch oven bread. It's designed similarly to a bread cloche, a kitchen tool like this highly rated model from Emile Henry that houses bread while it's rising and is then transferred to the oven to bake the loaf.
Le Creuset sent me a Bread Oven to try, and after using it to make a loaf, I learned how each of its features helps optimize the baking process, making it stand out compared to bread cloches and Dutch ovens I've used in the past.
Le Creuset's Bread Oven is oven-safe up to 500 degrees Fahrenheit and can be used on all stovetops, according to the brand. It's currently available in eight colors: White, Cerise, Flame, Caribbean, Marseille, Chambray, Sea Salt and Agave. The Bread Oven is designed with cast iron, a material that experts previously told us "holds its heat evenly no matter what surface you're cooking on" in our guide to cast iron cookware. I was worried the cast iron would make the Bread Oven too heavy to easily move around my kitchen, but I didn't find that to be the case when I used it.
Inspired by a bakery steam oven, the Bread Oven boasts a domed lid to trap and circulate steam. Le Creuset says this helps create a crispy crust and tender interior, which I found to be true when I baked a loaf. I first put the Bread Oven in the oven to bake my bread, and then I took the lid off and baked it for a few more minutes in the base so the crust could brown. Select editor Morgan Greenwald, who also received a Bread Oven from Le Creuset to try out, had a similar experience using the Bread Oven. "I've been trying to perfect my loaves for a while, and this is the first time I've been able to achieve a moist center with a crispy crust," she said.
My favorite feature of the Bread Oven is its low-profile base. Dutch ovens have tall walls that you have to reach into to add your dough or remove cooked loaves, but the Bread Oven's low-profile base is much easier to work with. The base also features raised interior ridges to evenly brown bread without using parchment paper, solving one of my pet peeves about baking bread in a Dutch oven: how much parchment paper you have to throw out afterward. The raised ridges imprint "Le Creuset" and three rings into the bottom of your bread as it bakes, giving each loaf a custom detail you won't get with another piece of cookware.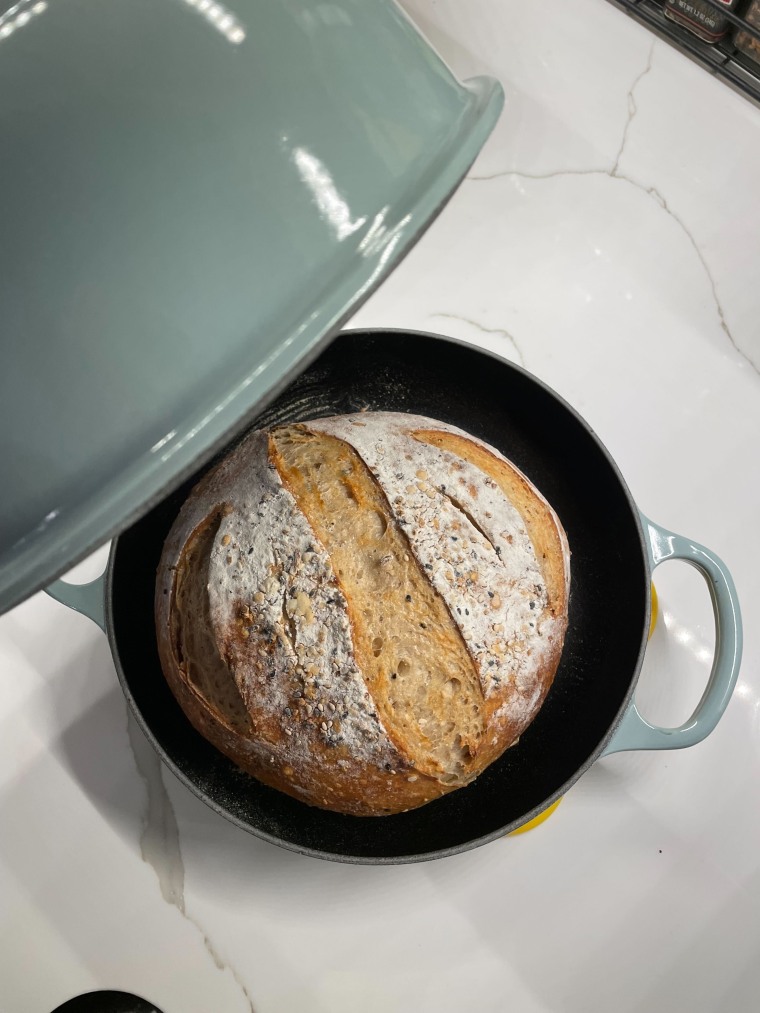 Additionally, Le Creuset says the Bread Oven is dishwasher-safe. However, I found it convenient to hand-wash my Bread Oven since the interior is constructed with the brand's matte black satin enamel, a surface Le Creuset says reduces sticking — I've made bread, cornbread and scones in my Le Creuset Dutch oven, and each came right off of the base.
To help you move the Bread Oven from your cooking surface to the oven, the cookware sports Le Creuset's Signature loop handles. The handles are large enough to grasp tightly while using oven mitts, as it is the knob on top of the lid.
More products to use while baking bread
The Bread Oven is unique to Le Creuset — it's not a piece of cookware multiple brands offer, making it one of a kind. But if you're looking to explore other products to use while baking bread, we previously covered Dutch ovens and bread machines that will do the trick.
In our guide to Dutch ovens, Stefano Velia, a chef with more than 30 years of experience and the owner of Pala Pizza, recommended this option from Lodge. He noted that it's a more affordable alternative to the Le Creuset options, and said the heavy lid helps keep heat and liquids inside. The Dutch oven also has a flat bottom, which Velia told us means it will work on gas or glass-top electric stoves.
if you'd rather let an appliance automate some steps of the bread baking process, turn to a bread machine like CRUXGG's The BRED. Featured in our guide to bread machines, you can bake 1 ½- or 2-pound loaves in The BREAD and it has 15 preset cooking functions. You can choose from three crust colors, and the bread maker's Express cycle bakes a loaf in under two hours, according to the brand. The machine can keep food warm for up to 60 minutes after it's done cooking.
Catch up on Select's in-depth coverage of personal finance, tech and tools, wellness and more, and follow us on Facebook, Instagram and Twitter to stay up to date.